If there is one homemade juice that keeps both our hair and skin in peak health both when consumed internally and applied externally, it is amla juice also called as gooseberry juice. We call amla juice nellikai juice in Tamil and it really is a wonder juice that offers us a lot of health benefits.
Though you can buy amla juice from the markets, it is best when made freshly at home. Amla juice is nothing short of a miracle in treating all skin problems as it is full of antioxidants and has amazing health, hair and skin benefits if consumed regularly.
Amla Juice Health Benefits:
1. Amla Juice For Weight Loss:
Amla juice is very good in detoxing the body and since it is rich in vitamins especially vitamin c, taking a cup of amla juice during weight loss prevents deficiencies. We usually don't bother getting enough of our daily vitamin and mineral requirements during weight loss as we are very keen only in seeing the number (weight) go down. It very important to include natural juices that are packed with vitamins but at the same time that are low in calories and amla juice is perfect for that.
2. Amla Juice For Hair:
Amla juice is very beneficial for hair both when consumed internally and applied on the scalp. To apply on the scalp, mix equal quantities of amla juice and
lemon juice
and apply it all over the scalp. This treatment prevents dandruff, itchy scalp and other minor scalp infections. Amla juice when consumed internally promotes hair growth, and regular hair massage with
amla hair oil
made with amla juice helps to regrow hair and prevents split ends.
3. Amla Juice For Skin:
Amla juice prevents the youthfulness of the skin as amla juice fights off the free radicals which are the main cause of aging. Amla juice when applied topically treats pigmentation and acne. To use it on face, pound
fresh amla
, remove the inner seed and grind the flesh without adding any water. This concentrated juice can be used to massage the face and it will lighten the blemishes well. You can also mix the juice with besan and apply as a face pack.
4. Amla Juice For Cough, Cold & Acidity:
Amla juice when had regularly prevents cold. Since it is rich in vitamin c, drinking amla juice is one sure way to prevent the cold during the cold and flu season. Amla juice is also very good for treating acidity. Amla juice is also great for people suffering from anemia, consuming amla juice even weekly thrice has been
proven
to help with anemia.
5. Amla Juice For General Health:
Amla juice is good for treating all metabolic diseases, it helps lower high cholesterol, blood sugar and cholesterol levels. It also helps improve immunity and helps reduce stress. If you are suffering from any of the three metabolic diseases or nervous problems like anxiety or depression consider including amla juice in your diet regularly as it helps keep both our body and mind healthy.
Side Effects of Amla Juice:
There are rarely any side effects of drinking amla juice. Even pregnant women and diabetic patients can consume amla juice safely, but never take preserved juice. Consume only freshly made juice preferably made at home.
Amla juice is not tasty like other fruit juices, so I like to spice it up a bit like in the recipe below. Amla juice is best made with fresh amlas and should be had as soon as possible for best results.
How To Make Amla Juice:
1. Take 1/8 tsp of cumin seeds and a small piece of ginger in a mortar and pestle and crush coarsely. This makes it easier to grind.
2. Pound 5 fresh amlas and remove the seeds from them.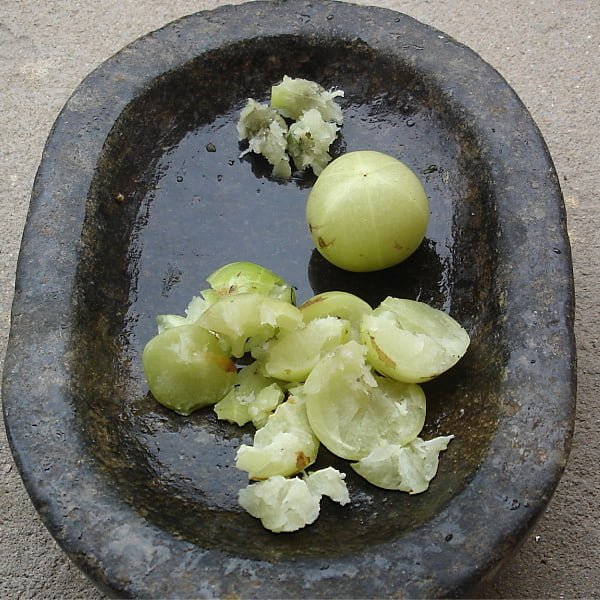 3. Grind pounded amlas and crushed cumin seed mixture along with a pinch of salt in a mixer as finely as you can.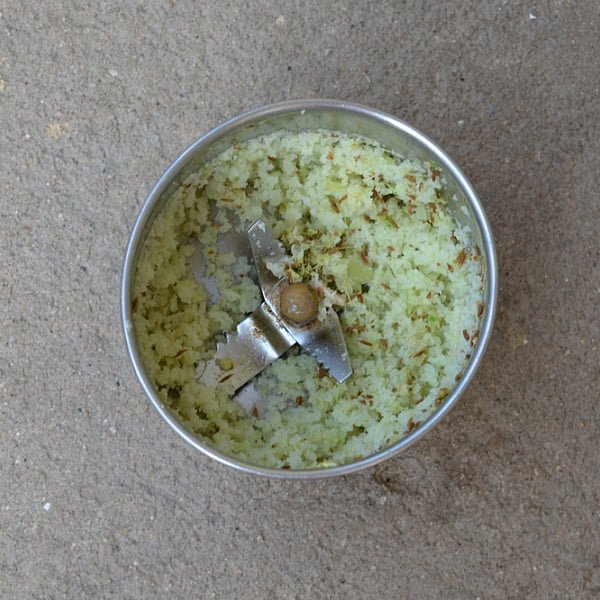 4. Add required amount of water and grind everything together.
5. Strain and sweeten with pure honey. Your delicious homemade amla juice is ready!
NOTES:
Amlas store well in the refrigerator for 4 to 5 days.
Ginger and cumin seeds also help in digestion. This amla juice is perfect for serving after heavy meals as it aids in digestion.
Don't add too much of ginger, it will not taste good.
Diabetic patients can avoid the honey in the recipe.
Make this juice fresh and have it immediately and try to buy organic amlas.