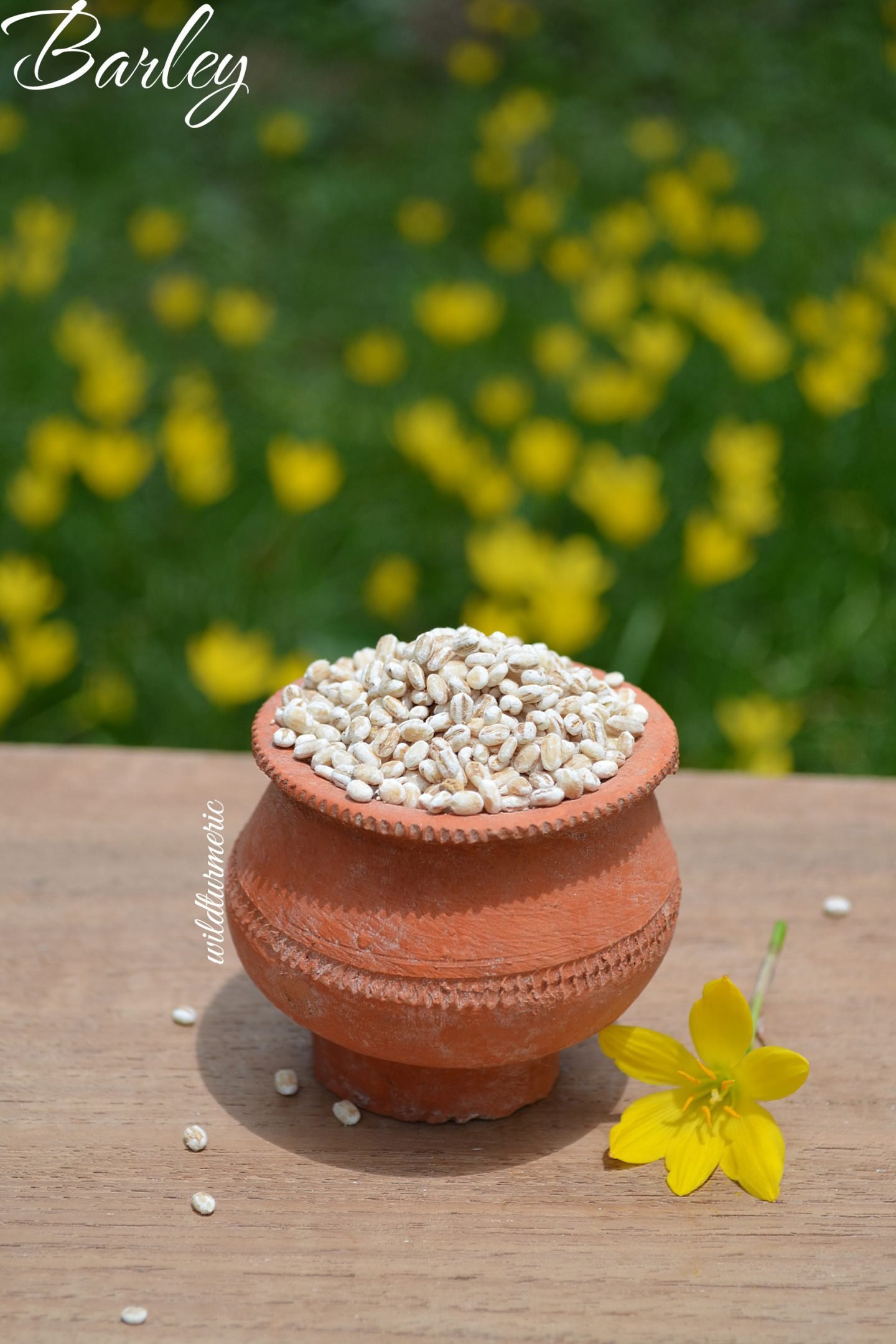 Barley is a very important crop in the world and it occupies the sixth place as a food crop in India. Barley which belongs to the grass family is very nutritious and is an amazing bodybuilder. The usage of barley dates back centuries, barley is used in soups, stews, salads and to make porridge all over the world.
Here in our place barley water or kanji is very famous. Whenever I think of barley, I am always reminded of my late maternal grandfather. Every single day he used to start his day with a cup of barley water, it was a ritual he followed every day because he firmly believed that it kept him healthy.
Barley Common Names:
The botanical name of the domesticated barley is Hordeum Vulgare and barley is called Jau in Hindi, Barleyarisi | Valkothumai in Tamil, Barli Biyyam in Telugu, Satu in Marathi, Juvar in Gujarati, and Jau in Punjabi.
Different Forms Of Barley:
Barley is available in many forms and they are called by different names such as barley grass, hulled barley, pearl barley, barley flour, and barley water. If we get to know the difference between them we can easily choose the product that we want.
Barley Grass:
Barley grass is the green shoots that form before the grain, it is a powerhouse of nutrients and minerals, it is rich in calcium, magnesium, iron, copper, manganese, beta carotene, vitamin B, zinc, vitamin C and it is also rich in proteins and is full of antioxidants!
In many parts of the world drinking fresh green barley grass juice is quite popular, you can also use the barley grass powder that we get in the markets to make the juice.
Hulled Barley:
Hulled barley is the type of barley where the outer inedible portion alone is removed, like our hand-pounded rice, it takes a long time to cook but it is very nutritious. Hulled barley is rich in manganese, selenium, copper, vitamin B, chromium, phosphorus, and magnesium, it is also rich in fiber.
Pearl Barley:
Pearl barley is the type of barley where the outer bran is removed and polished. It cooks faster than hulled barley but it is less nutritious than it. Most of the recipes using barley usually calls for pearl barley but you can always substitute it with hulled barley and lengthen the cooking time.
Barley Flour:
Barley flour is the flour got by grinding whole barley grains and since it is made from unpolished grains, it is very nutritious too. We don't get barley flour commonly in South India but we can always grind barley and make our own barley flour at home.
Barley Water:
Barley water which is famous all over the world is made by soaking and cooking the barley in water and you can find the recipe for making it
here.
Even pregnant women can drink barley water as it greatly helps with pregnancy edema along with improving digestion and immunity.
Barley Side Effects:
Since barley is high in fiber, people suffering from celiac disease should avoid it. If we over consume barley, it will lead to bloating, stomach discomfort and pain.
7 Top Health Benefits Of Barley:
1. Barley For Weight Loss:
Barley is great for including in a weight loss diet as it keeps us fuller for a long time and is low in calories. Like all whole grains, barley is rich in fiber, a cup of hulled barley has around 10 grams of fiber! But the trick is to use hulled barley, not pearl barley.
If you would ask me the best form to consume barley for weight loss, I would suggest barley soup made with both barley and lentils. Adding protein-rich pulses to barley makes it a complete meal, the type of meal we should be having often.
2. Barley For Diabetes:
Barley is one of the best cereals a diabetic can have as it regulates blood sugar levels very very well. In fact, barley is said to regulate blood sugar levels up to 10 hours after eating it!
This is higher than even wheat which has a similar glycemic index, this is because barley contains a type of soluble fiber called beta-glucan which significantly lowers the glucose level.
3. Barley For Constipation:
Since barley is very rich in fiber, people who are suffering from constipation will greatly benefit from including barley in their diet. Barley has got both soluble and insoluble fiber. The soluble fiber in barley increases the bulk and also greatly prevents constipation. Always try using hulled barley in your diet.
4. Barley For Reducing Cholesterol:
If we look at our traditional diets closely, we will notice that it is very rich in fiber, almost all the traditional recipes are rich in nutrients and fiber.
A diet that is high in fiber has always been linked to lower occurrences of heart disease as it helps lower bad cholesterol. Since barley is rich in fiber it lowers the LDL cholesterol significantly, you can read the study that proves it here.
5. Barley For Skin & Hair:
Barley is rich in nutrients, especially nutrients that keep our skin and hair in peak health. Barley is rich in selenium, magnesium, zinc, vitamin B, and molybdenum all very essential for keeping our skin and hair in peak health. Barley is also full of antioxidants which prevent premature aging of the skin.
Barley water can also be used directly on the skin as it is very soothing. Next time you make barley water, take some of it and mix it with your favorite essential oil and apply it on your face. It is very soothing and very apt for problem-prone skin.
6. Barley For Gall Stones & UTI:
Eating foods high in fiber reduces the formation of gallstones. In a research, scientists found that people who ate fiber-rich foods (both soluble and insoluble) reduced the risk of developing gallstones.
Fiber reduces the secretion of bile acids (excess of bile acids leads to the formation of gall stones) thus preventing the formation of gall stones. Barley taken in the form of barley water is also a very good diuretic and flushes out the toxins that cause the infection. You can find the research that proves it here.
7. Barley Grass For Immunity:
Like barley, the barley grass juice also has amazing health benefits. It is rich in iron and can be very beneficial for people suffering from anemia. It is also rich in vitamins A, B, C & K, calcium, and all the essential minerals along with amino acids and beneficial enzymes.
Barley grass juice is an alkaline food and is great for balancing the acid-alkaline balance in the body. It is also full of antioxidants and can greatly help detox the body.
Indian Barley Recipes:
1. Barley Soup For Kids:
Soak barley overnight and pressure cook till done. Steam finely cut vegetables (carrot, beans, peas, and cauliflower) along with little salt. In a pan, add tiny little butter and saute finely cut garlic and onions. Add the cooked barley along with the cooked water, and boiled veggies and bring to a boil along with the required salt.
Once it has comes to a boil, add 1/4 cup of milk and switch it off. Serve with finely cut coriander leaves on top, a very nourishing soup for kids. You can also omit the milk and add cooked dal instead.
2. Barley Dosa:
Barley dosa is another good idea to include barley in our diet often. Soak 1 cup of barley overnight and the next morning soak 1/4 cup of white urad dal and 1 tsp of fenugreek seeds together.
Grind both separately and mix with salt. Leave it out to ferment and you can make dosas for dinner. Add finely cut onions and coriander leaves to the batter and make dosas and serve it along with spicy chutney!
3. Barley Upma:
For Barley upma, grind 1 cup of barley in a dry grinder to get broken barley. Heat coconut oil in a pan and once hot add mustard seeds, urad dal and channa dal and let them splutter. Add finely cut ginger, 1 broken red chilli, 2 cut green chillies, onions, and curry leaves, and saute for a minute or two.
Add finely cut vegetables along with a little turmeric powder and saute well. Add the broken barley and saute well. Now add 3 cups of water along with salt. Close with a lid and cook on low medium flame till completely done and serve.