We get loads of under eye dark circle removal creams in India but you will be amazed to know that you can easily make your own at home too. The skin around our eyes is so delicate and is 4 times thinner than the rest our skin. Even minute changes in our lifestyle affects it leading to dark circles. We should take great care of it else it will lead to dark circles very quickly. Using homemade dark circle removal creams is one of the best ways to prevent dark circles.
Why We Get Dark Circles?
Some of the common reasons for getting dark circles are lack of sleep, stress, excessive sun exposure, allergies, dehydration, nutritional deficiencies, ageing, drinking, smoking and genetics.
I get dark circles whenever I am stressed, few weeks back my son had dengue fever and it stressed me out completely. His blood pressure and platelet count kept plummeting though he didn't have fever and till the platelet count started the uptrend I was always tensed.
I was surprised how just a few stressful days affected my skin, I had slight dark circles around my eyes and my skin looked shallow and lifeless.
Best Eye Cream For Dark Circles:
The best eye creams are ones that are very gentle on the skin, contains pure plant or herb extracts and are very soothing on the skin. They also should not contain loads of chemicals, artificial colors and fragrances.
Once my son got back to his normal self, my stress levels came down and I started using this homemade eye cream regularly at night to help fade dark circles. It helped so much and within a few days my skin was back to normal.
Usually I make under eye creams with aloe vera gel, vitamin e oil and an extract. I change up the extract depending on what I have at home, I use either cucumber extract, green tea or rice water.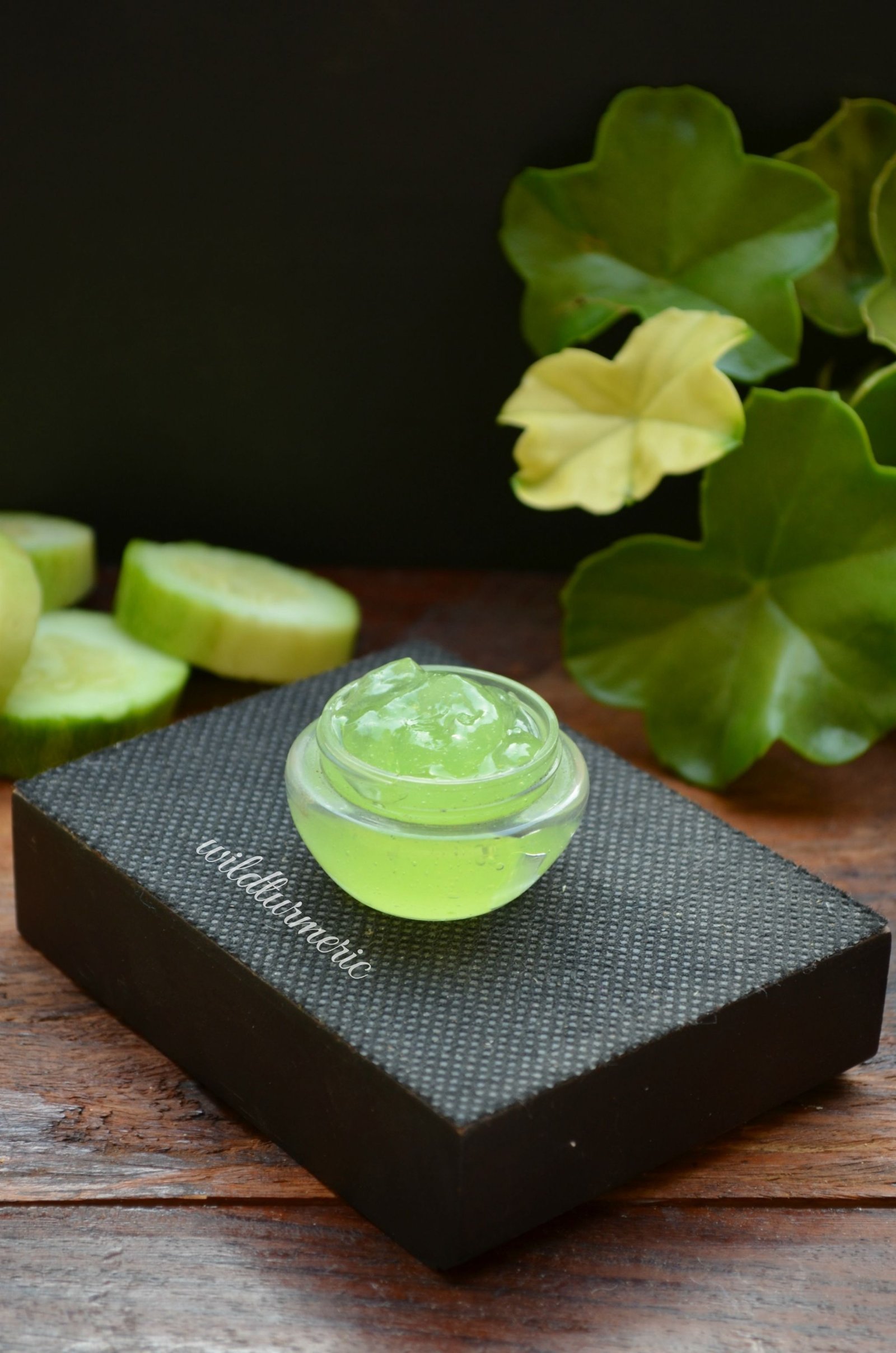 Under Eye Cream Ingredients:
Homemade under eye creams can be made with aloe vera gel as a base or cocoa butter as a base, I prefer aloe vera gel as it is very light on the skin and you can also make aloe vera gel based under eye creams under a minute if you have all the ingredients at home.
Aloe vera gel is one of the best things to use on the delicate under eye skin as it is very soothing and nourishing. Vitamin e oil fades dark circles so well. It also helps increase the shelf life of the under eye cream.
All the three extracts (cucumber, rice water and green tea) added to the cream, greatly helps fades dark circles and also helps nourish the skin as they are full of antioxidants. I usually make a small batch and leave it in the refrigerator and it lasts for around 10 days.
How To Use Under Eye Cream?
Take tiny bit of the eye cream and apply small dots all over the eyes, don't go too close to the eyes. Now gently tap the eye cream into the skin and never massage the eye cream forcefully as the skin around our eyes are very delicate.
I take few seconds to do it and it is very relaxing if you concentrate on what you are doing. Wait for the skin to absorb the eye cream for about a minute before applying makeup or foundation.
How Often To Use Eye Cream?
Make sure to use the eye cream every day night after removing all make up if you want to get rid of dark circles quickly. Make it a ritual to apply night cream everyday and this single habit alone will go a long way in preventing dark circles and wrinkles.
Also along with applying this cream, try to reduce stress, eat healthy and get adequate sleep. Though applying eye creams will help healthy lifestyle habits are essential to be free of dark circles permanently.
3 Best Under Eye Dark Circle Removal Creams:
Dark Circle Removal Cream Recipe:
This is the basic under eye dark circle removal cream recipe I have tried so far, you can choose any one of the extracts I have given below to make the cream.
METHOD:
1. Take 1 tbsp of Aloe Vera gel in a bowl. Try to use an aloe vera gel that is free of color and perfume. I would suggest using store bought gel else it will not form into a cream. Now add in the contents of 1 vitamin e capsule to it .
2. Add 1/2 tbsp of the desired extract to it and mix well. At first the mixture will be very lumpy, don't worry.
3. Continue mixing and it will form a wonderful smooth cream. Your homemade, pure under eye cream is ready.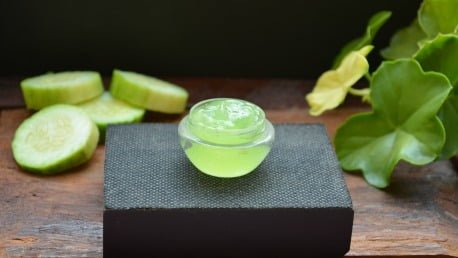 Choose Your Favorite Extract:
1. Cucumber Under Eye Dark Circle Removal Cream:
a.Take a fresh organic cucumber, wash and cut into big chunks.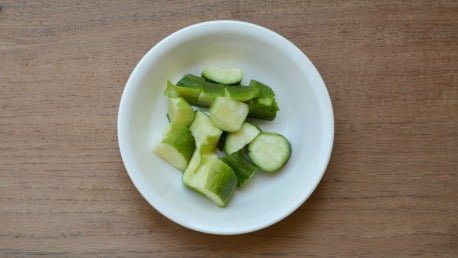 b. Grind to a coarse paste in a blender without adding any water.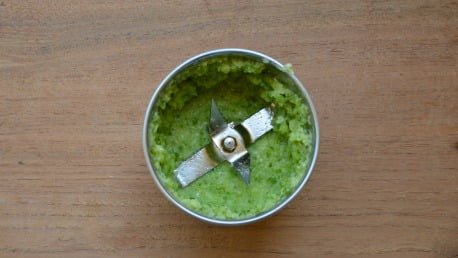 c. Strain to get fresh cucumber extract. Use the extract to make the cream. Cucumber based creams are very cooling.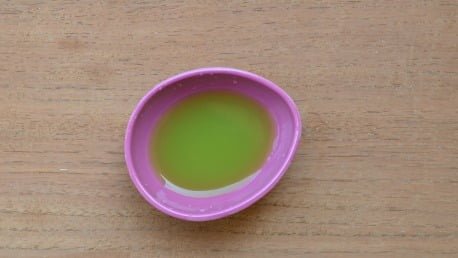 2. Green Tea Under Eye Dark Circle Removal Cream:
Make double strength green tea by pouring 1/4 cup of recently boiling water over a tsp of green tea leaves. Let it steep for 5 minutes and strain.
Let cool completely and use the tea to make the cream. Green tea based creams are great for nourishing and improving the blood circulation around the eyes.
3. Rice Water Under Eye Dark Circle Removal Cream: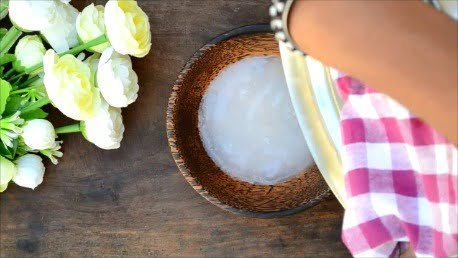 To make rice water, boil rice in a pot with plenty of water instead of rice cooker. Once done, strain out the water. This is called rice water, let cool completely and use it to make the cream. Rice water based eye creams are very very soothing.
NOTES:
Since we are adding fresh extract, the cream should be refrigerated.
If you don't refrigerate, the cream will last only for 2 days.
You can also make the extract with your favorite herbs too.
Use the eye cream every day night before going to bed consistently to see results.