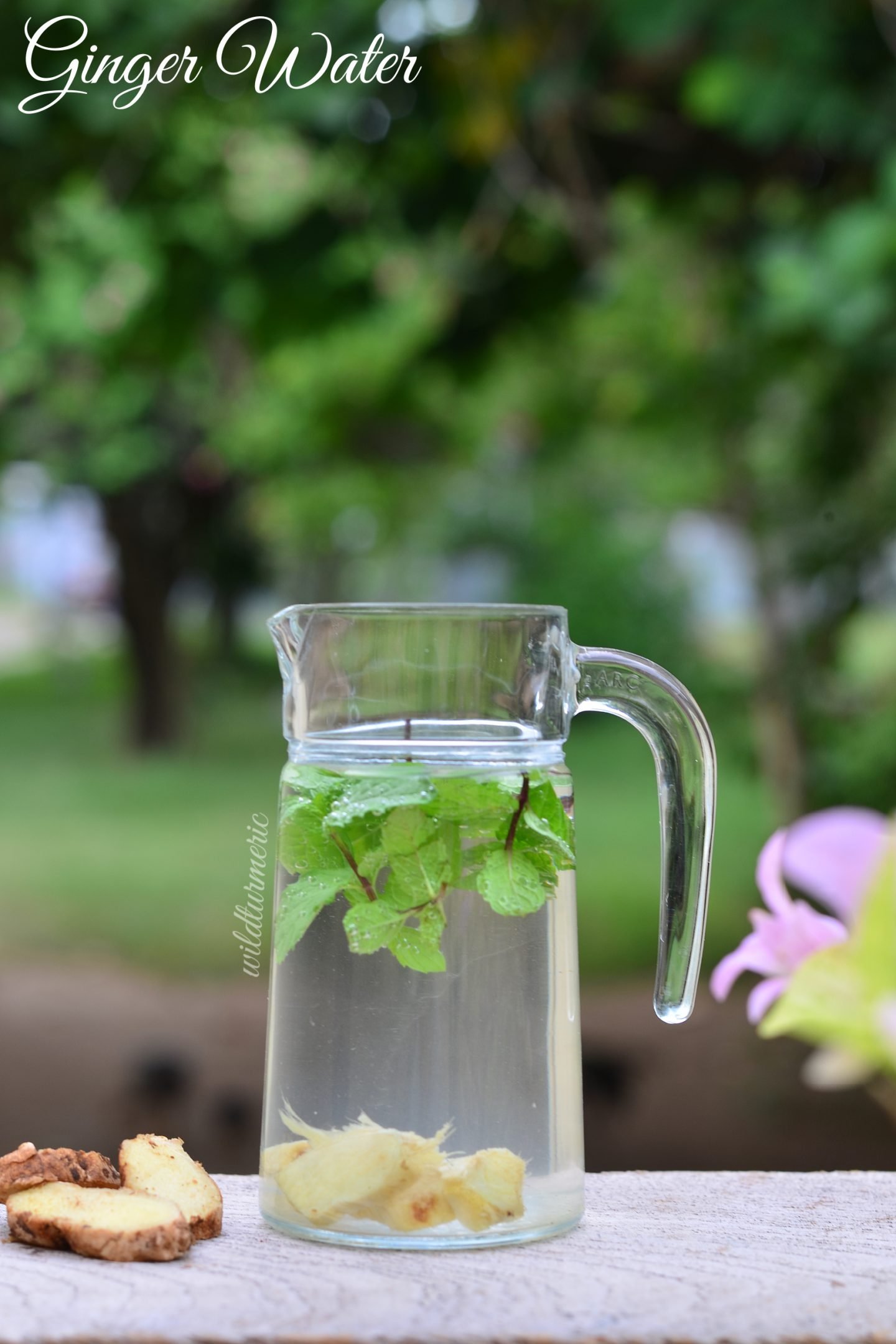 Ginger water has amazing health benefits and is one of the easiest home remedies we can make at home for treating wide variety of common ailments. From aiding weight loss to treating menstrual pain, cold & cough, indigestion and nausea, it does have wide uses. It is also so easy to make and tastes delicious.
What Is Ginger Water?
Ginger water is nothing but fresh ginger infused in water for a few hours. Ginger water can be made plain or it can be combined with other spices and herbs like lemon and cucumber to make a refreshing drink.
During hot summers months, I make ginger water along with fresh mint, lemon slices and cucumber slices almost daily and drink it throughout the day. It's very hydrating and refreshing. Ginger water can be made in many ways, I have shared all my favorite recipes below.
Ginger Water Health Benefits:
Ginger water helps treat indigestion and is one of the best home remedies for loss of appetite. If you feel bloated or if you have consumed greasy foods try consuming ginger water, it will greatly help.
It is also one of the best home remedies for nausea. When I was pregnant with my son, I had severe nausea and only ginger tea and ginger water helped. It also helps with nausea and vomiting associated with medical conditions. If you are feeling nauseous, try the mint ginger infused water recipe given below.
Ginger water is very hydrating. If you are a person who doesn't like to drink plain water, you will enjoy ginger infused water. It is very very aromatic and makes drinking water enjoyable and keeps you hydrated during hot summer months.
It helps reduce inflammation. If you are a person who is suffering from inflammatory conditions like arthritic pain, try infusing water with ginger, it will help reduce the inflammation.
It is also good as a mouth rinse and you will be surprised to know that it really helps reduce the tooth pain and inflammation fast.
Since ginger has powerful antioxidant properties, consuming ginger water on a regular basis will help improve immunity. Try to replace tea and coffee with ginger water for better health.
Ginger water helps with weight loss too. If you are on a weight loss diet, try to have a cup of ginger water regularly. Ginger also has anticancer and high blood sugar, pressure and cholesterol lowering properties.
It also has a protective effect on our brain, heart and kidneys. It truly is a detox drink that should be included in our diet regularly.
It is one of the best home remedies for menstrual pain.
Ginger Water Side Effects:
Since ginger water is just a infusion of ginger in water, it is usually well tolerated by everyone as opposed to concentrated ginger juice but if you add too much ginger into the infusion, it can cause heart burn and burning sensation in the stomach and mouth. Ginger water can be consumed by pregnant women but in moderation. Try not to go above 3.5 grams to 4 grams of ginger per day to avoid any side effects.
5 Top Ways To Make Ginger Water
1. Plain Ginger Water
Take a liter of boiled water in a jug. Take a small piece of ginger, wash, remove the outer skin and cut into slices and add to the jug. Let it infuse for an hour before consuming.
2. With Pineapples:
To a liter of water, add ginger slices and few slices of finely cut pineapple too. Let it infuse for an hour and then consume. When you are adding fresh fruits, try to consume it on the same day else it will spoil. This water can be served as an after dinner drink too.
3. With Strawberries:
To a liter of water, add fresh ginger slices and sliced strawberries. Pick firm strawberries for this else it will turn mushy very soon, this is a very flavourful drink.
4. With Mint & Cucumber:
To a liter of water, add fresh ginger slices, half a cucumber cut into slices and a small handful of fresh mint leaves. If the cucumber is not organic, make sure to remove the outer skin before slicing. This drink is very very refreshing.
5. Ginger and Lemon Water
This is a very classic recipe that many consume on a regular basis in empty stomach. To make it, cut a small piece of ginger and take it in a pitcher. Add in lemon slices and fill it with water. Let it steep for an hour before drinking. This is an amazing remedy for nausea and indigestion.