If there is one ingredient that I always stock at home, it is kasuri methi also called kasoori methi in India and dried fenugreek leaves in rest of the world. It has amazing health benefits and it gives a nice flavor to curries, if we add it at the end. Kasuri methi is very rich in nutrients and one amazing thing about kasuri methi is it can be used for skin care too. Since the leaves are dried, they can last well for long duration's of time without getting spoilt as opposed to the fresh methi leaves.
What Is Kasuri Methi?
Kasuri methi is nothing but dried fenugreek leaves. We call fenugreek "Methi" in India and it is a popular spice used extensively both in cooking and in remedies. The botanical name of fenugreek leaf plant is called Trigonella Foenum Graecum. The leaves of the plant are called fenugreek leaves. The fresh leaves are consumed as greens in India and we add it to gravies, dal and while making chapathis here in India. The dried fenugreek leaves popularly called kasuri methi is mainly used to add a nice aroma to gravies.
Kasuri Methi Nutrition:
100 grams of fresh fenugreek leaves have 49 calories, 1 gram of protein, 1 gram of fat, 4 gram of fibre, 6 grams of carbohydrate, 395 mg of calcium, 51 mg of phosphorus and 2 mg of iron. It is also rich in thiamine, riboflavin, carotene, niacin and zinc. But due to the drying process, 83 to 85 % of vitamin C is lost. There can be a slight variation in other mineral and vitamin content between kasuri methi and fresh methi leaves too but it will not be as significant as vitamin C.
Difference Between Kasuri Methi & Methi Leaves:
Kasuri methi and methi has almost the same nutritional values but like I mentioned before kasuri methi has 83 to 85 % lower vitamin C content due to the drying process. The other main difference is in the taste and aroma, in kasuri methi, it is more concentrated as opposed to the fresh methi leaves. We can store dried methi leaves for long duration's of time whereas we can't store fresh methi leaves, it spoils fairly quickly.
Kasuri Methi Common Names:
Kasuri methi is called dried fenugreek leaves in English and Kasuri Methi or Kasoori Methi is the Hindi name. It is called Kayntha Vendhaya Ilaikal (காய்ந்த வெந்தய இலைகள்) in Tamil, Mentikoora in Telugu, Menthya Soppu in Kannada, Methi Pata in Bengali and Uluva ila in Malayalam.
Kasuri Methi Health Benefits:
1. Antioxidant Properties:
Kasuri methi has amazing antioxidant properties and it helps reduce oxidative stress which is the major cause of many diseases. Regularly consuming methi leaves in any form be it kasuri methi, methi leaf powder or fresh methi leaves will help improve immunity and reduce oxidative stress.
2. Improves Digestion:
Kasuri methi when added to food acts as a natural appetizer and helps improve digestion. For kids who don't eat well, it is a good idea to sneak in kasuri methi into their food, it will help improve their digestion. Just add a tbsp or two of kasuri methi while making chapathis for them and they will never know 🙂
3. Anti Cancer Properties:
Methi leaves in any form has potential anti cancer properties and this applies to kasuri methi as well. Try to include methi leaves in your diet often to remain healthy and free of all diseases including cancer. Many people think kasuri methi can be added to only certain gravies like paneer butter masala, methi mutter malai, etc but it can be added to all stir fries and even in breads.
4. Anti Diabetic Properties:
The usage of fenugreek for diabetes is so famous that you will find most of the diabetic patients well aware of the benefits of fenugreek for keeping their blood sugar levels stable. Not only fenugreek seeds, dried fenugreek leaves (kasuri methi) also keeps the blood sugar levels stable and is good for diabetic patients.
5. Anti Ulcer Properties:
Methi leaves have a soothing effect on the stomach and has anti ulcer properties. If you are suffering from ulcer, try to have kasuri methi soup. To make the soup, slightly fry kasuri methi leaves in a dry pan and crush it with your hands. Now boil vegetables of your choice along with salt and coconut milk and finally add the fried and crushed kasuri methi leaves. Consume this soup regularly as a remedy for ulcer.
6. Good For Heart Health:
Kasuri methi is good for heart health too. Consuming methi leaves regularly has been proven to reduce serum lipid levels and since it both stabilizes blood sugar levels and reduces lipid profile, it is good idea for everyone to include it in our diet regularly. You can read the study that supports this claim here.
7. For Breast Feeding Mothers:
Fenugreek is one of the best home remedies for increasing breast milk. Here in our village, we make fenugreek porridge and give it to breast feeding mothers and it greatly helps increase breast milk. Like fenugreek seeds, fenugreek leaves also is good for breast feeding mothers as it is rich in iron and calcium. Try to include both fresh methi leaves and kasuri methi in the diet regularly.
8. For Weight Loss:
If you are in a calorie restricted diet, the best bet is to look for ingredients that are low in calories, full of nutrients and keep us satiated for a long time. Fenugreek leaves does exactly that, it is very filling, very nutritious and keep us satiated for a very long time. One of the best ways to consume kasuri methi for aiding weight loss is to add it to stir fried vegetables at the end. It gives a nice flavor and also helps keep our blood sugar levels stable.
9. For Great Skin:
Since kasuri methi is full of antioxidants, consuming it regularly will greatly prevent free radical damage which is the main cause for premature ageing of the skin. Since it is rich in vitamins and minerals, it gives a nice glow to our skin. We can also use kasuri methi for external application too. The water extract of kasuri methi leaves got by boiling the leaves in water can be added to any face packs and face scrubs.
10. For Healthy Hair:
Kasuri methi leaves is great for hair both when consumed internally and applied externally. Since kasuri methi is rich in iron and zinc, it is good for hair health if consumed internally. Kasuri methi can be used as a substitute for fresh methi leaves for making fenugreek leaf hair oil. To make the oil, add 2 tbsp of kasuri methi leaves to 1/2 cup of unrefined coconut oil and place it under hot sun for 3 to 4 days and strain. This hair oil will strengthen and nourish our hair greatly.
Kasuri Methi Side Effects:
Kasuri methi generally agrees with everyone and will rarely cause any problems if consumed in moderation. Fenugreek leaves are bitter in nature and kasuri methi is also bitter and though we don't experience the bitter taste when added to gravies, it is bitter when consumed alone so it very rarely over consumed but if you do, it might cause some indigestion problems. Pregnant women should have it only in moderation.
Where To Buy Kasuri Methi?
Kasuri methi can be easily purchased in all the departmental stores in India as it is widely used in cooking. 100 grams of kasuri methi costs approximately around 80 rupees. If you are living abroad you can buy kasuri methi easily in all Indian departmental stores. Once you buy kasuri methi, transfer to a bottle and store in the fridge, it will last well for months together. If you have access to fresh methi leaves, you can easily make your own kasuri methi at home.
How To Make Kasuri Methi At Home?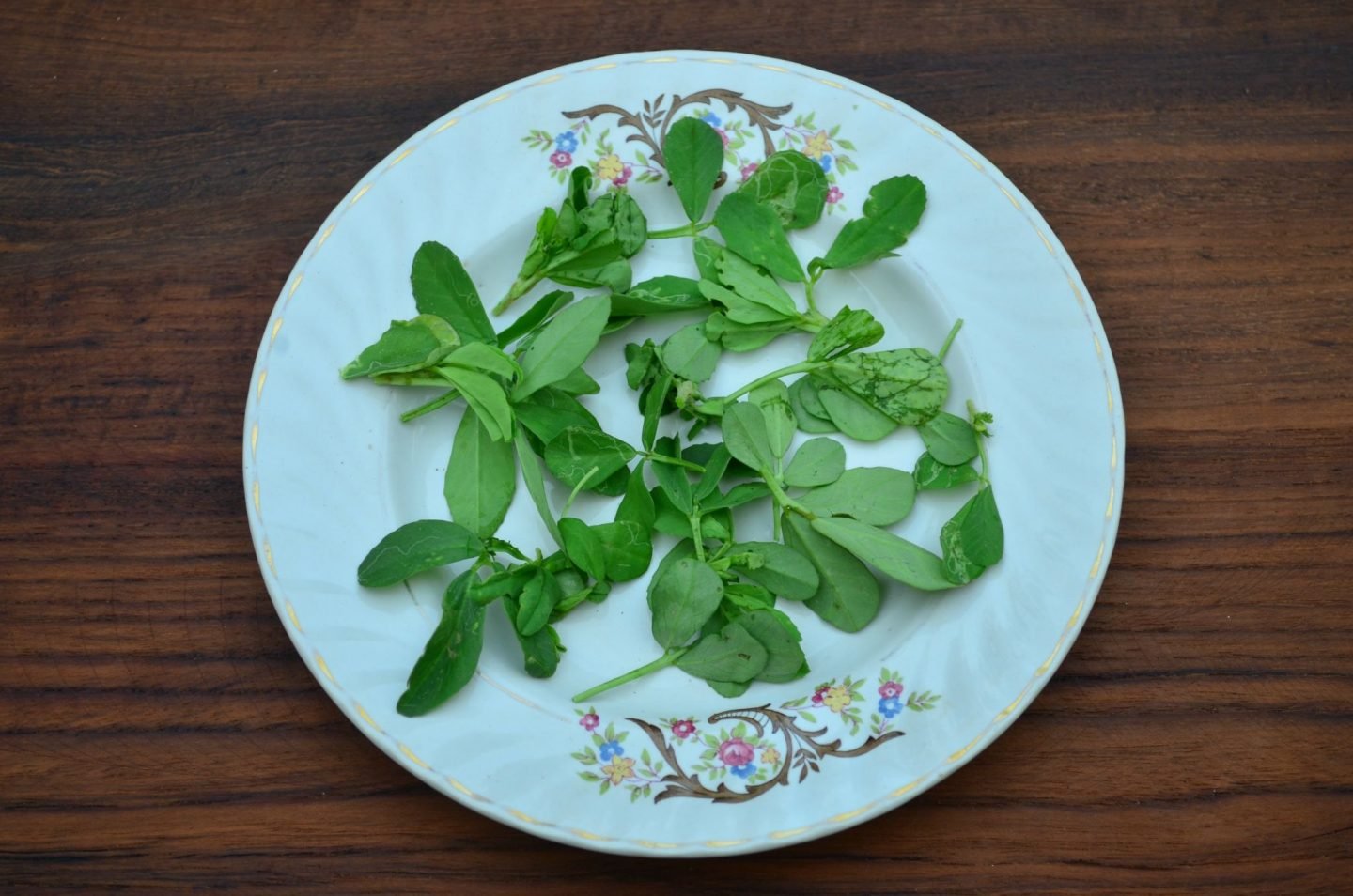 To make kasuri methi at home, wash fresh methi leaves under running water to get rid of any dirt. Now spread it over a kitchen cloth to absorb all the moisture. Once the moisture has been fully absorbed, spread it on a plate and shade dry till there is no moisture left during hot summers. I like to keep in the shady place in my portico away from direct sunlight covered with a thin mesh to prevent dust from settling on top. Once fully dried, I like to store it in a bottle in the refrigerator so it remains fresh for long duration's of time.
How To Use Kasuri Methi?
To use kasuri methi, take the required amount of kasuri methi leaves in a thick bottomed pan and start heating on low to medium flame. Heat till the leaves are warmed up, this will take around a minute or two and then switch off the flame. Once it cools down, crush the roasted kasuri methi leaves finely with your hands and add it to recipes.