Licorice also called as liquorice is the root of the plant called Glycyrrhiza Glabra. It is very famous all over the world for it's healing properties and it is also widely known for it's skin lightening properties.
Licorice powder has been used extensively in both traditional medicine and home remedies from ancient times. Along with health benefits, it has amazing skin care benefits too.
The main active compounds of licorice that has a positive effect on our skin are Glabridin, Liquiritin and Isoliquertin. Licorice is called Mulethi in Hindi, Yashtimadhu in Sanskrit, Adhimadhuram in Tamil, Ati Madhuramu in Telugu, Ati Madhura in Kannada and Jesthamadh in Marathi.
Licorice For Skin Lightening:
Licorice has skin lightening properties and you will find licorice in all skin lightening creams. When I mention skin lightening, what I really mean is to lighten scars, dark spots and pigmentation. Every skin color is beautiful but it will be more beautiful if it is even toned and licorice helps achieve it easily by lightening all skin blemishes.
Licorice Skin Benefits:
The flavonoid liquirtin present in licorice have skin lightening properties and helps lightens scars and blemishes.
Licorice have anti inflammatory properties and helps reduce skin inflammation.
The active component glabridin in licorice powder greatly helps reduce the effect of sun damage. Applying licorice based extract on the skin after prolonged sun exposure helps us get back our original skin color.
Licorice extract is also a good remedy for treating melasma. It lightens the dark patches caused by melasma really well and it is also a good home remedy for skin pigmentation.
Licorice powder when used as a face pack improves skin hydration and makes the skin look plumper and brighter.
3 Licorice Face Packs For Lightening Scars & Blemishes:
I have given 3 face packs that I have tried over the years using licorice powder. All these face packs works really well in lightening scars, pigmentation and dark spots.
I have used sandalwood powder, turmeric, honey and lemon juice in these three face packs and all these ingredients also have skin lightening properties. Choose any one of these three face packs and use regularly at least weekly twice to see results…
1. Licorice & Turmeric Face Pack: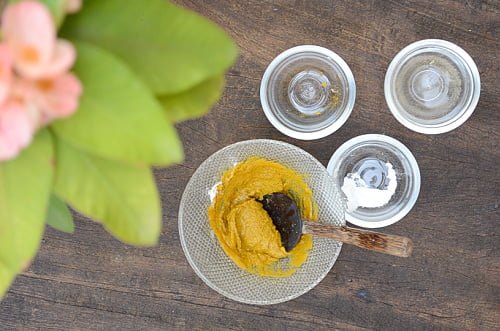 For the face pack, take 1 tbsp each of rice flour, kasthuri turmeric and licorice powder in a bowl. Squeeze in few drops of lemon juice. Add in enough rice water or rose water to form a paste and use as face pack. This face pack will treat acne scars really well.
2. Licorice & Sandalwood Face Pack:
Take 1 tbsp of licorice powder in a bowl. Add in 1/2 tsp of red sandalwood powder. Squeeze in few drops of lemon juice. Finally add enough milk to from a paste and apply as a face pack. If you have oily skin, use rose water instead. This face pack will lighten dark spots resulting in fair and glowing skin.
3. Licorice & Honey Face Pack:
For the face pack, take 1 tbsp of licorice powder in a bowl. Add in enough unprocessed raw honey to form a paste and apply as a face mask. This face pack will brighten the skin tone really well.