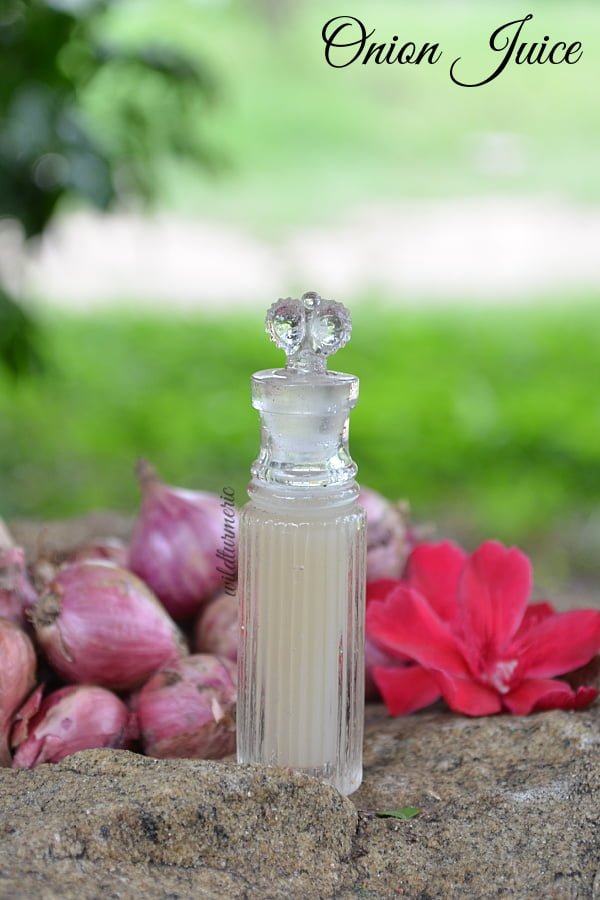 Many of you must have heard of using onion juice for promoting hair regrowth and treating hair loss. It is an age-old remedy that is backed by research now, I always feel very happy when I come across research that proves our traditional remedies. From promoting hair regrowth to stopping hair loss and baldness, onion juice indeed has amazing hair benefits!
Is Onion Good For Hair?
Onion is rich in sulfur and it is also the ingredient that gives onion its strong pungent smell. The type of sulfur found in onions is easily absorbed in the scalp and sulfur helps in the formation of keratin which in turn helps in hair regrowth. Sulfur is also essential for collagen production which is in turn essential for hair growth.
Onion Juice Hair Benefits:
1. For Spot Baldness | Alopecia Areata:
Using onion juice on the scalp is a remedy that is very very popular in our village for treating alopecia areata or bald spots, we call it "Pulu Vettu | Poochi Vettu" in Tamil. Usually, we use only small red onion juice for treating alopecia areata, the remedy gives amazing results very quickly, you can read the research that proves this traditional use
here.
I would suggest using the onion juice continuously for at least 6 to 8 weeks to see results.
2. For Grey Hair:
Onion juice can be used for reversing premature greying of the hair very effectively. Oxidative stress is said to be one of the main reasons for causing premature greying. Onion juice when applied on the hair topically helps in the formation of catalase which in turn prevents oxidative stress very effectively. You can use onion hair oil regularly to prevent and treat premature greying of the hair.
3. For Scalp Infections:
Onion juice has anti-bacterial properties which help treat all scalp infections very very effectively. It is especially useful for treating dandruff. A few months back, one of my cousins was suffering from severe dandruff, I suggested she try onion juice mixed with a little bit of coconut oil and an egg as a hair pack as she has dry hair. Surprisingly she got good relief from dandruff in the first use itself!
4. For Hair Regrowth:
Applying onion juice on the scalp also improves the circulation in the scalp which in turn will help in hair regrowth. Though onion juice has these wonderful benefits when applied on the scalp, onion juice stinks, and like with every remedy some tolerate it well and some might find it very hard to apply on the scalp. For them, I have given different ways to apply onion juice on the scalp below in the order of effectiveness, choose the method that you prefer.
Onion For Hair Side Effects:
The main side effects of using onion juice for hair growth is it will aggravate sinus infection in people who are prone to it. After using raw onion juice or onion paste as a hair pack, people who are prone to sinus infection might experience headache and runny nose. For them I would suggest using onion hair oil. Except for people who are prone to sinus infection, onion juice generally agrees with everyone.
5 Onion Hair Regrowth Treatments:
1. Onion Juice For Hair Loss:
To make onion juice for treating hair loss take small onions also called shallots, remove the outer skin and grind them to a paste in a blender without using water. Press the ground paste through a strainer to extract the juice. Apply the juice all over the scalp using a hair dye brush.
2. Onion Poultice For Baldness: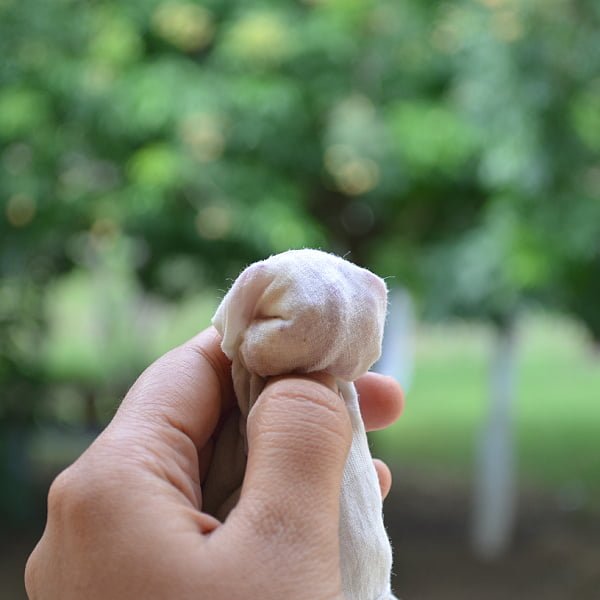 An onion poultice is also an effective way to apply raw juice on the scalp. To make the poultice, pound raw onions coarsely and take the pounded onions in a muslin cloth and tie it into a bundle. If you press the bundle, the onion juice will come out. Apply the onion juice by pressing the bundle all over the scalp.
3. Onion Paste For Hair Regrowth: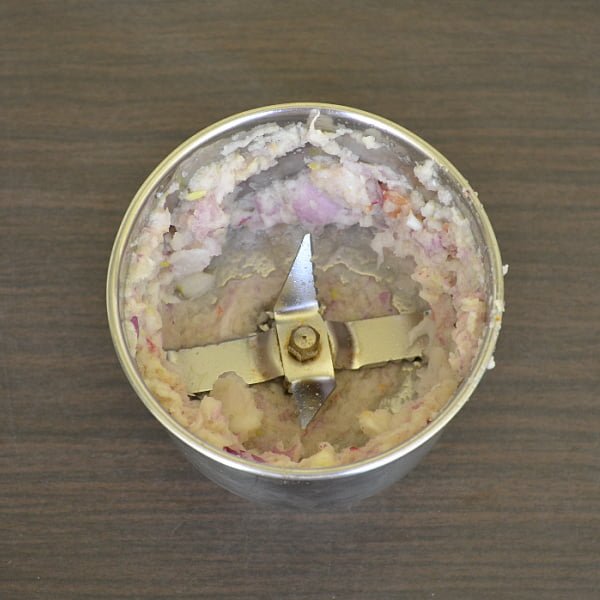 We can also grind the onion into a paste alone and apply it as a mask. For the onion paste, peel 1/4 cup of either small or big onions and grind in a blender to a smooth paste. Apply this as a hair pack all over the scalp. Please remember that when we use the raw paste separately, the smell will be too strong so make sure to wear a plastic cap.
4. Onion Hair Pack For Hair Thickness: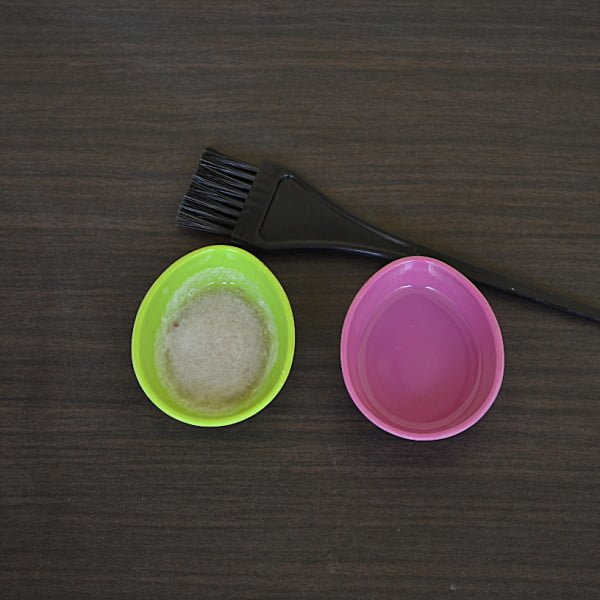 To make onion hair a pack, take a tbsp of onion juice in a bowl. Add in a tsp of virgin coconut oil to it. You can use this hair pack as it is or you can also add in 1 egg to it, mix well and use. This hair pack will treat all scalp problems well.
5. Onion Hair Oil For Hair Growth: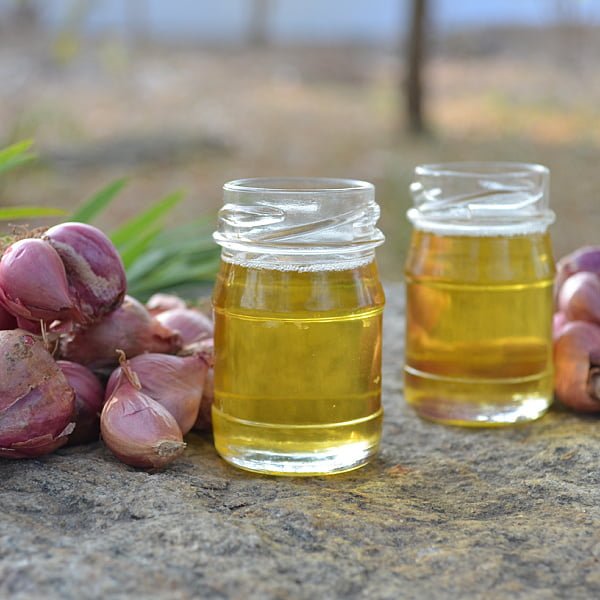 To make onion hair oil, pound a handful of onions in a mortar and pestle. Now heat a cup of unrefined coconut oil in a pan and fry the pounded onions till the sizzling sound stops which indicate that there is no moisture content left in the onions. Now let cool and strain. You can use this hair growth-promoting hair oil as a pre-shampoo treatment.