Tamarind also popularly called imli in Hindi and Puli in Tamil not only has culinary uses but has amazing health benefits too. Tamarind is such a part of our life here in our village, we use it extensively both in cooking and also in remedies.
We have plenty of tamarind trees in our farm and I was busy the last few days collecting fresh tamarind, drying and storing it for this years use. Usually we are very busy during summers as we do all our drying, grinding, preparing our powders and oils for the whole year's use. Especially preparing tamarind and storing is a very important process.
Not a day goes by without using tamarind, it is such a part of our diet that you will never find an Indian kitchen especially South Indian kitchen without tamarind. Most of the traditional food that we consider great delicacies are mostly made with tamarind, I can't imagine a life without sambar, tamarind rice | puliyodharai, puli kulambu and most importantly our tamarind rasam :).
What Is Tamarind?
Tamarind is a tree with many wide uses. The fruit pulp is the majorly used part of the tree but the leaves and even the seeds of the fruit also have medicinal uses and also other commercial uses too. The fruit pulp is used to flavor many dishes and here in South India we use it almost every day in curries and soups that we call rasam. We also use tamarind paste and tamarind leaves in home remedies too. Along with the fruit pulp, the leaves and flowers are also consumed.
Tamarind Botanical & Common Names:
Tamarind is called Puli in Tamil & Malayalam, Imli in Hindi, Cintapandu in Telugu, Hunase in Kannada, Tetul in Bengali, Amli in Gujarati and it's botanical name is Tamarindus Indica. Tamarind has tartaric acid which gives it unique sour taste and it is also packed full of vitamins and nutrients.
Tamarind Fruit Nutrition:
Tamarind fruit is rich in dietary fiber, vitamins and minerals like vitamin C, thiamin, riboflavin, niacin, vitamin B6 and folate. A cup of tamarind pulp (120 gms) contains around 287 calories, 3.4 grams of protein, 6 grams of fibre, 75 grams of carbohydrates and .7 grams of fat.
Tamarind Tree:
Tamarind tree is a medium sized tree that produces pod like fruit. It need plenty of sunlight and is found plenty all over India. The leaves are small and green in color and the flowers are yellow and yellow in color. Most of us think only the fruit has medicinal uses but not only the fruit, the leaves, the bark, the seeds also has multiple uses.
Though the medicinal uses are the same for all the varieties of tamarind, some varieties of tamarind trees produces very sweet fruits compared to others, we always prefer them and they are the best for using in cooking as it gives a wonderful sweet and sour taste.
Tamarind Traditional Uses:
Though we can't eat the fruits too much as it is too sour, tasting tiny bits of the fruit prevents nausea. I love very ripe fruits and suck on it sometimes. I even love to eat the raw tamarind fruits after peeling of the skin with tiny bit of salt, it has a crunchy sour taste to it.
We use the tamarind seeds for playing traditional games like pandian kuli. When I was a kid, all the kids from our village used to gather together in a place and play traditional games like pandian kuli throughout the day, there used to be piles of tamarind seeds in most of the homes just for playing.
It used to go on till it got dark and parents have to drag us home everyday for sleeping, writing about tamarind brings back fond memories of my childhood. We also roast the seeds, remove the outer covering and chew on them. The roasted seeds are hard and they stay in our mouth for a long time. At home, we store tamarind in huge ceramic jars sprinkled with sea salt for the whole year.
a. Fruit Pulp
Traditionally tamarind fruit pulp is used in various culinary preparations like curries, soups, chutneys, sauces and even in some desserts. Tamarind balls, a sweet made out of tamarind is also very very popular here in India. It tastes wonderful and is a good remedy for nausea. We also make tamarind juice that we call panakam in Tamil.
b. Tamarind Seed
Tamarind seed has many commercial uses. It is a very popular food additive for improving the viscosity and texture of processed foods. Tamarind seed polysaccharide has jelly forming properties. It is used as a stabilizer in ice creams, mayonnaise and certain cheeses.
c. Leaves and Flowers
The leaves of plants and immature peeds parts of tamarind are edible. Here in India we don't use the leaves and plants much but in certain countries like Africa and Thailand, it is used in certain recipes especially during times of scarcity. The leaves and flowers also used as an important ingredient in dyeing.
d. Tamarind Wood
Tamarind wood is used for making furniture, mortar and pestle, printing blocks, toys and various other products like printing blocks and sugar presses.
Tamarind Chemical Constituents
Tamarind pulp contains many important organic acids like tartaric acid, citric acid, acetic acid, malic acid, succinic acid, formic acid and also amino acids. It also contains invert sugar, proteins, pectin and fat.
10 Top Medicinal Uses Of Tamarind
1. Anti-inflammatory and Analgesic Properties
We apply tamarind paste mixed with turmeric powder to treat sore muscles, minor sprains and swollen joints. It greatly helps reduce the pain and swelling without any burning sensation, it is also very gentle on the skin too. We also make a poultice with tamarind leaves and apply as a compress to reduce inflammation and pain. Along with anti inflammatory and analgesic properties, it also has antioxidant properties.
2. Metabolic Diseases
Tamarind water extract helps reduce high blood sugar levels. It showed strong alpha amylase inhibition activity and moderate alpha-glucosidase inhibitory activity, these two enzymes are involved in the digestion of carbohydrates and in him and inhibiting them can significantly reduce the postprandial increase of blood glucose.
There was also no toxicity when consuming tamarind so it is a good anti diabetic agent for people suffering from high blood sugar levels. Tamarind fruit pulp at a dose of 15 mg per kg reduced total cholesterol levels and LDL cholesterol level to a significant extent. Though the fruit pulp had no effect on systolic blood pressure it reduced diastolic pressure.
3. Anthelmintic
The leaf, seed and bark extract of tamarind has been traditionally used for getting rid of intestinal parasites. The water extract of the leaves and bark was taken to get rid of intestinal parasites and it is been proven to be very effective. In a study, Indian earthworm Pheretima posthuma and aquarium worms Tubifex tubifex were placed in a container with water and alchol tamarind extract.
The alcohol extract caused paralysis at 22 min and time of death at 45 min for Pheretima posthuma and 14 min as paralysis time and 20 min as death time for Tubifex tubifex worms respectively.
With the water extract, paralysis time for both Pheretima posthuma and Tubifex tubifex was 58 and 23 min respectively while time of death was 87 and 28 mins respectively which shows that though water extract is effective alcohol extract is even more an effective anthelmintic.
4. Wound Healing & Anti Venom Properties
In our village, we use tamarind leaf extract as a wound wash to heal wounds faster. This is due to the powerful antibacterial properties present in tamarind leaves and here is a study supporting this traditional use. The seed extract has anti venom properties, the seed extract is effective against snake bite.
5. Natural Aphrodisiac
Tamarind water extract is a natural aphrodisiac. In a study, 24 rats were divided into 4 groups. Two groups were given tamarind extract at the doses of 125 and 250 mg per kg for 54 days daily. The third group was given standard drug and the fourth group was given nothing. After 54 days, there was significant improvement in sexual desire and sexual arousal equal to the standard drug in the the treatment groups, sperm motility also significantly increased.
6. Protective Effect On Liver, Lungs & Kidneys
In a study done on rats with induced hepatotoxicity, the water extract of tamarind significantly reduced all the elevated biochemical markers caused due to the toxicity, this is due to its powerful antioxidant properties. It also has a protective effect on a kidneys too and greatly improves renal function parameters in damaged kidneys. Tamarind stem bark extract also has a protective effect on the liver. The leaf extract has anti asthmatic effect.
7. For Weight Loss
Many of you must have heard that tamarind extract helps with weight loss. This is indeed true and here is a study supporting this claim. Tamarind does this through anti lipase (the enzyme that is produced by the pancreas to help digest and absorb dietary fats) and anti amylase (reducing carbohydrate digestibility by controlling the enzyme alpha-amylase) activity.
I also found a study done on rats. In that study, cafteria diet was given to rats for 40 days and in the group that was given tamarind extract along with high fat diet there was significant reduction in body weight, serum cholesterol, triglycerides and increase in high density lipoprotein (HDL).
8. Digestive Problems
Tamarind has been used for treating various digestive related problems including constipation. For treating constipation, the ripe tamarind fruits are consumed in various parts of the world and due to the presence of high amounts of tartaric, malic and potassium acid, it greatly helps treat constipation.
9. Anti Microbial
Usually for food preservation, preservative agents like lactic acid benzoic acid sorbic acid and acetic acid are used but chemical preservatives are harmful to our health. Chand and is a good natural preservative it is effective against many gram positive bacterial strains like Staphylococcus aureus, Staphylococcus epidermidis, Bacillus subtilis and Listeria monocytogenes.
This is due to the presence of tannins terpenoids and citric acid. It also inhibits many gram negative bacteria including Pseudomonas aeruginosa, Salmonella typhi and Escherichia coli. The seed leaves and fruit extract have antimicrobial properties.
10. Anti Cancer Properties
Both tamarind fruit extract and tamarind seed extract have a powerful anticancer properties. The seed extract has been proven to have very powerful anticancer properties against many cancer cell lines including renal cell carcinoma and tamarind fruit extract has been proven to protect against the development of colon cancer.
Tamarind Side Effects:
Though tamarind fruit is sweet and sour and is good to suck on, elders will always scold us for doing it. That is because consuming too much of tamarind causes acidity and stomach burn. Consuming tamarind in our traditional diet like how our elders did will not cause any problems but if you are consuming large doses of tamarind at a time, it will cause acidity.
Taking large doses of tamarind at a time also might interfere with certain medications and will have an impact on blood sugar levels. Since tamarind fruit is highly acidic, sucking on the fruit often will affect our tooth enamel too. Pregnant women can safely consume tamarind but in moderation. It is always best to use tamarind in moderation (our elders always insisted on this) and in my opinion never in large doses.
5 Top Ways To Use Tamarind:
1. Tamarind Pain Balm: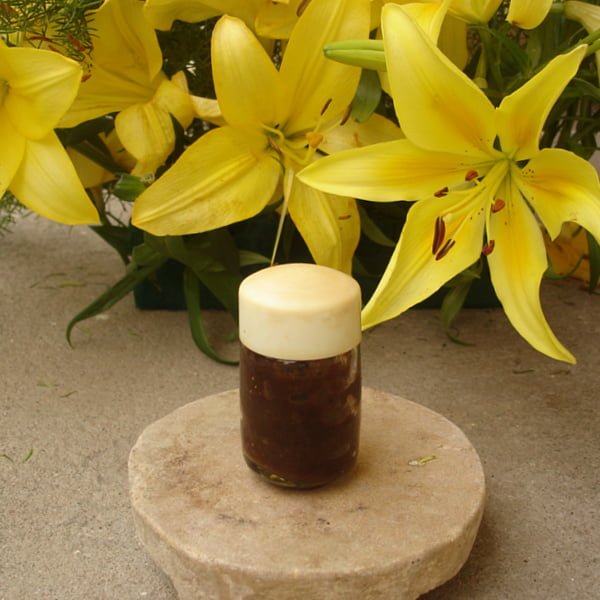 Before the store bought pain balm became famous, tamarind paste was the first choice for sore muscles, minor sprains and swollen joints. It helps to reduce the pain and swelling without any burning sensation that usually accompanies a store bought pain balm. It is so gentle on the skin too.
To make this pain balm, remove the shell and the inner seeds of ripe tamarind. Soak the flesh in water for 2 to 3 hours. Make a smooth paste out of it in the blender. Add a little salt and turmeric powder to it and boil the paste till it reaches a thick creamy consistency. Apply the paste on the affected area when it is still warm!
2.Tamarind Leaves Antiseptic Wash:
This homemade antiseptic wash made with tamarind leaves has amazing medicinal uses. It can be used for cuts, wounds, allergies, skin infections, scrapes and is very effective in treating and healing wounds naturally. This antiseptic wash is made with tamarind leaves and neem leaves. Both neem and tamarind leaves have powerful antiseptic properties and together, they help in faster healing of the wounds.
To make this antiseptic wash, first collect fresh tamarind and neem leaves. Boil water in a wide pan and once the water comes to boil, add the leaves all at once. Let it boil till the leaves change color. The color of the water will also change to light green color, switch off. Cool and use it as an antiseptic wash, to wash the wounds. Try using it both morning and evening for best results.
3. Tamarind Leaf Compress: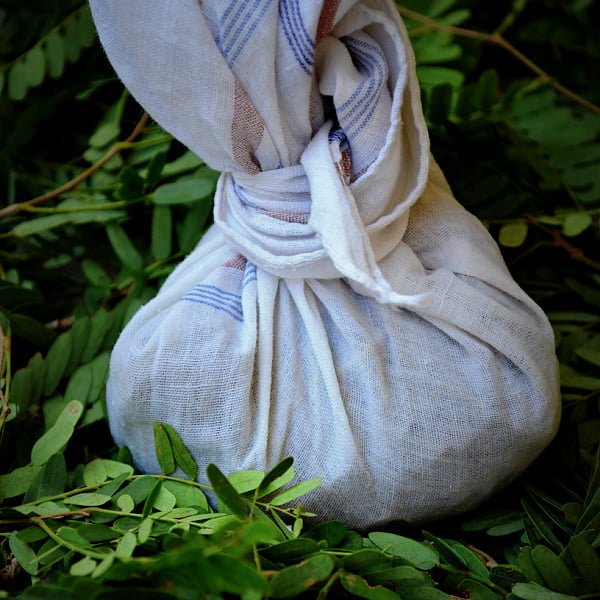 This tamarind leaves compress is a very effective home remedy for muscular pain and sprains. The leaves of tamarind tree is very good in treating muscular sprains and also helps in greatly easing the pain. To make the tamarind leaves compress, boil water in a wide pan and once the water comes to boil, add all the tamarind leaves at once.
Boil for 5 minutes till the color of the leaves changes to light brown color and switch off the flame. Wait for the water to cool down a bit, now remove the tamarind leaves using a strainer and place it over a pure cotton cloth. Tie the cloth into a bundle and use it as a compress for muscular sprains. The compress should be warm to the touch.
When the compress looses it's heat, dip it in the water that the leaves were boiled in and squeeze to remove excess water and use again. This tamarind leaves compress can be used both morning and evening till one gets good relief.
4. Tamarind For Skin:
Tamarind has anti septic and skin lightening properties and the tamarind leaves can be used for treating minor skin infections like mentioned before. Also the fruit pulp can be used in face packs as it has skin lightening properties. It also tones the skin and is ideal for using it in firming face packs.
For using it in face packs, first soak tamarind in water for some time and extract the thick pulp. To make the face pack, take 2 parts besan, 1 part turmeric powder and mix well. Add tamarind little by little till it forms a spreadable paste. To use, apply a thin even coating on clean face, wait for 15 to 20 minutes till it dries and then wash it off.
5. Tamarind For Digestion & Other Uses: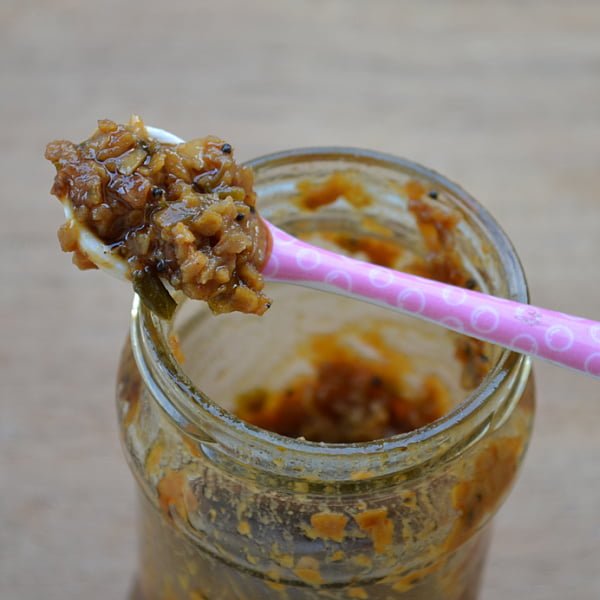 At home, we make tamarind and ginger preserve popularly called as inji puli and it greatly aids in digestion. Tamarind can be used for polishing copper and brass and we use only tamarind to polish them at home. To use, first wash the vessel that you are going to polish then take a piece of tamarind and stat rubbing till it starts shining again.
Tamarind also acts a laxative but I would suggest not using it solely for treating constipation, instead you can choose recipes that is high in fiber and has tamarind included in it to prevent the side effects.