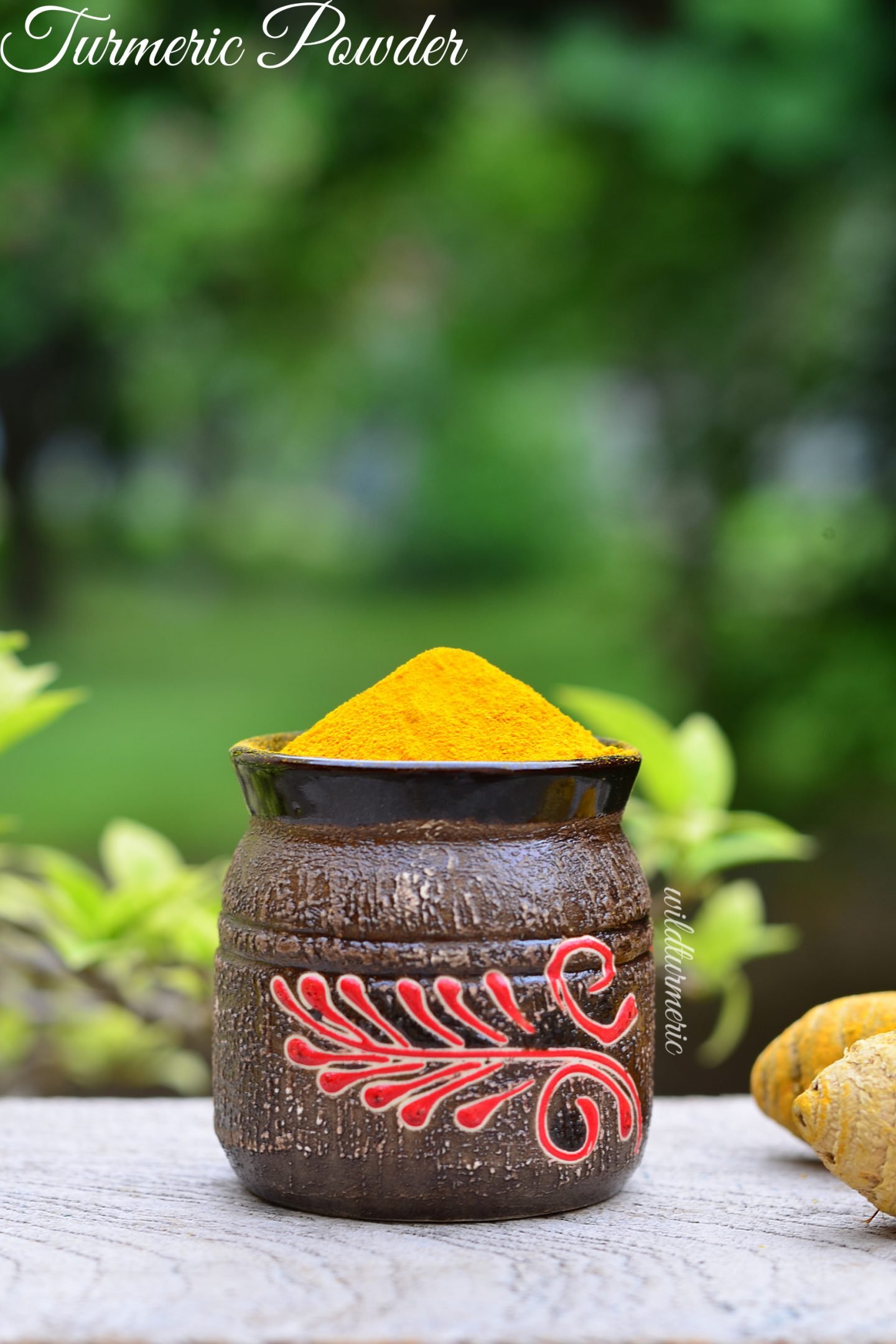 Turmeric powder has loads of health benefits and medicinal uses. We always stock turmeric powder at home as we use it in our cooking for all the three meals. Turmeric powder is not just a spice for us, it is a medicine too. It heals a wide variety of problems from reducing inflammation, treating skin problems like acne and scars, improving our immunity, treating ulcers and healing wounds. The list of medicinal uses of turmeric is quite long and you can read about them in detail here.
What Is Turmeric Powder?
Turmeric powder is got by grinding the rhizomes of turmeric plant which belongs to the genus Curcuma. There are many varieties of turmeric and the variety that is normally used for cooking in India is Curcuma longa.
Curcuma Longa Varieties
There are 2 common varieties of Curcuma longa, one is long and thin and another is a short fat variety we call gundu manjal in Tamil. We use both for making turmeric powder.
How to Make Turmeric Powder At Home
Collect fresh turmeric roots, soak them in water to get rid of all the dirt. Rub them well to remove dirt completely. Rinse a few times and strain out the water.
Steam the roots in a steamer or idli pan.
Once soft to the touch, cut into very small pieces. Now spread them on a plate and sun dry till there is no moisture left.
Powder in a dry mixer. We usually make it in bulk so we take it to our local flour mill for powdering. I would suggest the same to you too as it is very hard to powder in a mixer.
Spread ground powder in a plate to cool down completely and then store in a glass bottle. Turmeric powder will last well for an year at room temperature in the pantry.
Turmeric Powder Nutritional Value:
100 grams of turmeric powder contains around 352 calories, 3.8 grams of fat, 19.8 grams of fibre, 72 grams carbohydrates and 6.8 grams of protein.
Turmeric Powder Dosage & Side Effects
Turmeric powder if used in the amount that we normally add in cooking will not cause any problems at all but in therapeutic dosages it can cause side effects if we go above a certain amount. It has been proven to be safe up to 8 grams per day so I would suggest not consuming more than that. You can read the detailed side effects of turmeric here.
Where To Buy Turmeric Powder?
We get turmeric powder in all the departmental stores in India for very cheap. When buying turmeric powder, try to buy organic turmeric powder for best results. You can also order it online too.
Turmeric Powder Benefits: 5 Top Ways To Use Turmeric Powder
1. Turmeric Powder Face Oil
Take a tablespoon of turmeric powder in a glass bottle. Add in 1/4 cup of grape seed oil. Let it steep for a few days, after few days the turmeric powder will settle down and the golden oil will float on top. Use the oil to massage your whole body. This oil will help prevent skin infections very very effectively and everybody will benefit using it.
2. Turmeric Face Pack
For the face pack, take a tablespoon of turmeric powder in a bowl. Add in equal amounts of multani mitti to it Add in quarter teaspoon of honey. Finally add in enough milk or rose water. Mix well and apply as a face pack. This pack brightens dull skin and helps treat acne and blemishes. If you have dry skin, use milk and if you have oily skin use rose water. This pack can be used weekly twice.
3. Turmeric Powder Milk For Reducing Inflammation
For making turmeric powder milk, take 1/4 teaspoon of turmeric powder in a cup, add in 2 pinches of pepper. Add in a cup of warm milk and mix well. Finally add in honey to taste. This drink will help reduce inflammation very very fast.
4. Turmeric Poultice For Healing Wounds
For making the poultice, take a teaspoon of turmeric powder in a cup. Add in equal amounts of neem powder to it. Now add in rice water to form a paste. Rice water is nothing but the strained water after cooking rice. To use, apply this paste as a poultice over scrapes and wounds, it will help heal it faster.
5. Turmeric Bath Powder
We generally make bath powder yearly once during hot summer months and use it year round. Usually turmeric powder forms the base for it. To make a simple bath powder, mix one part green gram dal powder, 1/4 part turmeric powder and half part avarampoo powder. Use this as a bath powder to prevent skin infections completely.