Mudakathan keerai is an amazing ingredient to include in our diet as it has amazing nutritional value, medicinal uses and health benefits. It is especially well known for treating joint pain and promoting hair growth. We use both fresh mudakathan keerai leaves and dried mudakathan powder extensively in home remedies. At home we make mudakathai keerai dosai, mudakathan oil to stop hair fall and promote hair growth, mudakathan keerai soup, mudakathan keerai thuvaiyal (mudakathan keerai thokku), mudakathan keerai rasam and mudakathan keerai chutney regularly.
Mudakathan Keerai Scientific & Common Names:
We call balloon vine plant "Mudakathan Keerai" in Tamil and this plant is very famous in Tamil Nadu for it's use in treating joint pains. It's botanical name is Cardiospermum Halicacabum. It is called Kanphata in Hindi, Budda Kakara in Telugu, Agniballi in Kannada and Jyotishmati in Malayalam.
Mudakathan Keerai Plant:
Mudakathana keerai is a perennial climber with balloon like fruits and is best identified with the leaves and the beautiful green balloon like fruits. Here in Tamil Nadu, mudakathan keerai can be found easily along road sides and in waste lands. The tender young shoots of the plant is used in cooking and also in remedies.
Mudakathan Keerai Nutritional Value:
100 grams of mudakathan keerai has around 61 calories, 4.7 grams of protein, 0.6 grams of fat and 9 grams of carbohydrate. Like every green it is rich in minerals, calcium, iron and phosphorus.
Mudakathan Keerai Chemical Constituents:
Phytochemical analysis of the acteone extract of mudakathan keerai showed the presence of tannins and flavonoids. Mudakathan keerai stem acetone extract showed the presence of tannins, flavonoids, terpenoids, cardiac glycosides and alkaloids. Mudakathan keerai seed coat acetone extract showed the presence of tannins and flavonoids.
Mudakathan Keerai Medicinal Uses:
1. Anti Ulcer Properties:
Another important property of is it's anti ulcer properties. Mudakathan keerai extract got by boiling the leaves in water has a mild anti ulcer properties and people who suffer from acidity will greatly benefit including mudakathan keerai in your diet. Try to consume it in the form of soup given below.
2. Anti Diarrheal Properties:
The water extract of mudakathan keerai has antidiarrhoeal activity and has been traditionally used for it in certain places in India. This has been proven through research and this is because of the presence of tannins, flavonoids, alkaloids, sterols, triterpenes and saponins present in Mudakathan keerai.
3. Increases Fertility:
Another interesting property of mudakathan keerai is it's ability to increase sperm motility and sperm count. Just having mudakathan keerai regularly for 30 days increases sperm count significantly and there was increase in serum testosterone level too.
4. Anti Arthritic Activity:
Mudakathan keerai has been used for treating arthritis in our place and this traditional use has been backed by research. We usually give mudakathan keerai in the form of dosai or rasam to patients suffering from arthritis regularly and it greatly helps reduce the inflammation and pain.
5. Anti Inflammatory & Antioxidant Properties:
Mudakathan keerai has amazing antioxidant and anti inflammatory properties. The flavonols, glycosides and phenols present in mudakathan keerai is responsible for it's anti inflammatory and antioxidant properties. It also has analgesic properties (pain relieving properties) which makes it very effective for reducing all kinds of inflammations.
6. Anti Bacterial Properties:
Mudakathan keerai has powerful anti bacterial properties and all parts of the plant has anti bacterial properties and they are effective against five strains of bacteria (Salmonella, Staphylococcus Aureus, Aeromonas, E.coli and Pseudomonas). What surprised me was the seed coat had the maximum anti bacterial properties out of the three.
7. Mosquito Repellent Properties:
Another interesting use of mudakathan is it's ability to repel mosquitoes when applied externally on the skin. For the study, the ethanol leaf extract was used and it repelled mosquito bites of three types of mosquitoes (Culex Quinquefasciatus, Aedes Aegypti and Anopheles Stephensi) very effectively!
8. Anti Fungal Properties:
Mudakathan keerai also have powerful anti fungal properties. The two chemical compounds that were responsible for the most anti fungal activity of mudakathan keerai are luteolin and rutin. For the study, the whole plant extract was used and you can read the study here.
9. Anti Convulasant Properties:
Mudakathan keerai has anti convulasant properties too. Mudakathan keerai alcohol extract when given to rats that were given electric shock reduced the convulsions greatly. For the extract the whole plant extract was used and the dosage used was 350 mg of extract for a kg of body weight.
10. Anti Pyretic Properties:
Mudakathan keerai has fever reducing properties too. It is also one of the best remedies for reducing malaria fever. If you are suffering from fever, cold and headache, try having a cup of warm mudakathan keerai soup (I have given the soup recipe below), it will greatly help reduce the fever and pain.
Mudakathan Keerai Traditional Uses:
For treating joint pains, we add the mudakathan keerai leaves to regular dosai batter and make dosais out of it. The best thing about mudakathan keerai is it can be used both internally and externally for treating joint pain and regular use gives good relief. Mudakathan keerai also treats all cold and cough related problems.
This is a very safe herb that can be used even for treating children's cough & cold. It can also be used to treat ear pain, menstrual cramps, general tiredness and sluggishness. Few drops of the mudakathan keerai leaves juice in the ear will treat ear pain. The poultice of this amazing herb can be used for all kinds of pain. The juice of this plant when combined together with pure turmeric powder and applied on the affected area treats eczema.
Where To Buy Mudakathan Keerai?
Mudakathan keerai is easily available in the markets, but make sure they are fresh. We also get mudakathan keerai powder which is generally consumed for reducing arthritic pain. You can also easily grow this plant in pots and that way you will get fresh leaves daily. Most of the herbal remedies call for fresh herbs and that too for many remedies they have to be used for longer periods of time.
The main reason many don't follow herbal remedies is because they have to get fresh herbs everyday. Unless or otherwise you are living in a village, given our hectic schedules, I know it will be next to impossible to go and collect fresh herbs from the market everyday. The best way to solve this problem is grow your own.
Especially for herbs like mudakathan, which has to be used for longer periods of time, it is very important that you grow your own. Herbs are much easier to grow than ornamental plants and most of them need little to no maintenance at all. My biggest desire is to grow all the herbs in my home and nothing makes me more happy than finding new herbs.
How To Grow Mudakathan Keerai At Home?
To grow your own mudakathan keerai from seeds, bury the seeds in soil and make sure to sprinkle water everyday to prevent the soil drying up. Within 2 weeks, the plant will sprout up and since it is a climber, I would suggest planting it near a fence. It will spread fast on the fence and you will have plenty of mudakathan keerai to cook.
Mudakathan Keerai Side Effects:
Mudakathan keerai has low toxicity and is very safe to be consumed by everyone. Even pregnant women and children can consume it in moderation. But like with any other greens, if had in excess, will cause stomach problems. When consuming mudakathan keerai powder, make sure to follow the dosage mentioned in the packet.
5 Top Mudakathan Keerai Recipes For Hair Growth & Health
1. Mudakathan Keerai Dosai Recipe For Joint Pain:
The most popular way of using mudakathan keerai is by making dosais out of it. People who are suffering from arthritis, joint pain and inflammation should try to include this dosai at least twice or thrice a week in their diet along with external application. The easiest way to prepare this dosai is by mixing the paste with our regular idli batter.
To make the batter, wash a handful of mudakathan keerai leaves and grind it along with a green chilli and 1/2 tsp of cumin seeds to a fine paste and add it to a cup of idli batter. The batter should neither be too thick nor too thin, make thick or thin dosais and serve it along with coconut chutney. Mudakathan keerai dosai is delicious and very nutritious too. It can also be made regularly and given to children as it is full of nutrients and vitamins.
2. Mudakathan Keerai Thuvaiyal Recipe For Arthritis: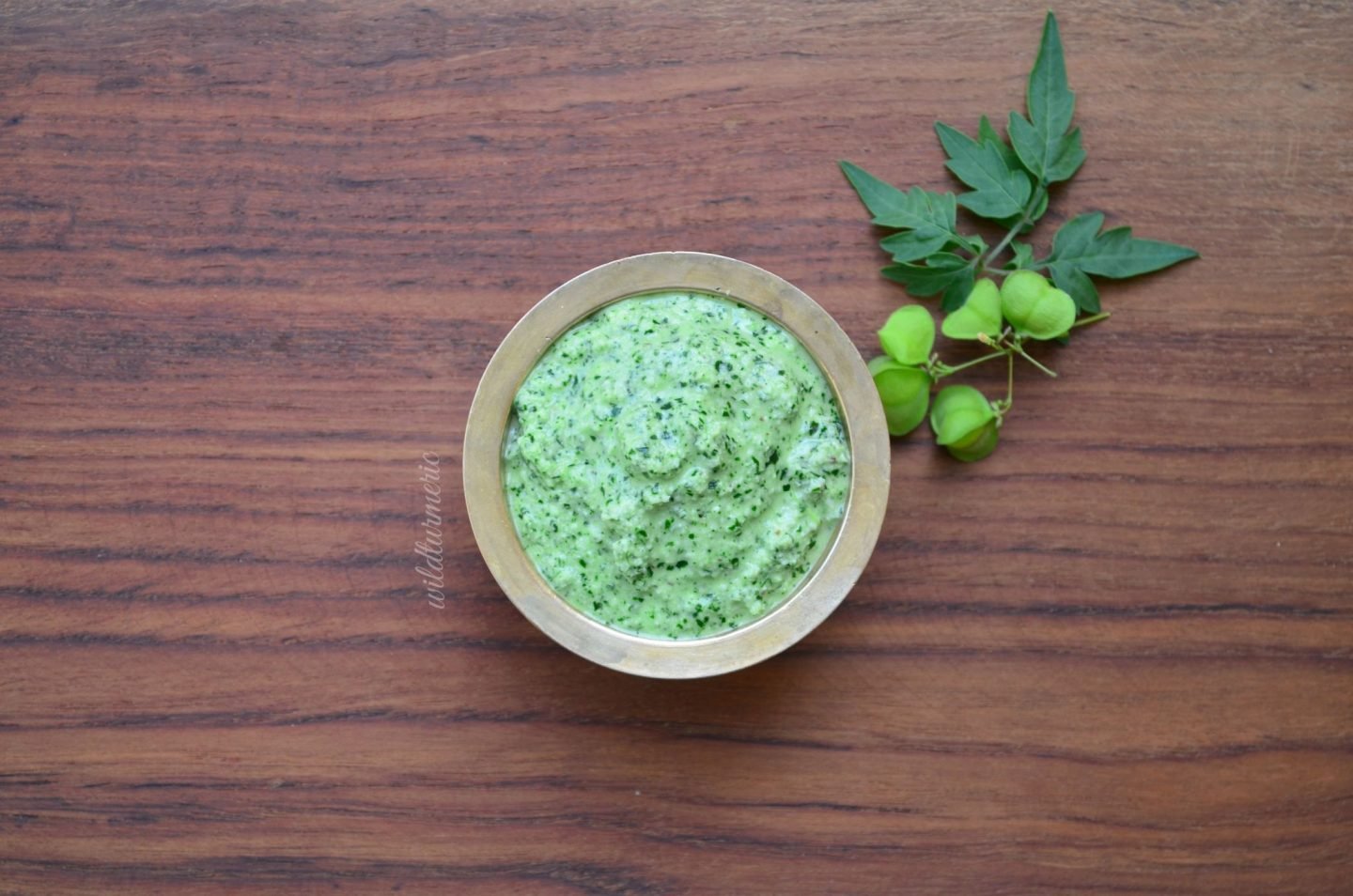 Another recipe using mudakathan keerai is mudakathan thuvaiyal. If you are planning to use mudakathan for treating joint pain, it is better to know all the different ways of preparing dishes with it, as you will get bored if you keep making the same thing again and again.
If you are a rice lover like me, then you would love this thuvaiyal especially if had with few drops of homemade ghee. To make the thuvaiyal, heat a tsp of oil in heavy bottomed pan and fry 2 red chillies and a tbsp of split urad dhal till light golden separately and keep aside.
In the same pan, fry 1/4 cup mudakathan keerai till it wilts completely and keep aside, now fry around 1/8 cup of coconut along with 1 tsp of tamarind till a nice smell wafts and switch off. Grind everything together into a very thick paste with little boiled water along with salt. This thuvaiyal is best had with hot rice along with a few drops of homemade ghee.
3. Mudakathan Keerai Soup Recipe For Cold & Cough: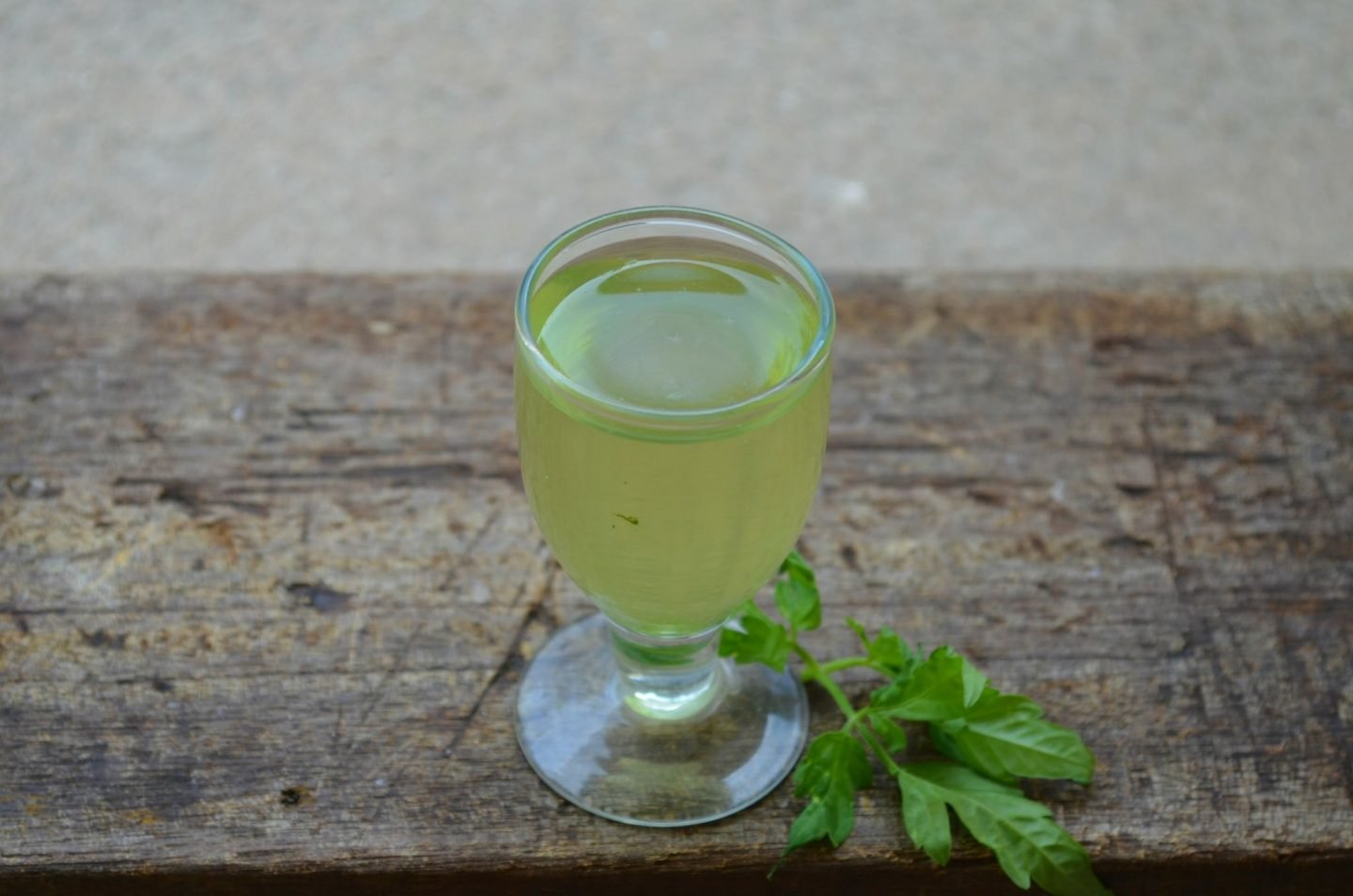 Mudakathan rasam is very famous in my place but I prefer to make soup out of it as it is mild and perfect for taking it when we are having cold, cough or fever. To make the soup, first pound 5 peppercorns, 1/2 tsp cumin seeds in a mortar and pestle coarsely, now add 2 cloves of garlic and pound everything together well.
Heat an iron kadai and heat 1/2 tsp of homemade ghee and fry the pounded spices for a few seconds in low flame. Now add 1/2 cup of mudakathan keerai leaves and fry till it is wilted, add 2 cups of water of water and let the leaves cook. Once the leaves are half way cooked, add required amount of salt and cook till completely done.
Once it is fully cooked, remove from fire and let it cool a bit. Now take a potato masher and mash the ingredients once and strain. This soup is perfect for cold & cough and can be given to children. It is also very good for convalescents, as it is very very nutritious.
4. Mudakathan Keerai Oil For Hair Growth:
Mudakathan keerai can be used for hair to treat itchy scalp and dandruff and for promoting hair growth. We can make a homemade oil for treating dandruff using mudakathan keerai. To make the oil, boil mudakathan keerai with sesame oil and use that oil as a massage oil before hair wash.
Regular use of this homemade hair rinse will treat itchy scalp very effectively. We can also add mudakathan keerai to our homemade hair rinse recipes or we can also make a simple rinse by boiling the a cup of leaves in a liter of water till the leaves are cooked, strain and use it as a hair rinse. This hair rinse can be refrigerated, so if you have lot of greens left make this hair rinse and store it in the refrigerator.
5. Mudakathan Keerai Leaves Compress For Joint Pain: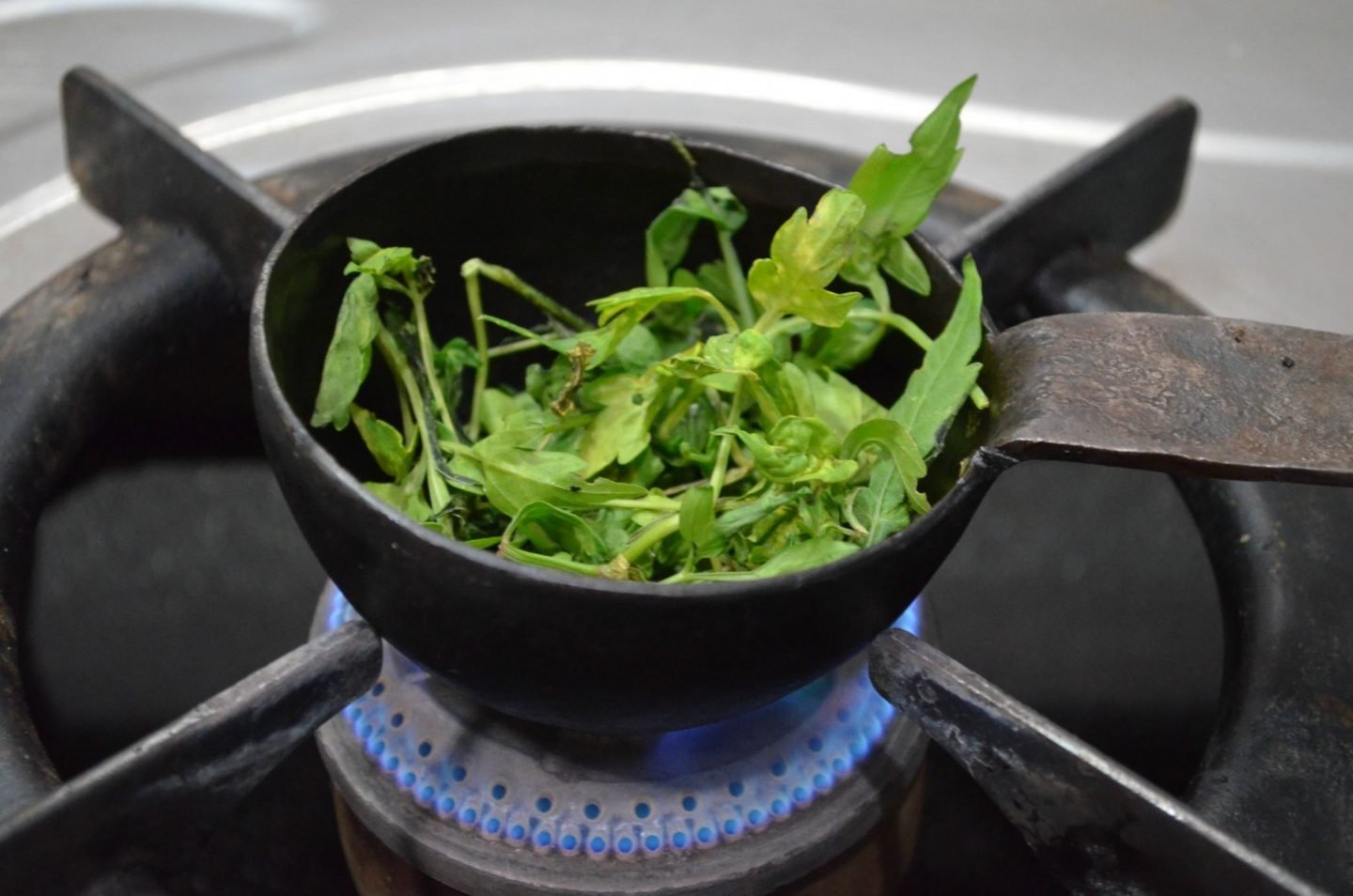 Along with consuming mudakathan keerai internally, if we use it externally we will get results fast. The best way to use it externally is by making a compress out of it. This compress can be made either with only mudakathan keerai or along with vada narayan leaves which is also very good for treating joint pain.
This poultice will give very good temporary relief from joint pains and arthritis pain. To make the compress, heat castor oil in a pan and fry the leaves in a very slow flame. Once the leaves are hot enough, take a pure white cotton cloth and place the leaves in the middle and tie it into a bundle.
Your homemade compress for joint pain is ready! When you are using this compress, the castor oil will flow out of the bundle as you keep pressing so make sure you don't wear good clothes while doing the treatment else it will stain the clothes. Once the compress loses it's heat warm it again over a hot tawa…