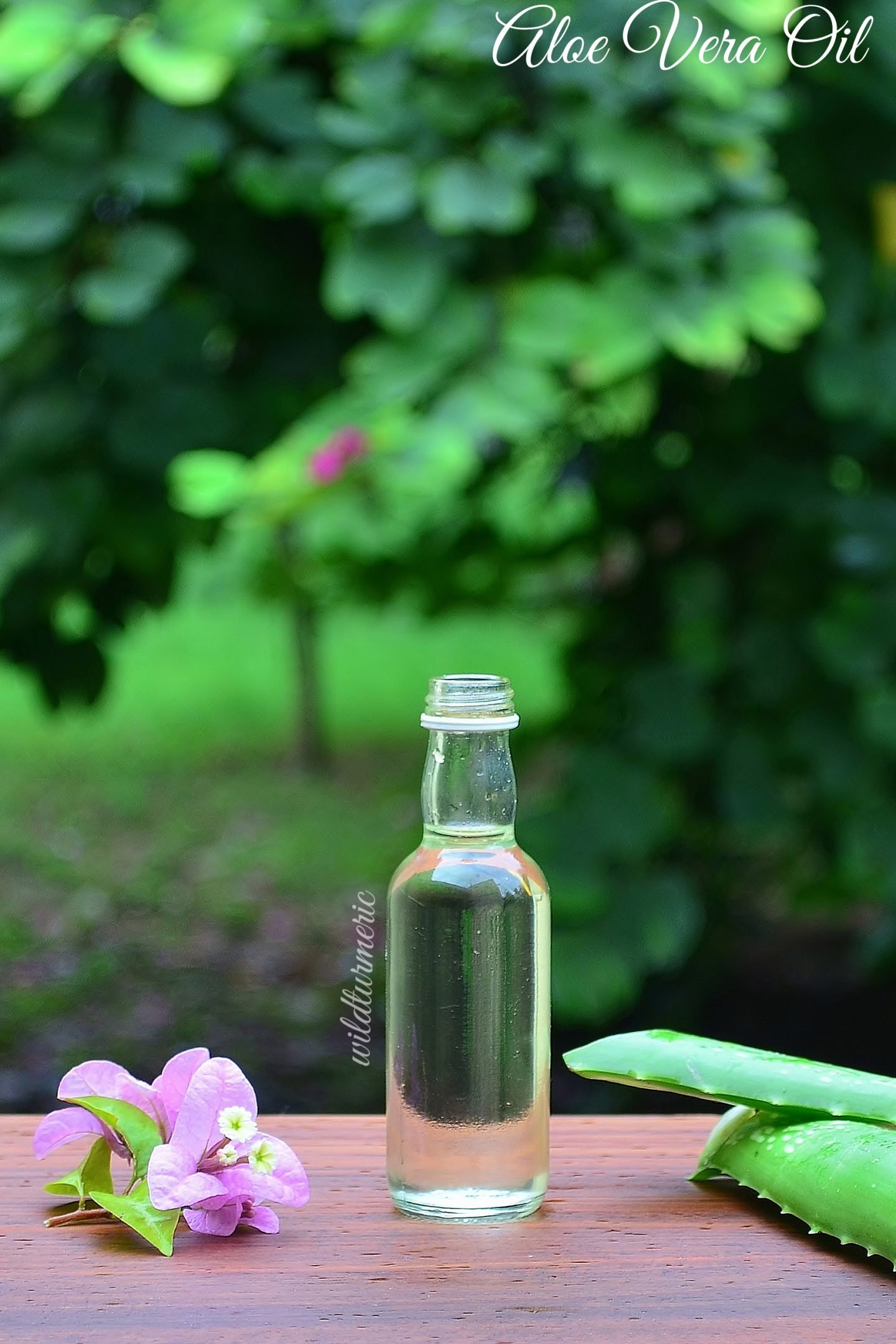 Aloe vera oil does wonders to our hair if used regularly. It strengthens and nourishes the hair follicles, treats dryness and split ends and prevents scalp infections. With regular use, it will help thicken our hair along with making it soft and super shiny. We can use aloe vera oil both as a daily application oil or as a preshampoo treatment. If you are planning to use it as a daily application hair oil, just use few drops to massage it in your scalp.
What Is Aloe Vera Oil?
Aloe vera oil is nothing but coconut oil infused with aloe vera gel and then mixed with vitamin E oil. This oil requires only three ingredients but the method of making this hair oil is quite different than how we usually make our hair oils.
We use double boiler method so the oil retains all the wonderful goodness of aloe vera. Try to make this oil on a day that you are relaxed and have plenty of time. Since we're using double boiler method, we have to cook it for long duration's of time and constant monitoring is required.
This oil keeps well for years together if stored away from moisture. Try using only pure unrefined coconut oil to make this aloe vera oil for best results. You can make a big batch of this oil and use it year round and it is ideal both for adults and children.
Aloe Vera Hair Oil – Ingredients
The first ingredient for making the oil is aloe vera gel. If you have aloe vera plant at home, cut the leaf and extract the gel just before making the oil. Even if you've got aloe vera leaf from the shops, try to extract the gel only just before making the oil. Use only the fresh aloe vera gel for making this oil and never store-bought gel.
The second ingredient we need is coconut oil. Coconut oil is one of the best oils to use for hair, it is light and wonderful to use as a daily application hair oil. Try to use only unrefined organic coconut oil for making this oil, I have used homemade coconut oil for this recipe. This aloe vera oil can be used both as a daily application hair oil and as a pre shampoo treatment.
The third ingredient we need is vitamin E oil. Vitamin E oil conditions the hair really well leaving it super soft and shiny. We need the contents of two vitamin E capsules for this recipe.
Aloe Vera Hair Oil Recipe
1. First we have to collect aloe vera gel. To collect aloe vera gel, cut the thorns on both sides of the leaf. Before doing this, wash the leaf thoroughly under running water to get rid of the bitter green juice. After washing the leaf thoroughly, pat dry with a towel. Once the thorns are removed, cut the leaf in half with a sharp knife. Now using the knife, scrape out the inner gel into a cup. Try to scrape off all the gel fully as we don't want to waste the amazing gel.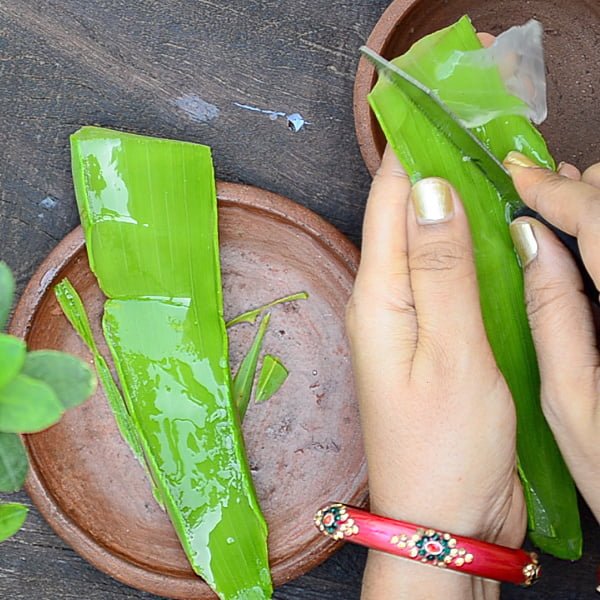 2. Take 2 tablespoons of the collected gel in a cup. Mash the gel with your hands lightly, don't make it into a juice else it'll be difficult to strain it out of the oil. Now add 1/2 cup of unrefined coconut oil to it.
3. Now place it over a bowl of gently boiling water. The water should not touch the top bowl and the water should be boiling only gently. Keep the flame on low so the water boils gently. Heat the oil like this for one and half hours. Check the water level every 15 minutes or so and top it up as necessary. This is the only thing we should keep monitoring while making this oil.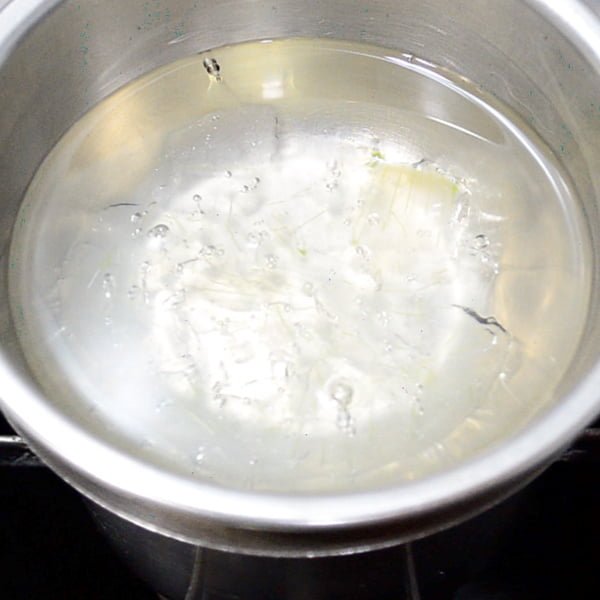 4. Continue heating this mixture only in low flame the entire one and half hours. This method ensures that the oil retains all the wonderful benefits of aloe vera gel. After one and half hours, the oil would have very slightly changed color and the aloe vera gel would have cooked thoroughly. If the aloe vera gel is not completely cooked through, the oil will turn rancid very quickly.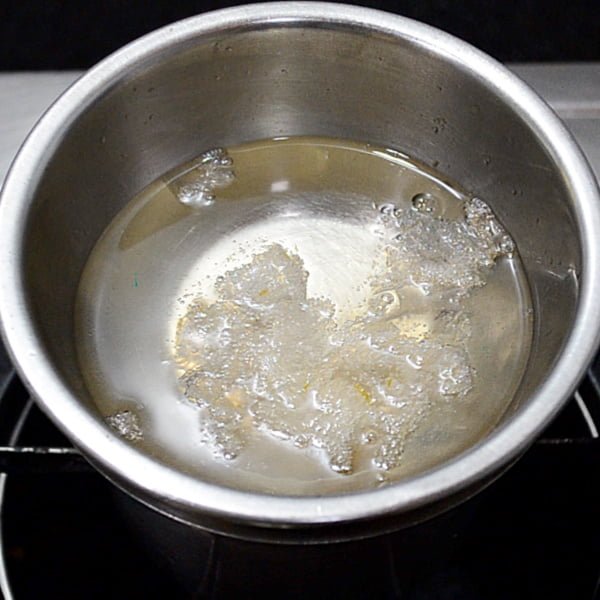 5. Now let cool completely and strain through a fine strainer. Now add in the contents of two vitamin E capsules and mix well. Your wonderful aloe vera hair growth oil is ready! Pour this oil in a glass bottle and leave it aside for a day or two. Any remaining aloe vera extract will settle at the bottom. Just strain the top clear oil alone and store in a bottle. This truly is a magic hair growth oil.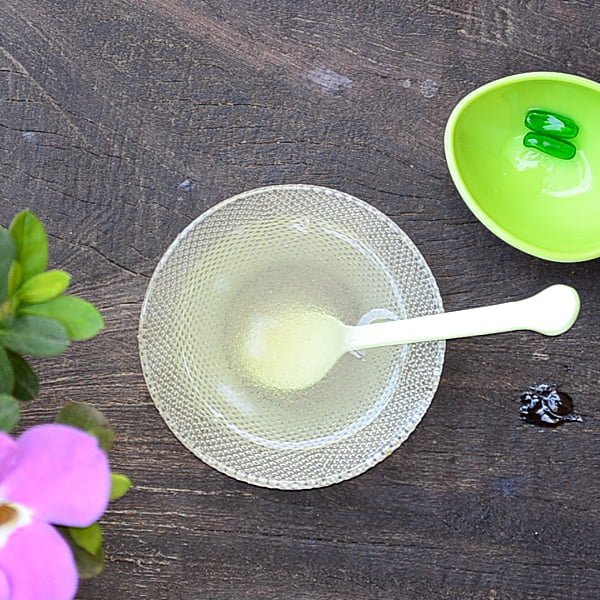 Aloe Vera Oil Hair Benefits:
1. Stops Hair Fall:
This hair oil is one of the best remedies for hair growth, regular use of this hair oil promotes hair growth. All the three ingredients used in the oil, aloe vera, vitamin E and coconut oil promotes hair growth very effectively.
2. For Dandruff:
This oil can be massaged into the scalp for treating scalp infections and it also prevents dandruff and stimulates hair growth. It helps reduce itching and treats dandruff caused both due to dry scalp and fungal infection.
3. For Scalp Inflammation:
This oil has powerful anti inflammatory properties and helps treat all kinds of inflammation, it is particularly effective for treating scalp inflammation. This oil also can be used for treating skin inflammation all over the body.
4. For Dry Scalp:
This oil is super conditioning and regular massage with it will greatly help treat dry scalp and hair. When massaging into the scalp, make sure to apply all over the hair too. Regular use will prevent split ends effectively.
5. Strengthens The Hair Follicles:
Weak hair follicles is one of the reasons for hair fall and regularly massaging our scalp with aloe vera oil is one of the best ways to strengthen hair follicles. You will start seeing results within 2 weeks of regular use.
NOTES:
Use only fresh aloe vera leaf.
This oil can be used as a body massage oil too.
If you can, try to use paraben free vitamin E oil, you can order it online.
Store the oil alway from moisture and keep it away from sunlight when storing it.