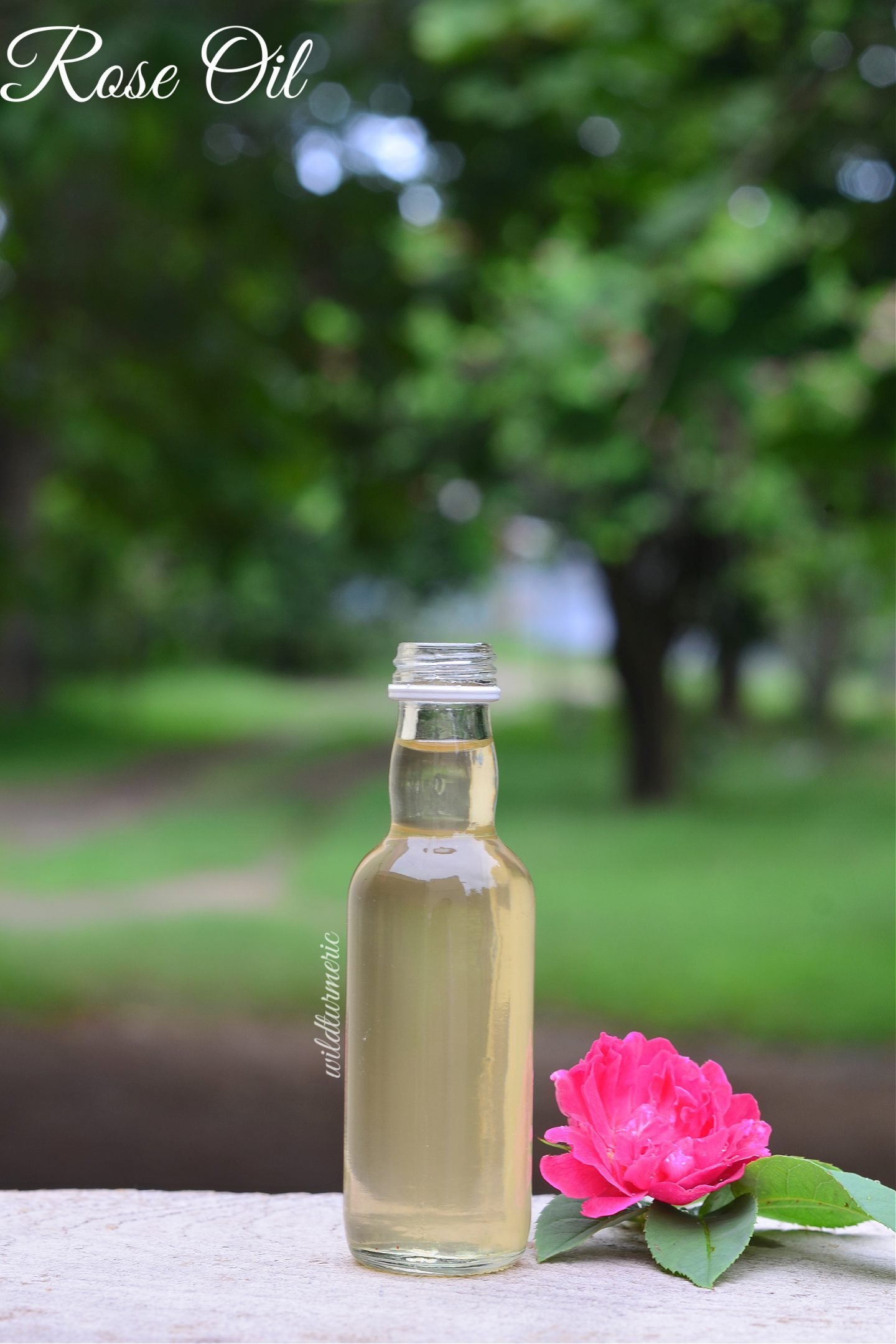 I am sure many of you are rose fans, just like me. I love anything that is made with fresh roses and these rose oil recipes made with fresh and dried rose petals is no exception. Regular readers of this blog will know that I use rose oil in all my homemade stuff. I love the fresh smell and the feel of rose oil on my skin. These rose oil recipes can be made easily at home provided you have fresh pesticide free roses.
What Is Rose Oil?
Rose oil is nothing but an infusion of fresh or dried rose petals with any pure unrefined oil. The rose essential oil we get in the markets is steam distilled from the petals and is quite expensive. If you don't want to buy rose essential oil, you can make rose infused oil easily at home and they also have many skin and hair benefit.
I always use "Paneer (Damascus)" variety roses for all my preparations and I would strongly recommend it for it's beautiful fresh smell that no other roses can compete. I used almond oil, but you can choose from extra virgin olive oil, sweet almond oil, etc. Tightly cap the bottle and let the oil infuse in the rose petals for a week in your pantry.
Rose Oil Benefits For Skin:
This homemade rose oil has multiple uses. It can double up as a moisturizer and a massage oil. Applying this rose oil on the face keeps the skin supple and smooth and since it is full of antioxidants, it helps fight off free radicals which are the major cause of premature ageing of our skin and hair. Due to it's anti ageing properties, regular use will help keep the skin young and glowing.
Rose Oil Benefits For Hair:
Massaging the scalp with rose oil, strengthens the hair roots. Since rose oil has anti inflammatory properties, people with scalp inflammation will benefit with rose oil scalp massage. It also conditions the scalp and is great for dry scalp and split damaged hair. Besides the external uses, the fresh rose smell has a very calming effect on our mind.
Rose Oil Using Dried Rose Petals:
1. Separate the petals from the roses and sun dry them spread on a plate.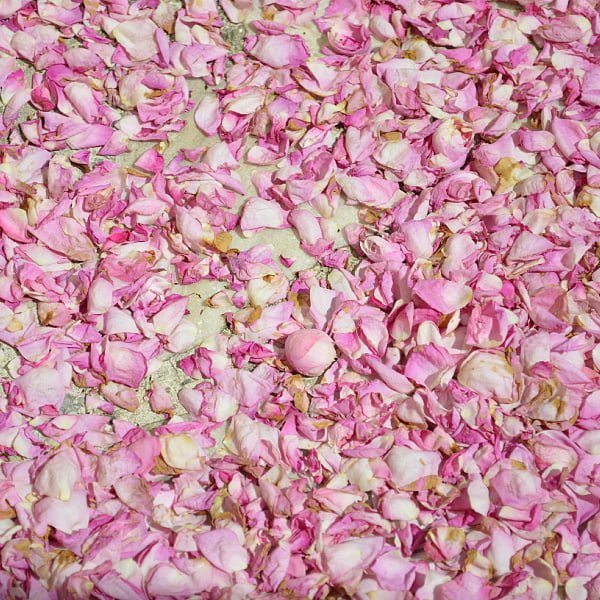 2. The petals should be completely dry. You can make homemade rose oil whenever you want if you have dries rose petals at home. Take the dried rose petals in a glass bottle.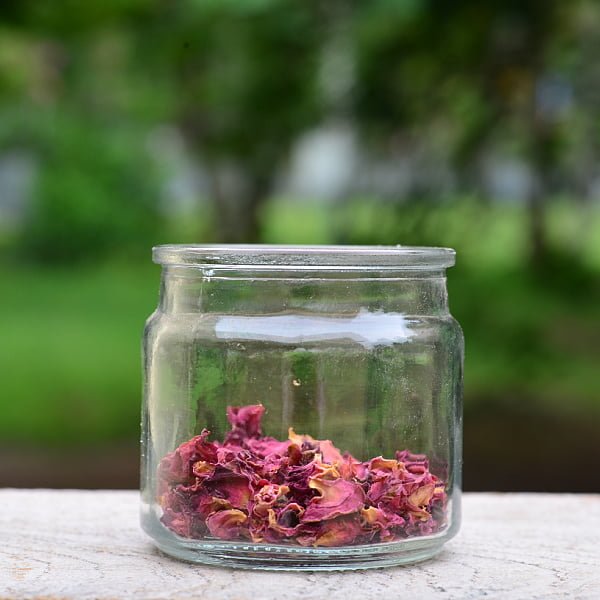 3. Pour almond oil on top of it till the rose petals are completely covered. Leave it in a cool place for about 2 weeks. After 2 weeks, strain the oil but if you want a quicker version, keep it under direct sunlight for 2 to 3 days. This homemade rose oil can be used in lotions and toners too. To use, take a few drops of oil and massage it in your skin immediately after your bath and with regular use you will find good change in your skin tone.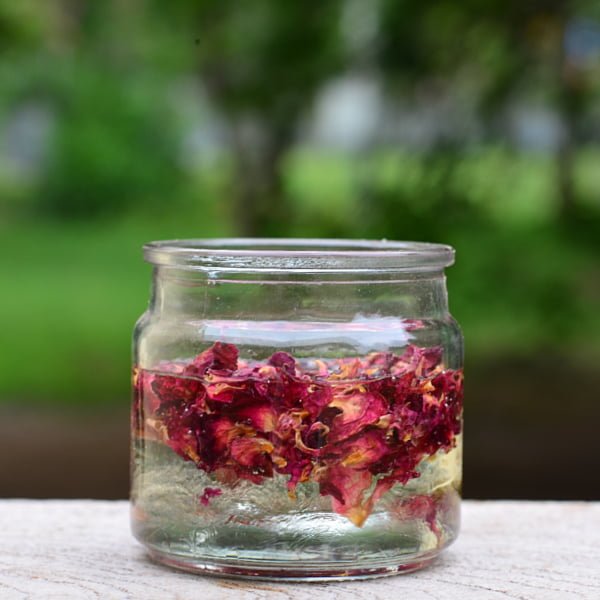 Rose Oil Using Fresh Rose Petals:
1. Take 1/4 cup of fresh petals and a cup of any unrefined oil of your choice in a pan.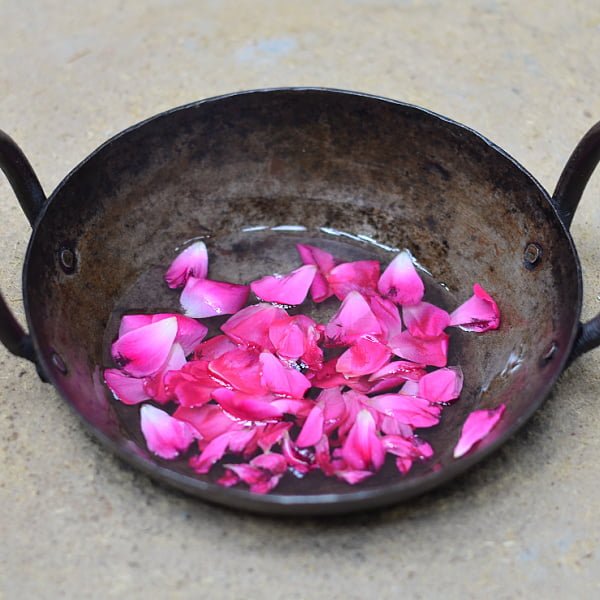 2. Boil in very low flame till the sizzling sounds which indicates that there is no moisture left. Let it cool completely and then strain and pour into a glass bottle. This oil will last well for months together at room temperature and can be used for both hair and skin massage.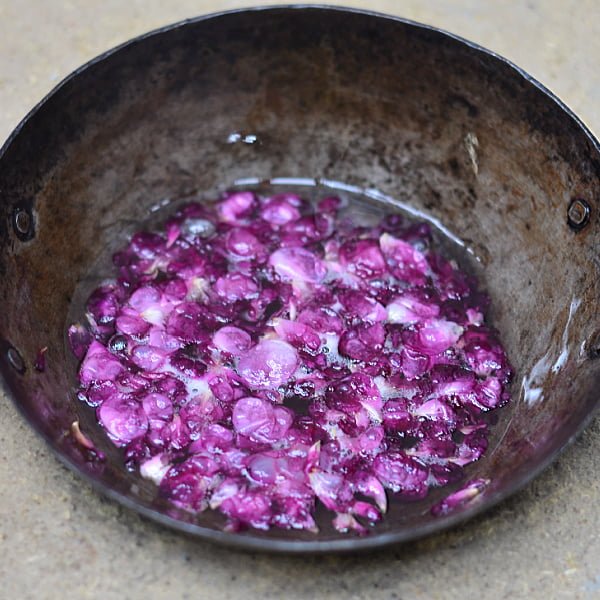 NOTES:
You can choose either one method but try to use pesticide free roses.
Try to store the oils in glass bottles.
Though everyone will benefit using these oils, people with dry skin and scalp will benefit the most.