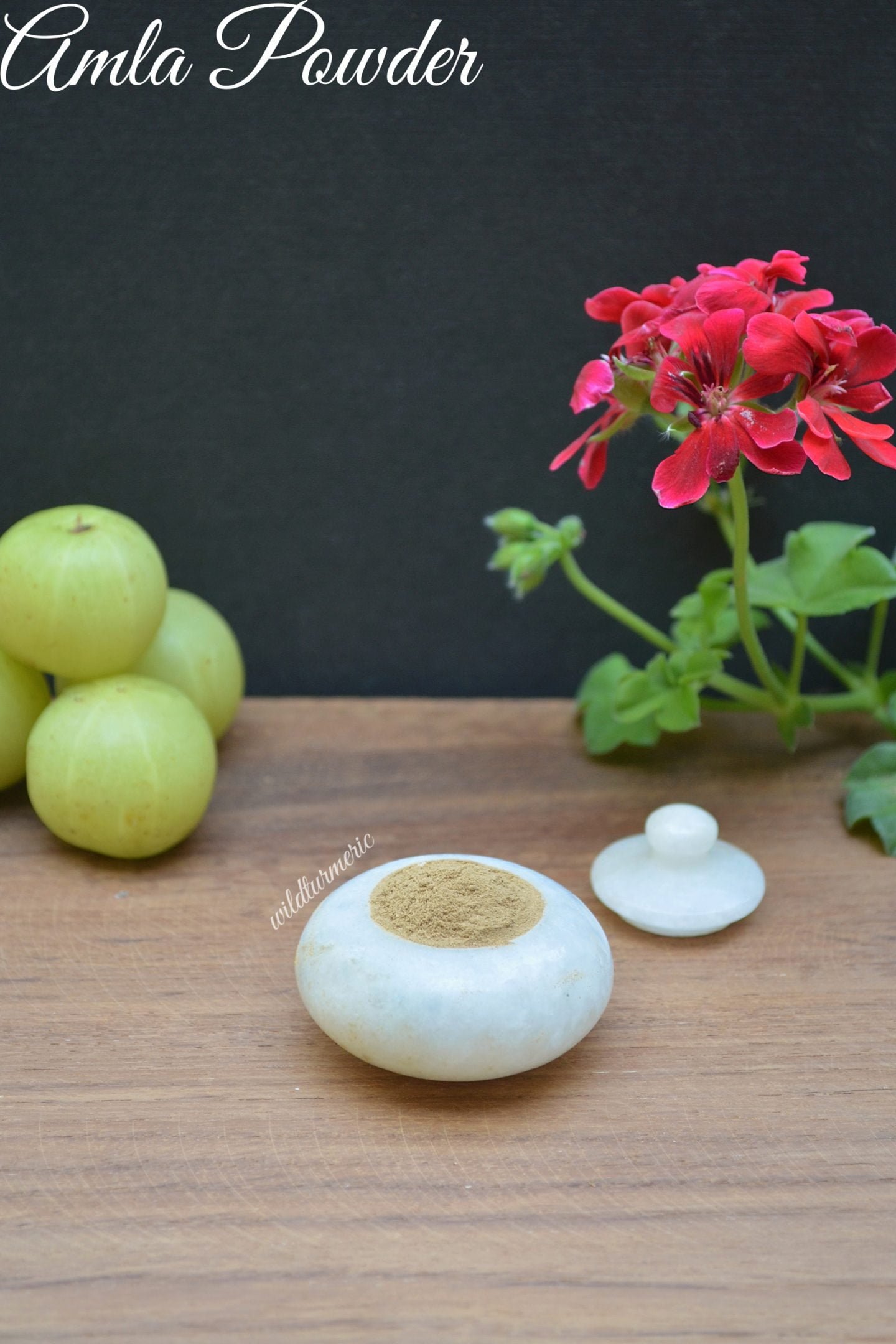 I always stock amla powder at home to use it in hair care and skin care recipes. For people who don't have access to fresh amla, amla powder is one of the best alternatives and it gives very good results if used regularly. Since amla Powder is easily and cheaply available everywhere, it will be a great loss if we don't make use of it.
What is Amla powder?
Amla powder is the powder got by grinding dried amla. Amla is a very nutrient rich fruit and is regarded very highly here in India. We not only consume the fresh fruit but we also consume it in many other forms like amla juice, amla candy, amla pickle, dried amla, amla murabba etc.
Though we rarely consume amla powder, for people who don't have access to fresh amla and all the other forms of amla that I mentioned above, it is a good alternative. We also use it extensively for hair and skin care.
How to Make Amla Powder At Home
To make amla powder, collect fresh amla and grate it using a fine grater. Now spread it in a plate and sundry under hot sun covered with thin mesh till there is no moisture content left. Once completely dry and crisp, powder in a dry mixer, sieve and then store.
Amla powder will last well at room temperature for a few months but make sure to keep it away from moisture. You can also buy amla powder from the shops too. It is sold as nellikai powder in Tamil Nadu, amla powder in Northern India and Indian gooseberry powder abroad. When buying from the shops make sure to buy pure amla powder that does not have any additions to it.
Amla Powder Hair, Skin and Health Benefits
Amla Powder For Hair
Using amla in any form conditions the hair really well and greatly prevents split ends. I personally love to use amla in the form of amla hair oil and amla hair pack. Amla is rich in antioxidants and helps strengthens the hair follicles and greatly helps prevent hair loss.
I would suggest both consuming amla internally and applying it externally for best results. Amla hair pack also treats dandruff and prevents premature greying of the hair. Regular use of amla helps in hair regrowth. Amla treats all scalp problems and strengthens the hair roots greatly thus helping in natural hair growth.
Amla Powder For Skin
We generally use amla powder in bath powder and face packs and it is also very effective in treating acne and hyper pigmentation. It also has a protective effect on the skin, it protects our skin from UVB induced photo ageing. Here in our village, bath powders are very common and amla powder is also added to it.
I love to use amla powder in face packs and have given my favourite recipe below but if you don't have orange peel powder or rice water, you can just mix it with milk and apply, it will still be effective.
Amla Powder For Health
Amla when consumed internally helps reduce high cholesterol, blood pressure and blood sugar levels. It also is very good for treating indigestion and helps prevent kidney stones. It helps treat anaemia and reduces oxidative stress. Amla powder when consumed internally also has anticancer properties. But in my personal experience, I feel consuming fresh amla or amla juice is the best and I generally prefer amla powder for hair and skin care.
5 Top Ways To Use Amla Powder For Hair, Skin and Health.
1. Hair Pack:
Take a tablespoon of amla powder, neem powder and bhringraj powder in a bowl. Add in thick coconut milk along with a tablespoon of coconut oil and apply as a hair pack. Wait for it to dry for 10 minutes and then wash and condition your hair as usual. This hair pack helps promote hair growth.
2. Face Pack:
For the face pack, take a tbsp amla powder and orange peel powder in a bowl. Add in rice water to form a paste and apply as a face pack. Wait for it to dry and then wash it off. To make rice water, cook rice in a pot with lots of water and strain the water once cooked, make sure to skip the salt. This face pack brightens dull skin very effectively.
3. Amla Powder Drink:
To make amla powder drink, take a cup of buttermilk along with half teaspoon of amla powder, a handful of curry leaves and quarter teaspoon of Himalayan pink salt in a mixer and grind to a smooth liquid. This drink is a wonderful health drink with amazing health benefits.
4. Amla Powder Hair Oil
If you don't have access to fresh amla for making hair oil, you can make it with amla powder too. To make the oil, take 2 tablespoons of amla powder in a bowl. Add in half cup of virgin coconut oil. Let it steep for 2 to 3 days in a place away from sunlight. Once infused, the clear oil will float on top, use the oil for hair massage, it will help promote hair growth.
5. Wound Wash
For the wound wash, take a tablespoon of amla powder and neem powder in a bowl. Add in 2 cups of hot boiling water and let it cool down to room temperature. Once it has cooled down completely, strain through a thin muslin cloth and use it as a wash, it helps heal wounds faster.