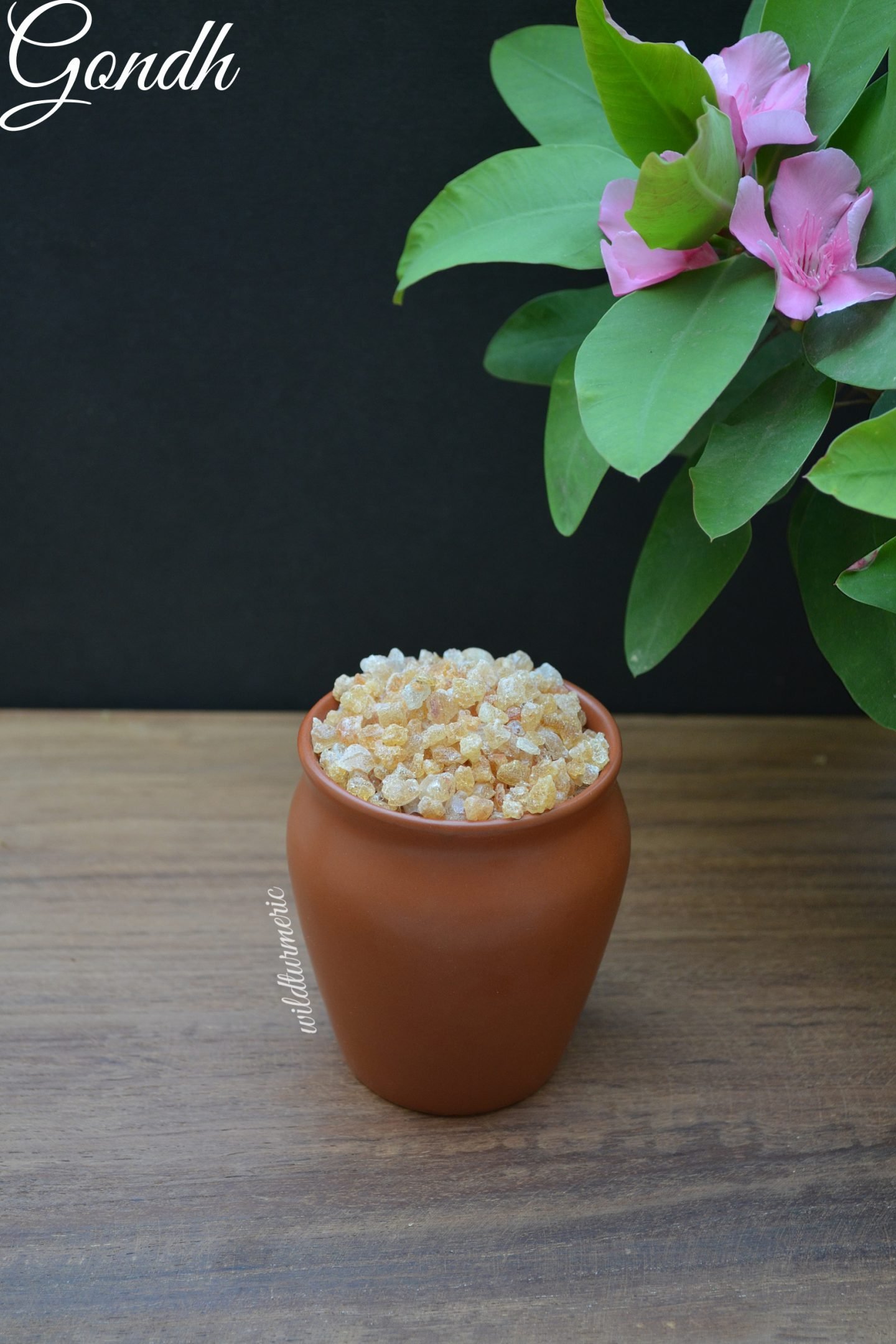 Edible gum also called as Indian edible gum | ghatti gum is a natural resin got from axle wood tree. It has wonderful medicinal uses and health benefits. I have always been fascinated by herbs and natural resins and gond is no exception.
Gondh is not used in South Indian cuisine but I make Gond Ke laddu also called as dink laddu at home during winters, it is a wonderful healthy warming food, perfect for winters. It is also used to make Panjiri, a famous north indian sweet.
What Is Edible Gum?
It is a natural gum obtained from a tree found in India and Srilanka. The tree is not tapped for the resin, the gum oozes out naturally through wounds and injuries but some times an incision is made carefully without injuring the tree to increase the yield. The maximum yield is during summer, a tree usually yields around 2 kilos of gum per year but this varies depending on the size and locality of the tree.
The gum is usually hand picked, dried in the sun for a few days and then any left over bark pieces are separated from the gum and then packaged. Depending upon the color and viscosity which ranges from light to dark brown clolor, it is graded differently. Edible gum is partly soluble in water and forms a viscous gel when we do so, the viscosity increases when it is mixed with an alkali. It has wonderful emulsifying properties and is used in various industries because of it.
Edible Gum Tree:
The botanical name of axle wood tree is called Anogelissus Latifolia. It is a large erect tree with light coloured stem that grows upto 25 meters. It is found all over in India particularly in western ghats. The tree is called Vellai Naga | Vetkali in Tamil, Malakanniram | Vellanava in Malayalam, Shirimanu | Chiru Manu in Telugu, Dhau | Dhawda in Hindi, Dhaura | Dinkachee in Marathi, Dhava in Sanskrit and Bejalu | Dinduga in Kannada. The resin is yellowish orange colored and translucent and they are sold as small pieces.
Gond Ke Laddu:
In India, gond is synonymous to Gond ke Ladoo (Rajasthan) | Antina Unde (Kannada) | Dinkachee Ladoo (Marathi)| Pregnancy Ladoo as it is mainly used for making ladoo in Indian homes (I have given the recipe below) and then the next way it is used is in the form of panjiri mixture.
The ingredients used in both are almost same and in gond ladoo recipe, it is just shaped into balls. In both these recipes, gondh is mixed with whole wheat flour, sugar, ghee and nuts. To use, the resin is deep fried and when deep fried, it turns magical! The resin puffs up and has a wonderful crunch to it and I love gondh laddu.
Gond Vs GondKatira:
Many confuse gond with gond katira (Tragacanth Gum), both are different, in fact they have opposite effects. Gond gum is heat producing whereas gond katira cools the body (it swells up when soaked and is mixed with milk and had as a pudding).
Edible Gum Common Names:
Edible gum is called Antu in Kannada, Gond in Hindi, Kothri in Bengali, Gondh in Tamil, Mazhkanhiram in Malayalam, Thumma Jiguru in Telugu, Gaundh in Rajasthan and Dink in Marathi
Edible Gum (Gondh) Nutrition:
A tbsp of gond contains around 30 calories and 8 grams of carbohydrates, it is rich is calcium and magnesium.
Edible Gum (Gondh Gum) Health Benefits:
1. Gondh Gum For Pregnant Women:
Gond is very nourishing and gond ladoo is one of the healthy sweets given to pregnant women traditionally as it is rich in calcium. It helps one develop strong bones and prevents back pain.
2. Gondh For Winters:
Gond is considered a warming food and is best taken during winters, it is especially useful for people living in very cold places. Make a batch of delicious gond laddus and have it as a snack instead of processed junk foods.
3. Gondh For Cold & Cough:
Gond greatly help improves immunity and if had during winter months will prevent from cold and cough. You can even powder fried gond and add to warm milk and drink. If you are vegan, add to plant based milks.
4. Gondh For Energy:
A single gond ke ladoo will provide enough energy that will last for hours. Since it is usually made with very nutrient dense ingredients like gond, whole wheat flour, ghee and nuts, it is a perfect energy food for kids.
5. Gondh For Lactating Mothers:
Gondh ladoos are given to lactating mothers too as it is said to increase the production of breast milk. I couldn't find any research proving this claim but certainly this wonderful natural gum will only have positive effects on lactating mothers.

Edible Gum (Gondh) Side Effects:
Since gond is heat producing food, it is best had during winter months. Gond Ke ladoo especially when made with nuts and loads of ghee is rich in calories (One single ladoo has more than 200 calories depending on the amount of ghee and nuts used) so have it in moderation.
How To Make Gond Ke Laddu:
METHOD:
1.Measure out gond, wheat flour and sugar.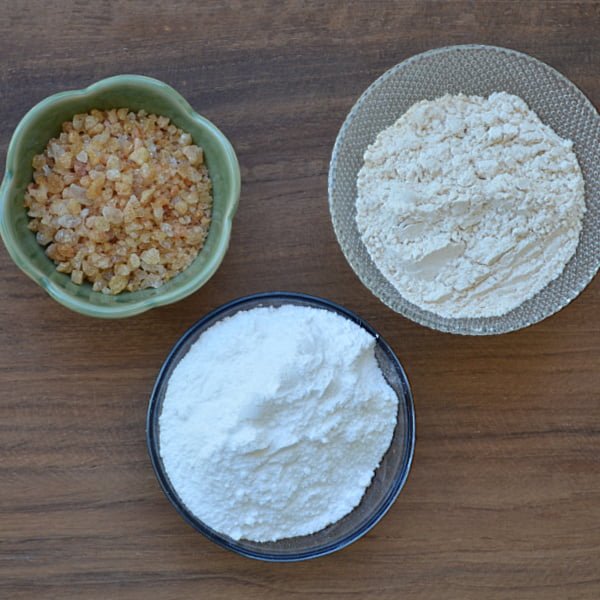 2. Heat ghee in a pan. Try not to use non stick pan.
3. Fry gond little by little in medium flame in ghee till it puffs up, strain and remove onto a plate.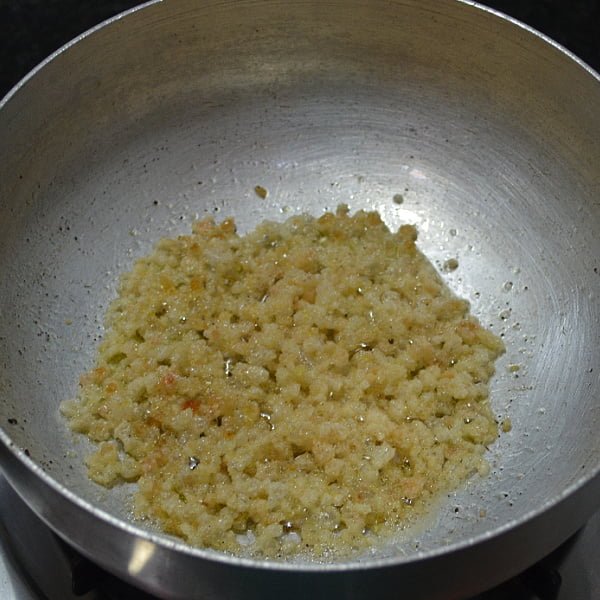 4. Now let the puffed up gond cool and then crush it coarsely with your fingers.
5. Fry whole wheat flour in little ghee till turns color, don't let it burn.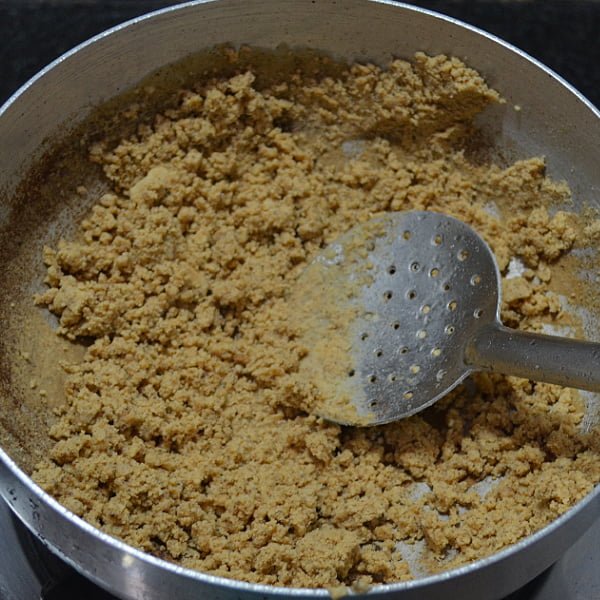 6. Take the crushed gondh, fried whole wheat four, sugar, cardamom powder and nuts (I didn't use nuts) in a bowl.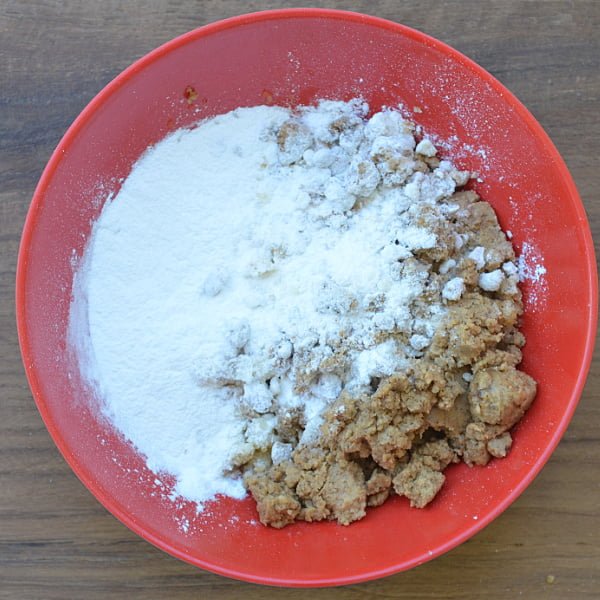 7. Mix well till every thing is combined well.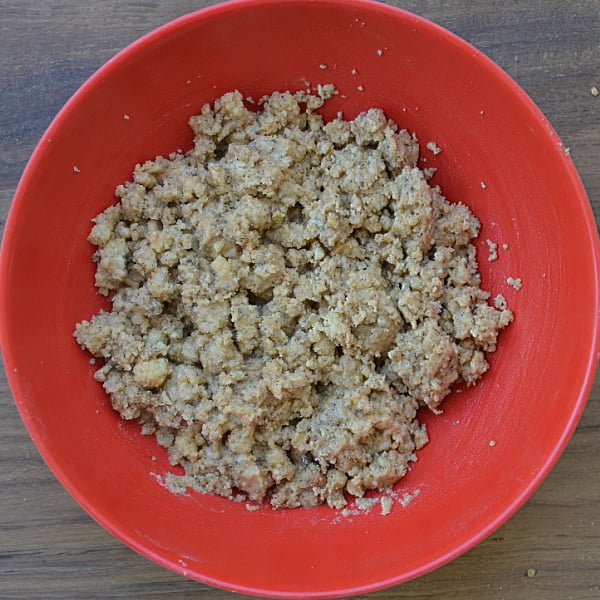 8. Make small balls and your nutritious warming gond ke ladoos are ready…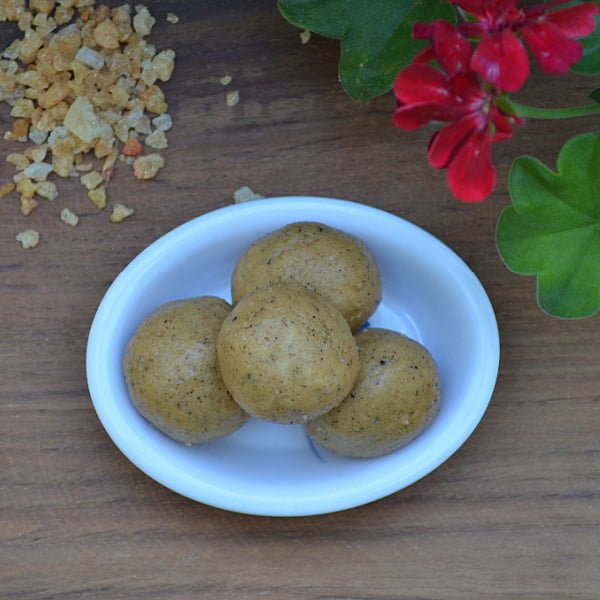 NOTES:
Make sure to fry the gond in medium flame till the insides are cooked well.
Try using homemade ghee for best taste and flavor.
Adding nuts is optional, you can add your choice of nuts.