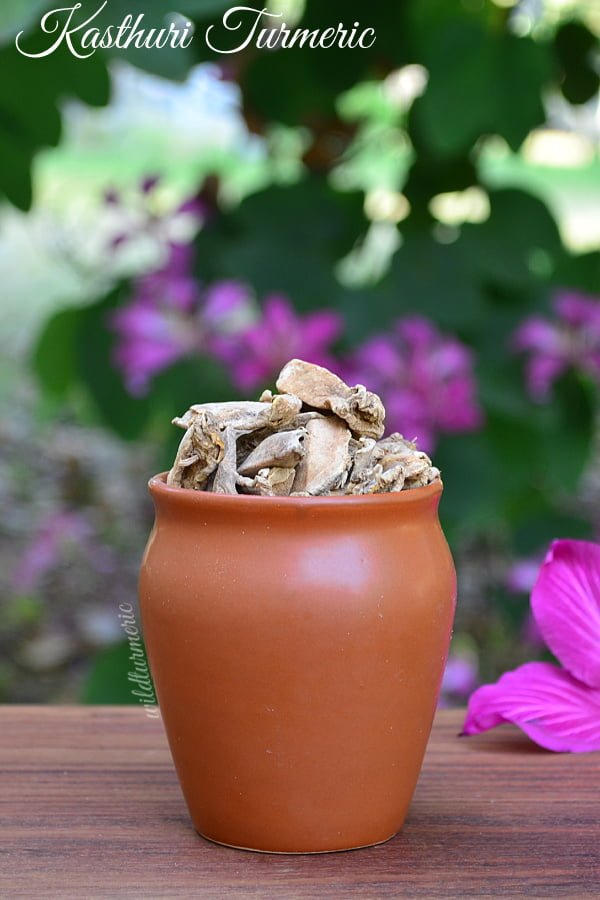 Kasthuri Manjal | Kasturi Turmeric | Kasturi Haldi commonly called Wild Turmeric in English has amazing health and skin benefits and has been used extensively for skin care in India. Kasturi turmeric is popularly used for treating acne, pimple scars, unwanted hair removal and fairness. It is used extensively even for babies too.
What Is Kasthuri Turmeric?
Kasthuri Manjal is a fragrant variety of turmeric that has amazing beauty benefits. It's botanical name is Curcuma Aromatica and it belongs to the family Zingiberaceae and genus Curcuma. It is the second most popular curcuma species next to common turmeric and is widely found all over India.
Kasthuri Turmeric Plant:
Curcuma aromatica is a plant that grows up to 16 inches in height. The perennial part of the plant dies during late autumn and the rhizome remains dormant during winter. During monsoon, the inflorescence appears and the plant grows rapidly. Kasturi turmeric grows in abundance in western ghats and whenever we go trekking into the forest, I just love to admire the beautiful pink wild turmeric flowers.
The rhizomes are cream in color with a strong distinctive fragrance. If you have even a small piece of curcuma aromatica | kasthuri manjal | wild turmeric in the room, the whole room will smell very nice. In India, kasturi turmeric is mainly cultivated in West Bengal and Kerala. Kasthuri Manjal/ Wild turmeric is very very fragrant and you could have easily guessed that it is my favorite among all the turmeric varieties, as I have even named my blog wild turmeric.
Kasthuri Manjal Common Names:
Curcuma Aromatica is commonly called Wild Turmeric | Aromatic Turmeric in English, Kasturi Pasupu in Telugu, Kasthuri Manjal | கஸ்தூரி மஞ்சள் in Tamil, Kasturi Haldi | Jangli Haldi in Hindi, Kasthoori Manjal in Malayalam, Ran Halad in Marathi, Kasthuri Arishina in Kannada, Shati in Bengali and Zedoari in Gujarati.
Kasthuri Manjal Chemical Constituents:
Kasturi turmeric rhizome contains curcumin, zederone, curdione, neocurdione, curcumol, tetramethyl pyrazine, 1,2 hexadecanediol, noeprocurcumenol and 9-oxo-neoprocurcumenol. Kasturi turmeric volatile oil contains ar-curcumene, xanthorrhizal, germacrone, camphor, curzerenone, 7-methanoazulene, 1,8-cineole and linalool.
Kasthuri Manjal Medicinal Uses:
Though kasthuri turmeric is mainly used for external application as it is very fragrant, does not stain the skin easily and also because of it's wonderful skin healing properties, it does have wonderful medicinal uses if taken internally too.
1. Antitussive Properties (relieves cough):
A small pinch of kasthuri turmeric powder mixed in hot water can be taken for treating cough very very effectively. You can read the study that proves it
here.
2. Antioxidant Properties:
Kasthuri manjal has wonderful antioxidant properties and it helps fight off free radical damage which is one of the major reasons for premature ageing of the skin and body.
3. Mosquito Repellent Properties:
Kasturi turmeric when applied externally have amazing mosquito repellent properties and greatly reduces mosquito bites. The volatile oil extracted from kasturi turmeric also have mosquito repellent properties and you can read the study that proves it
here.
4. Anti Cancer & Anti Tumor Properties:
Kasturi turmeric water extract reduces the growth of tumor and cancer cells just like normal turmeric when taken internally. You can read the study that proves it
here.
5. Kidney Protective Properties:
Not only the kasturi turmeric rhizomes but the leaf also has medicinal properties. The water extract of the leaves have nephroprotective properties.
6. Wound Healing Properties:
Kasthuri turmeric has wonderful wound healing properties and has been traditionally used for it. Here in our village, we apply
turmeric poultice for small scrapes and wounds and usually they heal very quickly.
7. Anti Inflammatory Properties:
Kasthuri manjal has amazing anti inflammatory properties and when you apply kasturi turmeric on the affected area, it reduces the inflammation very effectively and quickly.
8. Antimelanogenic Properties:
Another marvelous medicinal use of kasturi turmeric is it protects our skin against UV radiation thus preventing melanin production which is the leading cause of skin pigmentation and tanning.
Kasturi Manjal Skin & Face Benefits:
Due it's amazing anti bacterial, anti inflammatory, wound healing and antimelanogenic properties kasturi manjal has wide uses for skin and face care. Each variety of turmeric have their own uses and health benefits but when it comes to external applications, wild turmeric is the king.
Wild turmeric treats a wide variety of skin diseases and traditionally has been used for treating acne and acne scars, for unwanted hair removal, eczema, hyper pigmentation, dark circles, pimples, skin whitening (lightens spots and scars) and for glowing skin.
How To Use Kasturic Turmeric For Skin Care?
The best way to use kasturi tumeric for skin care is in the form of face packs and bath powders. It can be used for both oily and dry skin. If you have dry skin, use it along with conditioning ingredients like curd or milk. If you have oily skin, use it along with rose water.
Difference Between Turmeric & Kasturi Turmeric?
The main difference between kasthuri manjal from other variety of turmerics is it does not stain the skin like the regular turmeric, and is also very fragrant than the normal turmeric. We don't use kasturi turmeric for cooking, we only use it for external applications.
Where To Buy Kasturi Turmeric?
You can easily buy kasturi turmeric powder in almost all the departmental stores in India, you can also order it online too. But if you want to buy the dried kasturi turmeric rhizomes, visit a herbal shop. We get kasturi turmeric soap and ready kasturi turmeric face packs in the shops too.
How To Make Kasturi Turmeric Powder At Home?
I like to buy organic dried kasthuri manjal and make my own kasturi turmeric powder at home. To make kasturi turmeric powder, sun dry them till they get crisp and while still crisp from sun drying powder in a dry mixer, sieve and store in an airtight box. Dried kasthuri manjal stores well, buy it in bulk, sun dry and store it. Whenever you want to use, you can powder it after sun
drying but always sundry before making kasturi turmeric powder. This way, kasturi turmeric powder retains the freshness longer.
Kasturi Turmeric Side Effects:
The only side effect of using kasturi manjal on the skin is the burning sensation sensation. Instead of using kasturi turmeric mixed with water alone using it along with other conditioning ingredients like rose water or curd will greatly reduce the burning sensation.
If you have very sensitive skin, use kasturi turmeric in the form of bath powder. Even babies and pregnant women can use kasthuri manjal on their skin at least weekly once or twice mixed with yogurt and little bit of coconut oil before bath to prevent all skin infections…..
5 Top Ways To Use Kasturi Turmeric (Kasthuri Turmeric) For Skin Care:
1. Kasthuri Manjal & Rose Water Face Pack For Skin Brightening & Dark Circles:
I haven't come across any ingredient that changes our skin color dramatically. Whenever I see an advertisement promising fair skin, I only think how misleading these advertisements are, spending billions of dollars to make us believe something that is not true. But there are natural ingredients that brighten our skin and kasthuri manjal tops that list.
A simple homemade face pack made with kasthuri manjal powder and rose water will brighten our skin considerably. If you have dry skin mix it with curd. Use this face pack weekly twice for best results. This face pack will lighten dark circles too….
2. Kasthuri Manjal For Unwanted Facial Hair Removal: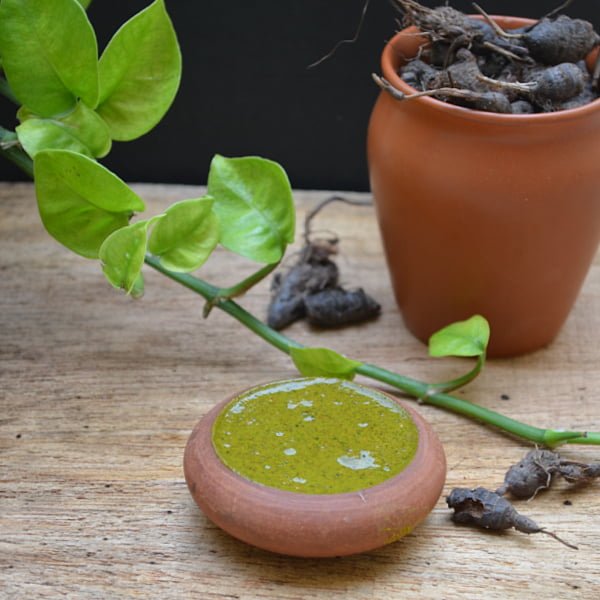 Regular use of kasthuri manjal on the face as a face pack helps to retard facial hair growth. In our village, many homes have a small stone along with a small piece of turmeric in the bathroom. When women have their bath, they rub the turmeric on the stone and apply the paste on their face, this keeps the face blemish free and also removes facial hair.
Traditionally for unwanted hair removal, we mix korai kizhangu powder, kuppaimeni powder and kasturi turmeric powder in equal quantities along with water to form a paste. We apply this paste and wait for it to almost dry and then gently rub in circular motions to remove it from our skin. This pack weakens facial hair and will help remove it naturally.
3. Kasthuri Manjal For Glowing Skin (Babies):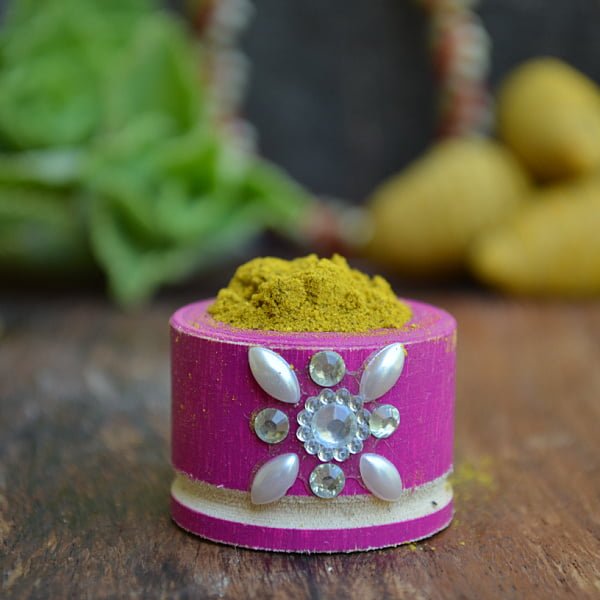 In our village, if a women gets pregnant we start preparing for the babies arrival months before delivery. One of the main things we do is make bath powder. We start preparing nalangu powder | nalangu maavu | bath powder during the last trimester.
It is a powder made with kasthuri manjal and other herbs that keep the babies skin blemish free. We don't use kasthuri manjal for boy babies, we only use it for girl babies as it reduces the hair growth on their skin along with keeping the skin blemish free and glowing. You can find the recipe for it here.
4. Kasthuri Manjal for Acne & Acne Scars: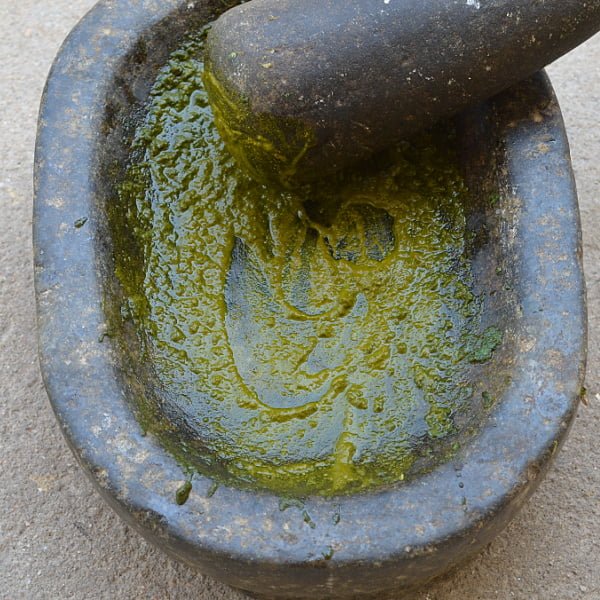 Kasthuri manjal is amazing for treating acne and acne scars. Unlike chemical filled acne creams sold in the market, kasthuri manjal acne treatment is very effective for treating acne and acne scars as it does not have any side effects.
A homemade face pack made with holy basil leaves and kasthuri manjal is very effective for acne and acne scars. You can fine the link for the recipe here. I have used regular fat variety of turmeric for the pack, but using kasthuri manjal is even more effective.
5. Kasthuri Manjal Bath Powder For Hperpigmentation & Eczema: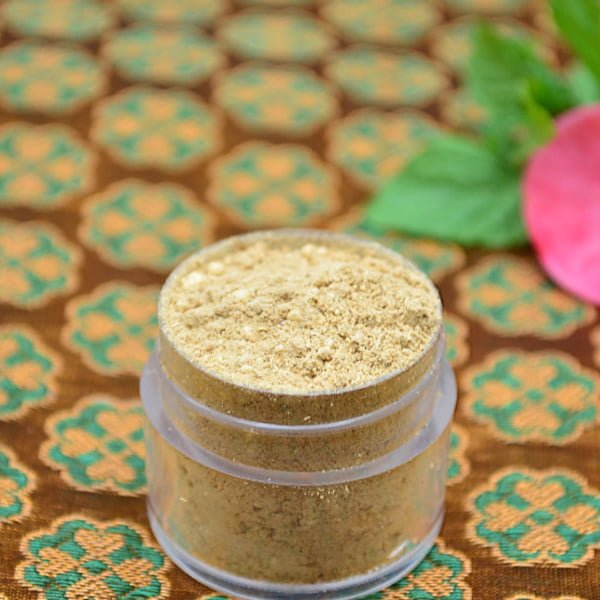 We make a wonderful bath powder at home with kasthuri manjal. It is made with white turmeric, kasthuri manjal/ wild turmeric, rose petals and green gram dhal. This bath powder is very fragrant, prevent skin diseases and does not strip of skin's natural oils.
You can find the recipe for it here. But make sure to sun dry the bath powder ingredients well before powdering else the bath powder will spoil easily. This bath powder will treat hyper pigmentation and is also a good remedy for mild forms of eczema.