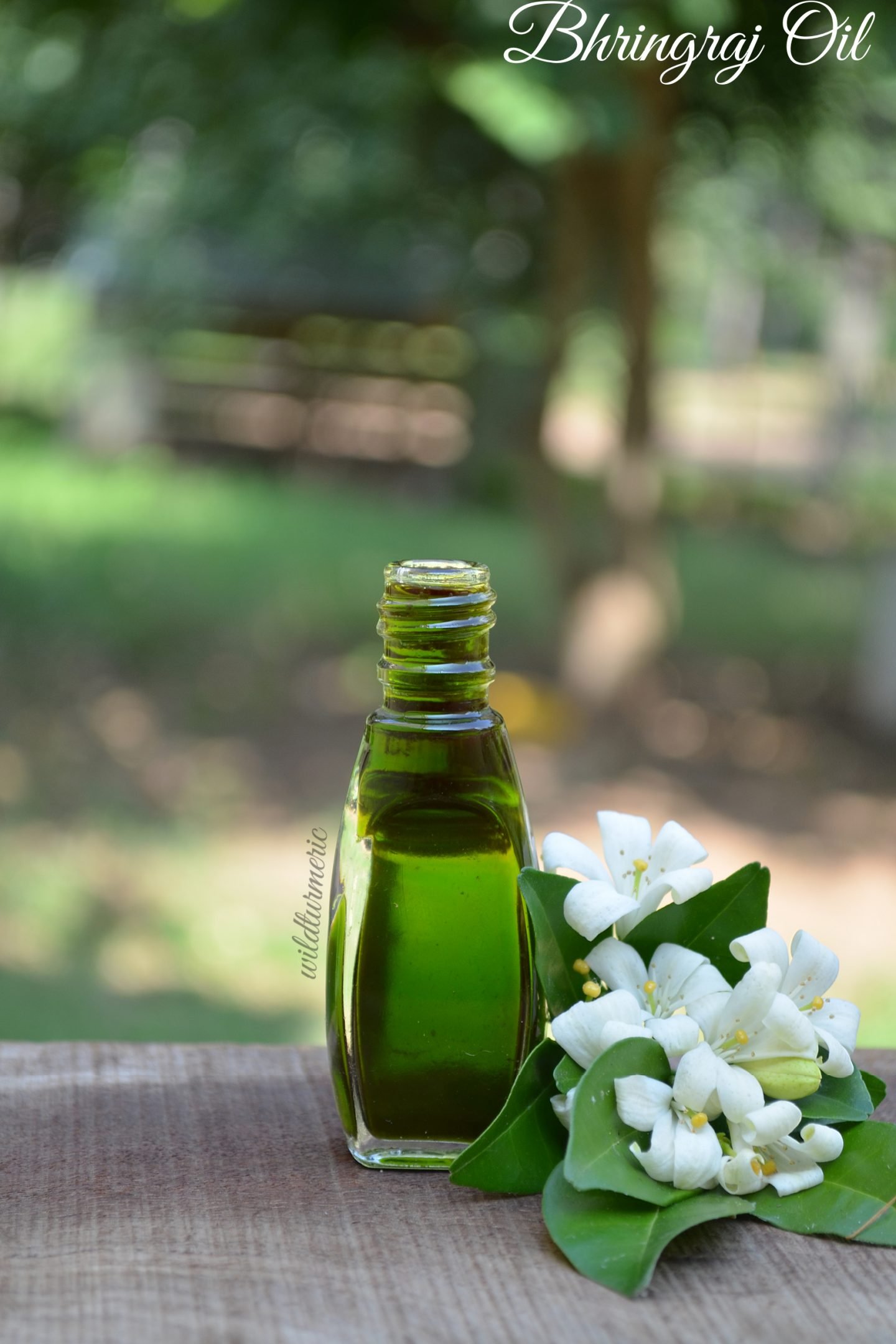 This homemade bhringraj oil | karisalankanni hair oil is very famous in my place and does wonders for our hair. The botanical name of bhringraj is Eclipta Alba. There are two varieties of bhringraj plants, one with white flowers and the other with yellow flowers. Both can be used to make this oil, I made the oil using white flowers and fresh amla.
Nowadays bhringraj oil is marketed everywhere, but you can make your own pure bhringraj oil at home very easily. We always used to have bhringraj plants in the farm but since there was no proper rains this year all the plants died.
When Aparna, who is a regular reader of this blog asked me to post about bhringraj I was looking out for this plant everywhere. Yesterday, when I went to visit my maternal grandmother I saw plenty of bhringraj plants in the farm there, I collected them and made the oil yesterday. You can identify this plant easily with it's flowers and it is also used extensively in home remedies.
Bhringraj Oil Hair Benefits:
To summarize, bhringraj oil prevents hair fall, premature greying, strengthens the hair roots, conditions the hair well, prevents split ends, stimulates hair growth – in short everything that is needed for a healthy hair.
1. For Hair Regrowth:
This hair oil made with fresh bhringraj and amla when applied regularly to hair stimulates new hair regrowth.
2. For Grey Hair:
Bhringraj hair oil is great for reversing grey hair and the results are very quick if you apply this hair oil when the premature greying is in it's early stages.
3. For Baldness:
Bhringraj hair oil is good remedy for both male pattern and female pattern baldness. But you have to apply it regularly to see good results.
4. For Dandruff:
Bhringraj hair oil is an amazing home remedy for dandruff as bhringraj has anti bacterial properties. If you have dandruff problem, warm this oil and massage into the scalp daily.
5. For Alopecia:
Bhringraj is useful for alopecia areata (spot baldness) too which occurs when our immune system affects our hair follicles. This hair oil can be used on the bald spots to promote new hair growth.

Homemade Bhringraj Oil
This oil can be made in two ways, the first method is made by grinding the bhringraj leaves and amla without water and making it into small rounds and then sun drying till crisp. Then the rounds are added to coconut oil in a glass jar and placed in hot sunlight till the color of the oil changes.
I prefer to use homemade coconut oil that is not refined for making this oil and I would strongly suggest that you do the same for best results. This method takes around 3 to 4 days for the rounds to dry and for the coconut oil to get heated up. This method is best done during hot summer months.
I did the second method, which is made by directly heating the paste in coconut oil. This oil has a beautiful green color and a unique pleasant smell. When I made this oil, the whole house was smelling of this oil. To use this oil, massage it well into the scalp before having your hair wash regularly and let it soak for at least 30 minutes. This oil stores well for up to 3 months at room temperature.
How To Make Bhringraj Oil At Home:
1. Take 1/2 cup bhringraj leaves, you can identify them with the yellow and white colored flowers. Separate the leaves and immerse it in water, the sand and dust will settle down. Repeat the process to get rid of the dirt completely and pat dry using a clean kitchen towel to absorb excess moisture.
2. Take 5 fresh amla and pound to remove the inner seeds completely.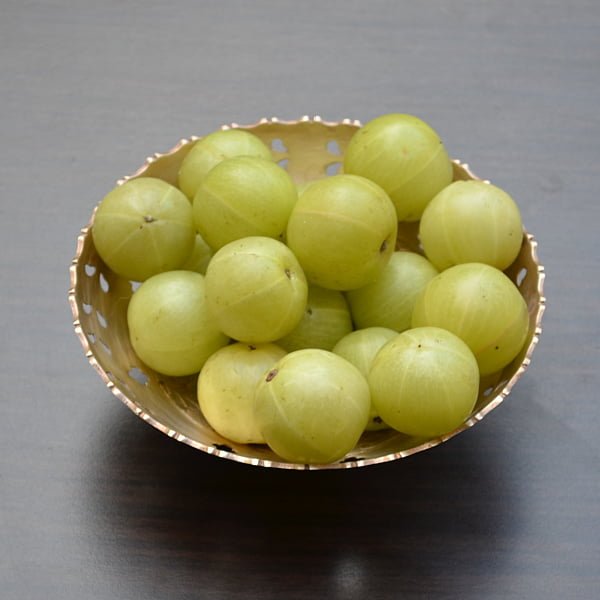 3. Now grind the leaves and the amla in a mixer to a coarse paste without adding any water.
4. Heat 1 cup virgin coconut oil in a low flame along with the paste. It will start sizzling immediately. Heat the mixture in a low flame till the sizzling sound stops completely and switch off.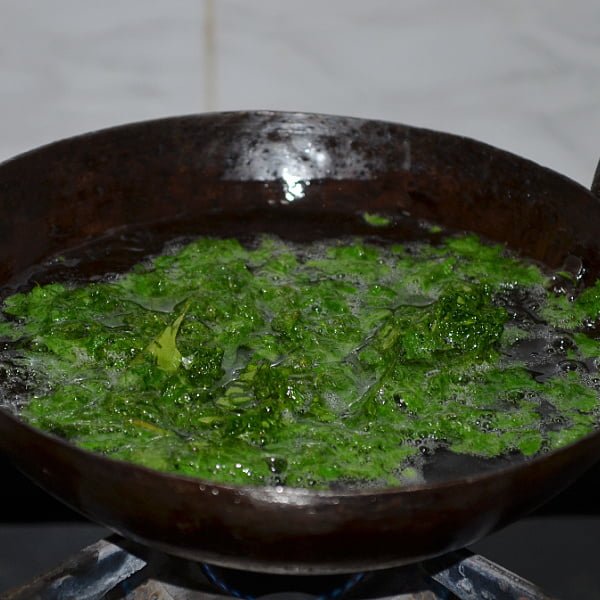 5. Let the oil cool, strain and store it in a glass bottle.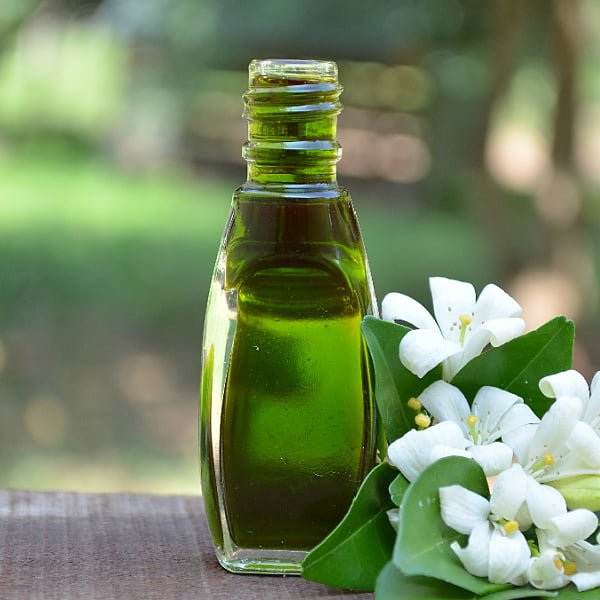 NOTES:
Wait for the sizzling sound to stop completely before switching off.
Use fresh bhringraj leaves for best results.
Make sure not to burn the bhringraj leaves.
Store it only in glass bottles.
Try this oil using direct sunlight method during hot summer months.