Chamomile tea has amazing health benefits. When we went on a trip to Sri Lanka, I had the opportunity to taste different kinds of teas and one tea that became my all time favorite is chamomile.
Though I had tasted chamomile tea before, drinking it regularly in Sri Lanka made me appreciate the wonderful healing properties of this amazing tea. It also tastes wonderful.
Drinking chamomile tea is one of the best things to do if you are stressed or if you are unable to sleep, it really really relaxes a person so well. Nowadays when I don't get sleep, I just make myself a cup of chamomile tea and usually it makes me relax and helps me sleep.
Chamomile Tea Medicinal Uses:
1. Antioxidant Properties:
Chamomile tea is full of antioxidants and drinking chamomile tea regularly helps improve immunity.
2. Chamomile Tea For Sleep:
3. Chamomile Tea For Stress, Anxiety & Depression:
4. Chamomile Tea Anti Inflammatory Properties:
Chamomile tea has amazing anti inflammatory properties and and has been used from ancient times for it. It also has anti spasmodic properties and can be had when we are suffering from painful periods.
5. Chamomile Tea For Thyroid Cancer:
6. Chamomile Tea For Diabetics:
7. Chamomile Tea For Skin:
Chamomile tea is very very soothing and can be used even on most sensitive skin. It can be used in face packs and scrubs. Since it has anti inflammatory properties, it is definitely one of the best ingredients for people with acne prone skin.
8. Chamomile Tea For Hair:
Chamomile tea can be used to lighten hair very effectively at home without any damage. It is one of the best and safe alternatives for store bought hair lightening bleach.
Chamomile Tea Side Effects:
Chamomile tea is generally safe but if you are on any anti coagulant medications consult your physician before drinking it on a regular basis. Also if you are due for any surgery mention it to your physician and if you are pregnant never over consume chamomile tea.
Where To Buy Chamomile tea?
In India, few years back, it was only sold in some shops but now you get chamomile tea bags in all the departmental stores. Dried chamomile flowers are not commonly found in India, my co sister got me the dried flowers when she was traveling abroad…
Different Ways Of Preparing Chamomile Tea at Home:
1. Chamomile Tea For Digestion: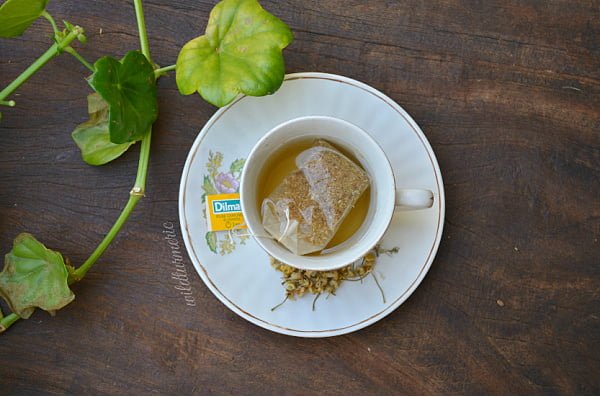 Chamomile tea has a soothing effect on the stomach and can be had for improving digestion. I like to prepare it with fresh herbs. For the tea, boil a cup of water and add in the dried chamomile flowers and switch off. Now add few fresh mint leaves and honey to taste.
2. Chamomile Tea For Hair Lightening: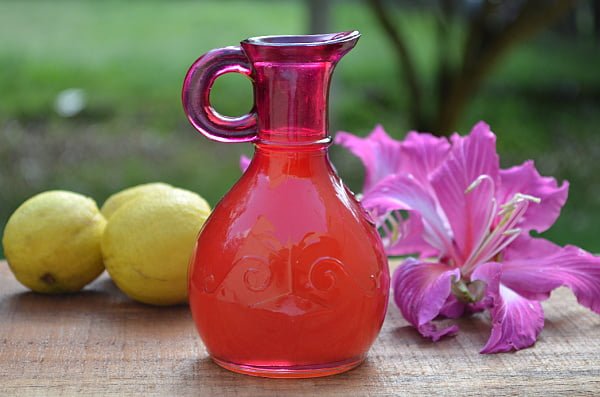 To make the chamomile hair lightener, boil water in a pan along with cinnamon sticks and pour over the chamomile tea bags. The chamomile tea should be really strong, now add the lemon juice and add a tiny bit of extra virgin olive oil. Pour this in a spray bottle and spray it all over the hair and dry the hair in the sun. You can find the recipe for chamomile hair lightener here.
3. Night Time Chamomile Tea For Good Sleep: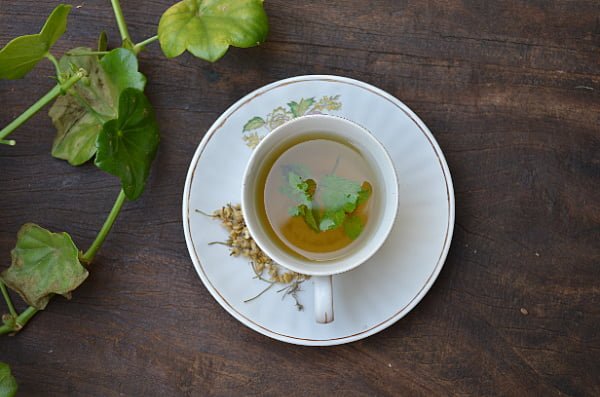 Take a chamomile tea bag in a cup. Boil a cup of water and once it comes to boil, pour over the tea bag and let it steep for 2 to 3 minutes and your night time drink is ready. It is best not to add any sweeteners before sleep, just sip on it and you will feel relaxed and ready to sleep in no time…