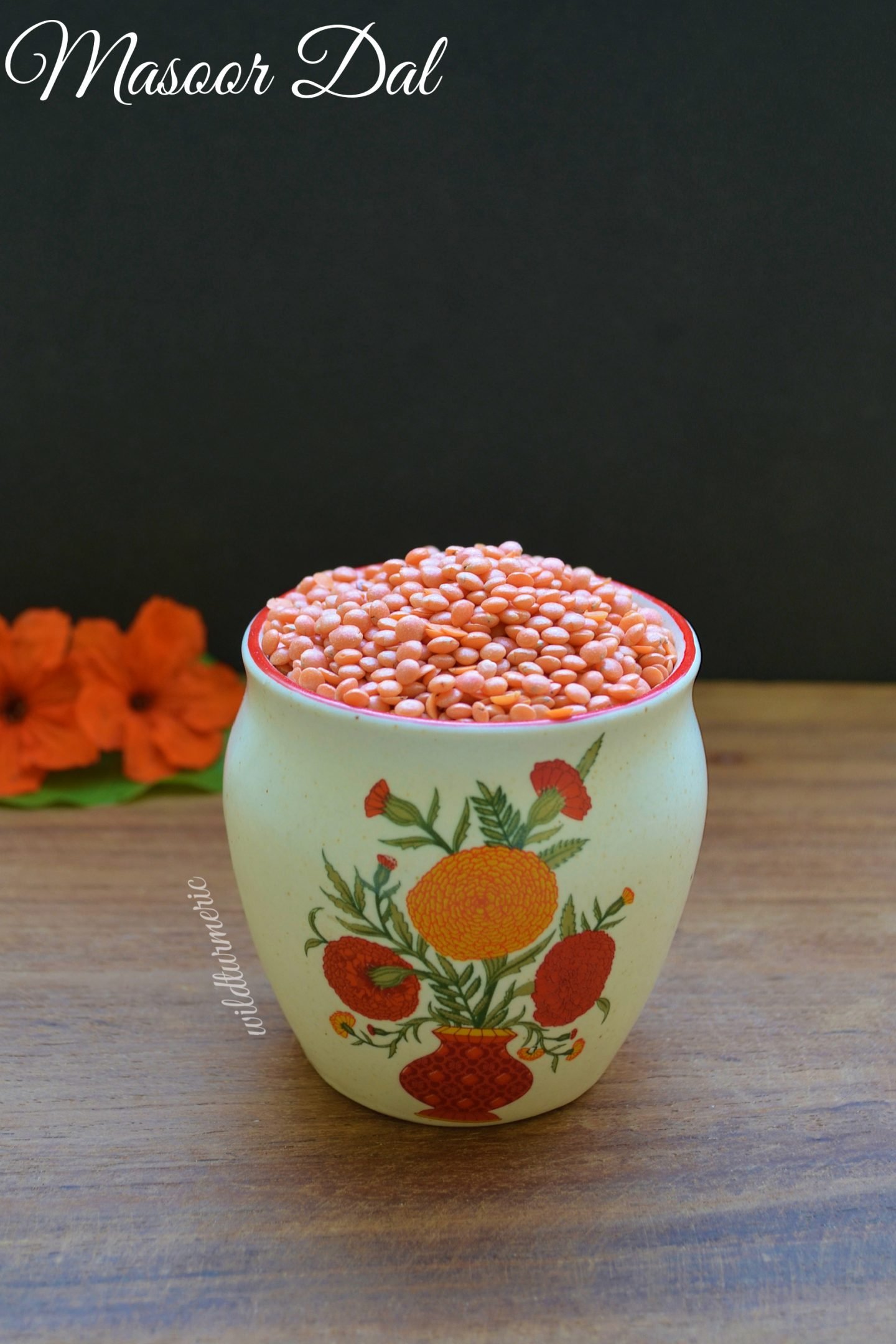 Masoor dal | Red lentil is one of my favorite dals that I completely love. In India, we use many varieties of dal in our cooking and red lentil is one among them. Masoor dal is a highly nutritious dal that has wonderful health benefits and we should all try to incorporate into our daily diet often. It is a very soft dal that usually cooks very fast and needs no pre-soaking.
Masoor Dal Common Names:
Red lentil is called Masoor Dal in Hindi, Mysore Paruppu in Tamil, Masur Dal in Gujarati and Marathi, Masoor Parippu in Malayalam, Masur Bele in Kannada, and Misur Pappu in Telugu.
Masoor Dal Nutrition:
100 grams of masoor dal has around 345 calories, 2.2 grams of fat, 59 grams of carbohydrates, and 25 grams of protein. It is also rich in vitamin C, iron, vitamin B6, magnesium, and calcium.
Masoor Dal Health Benefits:
1. Rich In Protein:
Like all pulses, it is very rich in protein and regular consumption of plant protein is very essential for keeping our body in good health as it is low in fat and unlike animal protein, full of fiber.
2. Good For Weight Loss
Masoor dal is rich in fibre and very filling, any food that is low in fat and rich in fibre and protein is ideal to include in a weight loss diet. You can include masoor dal soup every day for lunch, it will keep you fuller and will prevent snacking in between meal times.
3. Good For Gut Health:
Lentils including masoor dal are good for gut health as they are a good source of both soluble and insoluble fiber along with phenolic compounds. In a study done on rats, including cooked red lentils in the diet lead to beneficial changes in the gut and was dose dependent.
4. For Skin Care:
Masoor dal is not only good for internal consumption, but it is great for skin care too. Using masoor dal on our skin as a face pack removes suntan, black spots, and dark spots and also greatly helps prevent wrinkles if used along with eggs.
5. Reduces Cholesterol:
Since it is rich in fiber and low in fat, it greatly helps reduce cholesterol levels too. Masoor dal is not commonly used here in Tamil Nadu like in Northern India but we do use it a lot at home.
6. Has Neuro Protective Properties:
Red lentil extract has been proven to have neuroprotective properties. In a study, 48 male rats were given 200, 400, 800, and 1000 mg of red lentil extract per kg. The group that received 800 and 1000 mg showed significant protection against induced catatonia (disturbed mental state).
Masoor Dal Side Effects:
Like all pulses, masoor dal should be cooked well else it will cause bloating and gas, I prefer to cook it till mushy. And please don't over consume masoor dal, slowly increase the quantity over time to prevent any side effects.
How We Use Masoor Dal At Home:
My aunt used to sundry masoor dal mixed with beaten egg and then use it as a face pack. It is one of the most amazing face packs I have tried.
We also make masoor dal soup and masoor dal curry for chapathi at home. I would suggest using masoor dal at home regularly to get all the wonderful benefits it offers.
Masoor dal is found easily all over the world and it also stores well. At home, I store masoor dal in an airtight box in the pantry after sun drying it well for a day and it lasts well for months together.
3 Top Way to Use Masoor Dal For Health & Skin Care:
1. Masoor Dal Soup For Weight Loss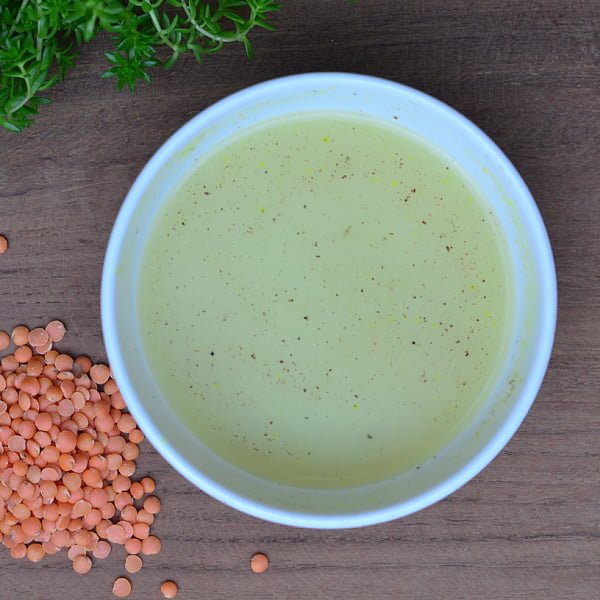 For the soup, take a cup of boiled masoor dal in a pan and heat on low flame. Add 1/4 cup of homemade coconut milk to it and once warmed up add salt and pepper and serve hot. You can add veggies and herbs of your choice to the soup, I just had it plain. This soup is very filling and comforting.
2. Masoor Dal Face Pack: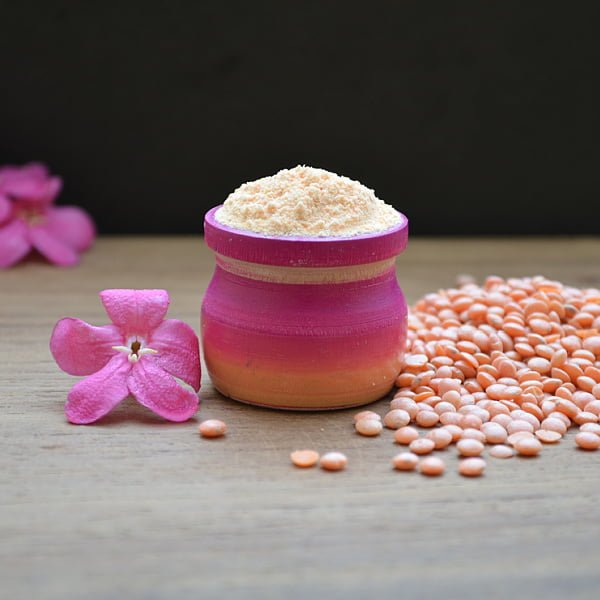 For the face pack, break an egg, beat it well, and mix it with masoor dal. Now spread on a plate and sun dry till crisp. Powder while still crisp from sun drying and then mix it with milk and use it as a face pack. You can find the instructions for it here.

3. Masoor Dal For Chapathi:
Boil a cup of masoor dal. Now heat coconut oil in a pan and add in ginger garlic paste and saute in very low flame. Once the raw smell of ginger garlic paste goes, add in 1 finely cut onion. Next, add turmeric powder and chilli powder along with 2 finely cut tomatoes and saute till mushy.
Now add the dal and salt. Once it thickens, switch it off. Now for the tadka, heat little ghee in a pan, add in cumin seeds, 1 red chilli broken, and curry leaves, and add to the dal. Serve hot along with fresh homemade rotis.