Living on a coconut farm all my life and depending on coconuts for livelihood, it is a great joy for me to write anything related to coconut, and coconut milk is no exception. Coconut milk is very very soothing on the stomach and has wonderful health benefits and medicinal uses.
We start almost every morning breaking a coconut and extracting the coconut milk because we use coconut milk extensively in our cooking. We use it in remedies for treating ulcers and also to improve immunity. We use it in skin and hair care extensively too.
What Is Coconut Milk?
Coconut milk is plant based milk extracted by grinding coconut meat with water. Coconut milk has a wonderful creamy texture and buttery taste which makes many people think of it as an ingredient that is fattening and bad to be eating every day. We get contradicting advice from everyone about most of the ingredients we use including coconut milk, some say it is good and some say it is fattening.
I always prefer to follow the traditions, if my grandma and mom used an ingredient, then I would continue to use it. We have been using coconut milk and coconut oil in our cooking forever, in my humble opinion, we should never let go of the traditions that have been followed for thousands of years, especially ingredients like coconut milk which is very nourishing both when taken internally and applied externally.
Coconut Milk Common Indian Names:
Coconut milk is called Nariyal ka doodh in Hindi, Thengai Paal in Tamil, Kobbari Paalu in Telugu and Tengina Halu in Kannada.
Coconut Milk Nutrition Facts:
100 grams of coconut milk has around 230 calories, 263 mg of potassium, 2.3 grams of protein, 16 mg of calcium, 6 grams of carbohydrates, 37 mg of magnesium, 2.8 mg of vitamin C and 1.6 mg of iron. It is also rich in phosphorus, copper, and B vitamins.
How Is Coconut Milk Made?
Coconut milk is made by scraping the fresh coconut and grinding it in with water to a coarse paste in a blender. To extract the milk, pour the ground paste into a cloth and squeeze it. At home, I use a jaggery strainer (which is a two-layered strainer ) but you can also use a clean thin muslin cloth for extracting the milk.
Coconut Milk Health Benefits:
1. For Heart Health:
The main reason we are advised not to include coconut milk is that it contains saturated fat. But the truth is coconut milk can lower cholesterol levels, coconut milk is rich in lauric acid which helps lower LDL cholesterol. You can read the study that proves it
here.
2. For Strong Healthy Bones:
Next to calcium, phosphorus which is found abundant in our body is very essential for building strong bones. Coconut milk is rich in phosphorus, 1/4 cup of coconut milk contains around 60 mg of phosphorus. We women should include coconut milk regularly in our diet for our bone health to prevent osteoporosis and arthritis.
3. For A Calm Mind:
Coconut milk not only gives us strong bones, but it gives us a calm mind as well. We all know that magnesium plays a major part in keeping our minds relaxed and magnesium deficiency is more common than we realize. Some of the common symptoms of magnesium deficiency are insomnia, restlessness, irritability, fatigue, cramps, and memory loss. We can avoid magnesium deficiency very easily by including coconut milk in our diet as 1/4 cup of coconut milk contains around 22 mg of magnesium!
4. Benefits For Weight Loss:
Coconut milk, unlike processed fatty foods, contains medium-chain saturated fatty acids. Medium chain saturated fatty acid has been proven to increase energy expenditure, prevent fatigue and improve physical performance. It has also been proven to stimulate weight loss, you can read the study that proves it
here.
In addition, coconut milk is very very filling and is very nutrient dense too.
5. For Immunity:
Lauric acid in coconut milk has anti-bacterial, anti viral, anti-fungal properties. Coconut milk is also rich in antioxidants which prevent free radical damage and help build immunity. Everyone can consume coconut milk: babies, the elderly, and even diabetic patients can consume pure homemade coconut milk in moderation.
6. Coconut Milk For Ulcer:
At home, if anyone is suffering from stomach ulcers, the first go-to remedy is a mixture of manathakkali keerai and coconut milk, it gives amazing relief from ulcers. You can read about it
here.
Also surprisingly I found a study that proves this traditional use, you can read the study
here
7. For Hair Care:
I love to use coconut milk for my hair, especially in hair packs. I also make coconut cream at home for using it on my hair. Coconut is a great hair conditioner and after using coconut milk on your hair, you will find your hair soft, smooth, and shiny. If your hair gets tangled often, coconut milk will greatly prevent tangling and it also helps promote hair growth. I have given different ways of using coconut milk for hair below.
8. For Skin Care:
Coconut milk is very very soothing on the skin and the number of ways it can be used for skin care is endless. From face masks to cleansers to nourishing baths, coconut milk is amazing for skin care. I have given the list of recipes I have tried below, choose the ones you like and use regularly.
Types Of Coconut Milk:
We get two types of coconut milk in the markets now, the first one is canned coconut milk. Canned coconut milk might be sweetened or unsweetened and can also come in different fat contents. However, I have never seen canned coconut milk with varying fat content in India, at least not in my local town.
The second one is coconut milk powder which can be mixed with water to get coconut milk. While both these methods might seem very convenient compared to buying a coconut, breaking it open, scraping the flesh, and grinding to extract the milk which might seem a lengthy and tedious process, in my humble opinion, it is worth going the extra mile for fresh coconut milk.
The coconut milk made with fresh coconut meat is divine, it has a beautiful fresh smell and sweet taste. Coconut milk spoils easily and is highly perishable and so to extend its shelf life, the manufacturers have to add preservatives. I would recommend extracting fresh coconut milk, and trust me, it gets easier with practice.
Where to Get Coconut Milk?
Canned coconut milk can be bought in almost all the departmental stores now. If at all you want to buy canned coconut milk, make sure to buy one that is organic and free of BPA (Bisphenol A), an industrial toxic chemical used to line the insides of canned tins.
Especially, they leach out more in stuff that is acidic, salty, or in foods that contain high amounts of fat like coconut milk. Also, check for guar gum which is also another common ingredient in canned coconut milk as some people can be allergic to it.
Coconut Milk Side Effects:
We have been using coconut milk forever and I have never seen anyone experience any ill effects. But I have to mention that I never use canned or powdered coconut milk. I would highly suggest pregnant women avoid consuming canned coconut milk for the reasons mentioned above.
8 Top Hair, Skin & Health Benefits Of Coconut Milk, Coconut Cream & Coconut Milk Oil:
Coconut Milk For Health:
1. Coconut Milk Oil:
If you don't get pure coconut oil in your place, I would suggest making homemade coconut oil from coconut milk. Though the quantity got is very less, it is pure coconut oil without any additives. This oil has loads of health benefits, you can find the method for making it here.
2. Coconut Milk For Ulcers:
Whenever we suffer from stomach ulcers, we make a simple drink | soup with mudakathan keerai and coconut milk. It heals ulcers well, you can find the recipe for making it here.
Coconut Milk For Hair:
3. Hair Mask For Dandruff & Hair Growth: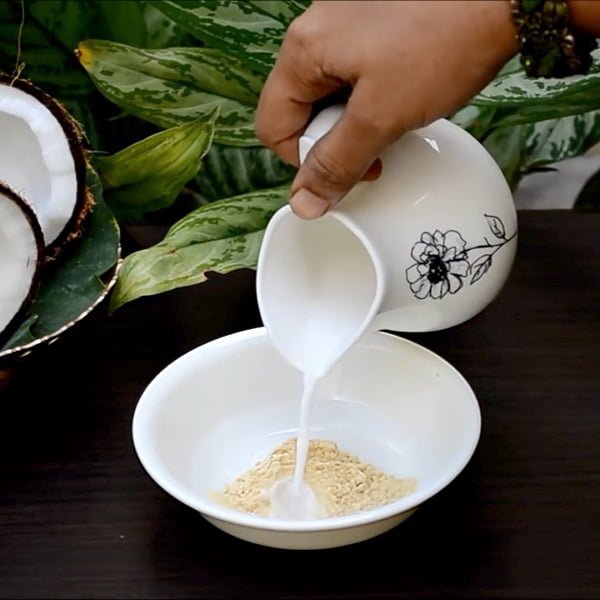 For the hair mask, take fenugreek powder in a bowl and add enough coconut milk to form a very loose paste. Set aside for an hour or two to thicken, mix well again, and use it as a hair mask. Both fenugreek and coconut milk will condition the hair, prevent dandruff, and will leave the hair manageable and soft.
4. Coconut Milk Cream For Hair Loss: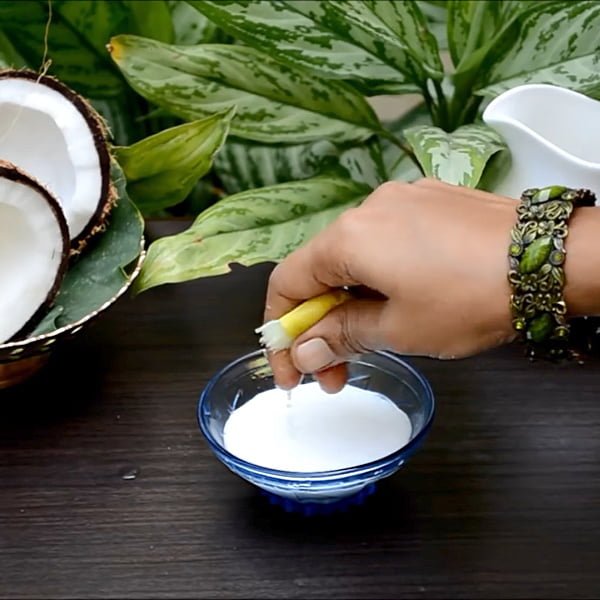 For making the coconut milk cream, extract coconut milk the same way but instead of water, add cow milk and extract the coconut milk. Now squeeze in fresh lemon juice, mix well and set aside overnight in the fridge. The next day, a thick cream would have formed on top. Skim the cream and use it as a hair mask.
5. Hair Serum For Dry Hair: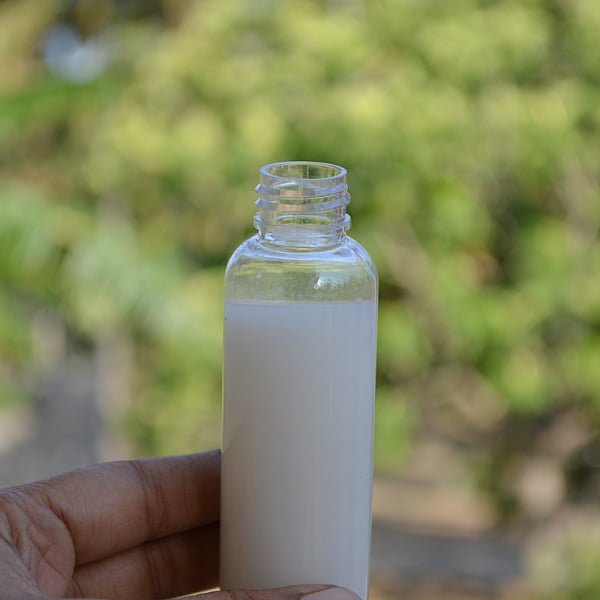 Coconut milk hair serum is a wonderful preparation we can make at home. For the serum, take 1/4 cup of coconut milk in a bowl, add a cup of distilled water along with 4 drops of your favorite essential oil and mix well.
Coconut Milk For Skin:
6.As a Makeup Remover: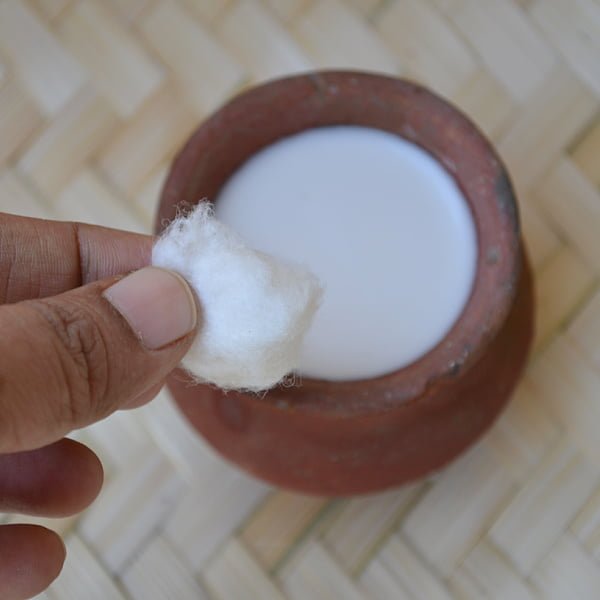 Coconut Milk is wonderful as a makeup remover. To remove makeup, just dip a piece of cotton in coconut milk, squeeze out the excess coconut milk and use it as a makeup remover. It not only removes makeup but also cleanses the skin well too.
7. Coconut Milk Face Mask: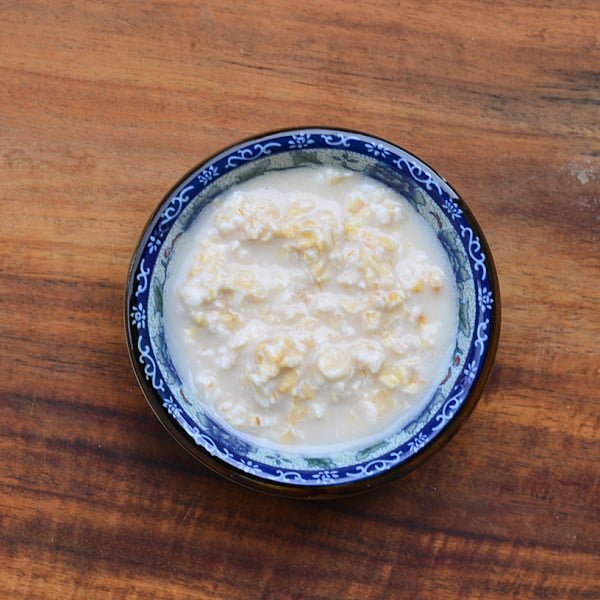 Coconut milk mixed with oatmeal is one of the best at-home remedies for sunburned skin as it is very very soothing. To make the mask, grind oatmeal to a fine or coarse powder, add coconut milk to it and let it soak for about 10 minutes. Apply this mixture on sunburned skin, it will greatly help.
8. Coconut Milk Bath:
Coconut milk baths like regular milk baths are very hydrating and are best for treating extremely dry skin, it also eases skin irritation. This bath can be given to young children during cold winter months, it will keep their skin supple and soft. For the bath, add 1/2 cup of coconut milk, a handful of dried rose petals, and 5 drops of rose essential oil to the bath.