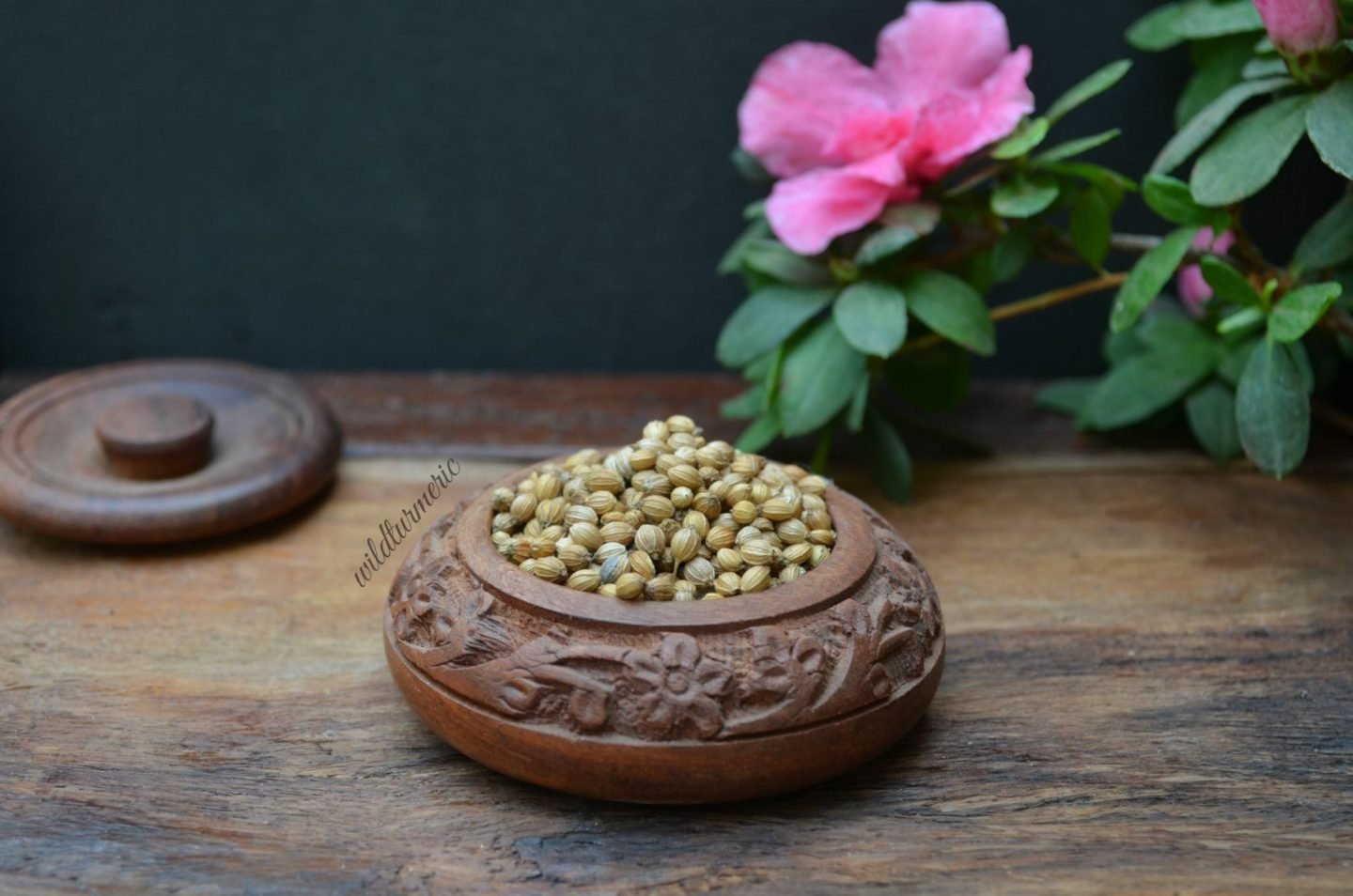 We use dhaniya also popularly called coriander seeds in English regularly in cooking and also extensively in home remedies as it has amazing health benefits and medicinal uses. It is one of the spices that we regularly keep in our spice box and use it almost in all the dishes. We use both the dried seeds and its ground powder called dhania powder extensively in cooking.
In remedies, coriander seeds are used for treating thyroid, aiding weight loss as it regulates digestion and it helps people who are suffering from pcos as it regulates menstrual cycle and treats heavy periods. It reduces high cholesterol and dhania water got by boiling the coriander seeds in water is useful for people suffering from thyroid problems too.
It is used for treating hair and skin problems as it has anti bacterial properties and for the same reason it also used for eye care and for treating urinary tract infections too. It is also good for diabetic patients as it reduces blood sugar levels. Coriander seed oil extracted by steam distillation of the seeds also have wonderful medicinal uses.
What Are Coriander Seeds?
Coriander seeds (Dhaniya) are the aromatic, round, dried seeds (with longitudinal ridges) of coriander plant. The fruits are green in colour and turn brownish yellow colour when they dry out. They are very oily seeds comprising almost 25% of fatty oils.
Coriander plant also called dhaniya patta in Hindi is a wonderful herb that resembles parsley and is widely used in cooking all over the world. The seeds are dried and sold in the markets commonly here in India. Coriander seeds have a unique fragrance especially when roasted.
At home, we dry roast the coriander seeds to bring out the flavor, grind and then use it in gravies. In home remedies, we mainly make water decoction with it along with other spices like dry ginger and it is popularly called coriander tea all over the world.
Coriander Seeds Nutrition:
Hundred grams of coriander seeds have around 298 calories, 12 grams of protein, 17 grams of fat and 55 grams of carbohydrates. Coriander seeds are rich in fiber, 100 grams contain around 42 grams of fibre. Among minerals, it is rich in potassium, calcium, phosphorus, magnesium and sodium. Among vitamins, it is rich in vitamin C and niacin.
Coriander Seeds Chemical Composition:
The Essential oil content of coriander seeds varies between .03% to 2.6%. The fatty oil content varies between 10 to 27%. The important chemical constituent of coriander seed essential oil is linalool which accounts for 55% followed by alpha pinene which accounts for 7.5%. The major fatty acids present are petroselinic acid which accounts for 65% followed by linoleic acid, palmitoleic acid, etc.
Coriander Seeds Botanical and Common Names:
The botanical name of coriander plant is Coriandrum Sativum. The seeds are commonly called Dhaniya in Hindi, Varakothamalli in Tamil, Malli in Malayalam, Kothambari Beeja in Kannada, Kothimir in Marathi and Dhaniyalu in Telugu. It is also called Dhaniya in Punjabi, Oriya, Gujarati and Bengali.
Coriander Seeds Traditional Uses:
Traditionally coriander seed decoction got by boiling the seeds along with milk and honey is used for treating piles and excessive menstrual flow. The seed poultice is used for treating headache and the seed decoction is used as an eye wash to treat conjunctivitis.
At home we use coriander seed tea made by boiling pounded coriander seeds along with dry ginger for treating many stomach problems including indigestion, stomach pain and loss of appetite. Coriander seed water is also used for reducing high cholesterol levels.
Coriander Seeds Medicinal Uses:
1. Cholesterol Lowering Properties:
Traditionally the seed decoction is consumed for reducing high cholesterol levels. This has been proven through research now. In a study done on rats, the group that took the seed extract had low levels of LDL compared to the control group. You can read the study that proves it here.
2. Natural Diuretic:
The water extract of coriander seeds is a natural diuretic. It helps to get rid of excessive water in our body. In a study, the water extract proved to be equally effective as that of prescription medication. For people who are suffering from excess water retention in the body, drinking a cup of coriander seed tea will greatly help.
3. Good For Diabetic Patients:
Coriander seeds helps reduce serum glucose levels. In a study, consuming coriander seeds for 45 days produced significant reduction in serum glucose, creatinine levels, and also lipid levels. Glycation end products formed in kidney also was reduced. You can read the study that supports this claim here.
4. Antibacterial, Anti Fungal and Insecticidal effects:
Water extract of coriander seeds inhibited only some tested bacteria whereas ethanolic extract of coriander seeds had inhibitory effect against wide range of bacteria including Klebsiella Pneumoniae and Proteus Mirabilis. Coriander seed extract has been proven to be very effective against many candida strains. It is also very effective against many mosquito varieties including Aedes Aegypti and Aedes Albopictus.
5. Anthelmintic Properties:
The water extract of coriander seeds has been proven to be effective against many gastrointestinal parasites in both humans and animals. In a study, the coriander seed extract was proven to be 100% effective against intestinal tapeworm infection in 15 days as opposed to standard treatment which was effective 100% in 11 days which is remarkable as coriander seed extract does not have any side effects. It also has immunostimulatory effect against macrophages too.
6. Antioxidant Properties:
Coriander seeds have wonderful antioxidant and free radical scavenging properties. Including coriander seed powder in the diet has been proven to inhibit the peroxidative damage and also helps reactivate the antioxidant enzymes.
The maximum free radical scavenging properties and free radical reducing power of coriander seed extract was observed to be maximum at the concentration of 50 mg. You can read the study that proves it here.
7. Cardio Protective Properties:
In a study done on rats who were induced heart failure with certain medications, giving coriander seed extract helped improve the left ventricular functions, hemodynamic parameters and it also increased baroreflex sensitivity. Coriander seed extract also inhibited lipid peroxidation and helped improve the lipid profile. You can read the study that proves the cardioprotective properties of coriander seed extract here.
8. Anti Cancer Properties:
The methanol extract of coriander seeds causes 30 to 40% cytotoxicity against lymphoma cells. Though fresh coriander leaf extract has been proven to be the most effective against many cancer cells including kidney, bone and liver, the seed extract can also be used. This is due to the high antioxidant properties present in it.
9. Protects Against Lead Exposure:
Lead exposure causes many problems including neurodegeneration and neurobehavioral abnormalities in both adults and children. It also effects cognition and memory too. In a study done on rats who were exposed to lead, giving coriander seed extract greatly reduced stress caused due to lead exposure. You can read the study that proves it here.
10. Treats Anxiety:
Another important but lesser known properties of coriander seeds is it's anti anxiety properties. It has been used for treating anxiety and insomnia traditionally for many years.
The water extract helps reduce anxiety and it also has significant sedative and muscle relaxant properties too. Since anti anxiety medications comes with lot of side effects, consuming natural remedies like coriander seeds that does not have any side effects is a good option.
Coriander Seeds Side Effects:
Coriander seeds have low toxicity and they rarely cause any side effects if consumed in normal amounts used in cooking. However large quantities of coriander seeds should not be consumed like in coriander tea by pregnant women as we don't know the safe amount to be consumed by pregnant women.
How to Collect Coriander Seeds From The Plant?
Coriander seeds are collected when the seeds ripen and start turning yellow. The coriander seed heads are cut off usually in the early morning. After that they are sun dried and individual seeds are gathered and stored.
Where To Buy Coriander Seeds?
We can buy coriander seeds easily and cheaply in all the departmental stores in India. We can also order it online too. We can also use the seeds to grow our own coriander plants too, just soak the seeds in water overnight and the next day, sprinkle them over the soil and water daily. Within a few days, you will have fresh coriander leaves.
6 Top Ways To Use Coriander Seeds (Dhaniya):
1. Dhaniya Tea For Indigestion
To make the coriander tea, pound 1 tbsp of coriander seeds along with a small piece of dry ginger in a mortar and pestle. Boil a cup of water along with required amount of jaggery and pounded spices till there is no raw smell of spices. Switch off and strain. This coffee is an amazing home remedy for treating indigestion.
2. Dhaniya For Weight Loss:
Both coriander seeds and amla also called as Indian gooseberry are good for including in a weight loss plan as they keep our digestion in peak order. For the remedy, take one large amla in a mortar and pestle and pound to remove the inner seed. Now grind it along with 1/4 teaspoon of pounded coriander seeds, 1/4 tsp of jeera seeds, a pinch of black salt and a cup of water. Strain and consume a cup daily.
3. Dhaniya Water For Reducing High Cholesterol Levels:
Coriander seed water is an amazing home remedy for reducing high cholesterol levels. To make coriander seed water, boil coriander seeds in half cup of water till the colour of the water changes and then strain. If you don't want to drink it plain, you can add in a small piece of jaggery too.
4. Dhania Water For Women With Pcos: For Treating Excessive Menstrual Flow
This remedy is especially useful for women suffering from pcos as it treats many problems associated with it. Traditionally coriander seeds are used for regulating menstrual cycle and also for treating excessive menstrual flow. For the remedy, coriander seed water decoction got by boiling coriander seeds in water can be taken daily once for a few days.
5. Dhania Coffee For Diabetics: For Reducing High Blood Sugar Levels
Take one tablespoon of coriander seeds, few black peppercorns, a small piece of dry ginger and one cinnamon stick in a plate and sundry ingredients till they get crisp and powder in a dry mixer and store in an airtight box. To use, boil a teaspoon of this powder along with a cup of water, strain and drink. This will help reduce high blood sugar levels.