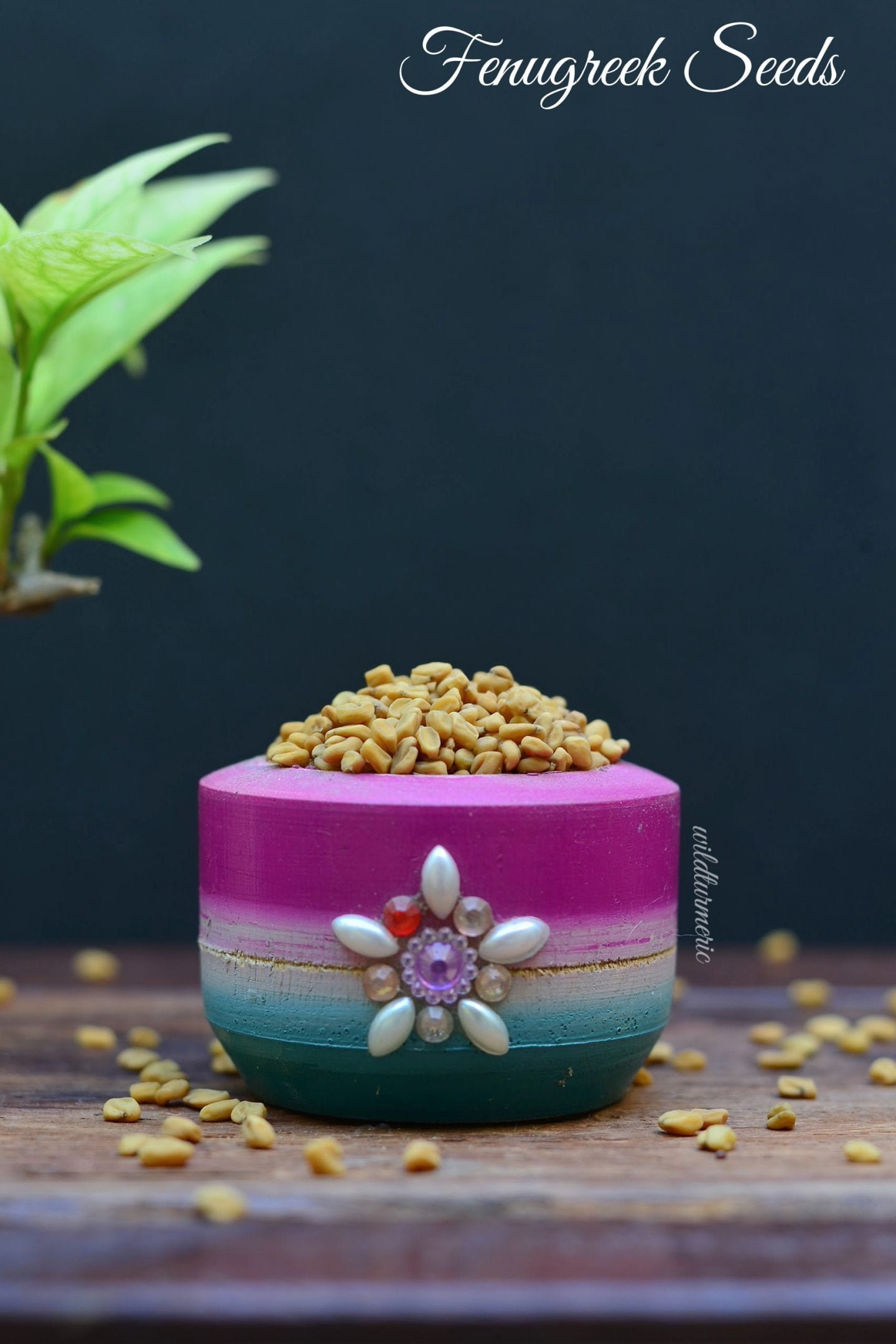 Fenugreek popularly called Methi & Vendhayam in India has wonderful medicinal uses and health benefits. Fenugreek seeds are amazing for women as it helps us in so many ways. From increasing breast milk to preventing insulin resistance and aiding weight loss, this amazing spice is truly a women's friend.
What Is Fenugreek?
Fenugreek is an annual plant with compound leaves and brown seeds. The botanical name of fenugreek is Trigonella Foenum and it is one of the ingredients that we extensively use both in cooking and in home remedies and you will never find an Indian kitchen without it.
Fenugreek is native to India and Africa and has been in use from ancient times. The leaves popularly called methi leaves are also consumed widely and they are very very nutritious. Fenugreek seeds have a bitter taste and should be used only in small quantities else the food will turn bitter.
3 Top Ways Fenugreek Benefits Women:
1. Fenugreek Seeds For Increasing Breast Milk:
Fenugreek Seeds is one of the best natural ingredients that increases breast milk naturally. Usually after delivery mothers are given great care in our village. Traditionally we stay in our mothers house till the baby turns at least 7 months old. During the time, mothers are given nutritious foods to encourage sufficient breast milk supply for the baby.
And traditionally there are certain ingredients that are given to breast feeding mothers that boosts breast milk and one such ingredient is fenugreek. This traditional practice has been backed by research, you can read the study that supports this claim here.
Fenugreek is an excellent galactagogue and has been used for centuries for it. At home, we make fenugreek porridge regularly and I have given the recipe for it below. Usually you will start noticing increase in breast milk supply within a day or two of consuming fenugreek seeds but for some women it might take longer.
2. Fenugreek Seeds For Pcos:
Polycystic ovarian syndrome also called pcos in short is unfortunately increasing due to change in our life style and food habits. Pcos is associated with obesity, infertility and insulin resistance but there are wonderful natural ingredients that greatly help women suffering from pcos and one such ingredient is fenugreek.
Insulin resistance is one of the major problems of pcos leading to diabetes, taking fenugreek seeds regularly will greatly help prevent it. Consuming fenugreek seeds regulates the glucose levels in the body and helps lower high blood sugar levels. You can read the study that supports this claim here. In our home, we use fenugreek seeds for making idli batter, that way we consume fenugreek seeds every single day.
3. Anti Obesity Properties:
Since pcos is also associated with obesity, fenugreek helps us double fold as it helps with weight loss too. Fenugreek extract has been proven to inhibit fat accumulation and has been proven to have anti obesity properties. Fenugreek seeds greatly reduces plasma triglyceride gain and you can read the study that supports this claim here.
Also any ingredient that keeps us full for longer periods of time, results in natural weight loss, helps keep the blood sugar levels stable and also prevents unwanted snacking. If you consume any dish made with fenugreek seeds like fenugreek dosa or fenugreek porridge, it will keep you fuller for longer periods of time preventing you from reaching for fattening snacks.
How To Consume Fenugreek Seeds?
You can take fenugreek in the form of fenugreek capsules (tablets), fenugreek extract or fenugreek seeds. If using fenugreek seeds, try any one of the three recipes given below. Fenugreek extract and tablets can be easily ordered online.
Fenugreek Dosage:
Usually the general safe dosage recommended is around 1 tsp per day. It is generally the approximate amount that is given to pregnant women in our place too. In the clinical study mentioned above 7.5 grams of fenugreek powder was given three times a day for four weeks but I would suggest starting with 1/2 tsp.
3 Ways To Consume Fenugreek Seeds:
1. Fenugreek In Yogurt:
Take 1/4 cup of yogurt in a bowl. Add in 1 tsp of fenugreek seeds, let it soak for at least 2 to 3 hours and it is ready to eat. This is one of the easiest ways to consume fenugreek seeds if you don't want to make fenugreek porridge.
2. Fenugreek Water:
For making fenugreek water, take 1 tsp of fenugreek seeds in a bowl. Add in a cup of hot boiling water, let it steep for a few minutes and strain. If you feel the fenugreek water is too bitter, you can add in few drops of honey too.
3. Fenugreek Porridge:
Wash 1/4 cup of raw rice and soak it along with 1 tsp of fenugreek seeds for 10 to 1 5 minutes. Now take them in a pressure along with 2 pods of garlic, 2 cups of water and enough salt to taste. Pressure cook for 4 whistles. Open and mash it nicely with the back of a spoon and add 1/2 cup of coconut milk while still hot and your delicious porridge is ready!