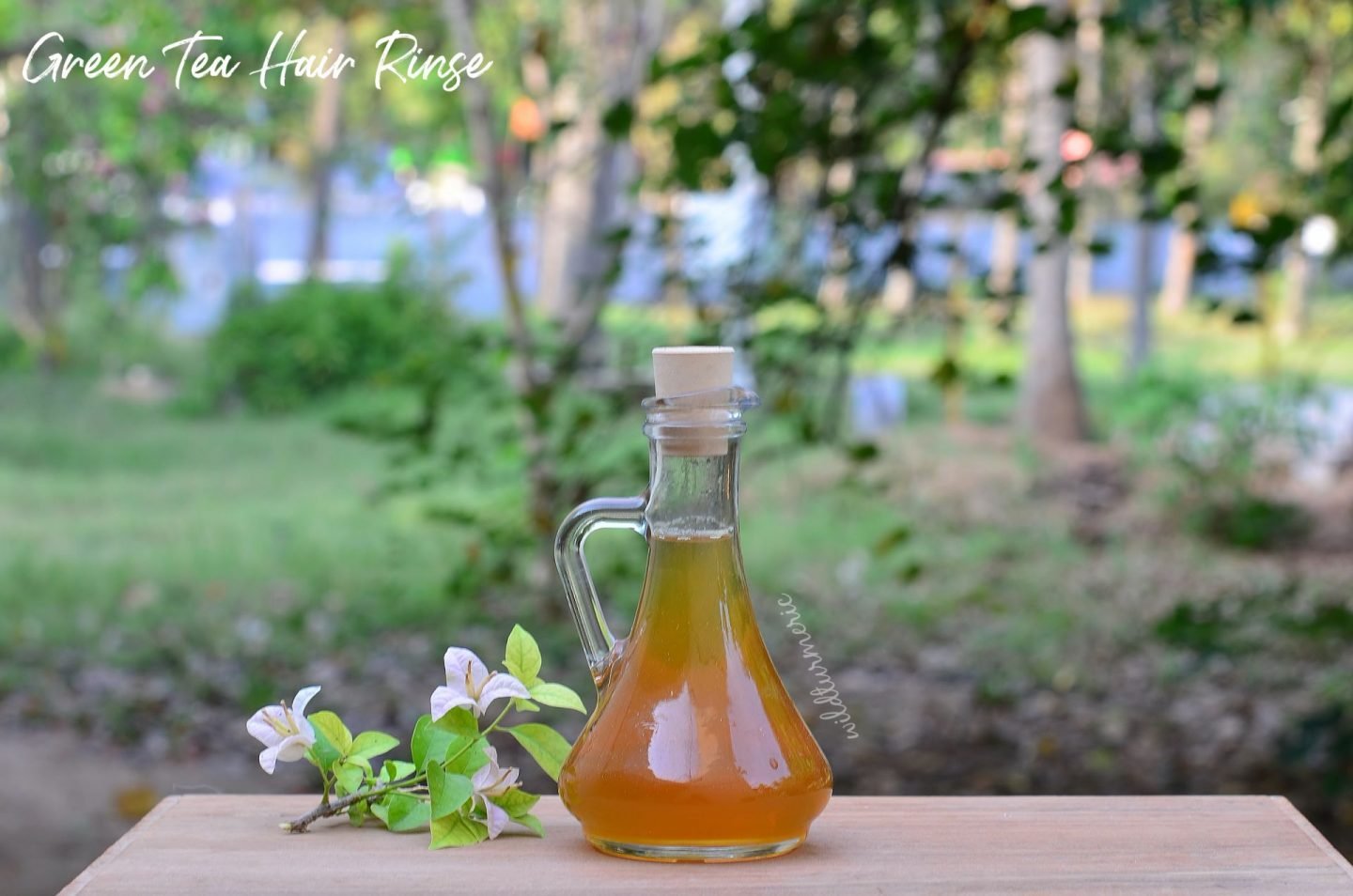 Doing natural hair spa at home is easier than we think and it has wonderful hair care benefits. I wanted a share how to do hair spa at home with easily available ingredients. Getting a hair spa done at beauty parlours can be quite expensive. We can easily do a hair spa at the comfort of our own home at the fraction of the cost and I promise it will be equally effective in treating dry frizzy hair.
What Is Hair Spa?
Hair spa is a treatment that involves multiple steps from hair massage to applying hair packs to make the hair soft, strong and shiny. The steps usually consists of oil massage, hair pack and a hair rinse or conditioner. This hair spa starts off with a hot oil massage with homemade fenugreek oil. This hair oil will nourish and condition our scalp very well. The second step is a hair pack using curry leaves. This hair pack treats almost all the scalp problems, stops hair fall and promotes hair growth. The final step is a hair rinse with green tea which give your hair a good shine and the best part is you just need only 2 ingredients for making it.
Hair Spa Benefits:
Oil massage done in the hair spa strengthens the hair roots and relaxes us. The hair pack treats dandruff, promotes hair growth, reduces hair fall, treats itchy scalp, conditions the hair and also helps remove product build up. Green tea hair rinse gives a nice shine to the hair and it also protects the hair from sun damage.
How To Hair Spa In 3 Simple Steps:
Fenugreek Oil:
The previous day, take a tablespoon of coarsely crushed fenugreek seeds in a bowl. Now add in quarter cup of unrefined coconut oil to it. Now either sun dry this mixture or heat it using a double boiler for 15 to 20 minutes' to help fenugreek seeds release its essence into the oil.
Once the oil is heated well, strain to remove the fenugreek seeds. make sure to grind the fenugreek seeds coarsely, if you grind it to a fine powder you'll find it very difficult to strain. This oil has a subtle smell of fenugreek and is an excellent hair and scalp conditioner. it also can be stored for a few months at room temperature.
To use, take the oil and massage it all over the scalp and hair. Make sure to apply this oil on both your scalp and hair, this will help treat split ends too. After the massage, dip a towel in hot water and tigh it around the head. Once the towel loses its heat remove and then apply the hair pack.
Curry Leaves Hair Pack:
To make the hair pack take a handful of fresh curry leaves in a bowl. Add in a tablespoon of homemade curd. Add in half tablespoon of apple cider vinegar. Finally add into teaspoons of virgin coconut oil. Now grind this mixture to a very smooth paste. While grinding you can add in more curd if you find the mixture is too thick.
To use, after the massage take this pack and apply all over the scalp and hair. Wait for it to almost dry and then wash it off using a mild shampoo. This hair pack will treat dandruff, itchy scalp, scalp inflammation and scalp boils too. It also will help promote hair growth. After shampooing use green tea hair rinse.
Green Tea Hair Rinse: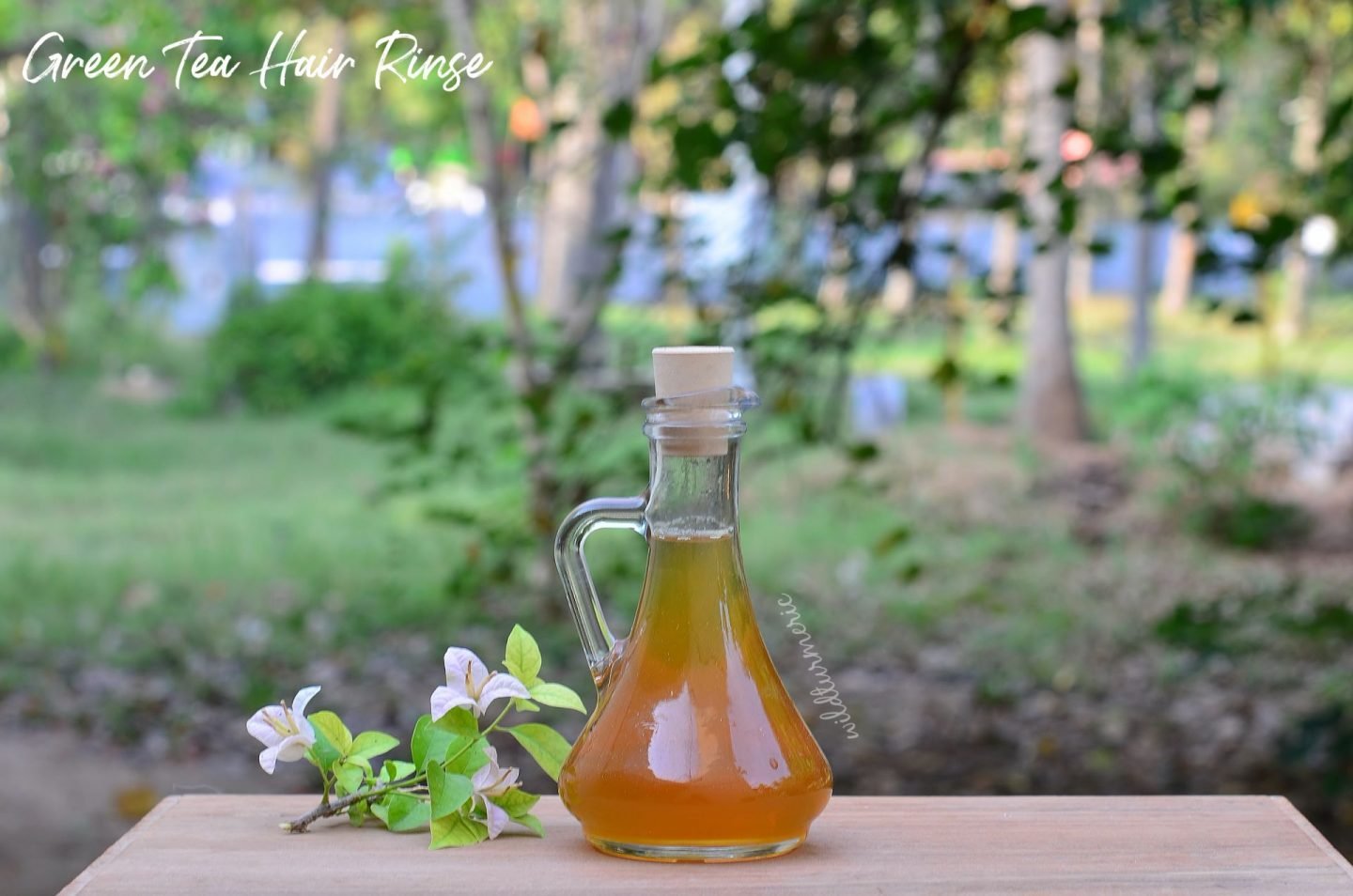 To make the green tea hair rinse we have to first make green tea. to make green tea, take a green tea bag in a cup pour hot boiling water and let it steep for a minute. Now to the green tea add in few drops of any favourite oil of your choice. I prefer Rosemary or lavender essential oil. To use, spray thisherons all over the scalp and hair wait for a few minutes and then rinse it off.
Green tea hair rinse is excellent for stimulating hair growth and it also gives a nice shine to the hair and also protects the hair from sun damage. This hair spa treatment will not only reduce hair fall and promote hair growth, it will help bring down our stress levels too. Give this spa treatment a try once and you will continue using it for life.
At Home Hair Spa Tips:
Pick a day when you are relaxed and have plenty of time to do the hair spa to get the full benefits.
Make the hair oil the previous day itself so you can start the hair spa the next day whenever you want.
This hair spa can be done by all ages groups and works so well in stopping hair loss.
You can do this hair spa mostly once or twice regularly.
In the hair pack, you can substitute curry leaves with other herbal powder or herbs like amla, hibiscus, etc.