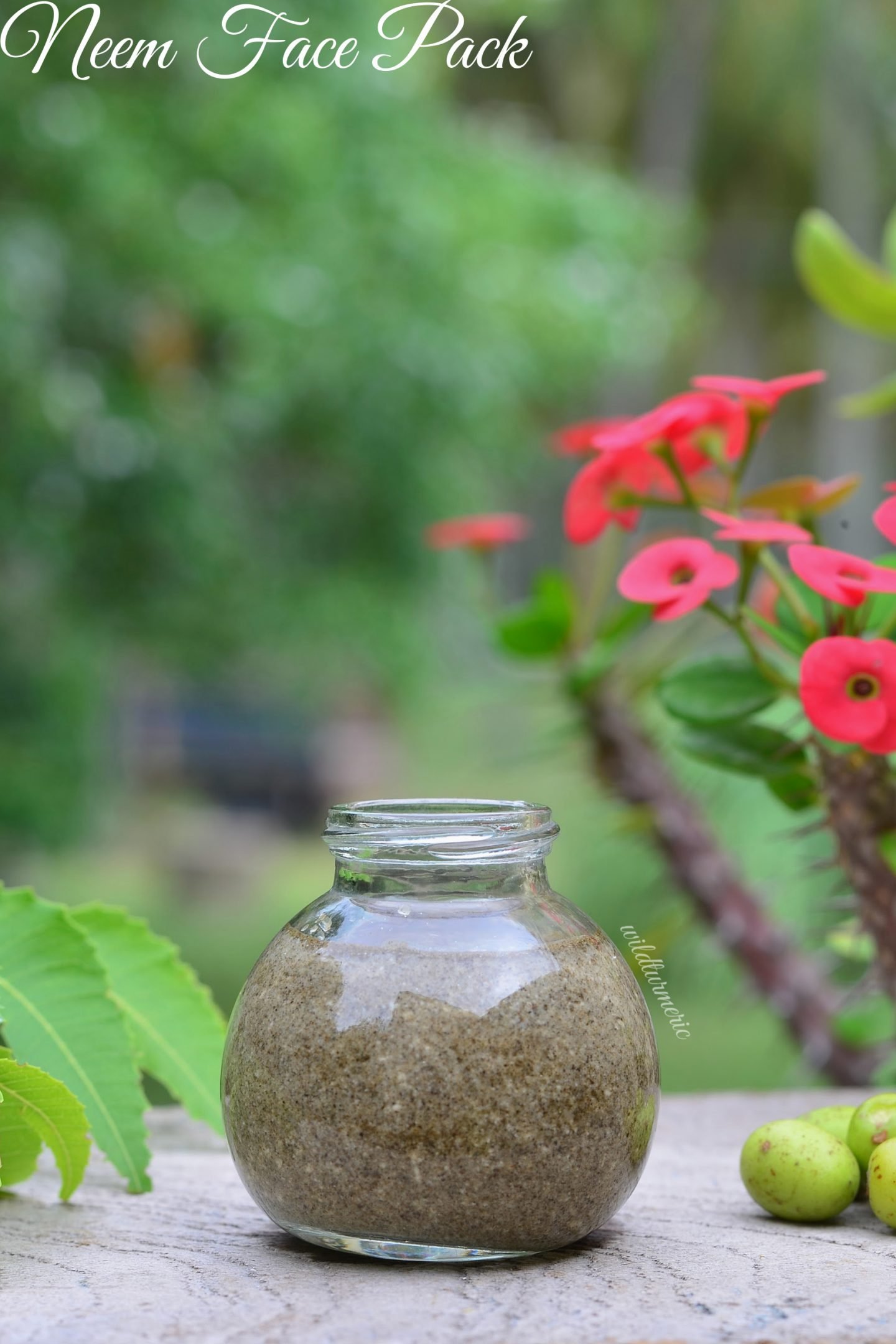 Neem face packs have wonderful skin care benefits and since neem has wonderful anti-bacterial properties, it is effective for treating almost all the skin problems. I love to use neem face packs often, they help treat acne, dark spots, pigmentation and also helps fade scars and blemishes. The market is flooded with neem based face packs and creams but in my humble opinion, it is best to use fresh neem extracts for the treatment to be effective. These neem face packs can be used for both oily and dry skin.
What Is Neem?
Neem also commonly called margossa is a large tree that is native to India. All parts of neem have wonderful benefits and they are widely used in all forms of Indian medicine like Ayurveda, Homeopathy and Unani and many important Indian herbal formulations contains neem as a base ingredient. For skin care, neem powder, neem oil and neem juice are used, we can use them in the form of face serums, face packs and face scrubs.
Neem Face Packs Benefits
Since neem has anti-inflammatory properties it helps reduce inflammation very fast, if you are suffering from painful pimples it will help reduce both the pain and inflammation. All parts of neem have wonderful antioxidant properties and using antioxidant-rich ingredients is key to glowing skin.
For natural acne treatment, neem is the best and the most effective. Many teenagers suffer from acne which can be very traumatic. Acne is caused by bacteria and since neem is antibacterial and that too an effective one, makes it one of the best for treating acne. Though you can use neem in the form of soaps and scrubs that you get in the markets, using it the raw form is the most effective.
Here in our village, we combine neem with turmeric and use it for fading chicken pox scars. Neem and turmeric face pack I have given below is one of the most effective remedies for fading scars. Neem treats skin allergies and helps reduce itching. If you are suffering from any skin problems, you can apply the neem and aloevera pack that I have given below. It will help soothe the skin and also will help treat it.

5 Best Neem Face Pack Recipes:
1. Neem and Aloe Vera Face Pack For Scars
Take a tablespoon of neem powder in a bowl. Cut a fresh aloe vera leaf, wash well to get rid of the slimy green juice and remove the inner gel. Grind it to a smooth juice, strain and add it to the neem powder and mix it to form a smooth paste. Use this paste as a face pack to treat scars and blemishes.
2. Neem and Multani Mitti Pack For Oily Skin
Take equal quantities of neem powder and multani mitti in a bowl. Add in rose water and mix to form a paste. This pack is ideal for people with oily skin. This pack will remove excess oil, help treat acne and brighten dull skin.
3. Neem and Cucumber Face Pack For Dark Spots
Take a cucumber, remove the outer skin. Cut into small pieces and grind in a mixer without adding any water. Now strain to get smooth cucumber juice. Add the cucumber juice to neem powder and mix well, apply as a face pack. This pack helps fade scars and dark spots very effectively.
4. Neem and Curd Face Pack For Pigmentation
Take a tablespoon of neem powder in a cup. Add in enough curd to mix, mix to form a smooth lump free paste and apply as a face pack. This pack is ideal for people with dry skin and it helps treat pigmentation very effectively.
5. Neem, Tulsi & Turmeric Face Pack For Acne
Take equal quantities of neem powder, tulsi powder and turmeric powder in a bowl. Add in a teaspoon of honey to it. Finally add in enough rice water to form a paste. This pack can be used by people with both oily and dry skin and is a wonderful anti acne pack.
NOTES:
You can also fresh tender leaves instead of the powder but if the leaves are not tender, you will not be able to grind it to a fine paste.
Try to use organic ingredients for the packs to be effective.
Choose the pack according to your skin type.
Choose one pack and use it daily for a few days and once the acne flare up reduces, gradually reduce it to weekly once or twice.