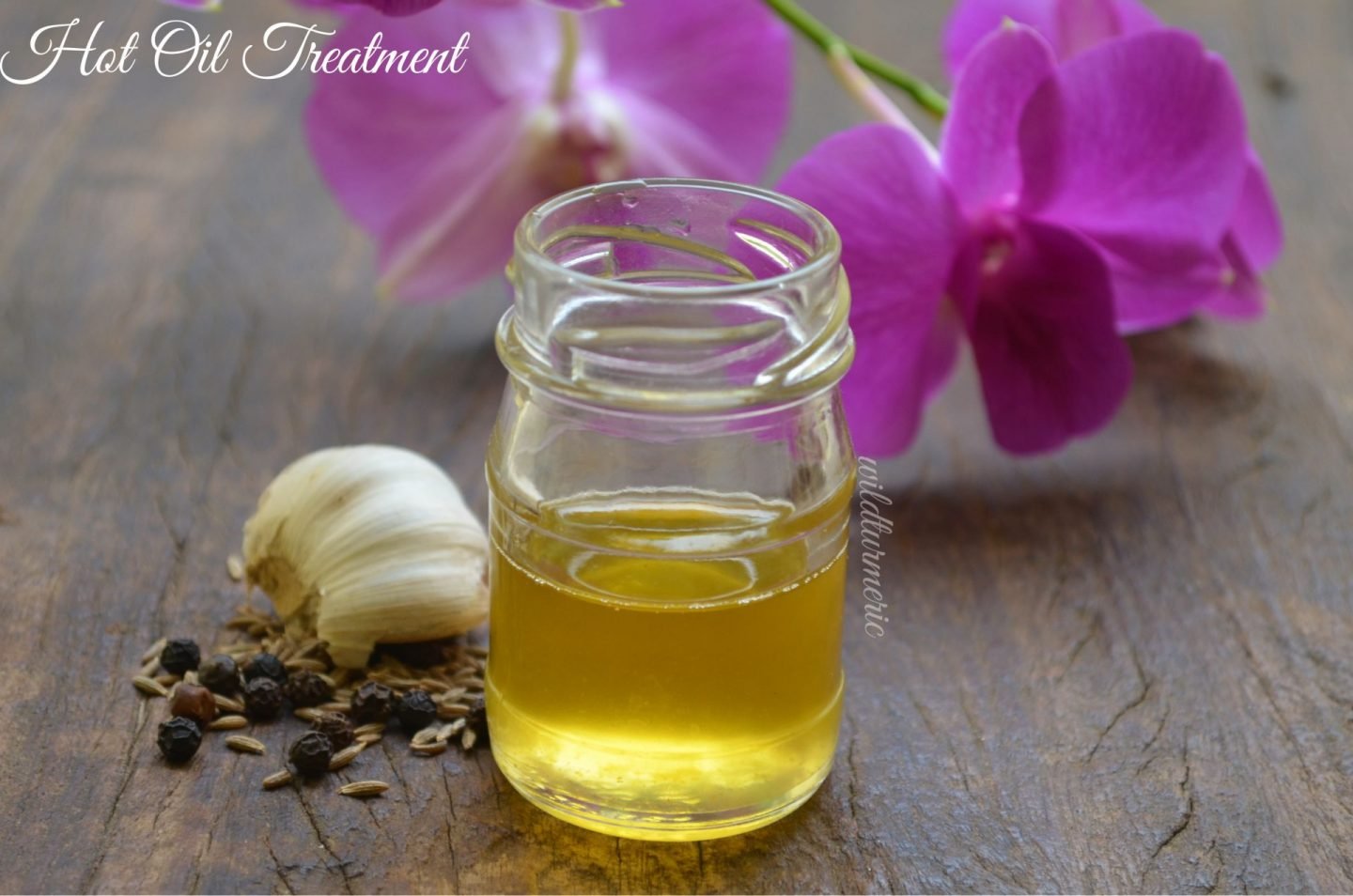 Hot oil treatments have been around for a long time, especially here in our place, it has been followed for centuries. Like the name suggests, hot oil treatment is a process of applying warm oil usually infused with herbs onto the scalp which helps seal the hair cuticle.
This hot oil treatment can be used on all types of hair ranging from natural black hair to chemically damaged hair. Traditionally we call it oil bath and men have their oil bath on Saturdays and women have their oil bath on Fridays.
Here in my village it is so common to see women have their hot oil treatment on Fridays and then visit temples. Hot oil treatments not only helps with hair growth, it also reduces stress.
Hot Oil Treatment Benefits:
1. Reduces Stress:
During hot oil treatment, we massage a wonderful herbal oil onto our scalp and regular scalp massage is a wonderful stress buster. It greatly reduces stress which is very essential in this fast paced life.
2. For Hair Growth:
Gentle warm oil massage, improves the blood circulation in the scalp and greatly strengthens the hair follicles thus promoting hair growth.
3. Arrests Hair Fall:
Since it strengthens the hair follicles, it greatly prevents hair fall. If you are suffering from hair fall, I would highly suggest regular hot oil treatments.
4. Cures Dandruff & Itchiness:
The wonderful herbs added in the hot oil treatment like garlic, black pepper treats dandruff effectively. It also cures itchiness very effectively.
5. For Dry & Damaged Hair:
Hot oil treatment is very hydrating and regular hot oil treatment is great for dry and damaged hair. It also greatly reduces frizz and it is one of the best home remedies I know for treating split ends.
Which Oil Is Best For Hot Oil Treatment?
Some of the common oils used for hot oil treatments are are argan oil, coconut oil, sesame oil, jojoba oil, castor oil and avocado oil. Here in our place we mainly use unrefined sesame oil for hot oil treatments but you can use any oil you prefer.
Whatever oil you choose, try to use only pure unrefined oils. But for best results, try to choose oil depending on your hair type, if your hair is extremely dry, choose fatty oils like coconut oil and if you have very oily scalp, try lighter oils like jojoba oil.
How To Do Hot Oil Treatment at Home?
The herbs and spices added into the oil vary from place to place, here in our place we mainly use black peppercorns and cumin seeds. But my grandma used to add garlic and dry ginger to the oil too so we continue to do it the same way.
There is a great benefit to adding dry ginger and garlic, some people suffer from sinus infection if they do oil treatment but if we use this blend we will not have sinus infection at all.
Also garlic greatly prevents scalp infections like dandruff and hair fall. If you are worried of garlic smell, the smell will not be there after you have your hair wash. Also after applying the hot oil treatment try to do hot towel treatment like mentioned below to deep condition your hair.
METHOD:
1.Take 2 tbsp of unrefined sesame oil, 1/ tsp each of peppercorns and cumin seeds, a small piece of dry ginger and 1 small garlic clove.
2. Pound garlic and dry ginger in a mortar and pestle.
3. Add in the cumin seeds and whole peppercorns to the sesame oil.
4. Add in the pounded dry ginger and garlic and fry till the ingredients turn light brown. Don't let them burn.
5. Strain and use it to massage your scalp while still warm. let is soak for an hour.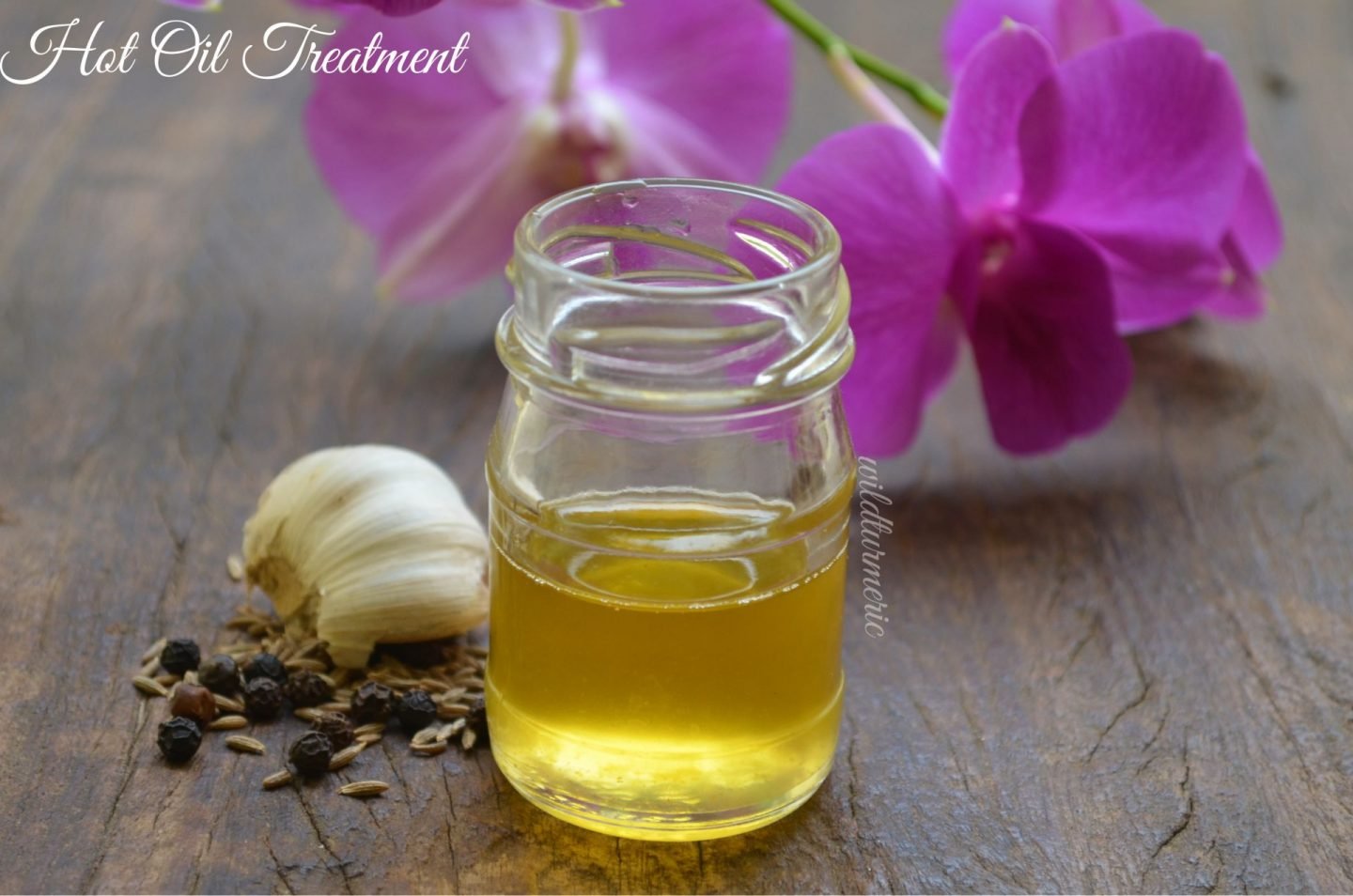 6. Hot Towel Treatment: After an hour, dip a thick towel in hot water, wring out excess water and tie it around your head. Wait till it looses it's heat, remove, massage once more and have hair wash.
NOTES:
Try always to make the oil fresh.
If you don't like to any of the spices mentioned, skip it and use the rest.
Try your best to do hot oil hair treatment weekly once for best results.