Open pores is considered a big skin care problem and we can easily treat it with home remedies if we understand about it fully. In reality, everybody's skin contains million of pores which helps the skin breathe and it is necessary for the oil and hair follicle to surface.
Many of us think that our pores have somehow become larger but in reality none of us can change the size of our pores, what really happens is our pores get clogged due to excessive amount of sebum production making it appear larger.
What Are Open Pores?
Pores in our skin is also where hair follicles and sebaceous gland which produces sebum is found. Sebaceous glands are found abundantly in certain areas of your body like face, scalp, back, chest, etc. Sebum production is hormone related and they play a vital role in the amount of sebum produced.
When we don't remove the excessive oil build up, the excessive oil build up makes the pores look visibly larger and it is this condition that we call open pores. If left untreated may lead to blackheads and white heads. So when I refer to open pores, I am technically referring to pores that is clogged with sebum.
What Causes Open Pores?
The most common problem like I mentioned before is high levels of sebum production. But it can also be due to genetics, over exposure to sun, thick hair follicles, ageing (leading to reduced elasticity), poor skin care routine and stress.
If you are genetically prone to oily skin or lead a highly stressful life it is so common to suffer from enlarged pores but even people with dry and normal skin alse can have it to. We can easily avoid it if we regularly follow a skin care routine. You can off course buy store bought products for your skin care routine. But I prefer to make my own as it is cheap and I also know what goes into it.
Open Pores Treatments:
If you are suffering from large pores, first we have to remove the excessive oil from our pores, I do it in three steps. First is steaming, steaming helps loosen up the clogged sebum and makes it easier to remove. The second step is a gentle scrub.
Scrubbing helps remove the clogged serum but we should try to use gentle scrubs, else it will cause more harm than good. The final step is applying face pack. I usually prefer clay based face packs. Clay face packs dries tightly on the skin and also draw out impurities and left over serum resulting in smooth looking skin.
Common Myths Regarding Open Pores:
1. We can use ice cubes to close pores:
Years back I used to go occasionally to a nearby beauty parlour for a facial, after steaming and removing blackheads they used to apply ice cubes mentioning that it will help shrink pores. But in reality, ice cubes just helps soothe the skin not shrink pores.
2. We can use baking soda to shrink open pores:
Baking soda is a cleanser and might helps remove sebum thus making the pores appear smaller but it is too harsh to be applied on the face so I would suggest not using it.
3. We can use lemon to shrink pores:
Lemon helps remove sebum but it is too acidic to be used on the face, if it does agree with you, just add in few drops alone to the scrub.
How To Close Open Pores Permanently : 3 Step Treatment
I do a 3 step treatment at home for getting rid of open pores. It consist of a steam, scrub and a firming face mask.
1. Steaming: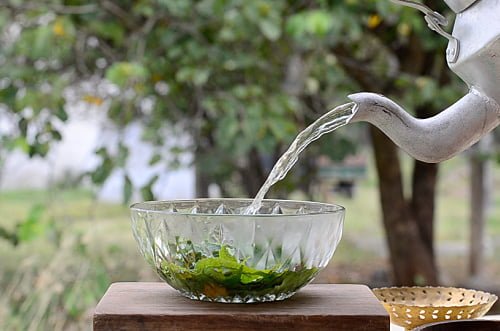 To steam a handful neem leaves along with one fresh orange peel in a bowl. Add hot boiling water, bend over, cover with a cloth and steam till the water turns cold. Neem and orange peel have anti bacterial properties and is very good to add in a steam.
2. Face Scrub: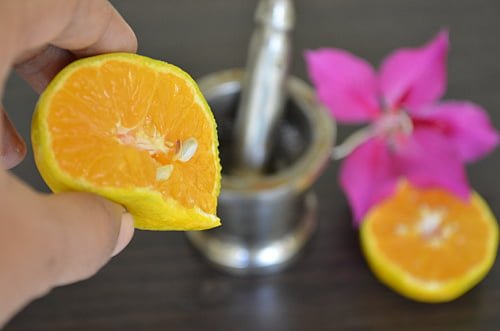 For the scrub, take a tbsp of oats and grind in a mortar and pestle. Add in enough orange juice to mix and use it as a face scrub. This scrub helps dislodge clogged sebum gently.

3. Face Pack:
For the face pack, take a tbsp of multani mitti in a bowl. Add in a tsp of turmeric power. Finally add in rose water to mix and apply as a face pack. This pack dries tightly on the skin. After these 3 treatments, open pores will look visibly reduced.
Tips To Prevent Open Pores:
Try not to use products that clog pores, even natural products like coconut oil have high comedogenic rating so if you are suffering from clogged pores, I would suggest using lighter oils like jojoba and grape seed oil.
Try to exfoliate your skin regularly to prevent clogged pores.
Wear sunscreen regularly.
I would suggest using natural skin care products but if you are opting for store bought products, take your time to choose good ones.
If you are above 40 years, try to consume antioxidant and collagen rich foods to keep your skin supple.
Always remove make up in the night and got to bed with a clean face.
Opt for light creams even in the night if you are prone to clogged pores.
Don't use harsh scrubs, it will do more harm than good.