Fenugreek oil is an other homemade hair oil that is very good for premature greying. Since India is a very hot country, we always prefer and cherish things that keep our body cool and refreshed. This fenugreek oil is such an amazing oil that keeps our body cool and with regular application treats premature greying.
Many of the readers ask me the time it takes for these homemade hair oils to solve their hair problems. For hair fall, regular application of homemade hair oils along with a very good traditional diet stops hair fall very quickly and delays premature greying significantly if you are prone to it.
However to reverse the process of premature greying, you have to continuously apply the oil at least for 10 to 12 months to see good results. Like I keep repeating for all the home remedies, please be patient and be regular with the application to see results.
Fenugreek Oil Benefits:
This oil is very very effective and the process is also very unique and there is no cooking involved in making the oil at all. This oil can be used by everyone and regular application will greatly prevent premature greying. For people who are suffering from premature greying, with regular application you can slowly reverse the process. This oil will strengthen the hair roots and prevent hair fall, if used regularly. This oil is a daily application hair oil and not for weekly oil bath treatment.
Fenugreek Oil Ingredients:
This oil is made by sprouting fenugreek seeds in the flesh of Aloe Vera and once it has sprouted, the fenugreek seeds are sun dried till crisp and then it is added to homemade unrefined coconut oil along with vetiver root and again sun dried the second time. As you can see from the ingredients list, each and every ingredient is great for the hair and keeps the body cool.
You also need plenty of sun light for making this oil. Since you are not heating it up, the oil has to be thoroughly heated for it to have a long shelf life. The one thing that many will find difficult is sprouting the fenugreek seeds in Aloe Vera flesh. It is quite easy if we know the correct way to do it else the fenugreek seeds will mold very easily.
To do it correctly, take the fresh Aloe Vera leaf and cut into two, sprinkle the fenugreek seeds and tie with a thread loosely. The flesh should be touching the fenugreek seed, thus providing enough moisture to germinate but if the Aloe Vera leaf is tied too tight, the feugreek seeds will spoil. Once you get the hang of it, you can easily make this oil. Though it takes some time to make this oil, it's so worth it.
How To Make Fenugreek Oil:
METHOD:
1. Take a fresh Aloe Vera leaf and cut it into two. Now take the fenugreek seeds and sprinkle it between the cut leaf. Though I kept one side intact, I would advice you to cut completely into two.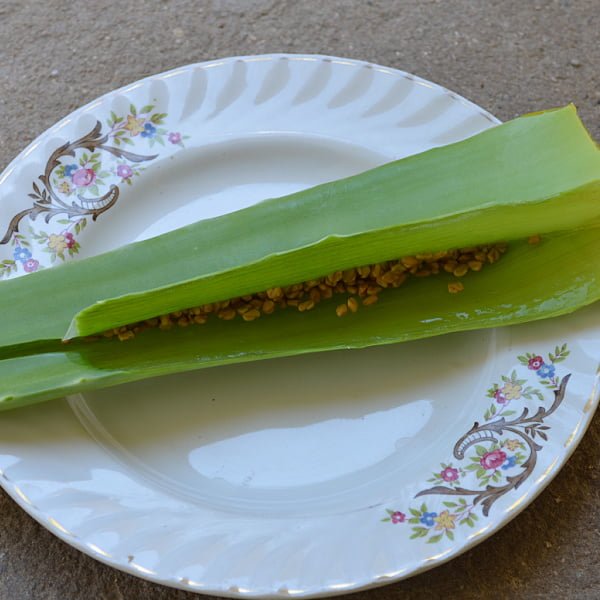 2.Tie both the cut parts together with a thread loosely ensuring that the fenugreek seeds are in contact with the Aloe Vera flesh.
3. Within 48 hours the fenugreek seeds would have sprouted. Take the seeds in a plate and sun dry till crisp.
4. Take the dried fenugreek seeds and vetiver root in a bowl and add coconut oil to it and sun dry till the oil is really heated well. Make sure to cover the top of the oil with a thin mesh to prevent dust from settling on the oil. Try heating the oil under the hot sun for at least 2 days.
5. The color of the oil will not change at all. Strain the oil and store in a glass bottle and use daily.
NOTES:
If the fenugreek seeds have not sprouted well, wait for some more time.
Try to use fresh Aloe Vera leaf for the seeds to sprout well.
The sun drying part is very very important and can't be skipped at all.
This oil has a mild pleasant smell of vetiver root.