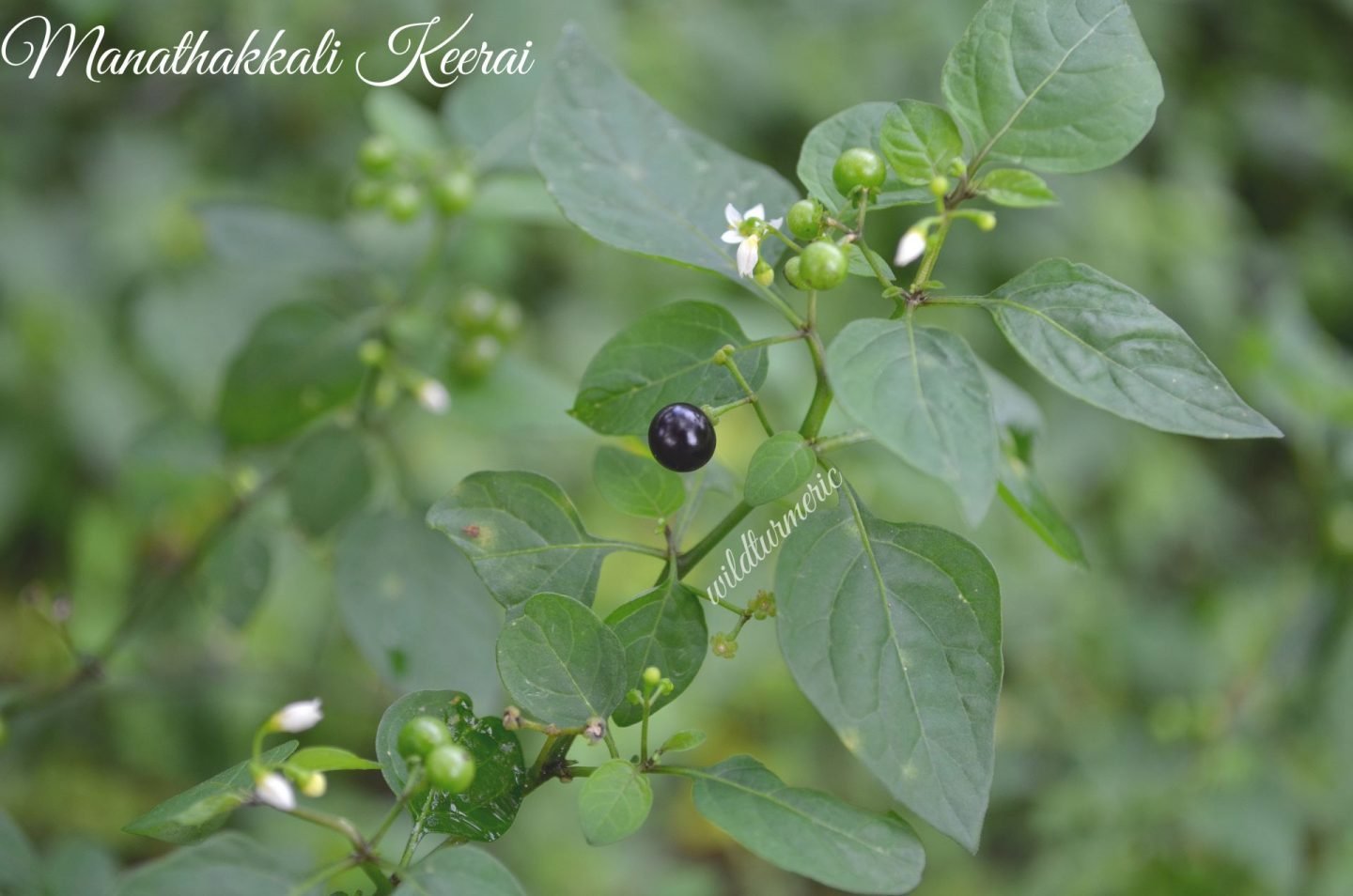 Manathakkali Keerai has wonderful medicinal uses and health benefits. In Tamil Nadu, manathakkali keerai is popularly used for treating stomach ulcers, piles, cold and mouth ulcers. We make manathakkali keerai kulambu, manathakkali keerai thokku, kootu, poriyal, masiyal and it can be consumed by every one including babies and pregnant women. Manathakkali vatical which are nothing but the dried fruits are also widely consumed in Tamil Nadu and manathakkali vathal kuzhambu | manathakkali vathal kulambu is a delicacy and we make it often at home both for it's taste and health benefits.
Manathakkali Keerai:
Manathakkali plant is a small plant that grows to about 3 feet and it can be commonly found all over India and Africa. The leaves are alternate dark green, long and elongated. Hanging from the leaf axil, the flowers are found in clusters. The flowers have 5 petal, small and white in colour. The fruits are small even smaller than pea and are almost purple black in colour. The small dark fruits (sukkuti palam in Tamil) tastes divine and I am sure many of you must have enjoyed plucking and eating these small fruits, when you were a child.
I am saying as a child because usually these fruits are used as treats for children. When I was younger, I used to love plucking these fruits one by one and popping it in my mouth. Though we make gravies and vathal with unripe fruits, the ripe fruits are my favorite. The fruits are also the best way to identify this amazing plant. I wish many children know about these fruits and enjoy them, because nowadays many don't even know the name of this plant.
Botanical & Common Names:
The botanical name of manathakkali plant is Solanum Nigrum (It belongs to the family Solanaceae and genus Solanum). Manathakkali is the Tamil name and it is commonly called Black Night Shade in English. It is called Mani Thakkali in Malayalam, Kamanchi Chettu | Peddakasha Pandla Koora in Telugu, Kakki Soppu | Kage Soppu in Kannada and Makoi in Hindi.
Manathakkali Nutritional Value:
100 grams of manathakkali has around 68 calories, 8.9 grams of carbohydrates, 2.1 grams of minerals, 1.0 grams of fat, 5.9 grams of protein, 410 mg of calcium, 70 mg of phosphorus, and 20.5 mg of iron.
Manathakkali Chemical Constituents:
Manathakkali plant contains alkaloids (glycosides, solamargine, alpha and beta solanigrine), tannins, saponins, glycosides, flavonoids, proteins (glycine & proline), carbohydrates and phytosterols. The important compound found in both unripe and ripe fruits are solasodine and manthakkali oil isolated from the plant is a rich source of linoleic acid.

Manathakkali Traditional Uses:
Manathakkali keerai is traditionally and popularly used for treating stomach and mouth ulcers. If you are suffering from ulcers or stomach burn look no further and reach out for manathakkali, because nothing can treat ulcers like manathakkali. If you are suffering from ulcers, try taking manathakkali soup everyday for lunch till you get good relief. When you are on this diet try to stay away from foods that trigger ulcers like caffeine, cola drinks, oily fried foods, spicy foods and processed foods to heal faster.
In our home, we mainly use only manathakkali for treating ulcers, we make poriyal with manathakkali leaves very often along with manathakkali soup. To treat stomach ulcer, morning and night stick to traditional foods that are easy on the stomach and that can be easily digested like idli, steamed foods, etc. In the afternoon consume manathakkali soup recipe I have given below along with rice.
Within a few days you will find your ulcers healing, but eating a healthy diet while doing this home remedy is very important. The soup tastes delicious and can be given to both adults and children. This treatment also works best for children and can be given to them if they are complaining of stomach burn. When making this remedy always use freshly plucked leaves and homemade coconut milk for best taste and results.
Coconut milk in the recipe also is very good for treating ulcers and stomach burn. I prefer to make the soup fresh, but if you are pressed for time, make a huge batch and refrigerate. If you are not suffering from stomach burn, try including the soup at least weekly once in your diet to prevent stomach burn and ulcers.
The dried fruits also called manathakkali vathal is used for treating all stomach ailments, we use it in gravies. Both manathakkali keerai and vathal are also used for treating cold and phlegm. The fruits are used as a laxative. The leaves are also cooked and consumed to reduce excessive body heat, sinus infection, body pain and also to treat skin problems. External application of the leaf juice or leaf poultice is done for treating poisonous bites. Finally, the leaves are also used to treat urinary problems.
Manathakkali Medicinal Uses:
1. Antioxidant Properties:
Manathakkali keerai has wonderful antioxidant properties. Consuming antioxidant rich food is essential to improve immunity and fight off the free radicals that are the leading cause of premature ageing of our skin and hair. It also reduces oxidative stress which is the leading cause of many illnesses.
2. Anti Cancer Properties:
Manathakkali has wonderful anti cancer properties too. Recurrent cancers are mostly treated with chemotherapy but there are many herbs that prevent recurrent cancers and manathakkali is one of them. It inhibits the growth of many cancer cells including mouth cancer and breast cancer cells and you can read the study that proves it here.
3. Anti Diabetic Properties:
Traditionally manathakkali has always been suggested for diabetic patients and this use has been proven through research too. In a study done on rats for 21 days, the water decoction of the plant significantly reduced blood sugar levels. Through personal experience also I know that manathakkali helps diabetic patients greatly in stabilising blood sugar levels.
4. Anti Inflammatory Properties:
Manathakkali has wonderful anti inflammatory properties, both consuming it and applying it externally will help. This is due to the presence of alkaloids present in manathakkali. Especially Solanin A isolated from manathakkali greatly helps reduce inflammation. If you are suffering from pain and inflammation, try to consume manathakkali regularly…..
5. Anti Asthma Properties:
Another interesting and traditional use of the ripe berries is it's anti asthma properties. In a study, petroleum ether extract exhibited significant anti asthma properties. Though for the study petroleum ether extract was used, the fresh berries can also be consumed for treating asthma. This is due to the presence of active compound β-sitosterol in the berries.
6. Anti Ulcer:
One of the well known traditional uses of manathakkali is it's anti ulcer properties. For any one suffering from ulcer, we boil manathakkali in coconut milk and salt and give it as a soup, it works wonderfully. Research has proven that manathakkali blocks acid secretion that leads to ulcers and you can read the study here.
7. Anti Seizure Properties:
Though it is not a common practice here, in countries like Nigeria, it is used as a remedy for epileptic seizures! This information actually surprised me because I have always thought manathakkali is only used for treating ulcers. A study done on rats has proven it to be effective against seizures and you can read the study here.
8. Anti Viral Properties:
Manathakkali has powerful anti viral properties. Especially it is very effective against hepatitis C which is the major cause of liver problems including liver cirrhosis and hepatocellular carcinoma. It has been proven through study that methanol and chloroform extract is effective but we can also use the water extract too.
9. Mosquito Larvicidal Properties:
Another interesting use the manathakkali fruits is that the fruit extract is very effective against Culex Quinquefasciatus variety mosquitoes. Both the extracts from green and ripe berries have been found to have larvicidal properties. Mosquitoes are the leading causes of death and so it is important that we find effective natural remedies like manathakkali to get rid of them.
10. Hepato Protective Properties:
Manathakkali has wonderful liver protective properties and greatly helps prevent liver damage. In a study water extract of the plant significantly reduced the damaged caused due to carbon tetrachloride ingestion in rats. Hepatoprotective efects is due to the presence of antioxidants and it's free radical scavenging properties. You can read the study that proves it here.

How To Grow Manathakkal Keerai?
Manathakkali plant requires plenty of sunlight and needs very little to know maintenance. You can either get small plants from nurseries and plant in a pot or if you have access to ripe berries, you can squeeze the seeds onto a small pot and water daily till they sprout and grow. Once they start growing, all you need to do is regularly water it….
Manathakkali Side Effects:
Manathakkali generally agrees with everyone including pregnant women and children. If had in moderation, manathakkali will not cause any problems at all. But with like any other greens, if had in excess or if it is not cooked properly will cause stomach problems like stomach pain and diarrhea.
5 Top Manathakkali Keerai Recipes:
1. Manathakkali Soup:
Clean 1/4 cup manathakkali keerai and cut into small pieces. Pound 1/4 tsp black peppercorns and 1/2 tsp cumin seeds coarsely. Cut 2 big garlic cloves and 5 small onions finely. Heat unrefined sesame oil in an iron pan. Once hot add the pounded spices and add the cut garlic and small onions and fry well. Once the onions have fried, add the cut manthakkali and fry till it wilts. Add water till the leaves are immersed and salt, cover and boil till the leaves are cooked. The leaves take some time to be cooked, so wait patiently till the leaves are fully cooked. Remove the lid and add 1/4 cup thick coconut milk. Keep the flame on low and once tiny bubbles start appearing on the sides, switch off and serve.
2. Manathakkali Poriyal:
To make manathakkali poriyal, take 2 cups manathakkali keerai, clean and cut into small pieces. Now heat a tsp of sesame oil in a pan. Add mustard seeds, once it splutters, add 2 tbsp of finely onions along with 2 cut green chillies. Once the onion has turned color, add the cut manathakkali and fry for a few seconds. Now add water, required amount of water, close and cook till done. Now remove the lid, add 2 teaspoons of freshly grated coconut and fry till there is no moisture left and serve.
3. Manathakkali Vathal Kulambu:
To make manathakkali vathal kulambu, soak a big lemon sized tamarind in water. Now heat 2 tablespoons of sesame oil and add mustard seeds. Once it splutters, add a handful of small onion, 3 to 4 garlic cloves and 2 sprigs of curry leaves. Once the onions changes color, add 1 finely cut ripe tomato and fry for a few seconds. Now add 1/4 cup of dried manathakkali vathal and fry for a few seconds. Now add 2 teaspoons of either vathal kulabu powder or homemade milagu podi and add the strained tamarind pulp along with salt and let it boil for 15 to 20 minutes. Add a small piece of jaggery and then switch off.
4. Manathakkali Keerai Kootu:
To make manathakkali poriyal, take 1/4 cups manathakkali keerai, clean and cut into small pieces. Now heat a tsp of sesame oil in a pan. Add 1/4 tsp each of mustard seeds and jeera, once they splutters, add 2 tbsp of finely cut onions along with 2 broken red chilli. Now add the manathakkali keerai and fry for a fews seconds, add salt and water and let it boil till almost done. Now add 1/2 cup of cooked toor dal (cooked with turmeric powder) and 1 tbsp of grated coconut. Let it boil for a few minutes and then switch off.
5. Manathakkal Keerai Thokku:
To make manathakkali poriyal, take 1/4 cups manathakkali keerai, clean and cut into small pieces. Now heat a tsp of sesame oil in a pan and fry 1 tbsp of channa dal, 1 big red chilli broken and a small piece of tamarind and fry for till channa dal changes colour and take them onto a plate. Now to the same pan, add some more oil and add the finely cut manathakkali keerai and fry till it is cooked. When it almost cooked, add 1/4 cup freshly grated coconut and fry for a few minutes and then grind everything together to a coarse paste.