When one of my friends mentioned about using potato juice for hair growth, I was skeptical at first. I have used potato for beauty treatments but it was always for skin and never for hair care. My friend convinced me to try it and I am very glad I did.
The first treatment I tried was potato hair rinse. After boiling the potatoes I had the left over potato boiled water that I usually discard so I thought of using it as a final rinse along with lemon juice. And it really left my hair shiny and smooth immediately after using it.
The next was potato hair mask, which I made by mixing potato juice along with Aloe Vera gel like my friend suggested. I also added in few drops of virgin coconut oil as I have dry hair and I liked the hair mask too. My scalp felt clean and free of dandruff after using it. Now after trying these treatments, I regularly use potato in my hair care regime. If you get to know the hair benefits of potato, you will too.
Potato Juice Hair Benefits:
Potato boiled water adds shine and luster to hair if used as a final hair rinse.
Potato juice is rich in nutrients like vitamin B, vitamin C and zinc, very essential for hair growth.
It treats dandruff, if used along lemon juice as a hair pack.
Potato juice cleanses the scalp really well removing all the product build up.
Potato juice when used as a hair mask conditions the hair really well especially if used along with nourishing ingredients like yogurt or Aloe Vera.
Potato Juice For Grey Hair:
Some people say that water in which potato skin was boiled can be used to dye hair but when we tried it at home, it didn't work at all. We boiled potato skin in water for a few minutes, the water will turn brown, we applied it on the hair (my aunt used it for dying her hair) and waited for a few minutes and washed it off. Few people also say we have to use it multiple times to see the results, we just tried it once but I am not convinced.
Potato Juice Side Effects For Hair
Like with any ingredient, some people might be allergic to potato juice. If you are allergic to potato juice, it might cause rashes and itching. If you are allergic to potatoes, don't use it any form for external application. Also when choosing potatoes for juicing, make sure to choose the ones that are not sprouted and green.
3 Top Ways To Use Potato Juice For Hair Growth:
If you are new to using potato juice for hair growth, I would suggest starting with the hair rinse as we regularly boil potatoes for sabzi and throw the potato boiled water out. Once you start using it, you will always continue using potato for your hair….
1. Potato Juice & Onion Juice For Hair:
Remove the peel of one potato and peel 1/4 cup of small onions. Now grind them together in mixer without adding any water and strain to get smooth juice. Apply this juice on bald spots, wait for 30 minutes and wash it off. This will greatly help with hair regrowth.
2. Potato Hydrating Hair Mask: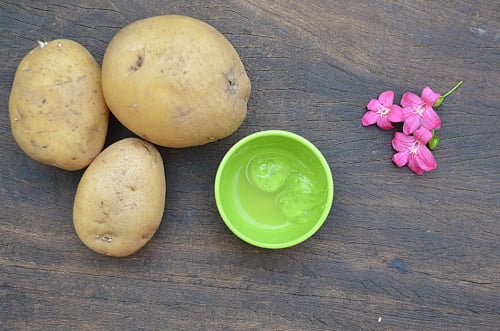 Grate a potato and squeeze in the juice completely. To the squeezed juice, add in Aloe Vera gel (either fresh or store bought) and 1/4 tsp of virgin coconut oil and mix well. Use this a hair pack weekly once to deep condition the hair.
3. Potato Juice Hair Wash:
Like rice water, we can add potato boiled liquid to shikakai powder and use it for hair wash. It will keep our hair soft and smooth.
NOTES:
Use the freshly squeezed potato juice immediately, else it will discolor.
When using Aloe Vera gel for hair, try to use 100 % pure Aloe Vera gel that is free of color and perfume.
You can also mix onion juice and potato juice in equal proportions and use it as a hair mask.