Curry leaves hair oil also called Kadi Patta oil in Hindi and Karuveppilai oil in Tamil has amazing hair benefits and we make it by mixing curry leaves with coconut oil. We use it to treat premature greying of the hair and to arrest hair fall. Our neighbor in our village used to collect curry leaves from our farm regularly. One day when I was talking to her, she mentioned about this curry leaf hair oil.
She said that she has been using this oil regularly and it has helped treat her premature greying along with promoting hair growth significantly. She taught me the way she makes the oil and it is so very easy to make the curry leaf hair oil using her method. Just two ingredients and you have a very nice hair oil in your hands. But the quality of the ingredients are very important.
Curry Leaves Hair Oil Ingredients:
I always use homemade unrefined pure coconut oil to make this oil, every year in summer we grind our own coconut oil from the coconuts in our farm for that years use in cooking. You can also use virgin coconut oil which is readily available everywhere now. Use freshly plucked curry leaves which is not sprayed with pesticides.
Curry leaves
should be cleaned thoroughly and dried in the shade to remove moisture. If there is moisture in curry leaves, the oil will turn rancid very soon. This oil is light green in color and has a very nice smell, I really love the smell of this curry leaf hair oil.
Curry Leaves Hair Oil Benefits:
Curry leaves oil when used regularly as a massage oil nourishes the scalp and strengthens the hair follicles. If you are suffering from hair fall, I would suggest using this oil regularly.
It is one of the best home remedy for treating premature greying of the hair. Like I have mentioned before I have seen it personally work in reversing grey hair. But try to start using this oil as early as possible to see results.
When we massage our scalp with curly hair oil made with pesticide free curry leaves and pure unrefined coconut oil, it helps improve blood circulation in the scalp thus promoting new hair growth.
It is also one of the safest and mildest herbal hair oils that we can make at home. Since it is very mild, it can be safely used for young children too.
If you are suffering from frizzy and dry hair, I would suggest using curry leaf hair oil regularly. Within just one or two uses your hair will become super soft and silky. You can also use this curry leaf hair oil as a pre shampoo treatment too.
Curry Leaf Hair Oil Recipe:
METHOD:
1. First clean the curry leaves in water and dry it in shade spread on top of a plate or kitchen cloth till there is no moisture left.
2.Take 1 cup of coconut oil in a pan and heat it but make sure not to heat it to smoking point.
3. Once the oil is hot, add all the curry leaves at once and switch off the flame immediately.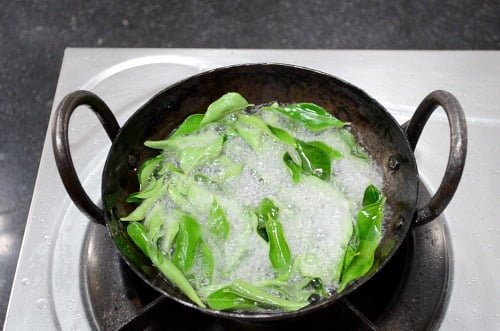 4. Let the oil cool in the pan, the leaves will darken a bit once the oil cools.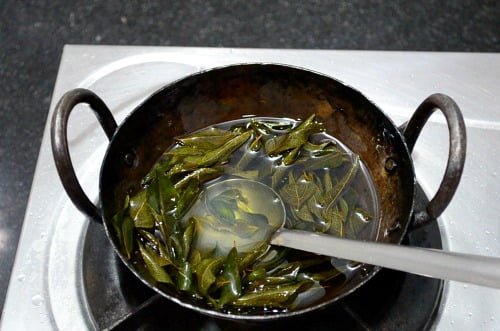 4. Once the oil is completely cool, pour it in glass bottles along with the leaves. The only important thing here is that the leaves should be completely immersed in oil. If the leaves pop out of oil, the oil will turn rancid soon.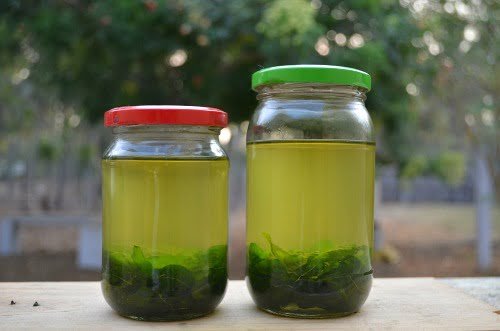 NOTES:
This curry leaf hair oil keeps well for few months, but make sure the leaves are fully immersed in the oil.
Make the oil using only unrefined coconut oil.
Make sure to use fresh curry leaves for best results.
Also make sure that curry leaves don't burn.
If properly made, the oil will last well for almost a year at room temperature.