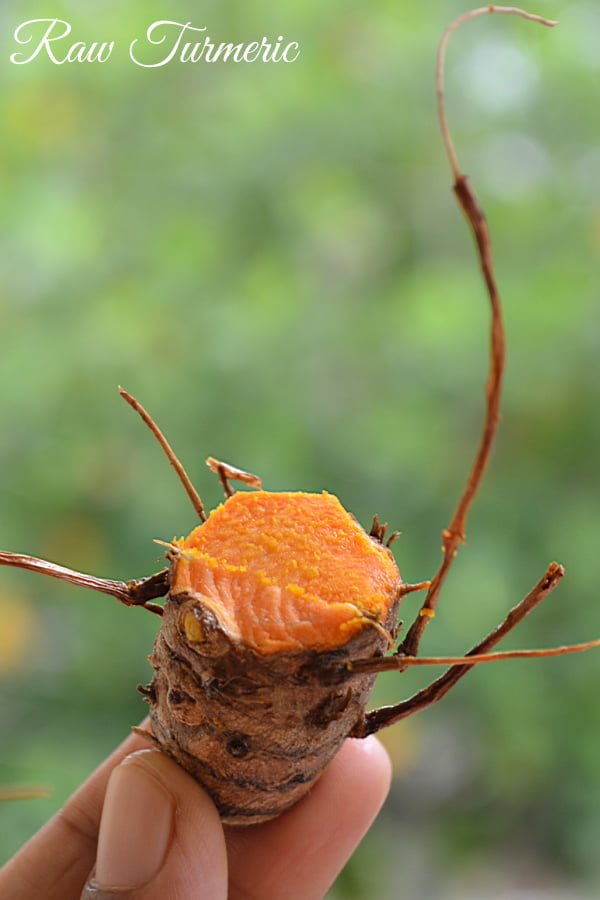 We usually get raw turmeric which is called kacchi haldi in Hindi yearly once during Pongal time. We rarely use raw turmeric in cooking but we do use it in remedies and skin care as it has some amazing health benefits. Raw turmeric can be used to make turmeric extract and can be used in face packs and bath paste recipes. Usually we make turmeric milk with turmeric powder but when I get fresh turmeric, I like to make turmeric milk and tea with it.
How To Grow and Collect Turmeric Roots?
We generally buy turmeric roots during Pongal time for prayers, making turmeric powder and also for planting.
For planting, choose turmeric roots with small sprouts. We can grow 10 turmeric plants in a 4 feet square space. Turmeric grows better on land than in pots and grow bags.
It takes a month for the new plants to sprout. You can initially plant in a single plot and once they sprout and develop two or three leaves, you can replant them with a gap of one feet.
Turmeric will require more nutrients than other plants. We usually prepare the growing plot with a mix of cow dung and dried leaves.
Turmeric will take 8 to 10 months to harvest. The plant will stop growing at one stage and the leaves will turn yellow in color. We can start harvesting at that stage.
After harvesting, separate the roots and wash well to get rid of any dirt.
Raw Turmeric Roots Benefits & Side Effects
Like with every other ingredient, fresh extracts give the best results. Fresh turmeric root helps reduce inflammation and has anticancer, anti diabetic, blood pressure lowering, protective (liver, kidney and heart) and wound healing properties. It also helps treat digestive problems and is good for treating colds and coughs. You can read the health benefits of turmeric here and the side effects in detail here.
Fresh Turmeric Vs Dried Turmeric
Raw turmeric roots have vivid orange flesh and earthy pungent flavour compared to dried turmeric. We can slice, cube or grate fresh turmeric for using, I usually grate them. If you don't want to grow your own turmeric, you can buy fresh turmeric during Pongal season in almost all the shops in Tamil Nadu. Always store fresh turmeric in the fridge to make it last longer.
5 Top Ways to Use Fresh Turmeric Roots
1. Turmeric Extract
Take the fresh turmeric roots and wash it completely in water to get rid of the dirt. Since we are using it along with the skin, the washing part is very important. Wear gloves and grate the turmeric root using a grater. If you don't wear gloves, it will stain the hands very badly.
Now in a dark bottle, add the grated turmeric and top it with unflavored high proof vodka. Shake once in 2 days. Store in a dark place away from sunlight for 2 to 3 weeks, strain and store in glass bottles. This turmeric extract has amazing health benefits and is the best way to utilize fresh turmeric. This extract is very beneficial for arthritic patients due to its anti-inflammatory and pain relieving properties.
Making turmeric tea or turmeric milk everyday will be difficult for some people especially if they are traveling a lot. Though turmeric pills can be consumed everyday, they are quite expensive. This extract is perfect for people who are traveling and want to consume turmeric extract to ease the pain.
Turmeric Extract Making Tips:
This extract is made with high proof vodka (40% proof), but try to use unflavored vodka for making the extract. This extract can also be used to ward off colds and it is best taken when the infection starts. Though making this turmeric extract is a breeze, there are a few things that we should follow.
First is the alcohol, try using unflavored alcohol that is high proof.
The second part is to make sure to use fresh turmeric roots, when I say fresh roots it is the roots that are plucked fresh and are not starting to dry out for the extract to be beneficial.
The third thing is to store in a dark bottle and wait patiently for the essence to steep in alcohol. Make sure to steep in the alcohol at least for a minimum of 2 to 3 weeks in a dark, cool place.
The fourth point is to make sure that the grated turmeric is always covered in alcohol and shake it often.
Turmeric Extract Dosage:
The dosage for the extract is around 25 drops. I know it will be very difficult to consume this extract straight as it is, especially if you are not used to alcohol. I hate the smell of alcohol and the best solution I found for it is to mix it with my favourite fruit juice, that way it will mask the taste of the alcohol completely.
Since this extract is made with alcohol, this is not for children. The best thing about this extract is the storage time, it stores well for up to 6 months to a year especially if you are using high proof alcohol. A few days back my niece mentioned that her leg pain vanished completely after consuming turmeric extract, that is the magic of turmeric in easing the inflammation!
2. Raw Turmeric Smoothie
Grate around a tbsp of fresh turmeric and take it in the mixer along with 2 cups of ripe mangoes and a cup of coconut milk. Add in a tiny pinch of black pepper to increase the bioavailability and blend well. This smoothie helps reduce inflammation very effectively and tastes wonderful.
3. Fresh Turmeric Pickle
Fresh turmeric: 125 grams
Green chilli: 2
Juice from 11/2 large lemons
Salt: 1/2 tsp
Wash turmeric well and cut into small pieces. Cut turmeric and green chilli into small pieces and take them in a bowl. Add in lemon juice and salt, mix well and store it in the fridge. It is ready to be eaten after a week and can be stored for upto a month.
4. Raw Turmeric Face Scrub
Take a fresh turmeric, wash well and grate it finely using a very small grater. Take the grated turmeric in a cup, add in a tbsp of rice flour and orange peel powder. Add in enough coconut milk to form into a thick paste. To use, take the scrub and apply it all over the body. Massage for a few seconds and then wash it off. This scrub will help treat all skin infections very well.
5. Raw Turmeric Milk:
To make fresh turmeric milk, grate a fresh turmeric finely and take it in a cup. Add hot boiling milk to it, let it steep for a few minutes and strain. To the strained milk, add in a big pinch of black pepper and honey, you can also use jaggery instead of honey too. We take turmeric milk to reduce body pain, treat cold, cough and headache and it is very very effective !