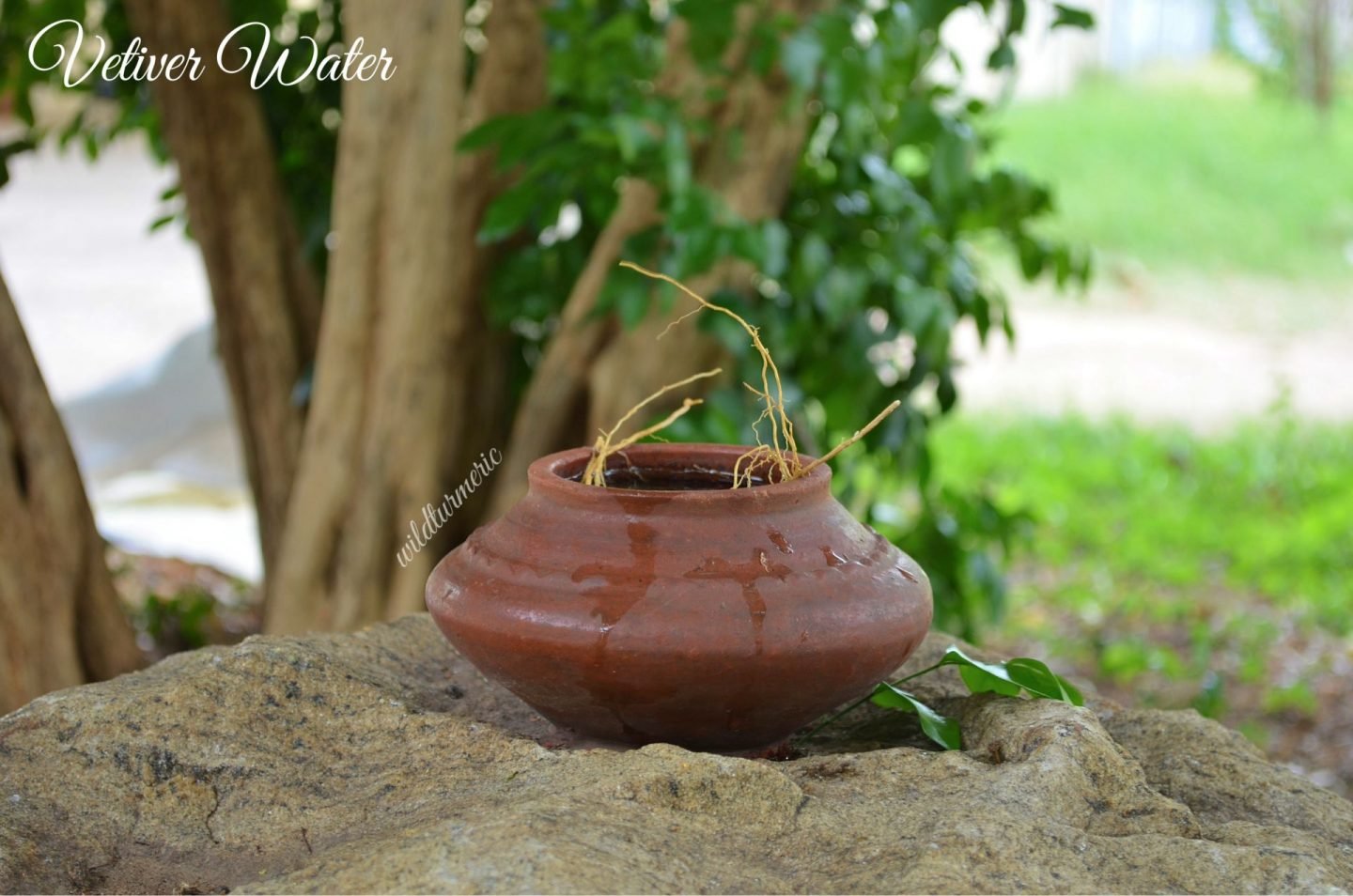 We make vetiver water at home during hot summer months regularly and I also use vetiver water extensively for hair and skin care. I use both vetiver essential oil steam distilled from the roots and vetiver water (infusion) for hair and skin care. I use it in the form of hair packs, face packs and face serum. Along with external application, if we also make it a point to drink vetiver water, our skin and hair will be glowing always.
What Is Vetiver Water?
Vetiver water is got by steeping vetiver roots in either hot or cold water. Vetiver water is very cooling, it helps cure painful urination, ulcer and bad breath. Vetiver is a perennial grass and is native to India. Vetiver is also called "Khus" in Northern India and it is very popular there. Vetiver root has amazing health benefits and is grown widely for it's many uses.
It is used to control soil erosion, offer crop protection from pests, roots are used to make mats and in perfumery, etc. In the west, vetiver is famous for it's essential oil. Khus syrup made from the roots of vetiver is famous in India, vetiver is also used for it's medical properties in many forms of Indian medicine.
Vetiver Water Hair & Skin Benefits
Vetiver has anti-inflammatory properties so if you are suffering from scalp or skin inflammation using vetiver water will greatly help reduce the inflammation
Vetiver has antiseptic properties so it heals all kinds of wounds very very quickly. I prefer using it as a wash to treat wounds very fast.
It has powerful antioxidant properties, both consuming antioxidant-rich foods and also using it for external application helps fight of free radicals which are the major cause of premature aging of our skin and hair.
Vetiver is a natural tonic and both consuming it internally and externally will help improve our skin and hair. It also helps improve immunity.
Vetiver helps treat skin conditions like acne, heat boils and heat rashes very very effectively. Due to its antioxidant properties, it also gives a nice glow to our skin if used in face packs.
When used for hair care, it treats scalp problems like dandruff and itchiness very effectively, I like to add it to hair packs.
Vetiver has been proven to help with renewal of skin lipids. Skin lipids are very essential for our skin in the maintenance of hydration and they are affected by ageing leading to skin sagging, wrinkles and dryness. Vetiver extract helps restore skin barrier with increase of skin lipids and you can read the study that supports this claim here.

How To Make Vetiver Water : 2 Ways
1. Using Hot Water
Take a small bunch of vetiver in a bowl. Add in hot boiling water, cover and let it infuse for 2 to 3 hours and your vetiver water is ready. Vetiver water is very very fragrant.
2. Using Cold Water
Take a small bunch of vetiver and add it to a liter of water, let it steep for 24 hours. The water will be infused with vetiver. We usually add a bunch of vetiver to the jug that contains drinking water during hot summer months.
5 Top Ways To Use Vetiver For Hair & Skin Care
1. Vetiver Water Toner
Take equal quantities of vetiver water and rose water in a bowl. Add in few drops of vetiver essential oil and mix well. To use, after cleansing your face, apply this toner before applying moisturizer. This is a very gentle toner that will suit all skin types
2. Vetiver Face Pack For Acne
For the face pack take to tsp each of kasturi manjal and neem powder in a bowl. Add in a teaspoon of honey and vetiver water and form into a smooth paste. To use, wash your face to get rid of any dirt and apply the pack. Wait for it to dry completely dry and then wash it off. This pack helps treat acne very very effectively.
3. Vetiver Hair Pack For Hair Growth
For the hair pack, take a tablespoon of fenugreek powder in a bowl. Add in equal quantities of neem powder. Add in a tablespoon of coconut oil. Finally add in vetiver water to mix. To use, take the pack and apply it all over the scalp and hair. Wait for it to dry and then wash it off using a mild shampoo and condition your hair as usual.
4. Vetiver Face Serum
For the serum, mix 2 tablespoons of vetiver water with a tablespoon of aloe vera gel and few drops of jojoba oil and mix well. This face serum has wonderful anti-aging properties.
5. Vetiver Infused Drinking Water For Healthy Skin & Hair
To make vetiver infusion for drinking, take a bunch of vetiver in a water jug and cover it with water, let it steep overnight. The next day, the water will be very fragrant and infused with vetiver. You can drink this water during hot summer months along with few drops of lemon juice to keep your body cool and hydrated.
This aromatic water has a calming effect on the nerves and regular intake of this water helps in general well being and it acts as a blood purifier. Regular intake of this water keeps our skin and hair healthy. Traditionally vetiver water is always made in clay pots.