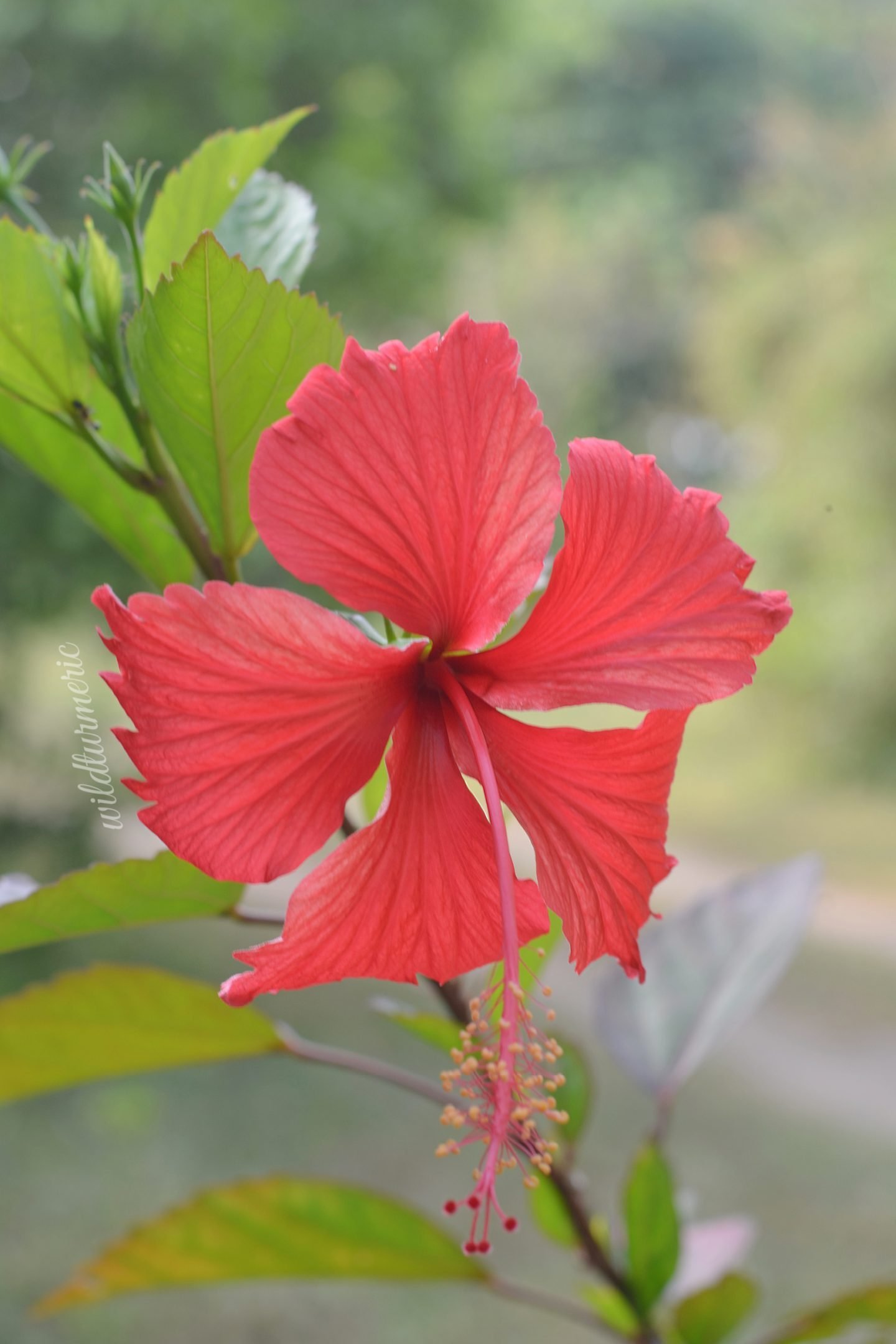 Hibiscus is nothing short of a miracle when it comes to treating hair loss and promoting thick hair growth. Here in our village, we use it extensively for hair care. We make hibiscus hair oil, hibiscus hair pack and we also clean our hair with homemade hibiscus shampoo.
What Is Hibiscus?
Hibiscus are flowering plants that belongs to the family Malvaveae. The genus contains several hundred species and are mostly found in temperate, tropical and subtropical regions. Out of the different species, Hibiscus rosa-sinensis which is the red hibiscus flowers that are commonly found all over India is very famous and I am referring to it's flowers here.
Hibiscus Hair Benefits:
Both hibiscus flowers and leaves have been clinically proven to help with hair growth. When used regularly, they help arrest even the worst hair fall. They help nourish and strengthen the hair follicles and also helps treat scalp problems like inflammation and dandruff. Hibiscus shampoo gently cleans the hair and hibiscus oil is a good remedy for dry and damaged hair. Likewise, hibiscus hair packs quickly treats scalp inflammation along with strengthening the hair follicles.
3 Top Ways To Use Hibiscus For Hair Care:
1. Hibiscus Hair Oil: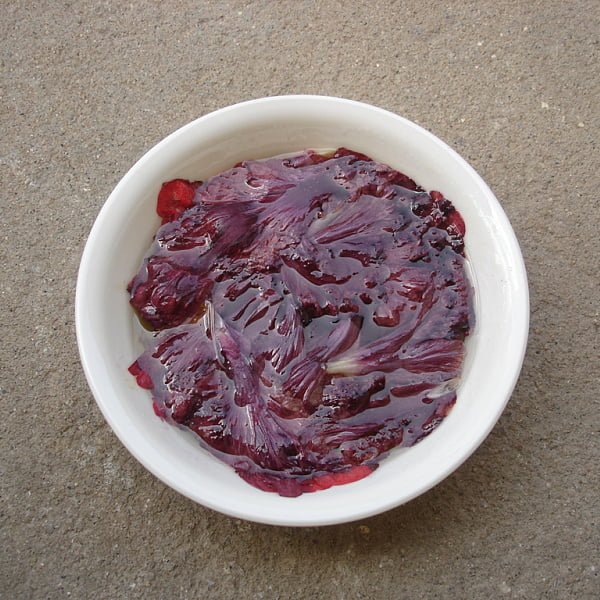 This oil prevents hair fall, split ends and controls dandruff if used regularly. The base oil for this is unrefined coconut oil. As we all know, coconut oil has been the traditional hair oil for South Indian women for centuries and I strongly recommend making this hibiscus hair oil with it. We can make this oil in two ways, the first is infusion method and the second is double boiler method.
Infusion Method:
Collect fresh hibiscus flowers and separate the petals, spread them on a plate and sun dry them till crisp. There should not be any trace of moisture in them. Now add coconut oil till the petals are fully immersed and let it steep under hot sun for 2 to 3 days. The time it takes to steep will depend on the climate, during peak summers, just a day or two will be enough. Once the oil is infused with the petals, strain out the petals and use regularly.
Double Boiler Method:
For the double boiler method, collect fresh hibiscus flower, wash and separate the petals. Spread the petals on a kitchen cloth to absorb excess moisture. Once there is no moisture on the petals, take them in bowl and add coconut oil till they are fully immersed. Now place the bowl over an another bowl of gently simmering water and cook for about 45 minutes. Let cool and then strain.
2. Hibiscus Shampoo: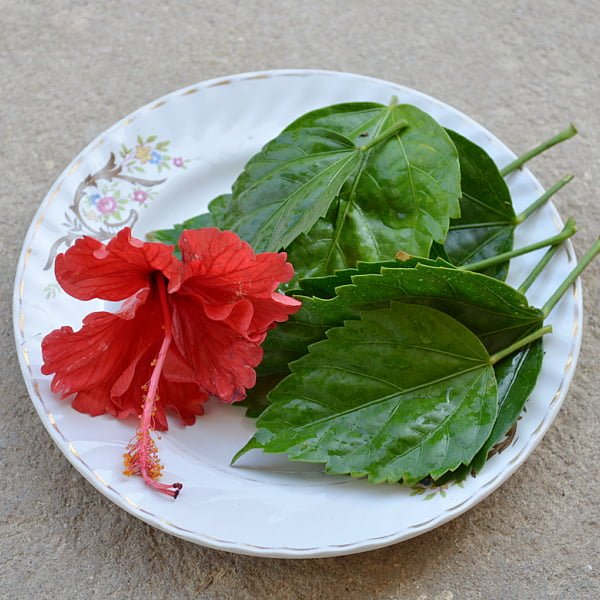 Take 3 large or 4 small shikakai pods in a bowl. Add in 5 to 6 soapnuts too. Finally add in 1 tbsp of fenugreek seeds. Now add in a cup of water. Let this mixture soak overnight. The next day morning, collect five fresh hibiscus flowers and remove the petals and keep them separate.
By now the soapnuts, shikakai and fenugreek seeds mixture would have soaked well and will be soft to the touch. Add in the hibiscus petals and leaves to it. Now grind this mixture to a fine paste and use it to wash your hair, this shampoo will clean the scalp and hair very well.
3. Hibiscus Hair Mask: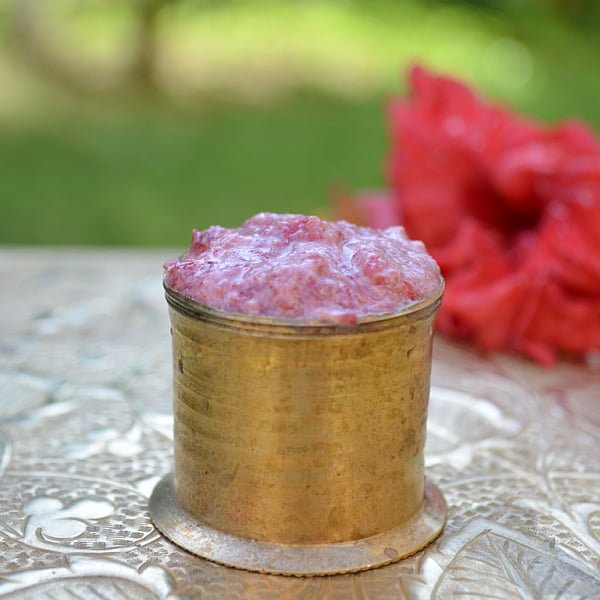 Hibiscus hair mask is one of the easiest and most effective hair masks we can make at home. Hibiscus hair mask conditions the hair so well and is excellent for both dry and oily hair. Another thing that I like about hibiscus hair mask is it serves multiple uses: It treats dandruff, conditions the hair, arrests hair fall and is a very safe pack to use on the hair.
This mask can be made according to the type of hair that you have. If you have dry hair, use the hibiscus along with fresh yogurt. If you have oily hair, use it with an organic egg white.
Since we are using only the egg white, there will not be any eggy smell on the hair at all. To use, take the mixture, part the hair using a comb and apply it all over the scalp and let it dry for at least 10 to 15 minutes and then wash the hair with a mild shampoo and condition your hair as usual.
For Dry Hair:
Grind the petals along with thick yogurt to get a thick paste. If the yogurt is not thick, hang it in a muslin cloth to remove excess water and then use it to grind the petals. The mixture should be thick, not runny. This pack has to be thick enough to be able to apply on the hair, if it is too runny, it will be dripping all over.
For Oily Hair:
Grind the hibiscus petals along with an egg white to get a smooth paste. To use, apply on the hair, wait for 15 minutes and then wash your hair with a natural soapnut shampoo. Both egg white and hibiscus petals will nourish the hair follicles thus promoting hair growth, it also makes the hair super shiny and manageable.