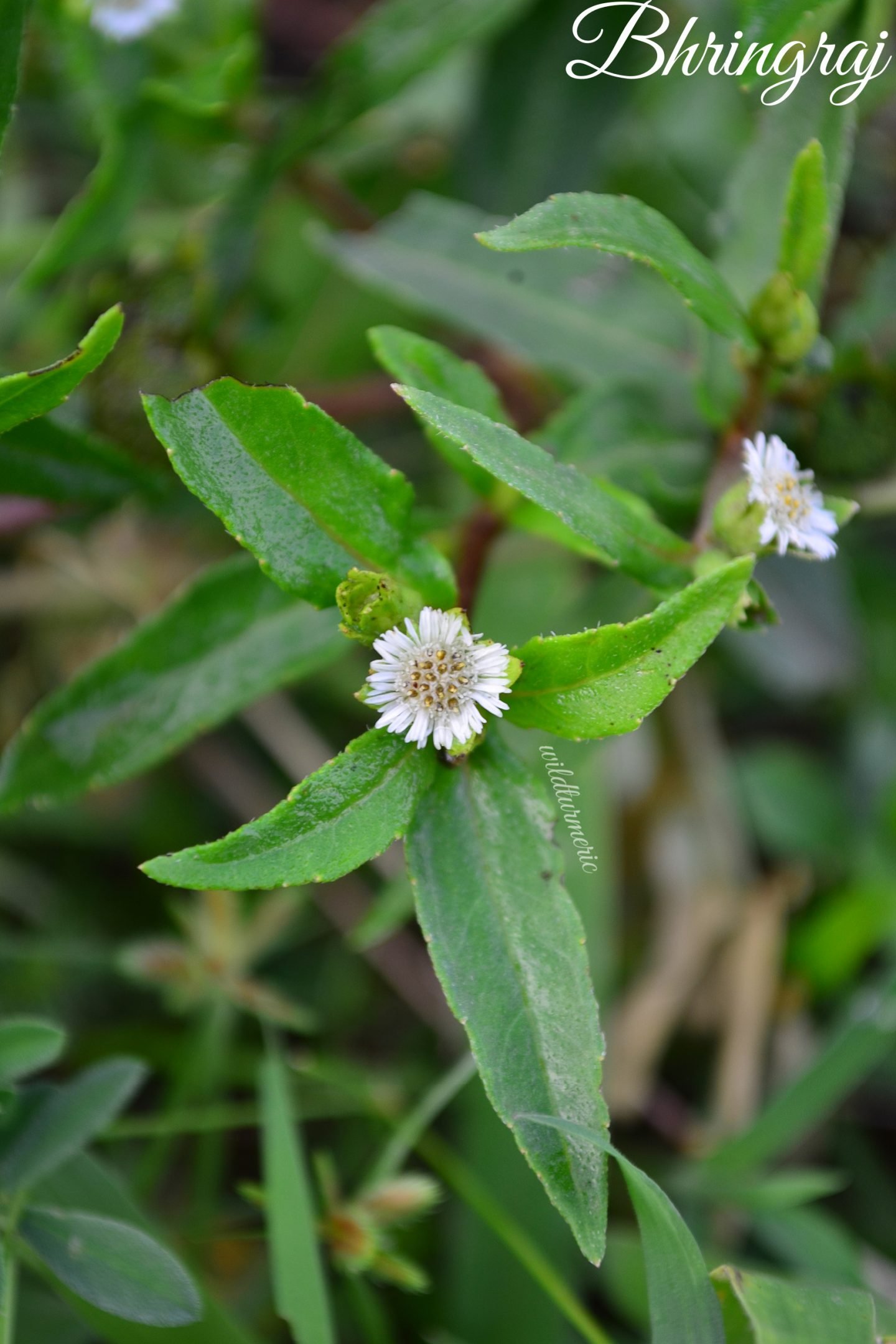 Bhringraj plant also popularly called Karisalankanni in Tamil is an amazing herb with wonderful medicinal uses and health benefits. It is especially very well known in India for promoting hair regrowth and has been used in Ayurveda for more than thousands of years for treating lots of other ailments. Both fresh bhringraj leaves and bhringraj powder are used for promoting hair growth.
Bhringraj oil
also called karisalankanni oil made using the leaves is very famous in India and regular use of the oil promotes fast hair growth.
Bhringraj Botanical & Common Names:
The botanical name of bhringraj plant is called Eclipta Alba. Bhringraj is the Hindi name and Karisalankanni is the Tamil name. It is called Guntagala Aku in Telugu, False Daisy in English, Gargamuru in Kannada, Tekaraja in Malayalam, Bhangra in Punjabi, Bhangro in Gujarati and Kesuriya in Bengali.
Bhringraj Plant:
Bhrigraj is a small plant with long leaves and white or yellow flowers. We can easily identify the plant with the flowers and it grows well in moist places. Bhringraj can be found in most tropical countries. I prefer to use only the fresh herb so I always grow bhringraj plant in the garden and I strongly suggest that you grow this amazing herb in your garden too to enjoy it's many health benefits.
This plant needs very little to no maintenance. Regular watering and little bit of natural manure will be enough to maintain this wonderful plant. In Tamil Nadu, bhringraj is considered a sacred herb and is valued very highly for it's hair growth promoting properties and for improving the overall health. Try to include this herb in the diet of young children too. If consumed from an early age, it will protect them from many diseases.
The best way to consume it is to include it in our dhal or just make a simple filling for dosa by frying onions in little bit of oil and then add the greens and saute well till it is reduced in quantity and is cooked. Now add little bit of pepper powder, salt and little bit of freshly gated coconut. Saute well till there is no moisture left. Use this as a filling for dosas, sandwiches and rotis. Continue to include this herb both in the diet and as an hair oil regularly to get beautiful shiny hair and healthy body.
Bhringraj Plant Varieties:
There are two varieties of bhringraj that are very commonly found all over India, one produces white flowers and the other produces yellow flowers. Though both are used for making bhringraj oil, the white variety is most preferred as it gives the best results.
Bhringraj Chemical Constituents:
Some of the chemical constituents isolated from bhringraj leaves are wedelolactone, stigmasterol and desmethylwedelolactone.
Roots:
Some of the important chemical constituents in bhringraj roots are hepatocosanol, stigmasterol, ecliptic, eslalbatin and hentriacontanol.
Seeds & Stem:
Some of the important chemical constituents of bhringraj seeds and steam are wedelolactone, ecliptalbine and sterols.
Whole Plant:
Some of the important compounds that are responsible for the amazing medicinal uses of bhringraj are wedelolactone, eclalbosaponins, demethylwedelolactone, dasyscyphin, ecliptalbine and eclalbatin.

Bhringraj Medicinal Uses:
1. Hair Growth Promoting Properties:
Like I mentioned before, bhringraj has been used for promoting hair growth from ancient times. It is also used for treating dandruff, hair loss, grey hair and strengthening the hair follicles. This traditional use has been proven through clinical research, you can read the study that proves it here.
2. Anti Cancer Properties:
Another amazing use of bhringraj is it's anti cancer properties. It has powerful anti cancer properties that helps fight against cancer cells. It has been proven to be effective against many cancer cells including breast and liver cancers. You can read the study proving the anti cancer properties here.
3. Anti Hepatitis Properties:
Another lesser known medicinal use of bhringraj is it's ability to treat and protect us against hepatitis. In fact bhringraj has been used for treating almost all the problems of the liver including liver cirrhosis, liver enlargement, liver cancer and also infective hepatitis. The compounds responsible for anti hepatitis properties are wedelolactone, luteolin and apigenin.You can read the study proving it's anti hepatitis properties here.
4. Larvicidal & Ovicidal Properties:
Another interesting use of bhringraj that not many know of is it's ability to kill the Aedes variety mosquitoes which are responsible for causing dengue fever and chikungunya. Out of all the extracts, the methanol extract proved to have the most larvicidal and ovicidal properties. You can read the study that proves it here.
5. Positive Impact On Learning & Memory:
Bhringraj also has a positive effect on our nervous system, traditionally bhringraj extract has been used for improving memory and learning. Bhringraj has a calming effect, reduces aggressiveness, improves our memory and greatly helps in learning, you can read the study that proves it here.
6. Anti Diabetic Properties:
Since bhringraj has antihyperglycemic properties, consuming bhringraj will help reduce high blood sugar levels and will have a positive effect on diabetic patients. It also helps reduce some of the side effects associated with diabetes like diabetic nephropathy which refers to kidney damage due to high blood sugar levels. Along with reducing blood sugar levels it also helps reduce high cholesterol and blood pressure too.
7. Anti Malarial Properties:
Malaria is life threatening disease caused by mosquitoes that are infected with plasmodium parasite. There are many herbs that have wonderful anti malarial properties and bhringraj is one such herb. The leaf extract has been proven to be effective against malaria. You can read the study that supports this claim here.
8. Analgesic and Anti Inflammatory Properties:
Bhringraj extract can be used for treating small skin wounds and inflammation very effectively. The water extract can be used as an anti bacterial wash for wounds and scrapes. Many people are suffering from scalp inflammation, for them using bhringraj hair pack or oil will greatly help reduce the inflammation and pain.
9. Treats Epilepsy:
Bhringraj like I mentioned before is a wonderful nerve tonic and has been used for treating many neurological problems. The compound luteolin found in bhringraj has anti convulsant properties and when taken internally greatly helps reduce seizures. You can read the study that supports this claim here.
10. Anti Bacterial Properties:
Bhringraj has wonderful anti bacterial properties too. It has been proven to be effective against both gram positive and gram negative bacteria. Certain isolated compounds from eclipta alba like eclalbasaponin also has been proven to be very effective against many strains of bacteria.
How To Use Bhringraj For Hair Growth?
The best way to use bhringraj for hair growth is by using it in the form of hair oil.
Bhringraj hair oil
is an amazing hair treatment that solves many hair problems. We can also use bhringraj powder for promoting hair growth by including it in hair packs too. Including bhringraj (karisalankanni) in the diet regularly will prevent anemia and all liver related diseases.
How To Make Bhringraj Powder?
To make bhringraj powder, take bhringraj plant, wash well and spread on a kitchen cloth to remove excess moisture. Now sun dry till crisp and powder in a dry mixer while still crisp from sun drying, sieve to get a fine powder and store.
Bhringraj Dosage:
For health reasons, take 2 teaspoons of fresh bhringraj juice a day. If you don't get fresh leaves, you can try using the bhringraj choorna that is available everywhere now. If you don't like to consume bhringraj powder (bhringraj choorna) then try bhringraj capsules, If taking in capsule form, take 1 bhringraj tablet per day (250 mg).
Bhringraj Side Effects:
This plant is generally very safe if had in the mentioned dosage and if consumed as regular greens in our food, it rarely causes any side effects. But if you take bhringraj capsules and over consume them, it might have some side effects……….
7 Top Hair, Skin & Health Benefits of Bhringraj | Karisalankanni
1. Bhringraj Hair Oil For Hair loss, Grey Hair & Hair Regrowth: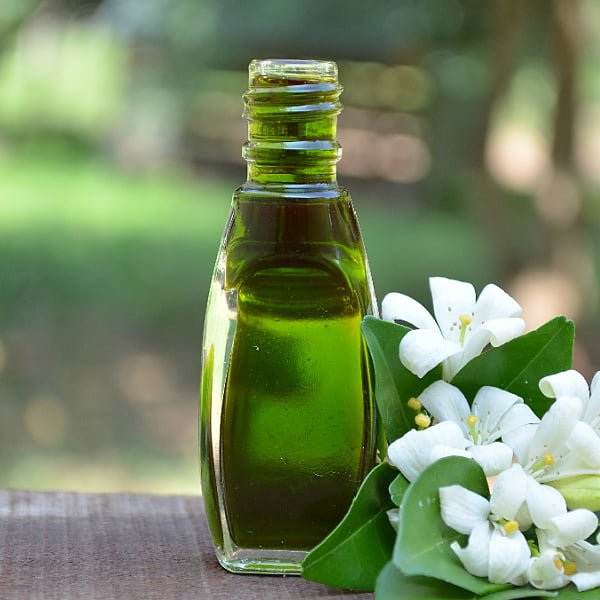 The best way to use bhringraj for hair is by making a hair oil with it, bhringraj oil has amazing hair benefits. It prevents hair fall, premature greying, strengthens the hair roots, conditions the hair well, prevents split ends, stimulates hair growth, prevents baldness, premature greying and alopecia – in short everything that is needed for a healthy hair. Nowadays bhringraj oil is marketed everywhere but you can make your own pure bhringraj oil at home very easily.
I prefer to use homemade coconut oil that is not refined for making this oil and I would strongly suggest that you do the same for best results. This oil can be made in two ways, the first method is made by grinding the bhringraj leaves without water and making it into small rounds and then sun drying it till crisp. Then the rounds are added to coconut oil in a glass jar and placed in hot sunlight till the color of the oil changes. This method takes around 3 to 4 days for the bhringraj balls to dry and for the coconut oil to get heated up. This method is best done during hot summer months.
I made the bhringraj hair oil using the second method which is done by directly heating the paste in coconut oil. This oil has a beautiful green color and a unique pleasant smell. When I made this oil, the whole house was smelling of this oil. To use this oil, massage it well into the scalp before having your hair wash regularly and let it soak for at least 30 minutes. This oil stores well for up to 3 months at room temperature.
2. Bhringraj Powder For Baldness:
This bhringraj hair pack made with bhringraj leaves will prevent baldness. To make the hair pack, take equal quantities of bhringraj powder, amla powder and methi powder in a cup. Mix the powders well together, now add enough yogurt till it forms a thick but spreadable paste. Apply this hair pack all over the scalp, wait for 15 minutes before washing it off. If you have access to fresh bhringraj leaves, the bhringraj powder in this pack can be substituted with it.
Bhringraj when used regularly as a hair pack, treats all scalp problems and will greatly help promote new hair growth. Even with hereditary baldness, regular use of bhringraj will have a positive effect. I would suggest using this hair pack weekly once or twice for best results. Regular use is the key to getting the full hair benefits of bhringraj. If using fresh plant paste, both varieties of bhringraj plant can be used. Bhringraj powder can also be added to natural hair dyes too.
3. Bhringraj For Liver:
Bhringraj is a liver tonic. Like keelanelli, bhringraj is also used widely for treating liver disorders. When compared to our elders, we are increasingly eating out nowadays. Regularly eating junk food or food that has been mass produced that emphasis only on the taste plays havoc with our liver. Last week, I was talking to a person who cooks regularly for marriages about adding synthetic colors to food.
He said that not only him but almost all the cooks that he knows off adds synthetic colors to all the chutneys, sweets, even certain gravies to get the appealing bright color. No wonder each time we have food outside, the next day we feel so sluggish and tired. One best remedy is to include liver cleansing herbs in our diet. Adding bhringraj to our diet keeps our liver healthy. You can simply steam the finely cut and cleaned bhringraj leaves in a steamer and consume.
It can also be had along with dhal or as a stuffing for bread, roti, etc. It can be used as a substitute in any recipe that calls for palak| spinach. Try to use bhringraj at least weekly once in the diet. In our village, the water decoction of equal parts of bhringraj and keelanelli along with tiny pinch of turmeric is used as a remedy for treating hepatitis.
4. Bhringraj Juice For Skin & Eyes: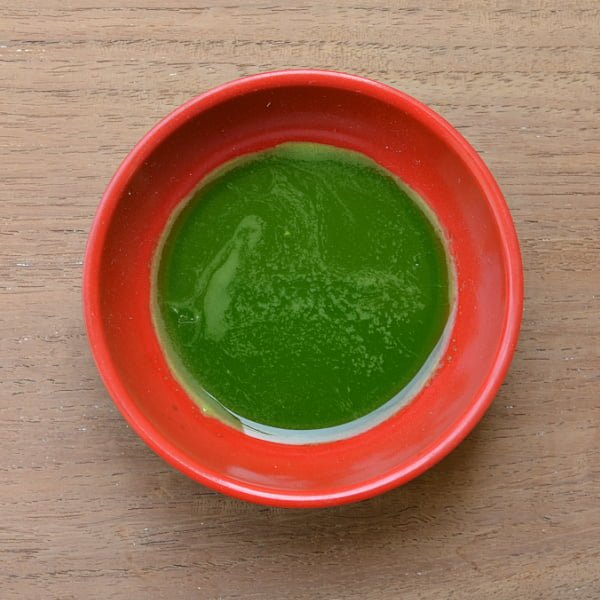 In my personal experience, home remedies work wonderfully for skin related diseases. Bhringraj leaves are amazing for treating all minor skin related diseases as it has wonderful anti bacterial properties. Bhringraj juice is very effective for treating cracked heels and minor skin allergies.
To get the bhringraj juice, take the fresh leaves of bhringraj plant, wash and pound it in a mortar and pestle as finely as you can. Now take the pounded mixture in a strainer and press with a spoon to extract the juice completely. Apply this juice directly on the affected area continuously for a few days to see results.
This juice also helps in faster healing of wounds and it is best applied when it is fresh. We also use bhringraj while making kajal, we apply the keelanelli juice on the brass plate and place it over a small lamp that is filled unrefined sesame oil. Once the soot is collected, we take it in a plate and mix it with ghee and use as kajal. Kajal made with keelanelli has a cooling effect on the eyes.
5. Bhringraj For Cold & Cough:
Bhringraj is great for treating cold and cough. For the remedy, take a handful of fresh bhringraj leaves in a mortar and pestle. Extract the juice by pounding it along with little boiled water and strain. Now add a few drops of honey to this strained mixture. This mixture is very effective for treating cold and cough. This remedy can be given to both children and adults. This mixture should be consumed once every day for 3 days in empty stomach for best results.
6. Bhringraj For Anemia:
A simple homemade soup made with bhringraj leaves treats anemia very effectively as bhringraj is very high in iron. To make the soup, heat little bit of homemade ghee in a pan and season it with cumin seeds. Once the cumin seeds splutter, add 1 finely sliced large onion, 2 finely cut garlic clove and then 1 small tomato. Saute well and add the bhringraj leaves. Once it is fried well, season with salt and pepper. Add water till it is fully immersed in water and boil for 10 minutes or pressure cook for 2 whistles. Switch off, mash it with a hand blender and strain. This soup if had daily for a few days will treat anemia very effectively.
7. Bhringraj For Sinus Infection:
Bhringraj is very effective for treating sinus infection. For the remedy, take a handful of bhringraj leaves in a pan. Pound 1/4 tsp peppercorns coarsely in a mortar and pestle and add it to the bhringraj leaves along with 3 pinches of organic turmeric powder. Boil till it reduces in quantity and strain. This home remedy works very well for treating all sinus related problems. But make sure that the peppercorns are coarse, else the mixture will be very spicy. This remedy can be used for young children too but reduce the quantity of peppercorns…..