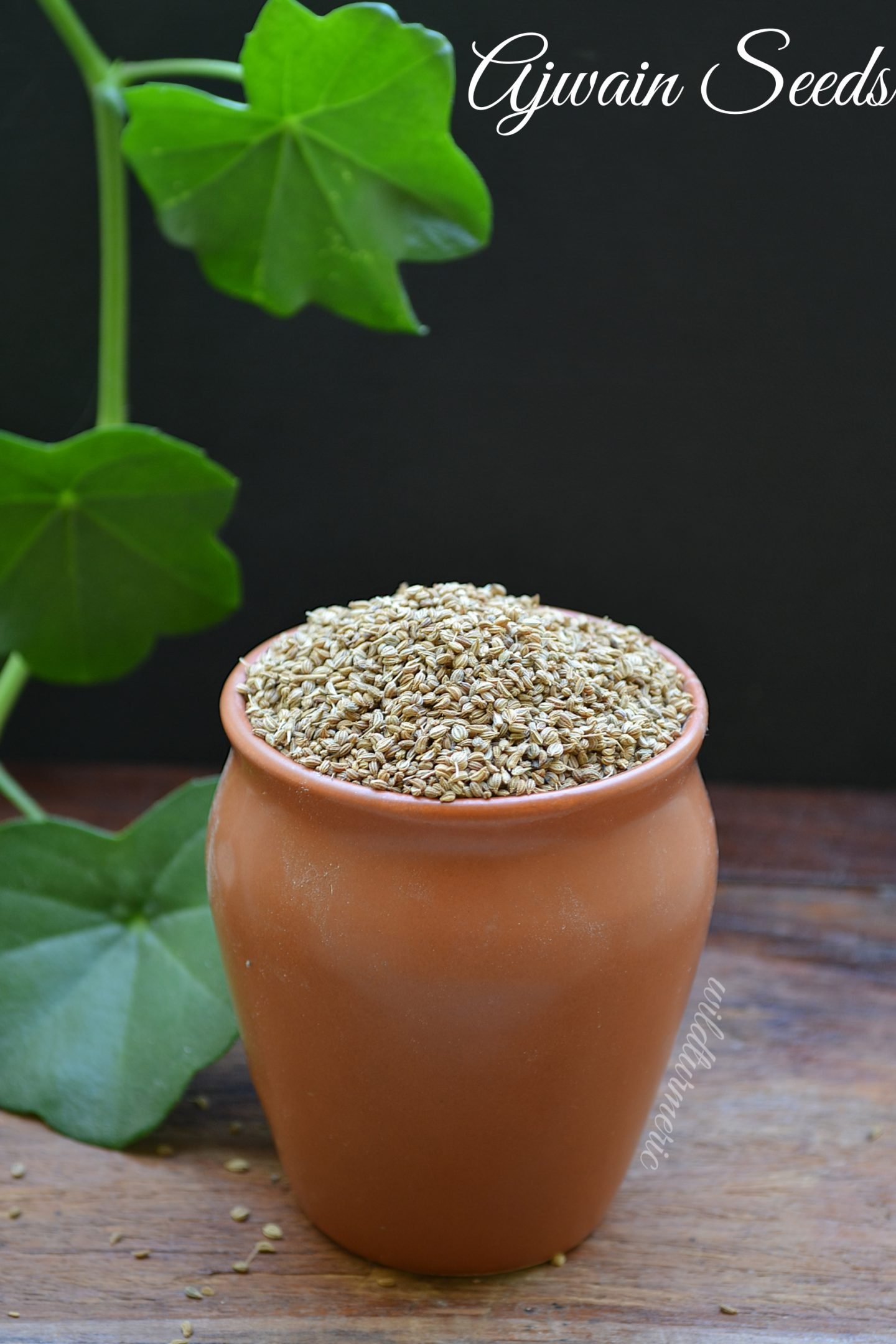 Carom seeds popularly called ajwain in India has amazing health benefits and medicinal uses. It will be a great loss if we don't use these wonderful little seeds in remedies, I would always suggest buying a small pack of ajwain seeds and stocking at home, it lasts a long time. They are used for treating respiratory problems, aiding weight loss, all digestion related problems and also as an insecticide.
What Is Ajwain?
Ajwain seeds are very aromatic, oval shaped, ridged brown coloured seeds produced by a branched annual herb. The flowers are found in small clusters and are white in colour. The leaves are pinnate and divided into narrow segments. The seeds and the essential oil are used for medicinal purposes. The oil extracted from the seeds is called ajwain oil, it contains thymol as the main ingredient.
If there is one home remedy that is very very popular here in Tamil Nadu, it is omum water | ajwain water. It is the first go to remedy for treating indigestion in both adults and children and I will vouch for it's effectiveness. Because it is so famous here, you will find ajwain seeds easily in all the departmental stores. Another surprising fact about ajwain is though it is called seeds they are in fact the fruits!
Ajwain Common Names:
The botanical name of the plant that produces these little wonders is Trachyspermum ammi | Ammi copticum | Carum copticum. Ajwain is the Hindi name and it is called Carom Seeds in English, Omum in Tamil, Vamu in Telugu, Oma in Kannada, Ajma in Gujarati, Yamani in Benglai, Oman in Malayalam and Onva in Marathi.
Ajwain Nutritional Facts:
100 grams of ajwain contain 305 calories, 25 grams of fat, 43 grams of carbohydrates, 39 grams of fiber and 16 grams of protein! It contains saponins, glycosides, phenolic compounds and minerals like calcium, phosphorus and iron. The main compond of the volatile oil is thymol.
Ajwain Traditional Uses:
In North India, ajwain seeds are used for seasoning and added to chapati flour while making parathas but here in South India we include it mainly in snacks. Every year during Pongal festival, very large batches of murukkus or chaklis are made in my parents home to send as gifts for everyone. And even if you overindulge in these crisp and delicious snacks, you will never get stomach upset at all as plenty of omum seeds are always added to the batter.
Our traditional practices and cooking methods are so awesome that if you just follow them you will never find yourself sick. Personally I have never been without ajwain seeds in my house and whenever my son returns to boarding school after his holidays, I always send a small bottle of ajwain with him. Earlier I used to get so worried thinking of my son falling ill while he is being away from us in boarding school but now that he is grown up and has learnt to follow simple remedies, I feel so much better.
My mom who is now traveling in North India called me few days back to say that it was good that I insisted that she carry ajwain seeds with her as it is helping her a lot with her indigestion. If you are traveling to a new place where you will be forced to try new cuisines, I would strongly suggest carrying ajwain seeds, it will always come in very handy.
Ajwain Medicinal Uses
1. Respiratory Problems
Traditionally ajwain seeds are used for treating various respiratory problems including asthma. In clinical studies done on both humans and animals, it has been proven to have bronchodilatory and antitussive (reduces cough) properties.
In a study done on patients who were suffering from asthma, the water extract of carom seeds exhibited powerful bronchodilatory effects that was comparable to the standard medication. In an another study done on guniea pigs, the number of coughs were reduced when they were given ajwain seed extract. Thymol and carvacol, the two main constituents of ajwain seeds helps with all respiratory problems.
2. Reduces High Blood Pressure, Weight Loss & Cholesterol
Ajwain has calcium blocking effect, it works by preventing calcium from entering the cells of the heart and arteries. This causes blood vessels to relax and widen which allows the blood to flow freely resulting in lowering blood pressure. It also helps reduce high cholesterol levels.
In a study, 2 g of ajwain seeds per kg significantly decreased total cholesterol levels, triglycerides and LDL cholesterol levels significantly. Thymol extracted from ajwain seeds also helps prevent weight gain and increases antioxidant levels, you can read the study that supports this claim here.
3. Antimicrobial Properties
Both the essential oil and the seed extract is effective against many bacterial strains, viruses and fungi. The water extract has been shown to be effective against bacterial stains like Stephylococcus aureus, Escherichia coli, B. cereus, etc. It is also a powerful fungicide and is effective against aspergillus species and is also effective against Candida albicans, Epidermophyton floccosum, Microsporum canis, etc. It is due to it's anti microbial properties that it is widely used for treating many skin problems.
4. Treats All Digestive Problems
We always stock ajwain seeds at home and is the first ingredient we reach out for treating all digestive related problems including stomach pain, ulcer, colic and diarrhoea. Giving the water extract of ajwain seeds to rats for two weeks has been clinically proven to help improve their peptic ulcer. The effect was equal to the medication that is used for treating peptic ulcer, this is said to be due to its high antioxidant properties.
Delayed stomach emptying is one of the major reasons for indigestion and since ajwain seeds increases gastric acid secretion and also helps reduce transit time of food in the digestive system along with reducing spasms, it is so effective in treating all stomach related problems.
5. Reduces Inflammation
Chronic inflammation does a lot of bad things to our body and can increase the risk of getting many illnesses including cancer and heart disease. Nature has gifted us with many natural anti-inflammatory ingredients and ajwain is one of them. Consuming a cup of ajwain water can help reduce pain and inflammation. In our village, we drink carom seed water for reducing arthritic pain. In a study done on rats induced with arthritis, water extract was given for 30 days and it greatly helped reduce their inflammation.
6. Anti Parasite Properties
Ajwain seeds helps get rid of intestinal parasites in domestic animals and is also a safe natural insecticide. It helps get rid of filarial worms in cows, both thymol and carvacrol have macrofilaricidal properties. It helps get rid of nematodes in sheeps and is also effective against Plasmodium falciparum, a parasitic protozoa which causes malaria. It is effective against Eimeria tenella which affects broiler chickens. It is also a powerful insecticide and is effective against getting rid of cockroaches and mosquitoes, we can use the boiled ajwain water as an insecticide spray.
General Suggested Dosage
We usually use around a teaspoon of ajwain seeds for making ajwain water and have been using the same amount for a long time without any problems at all, 3 to 6 grams is also the suggested dosage. Like with any ingredient don't overdose on ajwain water, else it will cause side effects.
Ajwain Side Effects
Pregnant women should not consume ajwain seeds. It was tested for abortion in some states in the year 1987 in India. The results were striking! Out of 75 pregnant woman who were tested, 50 experienced abortion and fetotoxicity! It is also used as a male contraceptive, it has been clinically proven to reduce the number of sperms, sperm motility and testis weight. So it is best to avoid ajwain seeds when planning for pregnancy and also during pregnancy.
Excessive consumption of ajwain seeds can lead to bloating and stomach irritation. Some people can be allergic to ajwain seeds, ajwain allergy can cause nausea, dizziness and vomiting. It also interacts with certain drugs, if you are on any medication and planning to consume ajwain water regularly please mention it to your physician.
8 Top Ways To Use Ajwain Seeds:
For Stomach Related Problems:
1. Ajwain Seeds For Gastritis:
Ajwain seeds are a great remedy for treating gastritis. We regularly use this remedy at home for treating gastritis: Take a tender betel leaf and add 1/4 tsp of ajwain seeds and a pinch of rock salt and roll. Chew on this mixture and swallow it, a very very effective remedy for gastritis.
2. Ajwain Seeds For Babies:
Like I mentioned before, ajwain seeds are one of the best home remedies for treating indigestion in children and the best way to use it is by roasting the seeds in an empty pan till they start spluttering then add water and boil till reduced in half and strain. Though we don't use this remedy in many places, the paste of ajwain is applied externally on the babies stomach for treating colic pain too.
3. Ajwain For Indigestion:
Ajwain or carom seed water mixed with little bit of black salt is a good home remedy for treating indigestion. You can also chew on ajwain seeds if you are suffering from indigestion and drink a cup of hot water, a simple but effective home remedy for indigestion while traveling.
4. Ajwain Seeds in Cooking:
If certain traditional recipes call for ajwain seeds, please try your best to add ajwain seeds as suggested, it will greatly prevent indigestion and will help in easy digestion. But please remember ajwain has a strong and distinctive smell so always add only the required amount in recipes.
For Respiratory Problems:
5. Ajwain Seeds For Cough & Cold:
Ajwain water is a very good home remedy for cold and cough. You can take it as such and it will greatly relieve chest congestion, headaches and blocked nose. Adjust the amount of ajwain seeds depending on the age, for kids below ten years reduce the amount of ajwain by half.
6. Ajwain For Asthma & Headache:
Ajwain has bronchodilating properties and the smoke got by sprinkling ajwain on hot coal is a good remedy for headaches due to cold and asthma. Ajwain water can also be taken while suffering from any respiratory problems, it will greatly help. If children find it difficult to sleep at night due to chest congestion or blocked nose, the vapour produced by boiling the seeds in water can be inhaled.
For External Application:
7. Ajwain Gargle:
Ajwain infusion is great for treating sore throat, I personally use this gargle whenever I suffer from sore throat. For the gargle, boil a cup of water with 1 tsp of ajwain and 1/2 tsp of crystal salt and use it as a gargle. Chewing on ajwain seeds also helps get rid of bad breath as it has anti bacterial properties.
8. Ajwain For Skin Problems:
Ajwain seed is very good for treating skin problems like ring worm, eczema, psoriasis, etc. For the remedy, take equal quantity of turmeric, neem leaves and ajwain, make a paste and apply on the affected area. This paste is a very good and safe home remedy to treat skin infections.
9. Ajwain For Muscular Pain & Arthritic Pain:
Ajwain oil got by infusing the seeds in oil can be used as a massage oil for arthritic pain, you can easily order ajwain oil online. For muscular pain, heat 1/4 cup sesame oil and add 1 tbsp of ajwain. Once it splutters remove from fire and use it as a massage oil while it is still warm. This same oil also can be used as a massage oil for treating body aches as well.
10. Ajwain Seeds For Hair:
During winter months, some people will suffer from sinus infections especially if they have oil bath. For them adding ajwain seeds to the oil will greatly help. Just heat up the oil you are planning to use for oil bath and then add ajwain seeds, switch off and use as a massage oil. This oil also will prevent dandruff if used regularly too.