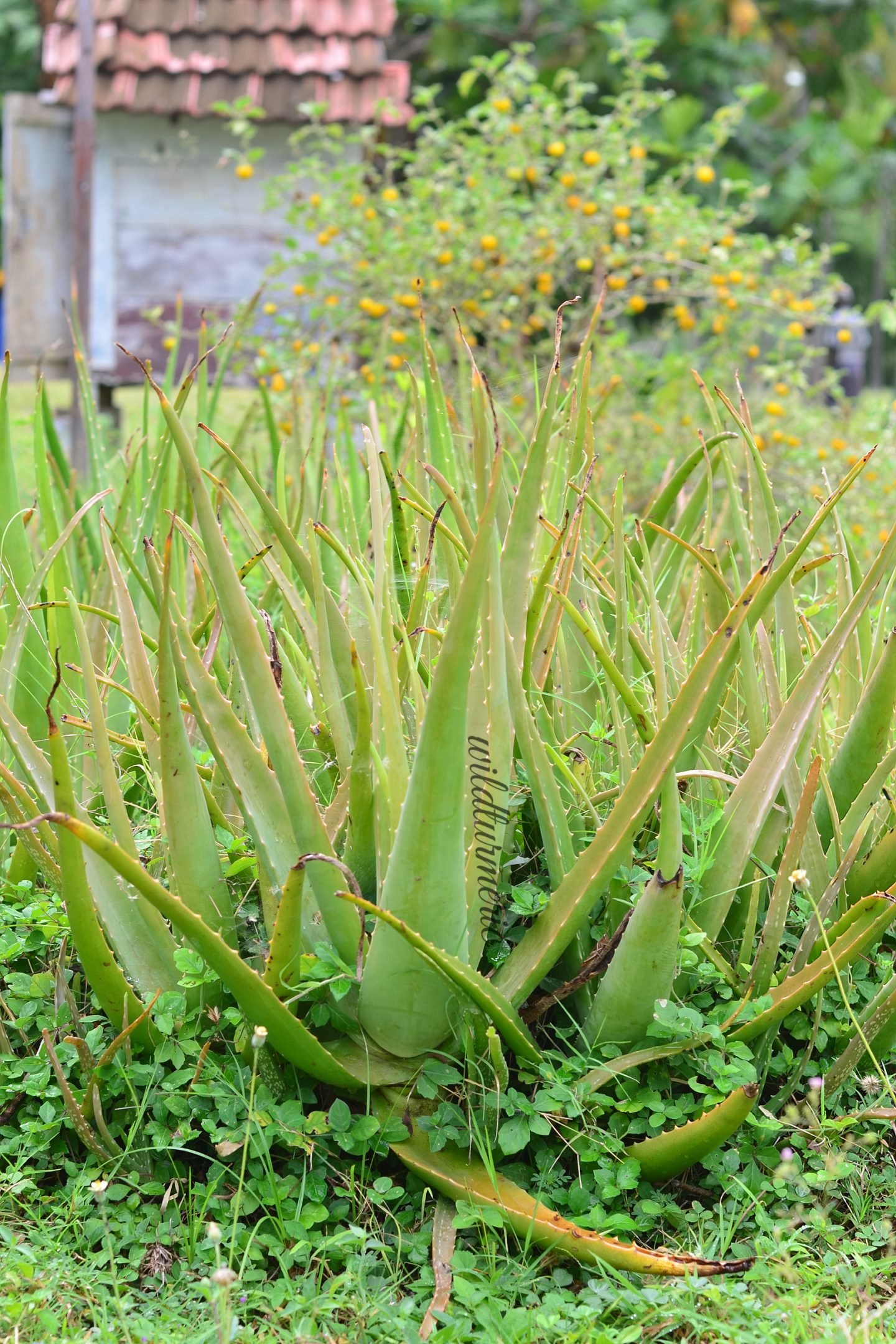 Aloe vera has been used for centuries for its wonderful health, beauty, medicinal and skin care properties. Aloe vera plant is called the plant of immortality due to it's wide medicinal uses. It can reduce high blood sugar and cholesterol levels, treat digestive problems like constipation and ulcer, treat scalp problems like dandruff and is a true skin care miracle as it helps treat almost all skin problems like wounds, acne, scars and dark spots.
Aloe Vera Traditional Uses:
Aloe vera has been used in beauty regimes for centuries. In earlier days, it was used for treating soldiers wounds and was also used as a laxative. Here in our place, we consume it in empty stomach along with cumin seeds for treating white discharge. We apply it externally to heal wounds and for treating all kinds of skin problems from pimples to eczema. We also use it in the form of hair packs for treating dandruff and promoting hair growth.
Aloevera Plant
Aloe vera is a small plant with fleshy leaves with thorns in the edges. The leaf is made up of three layers, the outer thick green layer which is called the rind. The middle layer is the bitter yellow sap, it causes skin allergy so always the aloe vera leaf should be washed well of the sap. The last is the inner layer which contains the clear gel, it is made up of 99% water.
Aloe Vera Active Constituents:
Aloe vera contains more than 75 active ingredients. Along with the below mentioned compounds, it also contains amino acids, salicylic acid, lignin which is responsible for penetrating effect of other ingredients into the skin and saponins which is responsible for its cleansing properties.
Vitamins:
It contains vitamins like vitamin C, vitamin E and vitamin A which are responsible for its antioxidant properties. It also contains vitamin B12, choline and folic acid.
Enzymes
It contains 8 enzymes, they are amylase, bradykinase, alkaline phosphotase, peroxidase, lipase, catalase, aliiase, cellulase and carboxypeptidase.
Minerals:
It contains minerals like calcium, chromium, copper, selenium, manganese, magnesium, potassium, sodium and zinc.
Anthraquinones
Anthraquinones are phenolic compounds, they are widely used in laxative preparations. Aloe vera contains 12 anthraquinones.
Hormones
Auxins and gibberellins are some of the important hormones present in aloe vera.
Sugar
It contains monosaccharides in the form of glucose and fructose and polysaccharides in the form of glaucomannans and polymannose.
Aloe Vera Botanical and Common Names:
The botanical name of aloe vera is Aloe barbadensis miller. It is called मुसब्बर वेरा in Hindi, கற்றாழை in Tamil, Lolesala in Kannada, Kalabanda in Telugu and കറ്റാർവാഴ in Malayalam.
Important Pharmacological Effects of Compounds Present In Aloe Vera:
1. Digestive disease protection: Acemannan
2. Anti diabetic properties: Aloe-emodin, Aloin
3. Skin protection: Aloe-emodin, Aloesin, Aloin, Emodin
4. Bone protection: Aloe-emodin, Aloin
5. Anticancer properties: Aloe-emodin, Aloin, Aloesin, Emodin
6. Antimicrobial properties: Acemannan, Aloe-emodin,
7. Skin Protection: Aloe-emodin, Acemannan, Aloin
10 Top Aloe Vera Medicinal Uses:
1. Natural Healer
Applying aloe vera gel increases collagen synthesis. The polysaccharide glucomannan and the growth hormone gibberellin stimulates growth factor receptors and significantly increases collagen synthesis after topical application of aloe vera. Aloe vera gel not only increases collagen content but also collagen composition and it specifically increases type 3 collagen. This accelerates wound healing and prevents scarring.
2. Protects From UV Radiation
Aloe vera gel has a protective effect on our skin, I have experienced this personally too. Whenever I apply aloe vera gel and go out in the sun, my skin does not tan as much and it also has a soothing effect on the skin. This is said to be because of the antioxidant protein metallothionein present in aloe vera gel which scavenges hydroxyl radicals.
3. Anti-inflammatory Properties
Aloe vera gel has been traditionally used for treating both scalp and skin inflammation for many years. Number of anti inflammatory compounds like C-glycosyl chromone and peptidase bradikinase are isolated from aloe vera gel. Here in our village, we apply the fresh gel to reduce acne inflammation and it greatly helps reduce the pain and inflammation very fast. It also has a soothing effect on the skin.
4. Antimicrobial Properties
Aloe vera has a wonderful antimicrobial properties which is the one of the main reasons for its various skin care properties. It prevents both the growth and biofilm formation and is effective against various bacterial strains like Staphylococcus aureus, Pseudomonas aeruginosa, Clostridium bacilli, Streptococcus mutans, Helicobacter pylori and Escherichia coli.
It is also effective against viruses like herpes simplex virus type 1 and H1N1 subtype influenza virus. It is also effective against the parasite Plasmodium falciparum and has antifungal properties against Candida parapsilosis, Candida krusei and Candida albicans.
5. Wound Healing Properties
Every year almost 2 million people receive treatment for burns which are caused by fires, boiling water, water steam and flammable gases. Wound healing takes place in three phases, the first is formation of blood clots and inflammation. The second is formation of new tissue and third is tissue retrieval.
The wound healing process takes place with the help of various growth factors like epidermal growth factor, insulin like growth factor and fibroblastic growth factors. Usually the place of the wound close quickly and epithelium is created again on the surface and the healing process starts but sometimes it can get disrupted by lot of factors like age, health status, nutrition and the size of the wound, etc.
If destructed, we usually need external factors to help with the healing process and aloe vera gel has been proven to be very effective for it. Glucomannan present in aloe vera stimulates the activity and proliferation of fibroblast growth factors which in turn improves collagen production.
6. Intestinal Absorption
Another interesting use of aloe vera is enhancing the absorption of drugs with low bioavailability due to extensive efflux. Efflux transporters are drug transporter proteins which affects the absorption of various drugs resulting in poor absorption and low oral bioavailability as the drugs are effluxed back into the intestine and excreted out. Aloe vera helps by reducing the amount of efflux.
7. Anti Diabetic & Cholesterol Lowering Properties
The water extract of aloe vera gel has antihyperglycemic properties and it does so without causing any damage to our liver or kidneys. Aloe vera gel helps improve carbohydrate metabolism and all the metabolic conditions associated with pre diabetics like reducing body weight, body fat mass, fasting blood glucose and fasting serum insulin.
In a study, 72 subjects with pre diabetic symptoms were divided into three groups. One group were given 300 mg aloe vera capsule, the second group were given 500 mg and the third group was placebo.
There was a significant decrease in in fasting blood glucose in the group that took aloe vera compared to placebo and there was significant reduction in total cholesterol, LDL and triglycerides along with improvement in HDL.
8. Antioxidant Properties
Aloe vera contains large amounts of antioxidants which includes vitamin E, carotene, vitamin C, flavonoids and tannins. Antioxidants are responsible for the prevention of many various diseases by fighting off free radicals which are the major cause for premature aging of our skin, hair and health. Aloe vera gel can scavenge the free radicals DPPH, ABTS and nitric oxide very effectively.
9. Anticancer Properties
Aloin, an important anthraquinone present in aloe vera has impressive anticancer properties. Aloe emodin a subtype of anthraquinone isolated from aloe vera has been proven to be effective against many cancer cell lines including breast and gynaecological cancers like cervical cancer, ovarian cancer, gastrointestinal cancers and accessory digestive organ cancers like pancreas, melanoma and bone tumors.
10. Gastric Problems
Aloe vera helps with many of the diseases associated with the digestive tract like ulcer, gastroesophageal reflux and gastritis which is the inflammation of mucous membrane layer of the stomach. Gastroesophageal reflux is a common digestive problem in which gastric acids move up into the oesophagus and aloe vera extract help reduce the symptoms of the disease which includes heartburn, flatulence, belching, nausea and difficulty swallowing.
Aloe vera also may help with easing the symptoms of irritable bowel syndrome. Topical application of aloe vera reduces the symptoms of diarrhoea in patients who undergo radiotherapy of pelvic area and it also promotes wound healing and helps reduce anal fissure pain and hemorrhage. Aloe vera also may help with constipation.
11. Skin Protection and Hair Care:
Aloe vera is widely used all over for treating various skin problems including facial wrinkles. It helps heal wounds faster, treats acne, psoriasis, skin burn, seborrheic dermatitis and genital herpes. Here in our village, we use aloe vera gel extensively for skin care. We use the fresh gel for treating wounds, scrapes and also for treating acne and extreme dry skin. We use aloe vera based hair packs for reducing dandruff, scalp inflammation and for promoting hair growth.
12. For Dental Problems
Aloe vera mouthwash is effective against various dental problems like gingivitis and periodontis. Periodontitis is a serious dental problem which affects the gums causing it to become inflamed along with causing tissue and bone destruction and gingivitis is the initial phase of periodontitis. Aloe vera mouthwash helps with both.
Aloevera mouthwash also significantly reduces swelling and dental post-operative pain. It helps reduce pain and also promotes wound healing. It also helps with oral mucositis which is an inflammatory condition leading to inflammation and damage of the mucous membranes lining the mouth. It is usually caused due to chemotherapy and radiotherapy.
It also helps with oral submucous fibrosis which is a precancerous condition caused by chewing areca nut, this problem is very common in India. Using aloe vera mouthwash helps reduce burning sensation, increases flexibility, mouth opening and tongue protrusion.