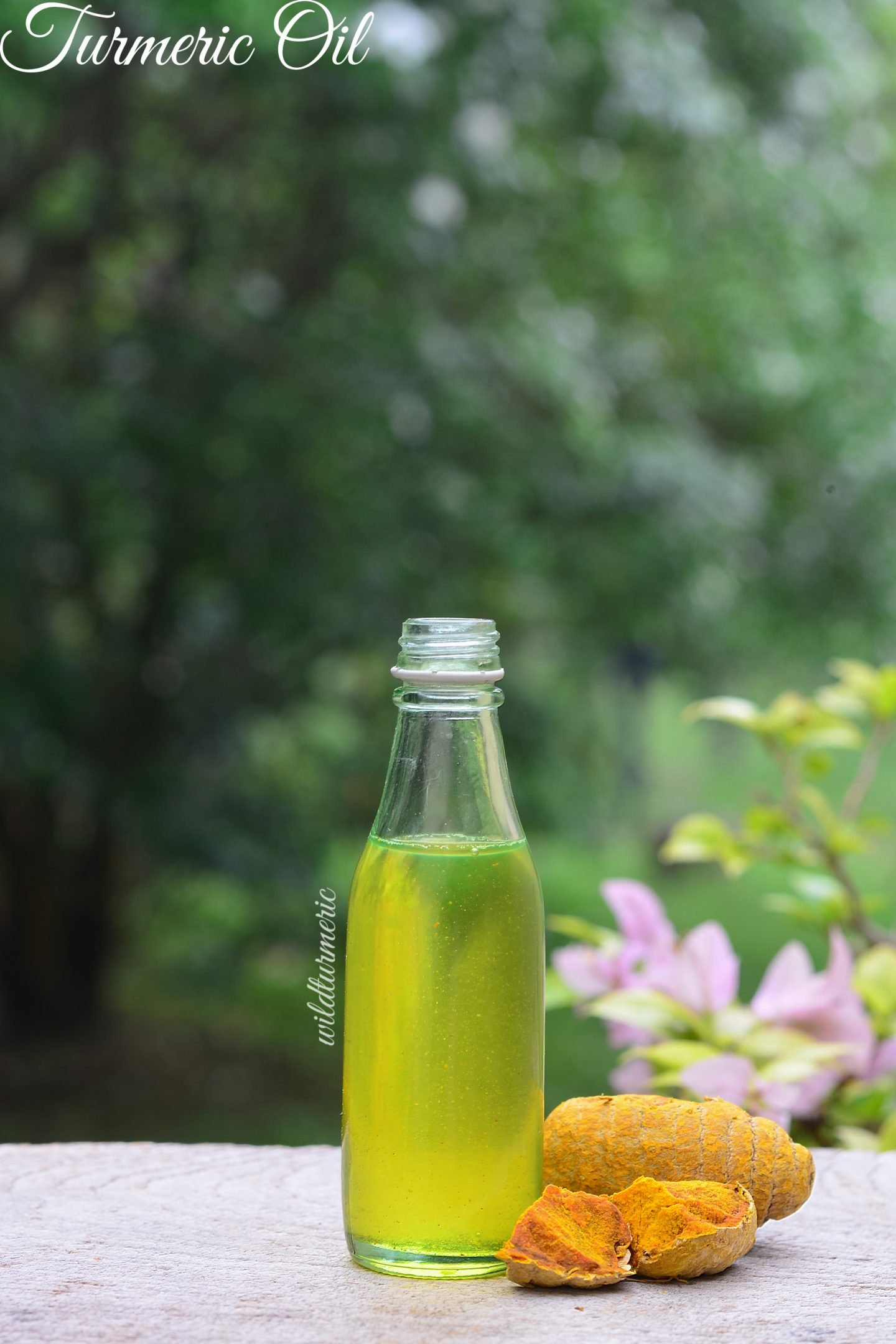 Turmeric oil is one of the best oils that we can easily make at home. We just need 2 ingredients for making turmeric oil and it has loads of skincare benefits. Turmeric oil helps treat many skin problems including acne, scars, dark spots, eczema and dull skin.
What is Turmeric Oil?
Turmeric oil is an infusion of different varieties of turmeric roots in a base oil. Turmeric oil is different from turmeric essential oil. Turmeric essential oil is got by steam distillation method and is very potent and should be used just a little mixed with a base oil. Turmeric essential oil is also expensive so I prefer turmeric infused oil.
Turmeric oil also referred to as golden oil keeps the skin blemish free in all seasons. I just love turmeric oil so much as it effectively treats almost all the skin problems. Regularly massaging the skin at least weekly twice with this oil will keep the skin supple, soft and glowing.
We usually use turmeric oil to massage the skin at least weekly twice and then we have bath using our traditional bath powder. The reason this oil is so effective is because it contains three varieties of turmeric.
Turmeric Varieties For Making Turmeric Oil
The first variety of turmeric used in this recipe is white turmeric. White turmeric is a close relative to our regular turmeric and when dried, it has a thin brownish skin and a firm white interior. It is also very very fragrant and we can get both the dried root and the powder easily online.
The second variety of turmeric is our normal turmeric that we use in our cooking. As we all know, turmeric has wonderful skincare benefits as it has powerful antifungal and antibacterial properties.
The third variety of turmeric is kasturi turmeric also called as wild turmeric in English. Like white turmeric, it is also very very fragrant and is used mainly for skin care. It also does not stain the skin much like regular turmeric does.
Turmeric Oil Benefits:
This oil does not stain the skin at all and if you're a person who hates the stain left over after using turmeric, then you will enjoy using this oil. This oil is especially useful for kids as it helps heal their scars and blemishes well.
It also keeps the skin soft and free from infections. Regular use of this oil will fade scars and blemishes and it will also prevent skin infections along with making our skin glow. Both the oil and massage greatly helps and it can be used for both adults and babies.
In India using homemade oils to massage babies has been done for a long time. The homemade virgin coconut oil is the best base oil for massage oil. Massaging helps babies sleep peacefully, it also reduces colic pain, relieves constipation and helps parents bond with their babies better.
I am a firm believer of massage and I used to do it regularly for my son when he was a baby. When my son was a new born, I was using a store bought massage oil from a very famous brand. I really used to love the smell of that oil and after a few weeks, there came a lawsuit against the company.
The law suit was filed because there were cancer causing substances found in one of their products and the license of the company was suspended temporarily.
This really upset me very much and this incident was also one of the reasons I started trying to make my own homemade products. Many like me fall for the branding, packaging and smell of the product and pay a huge amount of money when it can be made purely at home for the fraction of the cost.
2 Top Ways To Make Turmeric Oil
I have given two methods to make the oil – One is with the dried roots and the second is with the powders, you can choose either one method and if you follow the instructions correctly, you will get a beautiful clear oil.
1. Turmeric Oil Using Dried Turmeric Roots: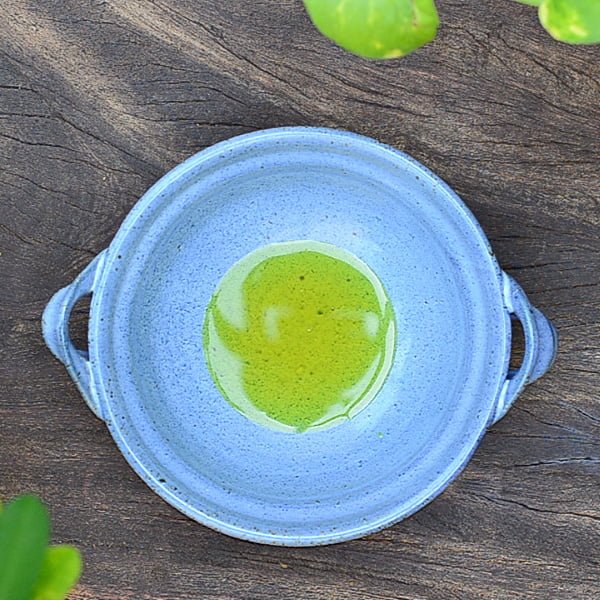 To make the oil using the dried roots, take one regular turmeric in a bowl. Add in a tablespoon of white turmeric roots to it. Add in a tablespoon of kasthuri turmeric root too. Now take this mixture in a mortar and pestle and pound coarsely, make sure not to pound very finely.
All the pieces should be broken but not made into a powder. Now take the pounded pieces in a bowl. Add 1/2 cup of oil to it. If you have oily skin, you can use jojoba oil or grape seed oil. If you have dry skin, you can use extra virgin olive oil, unrefined coconut oil or sweet almond oil but if you're suffering from clogged pores don't use coconut oil.
Now heat this mixture under hot sun for a day. Since it is peak summer here now, the oil was ready within a day but if you live in a place where you can't sun dry directly, you can also use double boiler method by placing the bowl in a larger bowl with gently simmering water till the colour of the oil changes to yellow colour.
Once the oil is infused with the turmeric, line a strainer with a thin clean white cotton cloth and pour over the mixture. The clear oil will strain out. Now store this oil in a bottle at room temperature and use regularly.
2. Turmeric Oil Using Powders: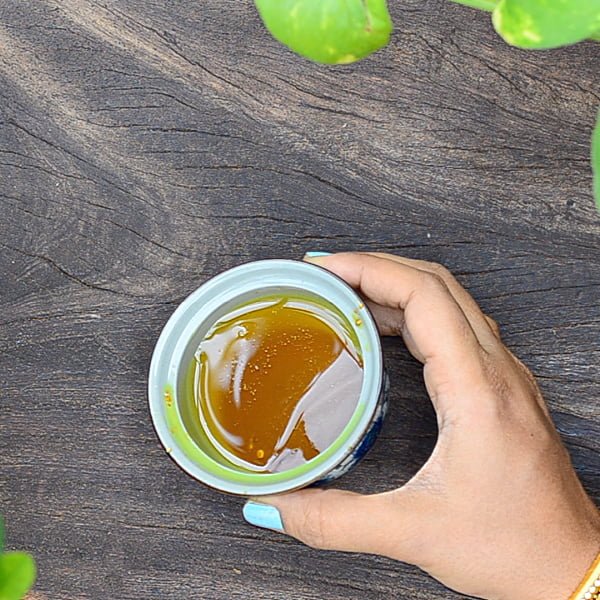 To make the oil using the powders, take half teaspoon of white turmeric powder in a bowl. Add in 1/2 teaspoon of regular turmeric powder. Finally add in 1/2 teaspoon of kasturi turmeric powder too.
Add in 1/4 cup of oil of your choice. Now mix well with a whisk till the powders and the oil are combined together well. Now sundry this mixture under hot sun for two to three hours. You can also use the double boiler method I mentioned before for making the oil if you can't sundry directly.
After two to three hours, the powders would have settled down and the clear oil will float on top. Make sure not to disturb the mixture and transfer the clear oil alone onto a bottle. If you want a very clear oil like the first method, you can strain the oil floating on top using a white cotton cloth too.
This oil will last well for months together at room temperature. To use, take the oil and massage it all over the face and body as long as you can. After the massage, you can have bath as usual using a bath powder or a mild body wash. This oil can be used by all age groups and all skin types but make sure to use the appropriate oil depending on your skin type.