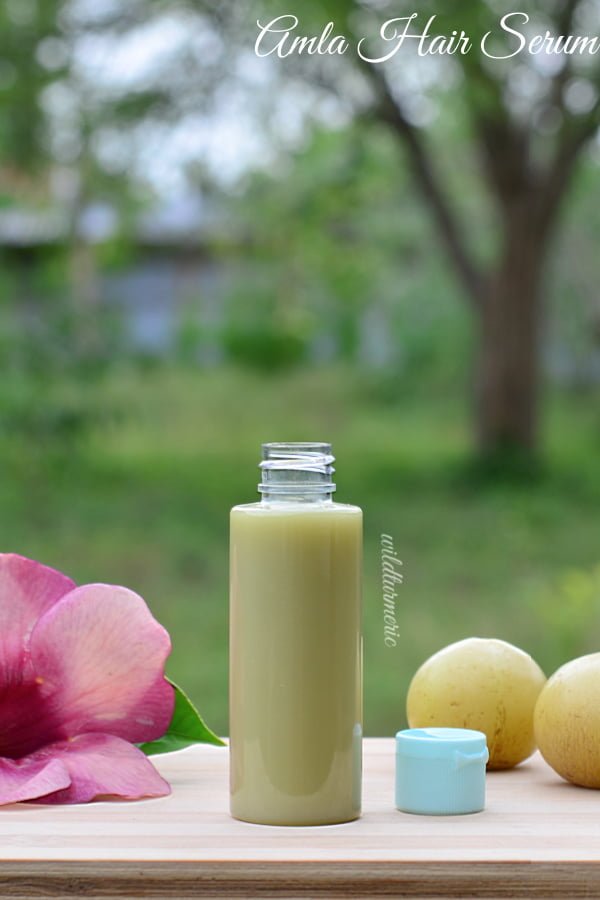 Using amla for hair growth dates back centuries. Amla is one of the ingredients that is very commonly used in most hair care products for treating all scalp and hair problems including hair fall and dandruff.
It also helps promotes hair growth and here in India, amla hair oil is very popularly used for promoting hair growth. I use amla extensively for hair care, I make amla hair oil, amla hair pack and amla hair serum at home and they are very very effective in promoting hair growth.
Amla Hair Care Benefits
Amla helps condition our hair scalp, if you are suffering from dry scalp try applying amla hair oil regularly.
Amla hair pack is one of the best home remedies for treating dandruff and head lice. It also helps strengthen the hair roots if used atleast weekly twice regularly.
Apart from stress and nutritional deficiencies, scalp inflammation is also one of the leading causes for hair fall. Amla helps reduce scalp inflammation as it has powerful inflammatory properties.
It helps promote hair growth and here is a study supporting the claim. Amla stimulates the proliferation of dermal papilla thus enhancing hair growth.
Amla also inhibits 5 Alpha reductase enzyme which converts testosterone to dihydroyestosterone which is responsible for androgenic alopecia. Amla hair care products is a very good remedy for treating androgenic alopecia at home.
Amla is rich in nutrients like vitamin C, phosphorus, calcium and iron which are very essential for promoting hair growth.
Many Indian women are anemic and anaemia is one of the major causes for hair fall. Being rich in vitamin C, amla helps with increased iron absorption and is one of the best remedies for treating anaemia.
Amla also helps reduce oxidative stress as it is rich in antioxidants. Oxidative stress can lead to persistent hair fall so consuming antioxidant-rich ingredients like amla is very important.
5 Top Ways To Use Amla For Hair Growth
1. Amla Hair Pack
For the pack, take a tablespoon of amla powder, one tablespoon each of aloe vera powder, bhringraj powder and coconut oil in a bowl. Add in coconut milk to form into a spreadable paste. Apply all over the scalp and hair, wait for 10 minutes and then wash and condition your hair as usual. This pack helps promote hair growth.
2. Amla Hair Serum
Amla hair serum is also an effective remedy for treating all scalp problems from scalp inflammation to dandruff and hair fall. I make it with coconut curry leaves and amla. The serum will be as effective as any expensive store bought hair serums sold in the markets. You can find the video recipe here.
3. Simple Amla Hair Pack
Take 2-3 fresh amla, remove the seeds and grind it along with little water in the mixer and strain. Now take 1-2 tablespoons of fenugreek powder in a bowl. Add in the amla juice and mix well, let it gel for 5 minutes and then apply as a hair pack. Wait for 10 minutes and then wash it off. This is an amazing remedy for hair fall.
4. Amla Hair Oil
Amla hair oil is made by pounding amla and boiling it along with coconut oil till there is no moisture left. The oil will last well at room temperature for a few months and is very effective in conditioning the scalp and also for promoting hair growth. It can be used as a daily application hair oil, you can find the recipe for it here.
5. Amla and Lemon Pack
Take two amlas, remove the inner seeds and take it in a mixer and grind without adding any water and strain. To the concentrated amla juice, add in equal quantities of lemon juice and apply on the scalp. Leave it on for 15 minutes and then wash it off. This is an amazing remedy for treating dandruff.