Bhringraj powder | Karisalankanni powder has amazing hair benefits. It promotes fast hair regrowth and greatly prevents grey hair. Bhringraj powder is the powder of
Bhringraj plant
| Karisalankanni plant whose botanical name is Eclipta Alba. It is an amazing plant with wonderful medicinal uses and is popularly used for promoting hair growth in India.
Bhringraj Common Names:
Bhringraj is the Hindi name and Karisalankanni is the Tamil name. It is called Guntagala Aku in Telugu, False Daisy in English, Gargamuru in Kannada, Tekaraja in Malayalam, Bhangra in Punjabi, Bhangro in Gujarati and Kesuriya in Bengali.
Bhringraj Varieties:
There are two varieties of bhringraj that are very commonly found all over India, one produces white flowers and the other produces yellow flowers. You can either one variety for promoting hair growth.

Bhringraj Powder Hair Benefits:
1. Bhringraj Powder For White Hair (Premature Greying):
Bhringraj is very useful for premature greying of the hair and will greatly help reverse grey hair if used on a regular basis. You can use it in the form of hair pack or hair oil.
2. Bhringraj Powder For Dandruff:
Bhringraj helps treat dandruff really really well and very quickly too. To treat dandruff, apply bhringraj and amla powder hair pack given below regularly.
3. Bhringraj Powder For Scalp Infections:
Bhringraj powder has anti bacterial and anti fungal properties so it treats all the scalp infections really well. It can be used as a home remedy for treating scalp infections like scalp psoriasis, scalp ring worm, scalp itchiness, etc really well.
4. Bhringraj Powder For Scalp Inflammation:
Scalp inflammation can be caused due to either fungal or bacterial infections and since bhringraj powder have anti microbial properties, it helps treat both fungal and bacterial infections.
5. Bhringraj Powder For Hair Fall:
Bhringraj powder when applied as a hair pack helps strengthen the hair roots and arrest hair fall immediately. If you are suffering from hair fall, I would suggest using either one of the bhringraj powder hair packs regularly. You will find that the hair fall stops very very quickly.
6. Bhringraj Powder For Dry Hair & Split Ends:
Bhringraj powder hair packs conditions the hair really well. Regular use will soften the hair really well. If you are suffering from split ends, trim your hair at the ends and regularly use either one of the bhringraj hair packs mentioned below. You will never again suffer from split ends and hair dryness.
7. Bhringraj Powder For Baldness:
Regularly applying bhringraj oil will greatly help regrow hair in bald spots. Some women have bald spots in front hair line which is usually caused by tightly tying the hair into a ponytail or plait.
A simple remedy for that is to not tie the hair too tightly and applying bhringraj hair oil (made either from fresh bhringraj leaves or bhringraj powder) on the bald spots daily. It will quickly help get back lost hair.
8. Bhringraj Powder For Hair Growth:
Applying bhringraj powder hair pack will greatly help with hair growth. It improves the blood circulation, stops hair fall and encourages new hair growth. Try to use bhringraj hair packs regularly to see good results.
Consuming Bhringraj Powder For Hair Growth (Dosage):
Bhringraj powder can be taken internally for hair growth and for treating premature greying of the hair. The general suggested dosage is around 1/2 tsp per day.
Bhringraj Powder Side Effects:
Bhringraj powder when applied externally does not cause any side effects at all. When consuming bhringraj powder internally, try not to overdose to prevent side effects.
Where To Buy Bhringraj Powder?
You can buy bhringraj powder in most departmental stores in India. You can also order it online else make your own bhringraj powder by sun drying the leaves and then powdering it in a dry mixer….
3 Top Ways To Use Bhringraj Powder (Karisalankanni Powder) For Hair Growth:

1. Coconut Oil & Bhringraj Powder Hair Oil For Grey Hair: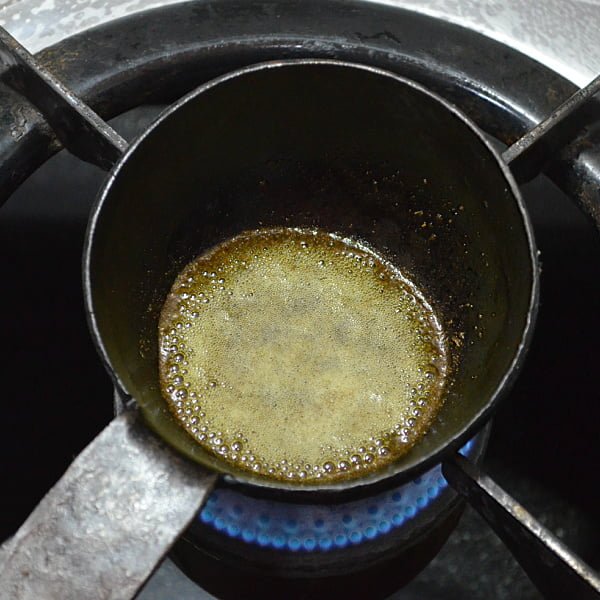 I always prefer making bhringraj oil only with fresh bhringraj leaves but if you don't have access to fresh leaves, you can try making it with bhringraj powder.
To make bhringraj powder hair oil, mix 1 tbsp of organic bhringraj powder in 1 cup coconut oil and take it in a thick bottomed pan. Start heating in low flame. Once it starts sizzling, switch off, let cool and strain. This oil is an amazing hair growth oil.
2. Bhringraj & Amla Hair Pack For Hair Regrowth: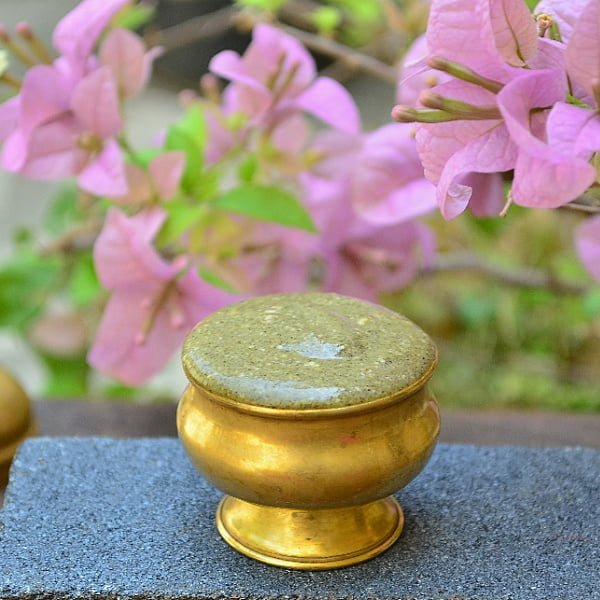 Take equal quantities of amla powder and bhringraj powder in a bowl. Add homemade yogurt and mix to form a smooth paste. Apply as a hair pack, wait for 2o to 25 minutes before washing it off. This hair pack treats dandruff, strengthens the hair and is also a good remedy for premature greying of the hair.
3. Bhringraj & Aloe Vera Hair Pack For Hair Loss: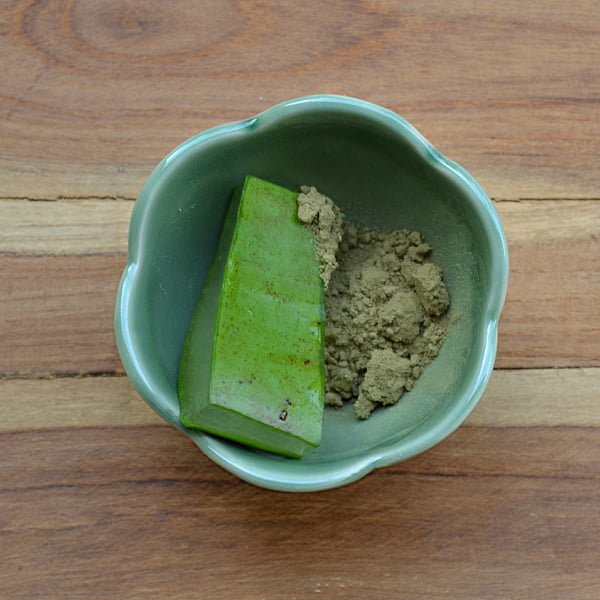 To make bhringraj and Aloe Vera hair pack, take 1 tbsp of bhringraj powder. Now wash and cut the thorns on both sides of a small Aloe Vera leaf and grind both together without adding any water and use as a hair pack. This hair pack will make your hair super shiny and glossy. It will also arrest hair fall immediately.