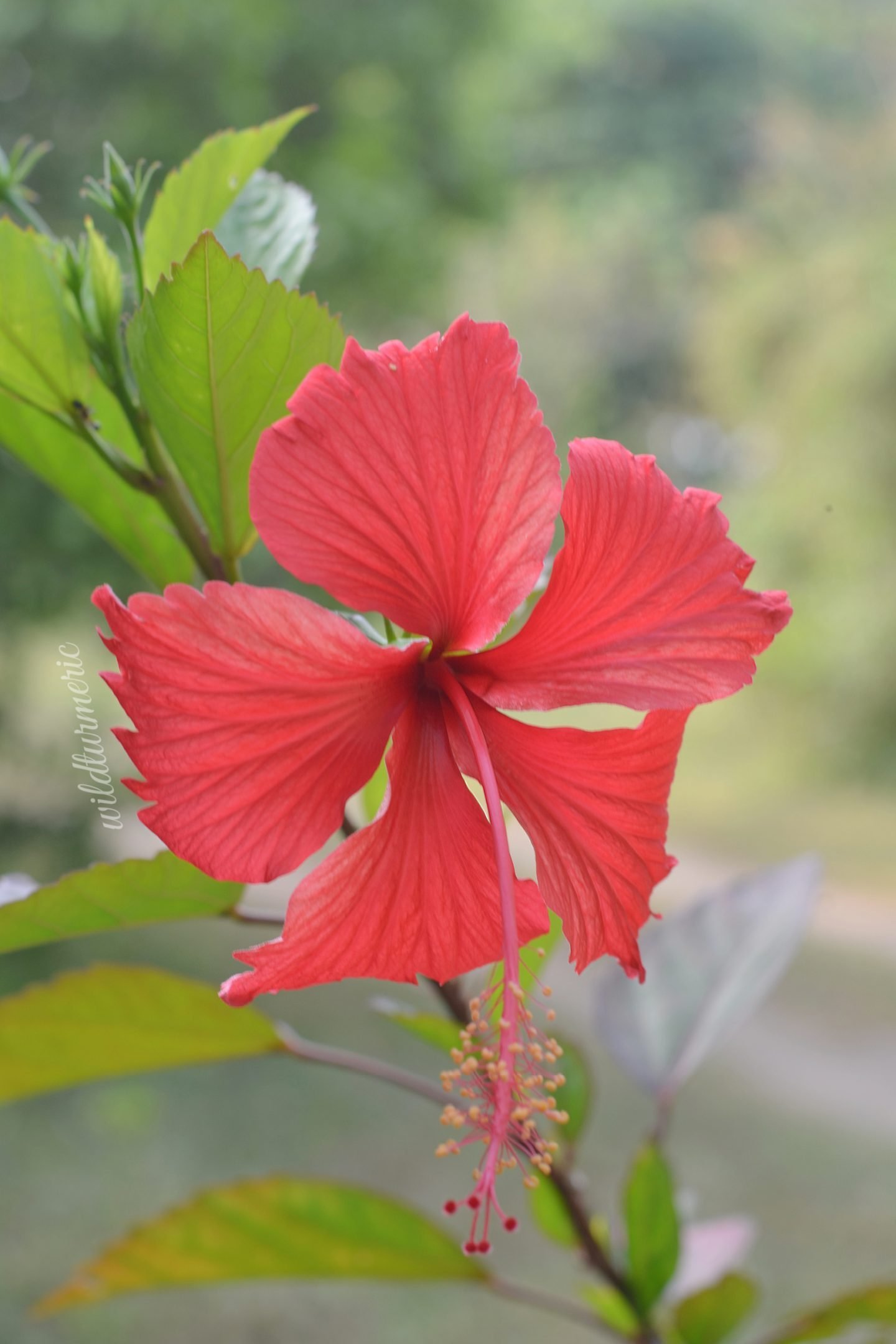 Hibiscus flowers are beautiful and a wonderful addition to any home garden. Hibiscus flowers are not only decorative, they have medicinal uses and health benefits too. We use it extensively for hair and skin care and the tea got by steeping the leaves in hot water is good for diabetic patients and also for people suffering from depression.
What Is Hibiscus?
Hibiscus are flowering plants that belongs to the family Malvaceae. The genus contains several hundred species and they are mostly found in temperate, tropical and subtropical regions. The genus includes both perennial and annual plants, small trees and shrubs like our common hibiscus.
The plants produce large brightly coloured flowers. Out of the different species two are very famous, Hibiscus rosa-sinensis which is the red hibiscus flowers that are commonly found all over India and Hibiscus sabdariffa also popularly called gongura in India. The leaves of Hibiscus sabdariffa are used in cooking and the flowers are used to make tea.
Here I'll be sharing the benefits of Hibiscus rosa sinensis. Hibiscus rosa sinensis is a bushy shrub that produces five petaled red flowers, some times it even grows into a small tree. Hybrid varieties of Hibiscus rosa-sinensis produces different coloured flowers but we mainly use the red coloured flowers.
Hibiscus Botanical & Common Names
Hibiscus rosa sinensis is the botanical name and hibiscus is the common name. It is called sembaruthi in Tamil, gurhal in Hindi, mandara in Telugu, dasavala in Kannada, chembarathi in Malayalam and Jaswand in Marathi.
Hibiscus Traditional Uses
Traditionally, hibiscus leaves are used for hair wash, we grind the leaves along with shikakai and soap nuts and use it for hair wash. It cleans the hair gently without stripping the hair of its natural oils. Hibiscus powder is used in both bath powder recipes and also in hair packs. The flowers are used extensively in prayers and the tea is consumed all over the world.
Hibiscus Flower Benefits & Medicinal Uses
1. Antibacterial properties
Some of the active compounds present in hibiscus like naringenin, luteolin, myricetin, etc exhibits powerful anti bacterial properties against Helicobacter pylori, Bacillus subtilis, Escherichia coli and Salmonella. Due to its antibacterial properties, it also helps heals wounds very fast. A simple wound wash made by boiling hibiscus flowers in water will greatly help with faster healing of the wounds.
2. Antidepressant properties
Flavonoids present in hibiscus flowers have antidepressant and neuroprotective properties. In a study, rats who were given hibiscus extract and made to undergo "tail suspension" test and "forced swim" test exhibited significant decrease in immobility time. Hibiscus tea got by steeping the flowers can be used in the treatment of all CNS disorders including depression.
3. Anticancer properties
Hibiscus tea has powerful anticancer properties against various cancer cell lines including skin cancer. This is due to the presence of high amounts of polyphenols. The water extract of hibiscus inhibited melanoma cell growth in dose-dependent manner without causing any side effects and you can read the study that supports this claim here.
4. Anti Diabetic Properties
Hibiscus extract has antidiabetic properties too and traditionally, it has been used to reduce high blood sugar levels for years. In a study, rats were divided into six groups with each group containing six rats. Group 1 rats were given gum acacia everyday. Group 2 were given diabetic medication alloxan 150 mg.
The third, fourth and fifth group were given hibiscus flower extract at doses of 50, 100 and 200 mg per kg of body weight. Group 6 was given glibenclamide, a standard anti diabetic drug. After 20 days of treatment, it was found that hibiscus extract was equal to diabetic medications in reducing high blood sugar levels and it does this without causing any side effects.
5. Cardioprotective Properties
Hibiscus extract has powerful cardioprotective properties. Any ingredient that is rich in antioxidants and helps reduce oxidative stress will protect our heart and hibiscus extract is no exception. If you are suffering from heart problems, try including a cup of unsweetened hibiscus flower tea often. Even the dried hibiscus powder has been shown to be effective in reducing oxidative stress so if fresh flowers are not available to you, consider consuming tea made with dried hibiscus powder.
6. Hibiscus Flower For Hair Care
Hibiscus is amazing for hair care, we make a lot of hair care preparations with hibiscus flowers and the leaves. We make hibiscus hair pack, hibiscus hair serum and also hibiscus hair oil at home. They help nourish the hair follicles, promotes hair growth and they are also so easy to do.
7. For Skin Care
Hibiscus flowers are rich in antioxidants that help fight of free radicals which is one of the major reasons for premature aging of our skin. They also help reduce inflammation and when added to scrubs and bath powders, they cleanse the skin gently without stripping the skin of its natural oils. I also love to add hibiscus powder in face packs and face serums, it gives a radiant glow to our skin. Drinking hibiscus tea also helps hydrate the skin.
Hibiscus Root
The roots have analgesic (pain reducing), anti inflammatory and antifertility properties. Water extract of hibiscus root has been used to prevent fertility from ancient times. This remedy has been backed by research, In a study done on rats, anti implantation was observed at the dosage of 400 mg per kg of body weight.
Hibiscus Side Effects
Unless you are allergic to hibiscus, external application of hibiscus for hair care and skin care will not cause any problems at all. But to be on the safer side, you can do a patch test before applying it on the scalp or skin. Hibiscus tea if consumed in large amounts regularly will have drug interactions with diabetic medications.
I found a study done on rats showing that large amounts of hibiscus tea during pregnancy can cause side effects. If you are a pregnant women, I would highly suggest consuming hibiscus tea only in very minimal amounts.
3 Top Ways To Use Hibiscus:
1. Hibiscus Flower Tea
Collect two hibiscus flowers, remove the bottom green part and separate the petals. Boil a cup of water and once it comes to a rolling boil, add the petals and switch off. Close with a lid and let it steep for 2 to 3 minutes and then strain, add in few drops of lemon juice. You can sweeten with honey if you prefer.
2. Hibiscus Face Pack
Take a tablespoon of hibiscus powder in a bowl. Now grate 3 tablespoons of coconut. Add little bit of water to it and grind to a paste. Once ground, strain to get thick coconut milk. Mix coconut milk with hibiscus powder and apply as a face pack. This face pack will treat dry and damaged skin and regular use will give a radiant glow to the skin.
3. Hibiscus Hair Serum
At home, we make hibiscus hair serum with fresh hibiscus flowers, hibiscus leaves, kalonji seeds and rosemary essential oil. The serum is so effective in arresting hair fall very soon and it also helps condition the hair if used on a regular basis. To make the serum, boil a handful of hibiscus leaves, 2 hibiscus flowers and a tbsp kalonji seeds along with a cup of rice water and strain. Add in few drops of rosemary essential oil and use it as a hair serum.