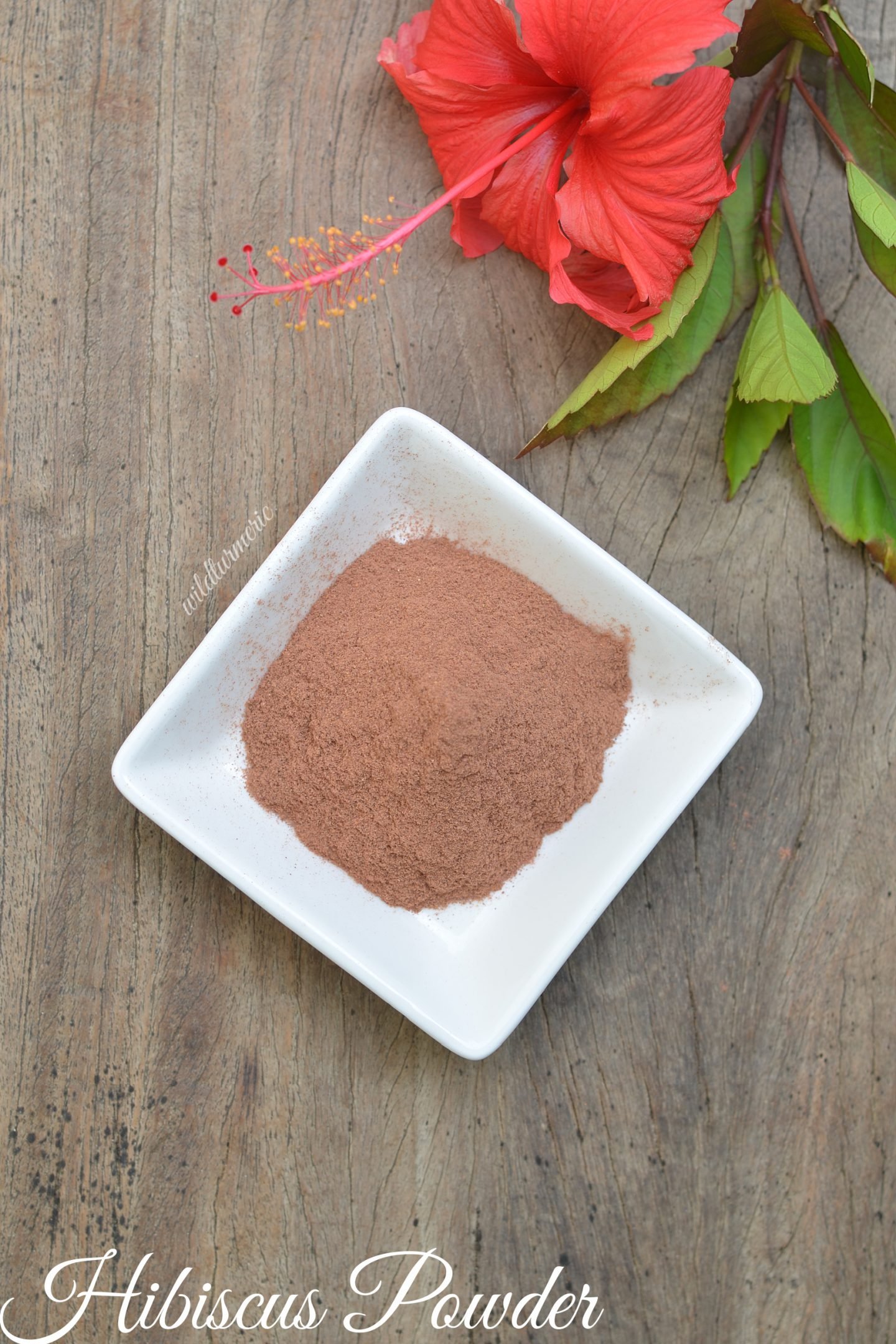 I love to use hibiscus powder for hair and skin care so I always stock it at home. Hibiscus powder can be used in hair packs, hair serums and it can also be added to hair wash powders too. Likewise it can be added to bath powders and face packs too, regular use will make the skin supple, radiant and glowing.
What Is Hibiscus Powder?
Hibiscus are flowering plants that belongs to the family malvaceae. The genus contains several hundred species and the hibiscus powder I am referring to belongs to the most popular species called Hibiscus rosa sinensis. It is the red hibiscus flower that is commonly found all over India.
How To Make Hibiscus Powder?
To make hibiscus powder, collect fresh hibiscus flowers and wash well to get rid of any dirt. Now separate the petals and spread them on a kitchen cloth to remove any excess moisture. Once there is no moisture left, sun dry them till crisp under hot sun covered with a thin mesh. Once crisp from sun drying, take it in a dry mixer and powder it finely. Once powdered, sieve and then store in an airtight box.
Hibiscus Powder Benefits:
For Hair Care:
Hibiscus powder helps promote hair growth when used in hair packs, hair serums and hair wash powders. It cleans the scalp gently and helps nourish the hair follicles thus promoting hair growth. It also helps treat scalp inflammation and other scalp problems like itching and dandruff.
For Skin Care:
When used for skin care, it helps fade scars and blemishes. Hibiscus face pack is a very good remedy for dry skin as it helps hydrate the skin especially if used along with hydrating ingredients like milk or curd. Here in our village, we add hibiscus powder to bath powder recipes and use it every single day. Since it has anti bacterial properties, it also helps heal wounds faster.
5 Ways To Use Hibiscus Powder For Hair & Skin Care
1. Face Pack
To make the face pack, peel a fresh beetroot, cut into small pieces and take them in a mixer. Grind to a smooth paste along with little bit of water. Take the ground paste in a strainer and extract fresh beetroot juice. Now take a tablespoon of hibiscus powder in a bowl.
Add in the freshly squeezed beetroot juice and a tablespoon of milk and mix to form a smooth spreadable paste. Apply this pack all over the face and neck, wait for it to almost dry and then wash it off. This pack will give a nice radiant glow to the skin.
2. Hair Serum
Take a tablespoon of hibiscus powder in a bowl. Add in 1/4 cup of steam distilled rose water, 2 tablespoons of aloe vera gel, the contents of one vitamin e capsule and mix well to get a smooth serum. To use, spray the serum all over the scalp. Wait for half an hour and then have hair wash as usual with a mild shampoo and then condition your hair. This serum is is very effective in promoting hair growth.
3. Hair Pack
To make the hair pack, take 2 tablespoons of hibiscus powder in bowl. Add in a tablespoon of amla powder, bhringraj powder and curry leaf powder. Add in 1/4 cup of yoghurt along with a tablespoon of extra virgin olive oil and mix well.
Once mixed well, apply this paste all over the scalp and hair. Wait for it to almost dry and then wash it off with a mild shampoo and condition your hair as usual. This hair pack will help reduce scalp inflammation and also will help arrest hair fall very very quickly.
4. Wound Wash
Hibiscus has antibacterial properties and if used as a wound wash, it helps heal wounds very very quickly. To make the wound wash, take 2 tablespoon of hibiscus powder in a bowl. Add in 2 cups of water and a drop or two of tea tree essential oil and mix well. Strain the liquid through a thin muslin cloth and use it to wash the wounds.
5. Face Wash Powder
To make hibiscus face wash powder, take a cup of masoor dal powder got by grinding masoor dal after sun drying it till crisp under hot sunlight. Add in 1/4 cup of hibiscus powder, 1/4 cup of licorice powder and 1/8 cup of turmeric powder and mix well. This powder will last well at room temperature for a few weeks if stored away from moisture in an airtight box. Use this powder as a face wash and it will help keep the skin blemish free always.