The powder of the fruit of Terminalia chebula called Kadukkai Powder | கடுக்காய் பொடி in Tamil, Inknut Powder in English, Harad powder | Haritaki Powder | Haritaki Churna in Hindi, Karakkaya Powder in Telugu, Harde Whole Powder in English is truly a medical wonder and has many health benefits and medicinal uses.
Kadukkai powder has been extensively used in Homeopathy, Unani and Ayurveda. It treats a wide variety of diseases and is an ingredient that we first resort to for treating most of the small ailments at home.
Kadukkai Powder Benefits For Health:
Actually the amount of diseases kadukkai powder can cure is astonishing, it is used for treating arthritis, dental problems like caries and bleeding gums, skin problems like acne and eczema, for healing wounds and for neurodegenerative diseases like Alzheimer's.
It is also used for treating constipation, for shrinking hemorrhoids when used externally, for treating ulcers very effectively, for treating and preventing kidney stones, for improving digestion, for treating cough, sore throat and headache, for treating eye inflammations when used as an eye rinse, for improving immunity, for treating fever along with reducing cholesterol and blood sugar levels!
Kadukkai powder has antioxidant, anti cancer, hepato protective, anti mutagenic properties, anti viral, anti fungal, anti protozoal, chemo protective, cardio protective, anti bacterial, wound healing and anti arthritic properties! No wonder it is called the king of all herbs :).
Kadukkai Powder For Skin:
Kadukkai powder is well known for it's ability to treat a wide variety of skin diseases. Kadukkai powder inhibits melanin production and has been proven to be very effective for removing pigmentation.
Since it is rich in antioxidants, it prevents cellular ageing and keeps the skin blemish free. It is also an amazing blood purifier and an amazing astringent. When we suffer from skin problems like acne, it greatly helps reduce inflammation and also helps treat it.
Kadukkai Powder For Hair:
Kadukkai Powder is an amazing ingredient to use for hair. Since kadukkai has anti microbial properties, it treats all scalp infections really well. The best way to use kadukkai powder for hair is to make a hair pack with it. Applying kadukkai hair pack will treat all scalp problems and promote very fast hair growth.
Where To Buy Kadukkai Powder?
We get kadukkai powder easily in India, even some departmental stores stock it regularly as it is always in high demand. You can also order kadukkai powder online too. While buying kadukkai podi, make sure it is just kadukkai powder as we get blends of different herbs with kadukkai as a chief ingredient too.
Kadukkai Powder Dosage:
Usually 1/4 to 1/2 tsp of haritaki powder is the daily suggested dosage for adults depending on the disease. I would suggest slowly increasing the dosage overtime to prevent side effects. I would also kindly suggest consulting a physician for the correct dosage depending on your body type.
Kadukkai Powder Side Effects:
Kadukkai powder can be taken for long duration's without any side effects as it has low toxicity but if you are on any medications please consult an ayurvedic doctor for the correct dosage. Pregnant women should not take kadukkai powder internally.
Lactating mothers should never take kadukkai powder as a single herb in large dosage as it might reduce breast milk and even then I would suggest consulting with a doctor before consuming. It is best to avoid kadukkai powder in children below 5 years old and if you plan to give them, do it only under medical supervision..
5 Top Hair, Skin & Health Benefits & Uses Of Kadukkai Powder (Haritaki Powder)
1. Kadukkai Powder For Weight Loss:
Kadukkai powder prevents bloating sensation, acidity and helps in proper assimilation of food. Kadukkai powder is a natural
blood purifier and it helps to remove the toxins in the body.
Consuming kadukkai powder will regulate the hunger and combined together with a sensible diet and exercise will aid in weight loss naturally. To use kadukkai powder for aiding weight loss, mix 1/4 tsp of kadukkai powder in hot water and drink for a few weeks daily.
2. Kadukkai Powder For Hair Growth & Treating Grey Hair: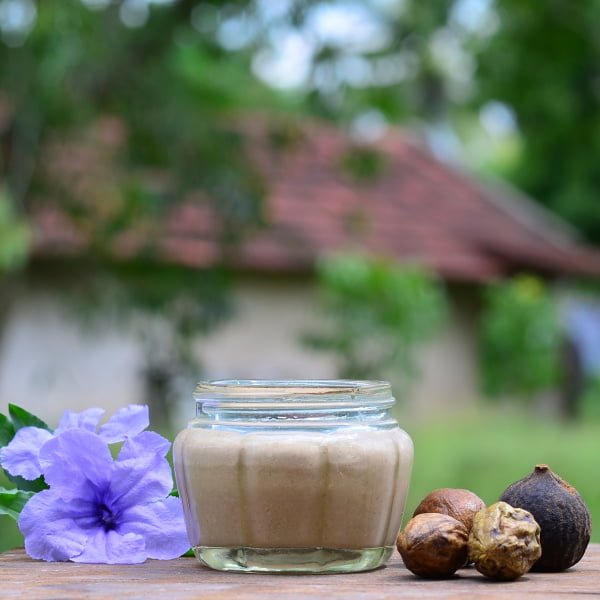 Kadukkai powder hair pack is a great way to treat all scalp problems including hair loss, dandruff and grey hair. To make haritaki powder hair pack, mix 1 tsp each of bibhitaki powder, amla powder and kadukkai powder in a bowl. Now add in enough yogurt to form a paste. Now apply on the hair and scalp, wait for 15 to 20 minutes before washing it off. Continue using this hair pack weekly once for best results.
3. Kadukkai Powder For Constipation:

Kadukkai powder is a natural laxative that is available to us. Many suffer from constipation and take medicines for it continuously. Having a traditional diet that is rich in fiber and using natural laxatives like kadukkai podi | powder will keep our bowels in good health.
Stock up on this natural laxative and use it whenever you suffer from constipation. For the remedy, take 1/4 tsp of kadukkai powder in a bowl, add a cup of warm water to it and drink it before going to bed. You will find yourself free from constipation the next day morning.
4. Kadukkai Powder Face Pack For Acne:
Kadukkai powder face pack has got antibacterial properties making it very effective for treating acne. A simple paste made with kadukkai powder and boiled rice water when applied on acne heals it very quickly and prevents scars from forming.
Another wonderful use of kadukkai face pack is UV protection, kadukkai when applied on the skin topically prevents UV damage very effectively and this use has been proven through clinical research too.
5. Kadukkai Powder For Teeth:
Kadukkai powder has anti cariogenic properties and can be used for treating most of the dental problems. It prevents tooth decay and helps treat mouth odor and bleeding gums very effectively. The best way to use kadukkai powder for teeth is by making a mouth rinse with it.
Kadukkai mouth rinse also treats mouth ulcers very effectively. For making the mouth rinse, Mix 1/2 tsp kadukkai powder in a cup of water along with a pinch of Himalayan salt and use it as a mouth rinse. This mouth rinse usually gives good relief from most of the dental problems.
How To Make Kadukkai Powder At Home :
You can buy kadukkai powder easily in the markets but you can also make kadukkai powder easily at home too. Try to do it during hot summers when you have plenty of sunlight as the kadukkai fruits should be sun dried well before powdering them.

METHOD:
1. Take kadukkai in a plate and sun dry till crisp.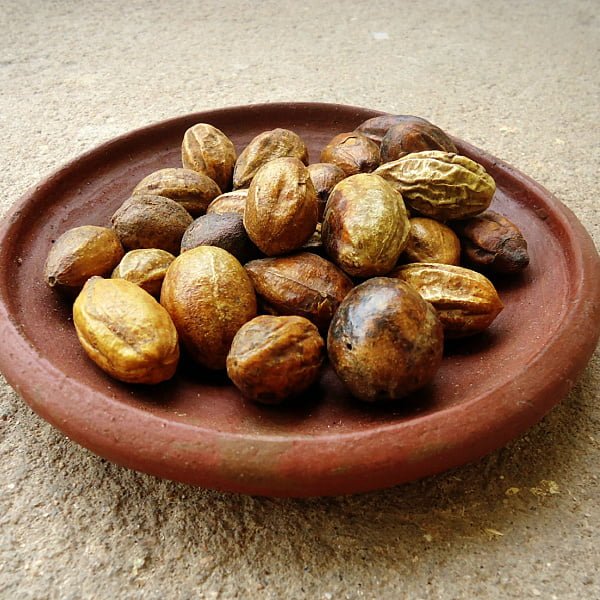 2. Break the kadukkai in a mortar and pestle and remove the seeds.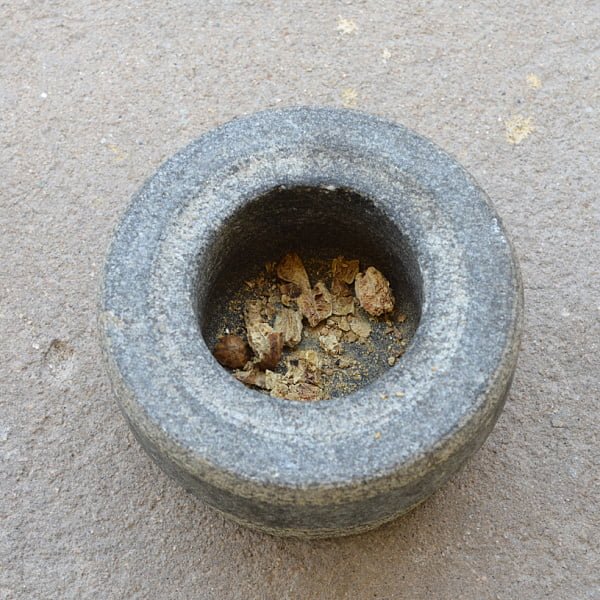 3. Powder the skin to a fine powder either in a mixer or in a mortar and pestle.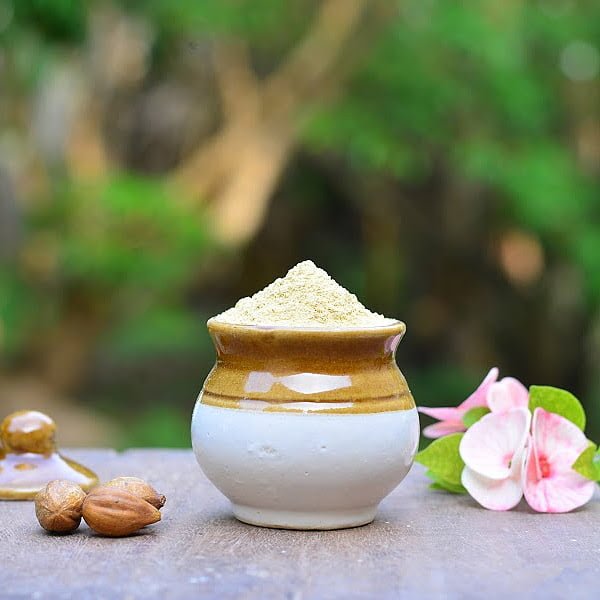 NOTES:
Don't boil the kadukkai powder, only pour the hot water on top of it.
Remove the seeds before powdering the skin while making kadukkai powder.
Kadukkai powder is slightly bitter so the decoction will also be slightly bitter.
If you feel the amount given is very bitter for your taste, reduce the amount of the kadukkai powder dosage given.
Strain the decoction before drinking.
You can add honey to sweeten kadukkai decoctions too.