Neem is one of the best natures wonder that helps treat almost all scalp problems from dandruff to head lice. It also helps promote hair growth. For promoting hair growth, we can use neem in the form of neem hair pack, neem hair oil, neem hair rinse and neem hair serum. Here in our village, we use almost all parts of neem for promoting hair growth from neem bark to neem leaves, neem flowers, neem powder and neem oil.
Neem Hair Benefits:
Since neem has antibacterial properties, it helps treat scalp problems very effectively. Neem scalp serum is one of the best home remedies for dandruff and itchy scalp.
Hair fall can also be due to scalp inflammation and neem is very effective for it and I prefer using neem hair packs to reduce scalp inflammation.
Massaging with neem hair oil made with coconut oil and neem leaves helps strengthen the hair roots and promotes new hair growth.
Some people suffer from head lice and there is no better home remedy for it than neem oil. With just a few uses you can get rid of head lice.
Massaging with neem hair oil regularly will help condition the scalp and also prevents hair dryness leaving the hair silky smooth and soft.
4 Top Ways To Use Neem For Hair:
Neem can be used in many ways for hair care, I usually use it in the four ways given below. I always prefer to use fresh neem leaves for all my recipes but if you don't have access to it, use neem powder. You can also use dried neem leaves that we get in the markets.
1. Neem Hair Pack
To make neem hair pack, first we need to make rice water. To make rice water, while cooking rice add more water than usual and cook till rice is cooked and strain out the water.
Now take a tablespoon of neem powder in a bowl, add in a tbsp of bhringraj powder to it. Add in 2 teaspoons of virgin coconut oil too. Finally add in enough of the prepared rice water to form into a smooth lump free paste.
To use, apply this pack all over the scalp and hair, wait for 10 to 15 minutes and then wash and condition your hair as usual. This hair pack reduces scalp inflammation, promotes hair growth and treats dandruff very effectively.
2. Neem Hair Serum
For the neem hair serum, collect a handful of fresh neem leaves and grind it along with little water, strain and extract fresh neem juice. Now to the neem juice, add in a tablespoon of fresh aloe vera gel and few drops of tea tree essential oil, mix well. To use, take the serum and apply it all over the scalp and hair an hour before having hair wash. After an hour, you can have hair wash as usual.
3. Neem Hair Rinse: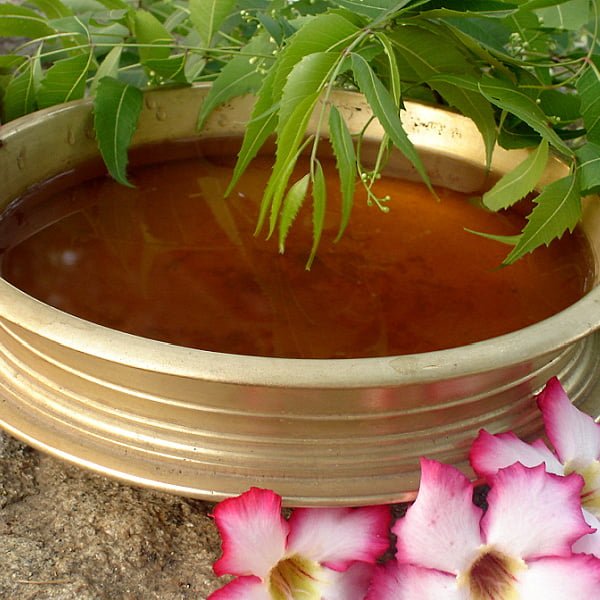 Gather a big bunch of neem leaves and tie them into a bunch with a thread. Boil 1 liter of water in a wide pan. Once the water boils, immerse the neem leaves into the water, make sure the whole bunch is immersed into the water.
Let it boil for 5 minutes till the color of the water changes. Switch off. Now carefully remove the neem leaf bunch from the water and discard. Let the water cool. Once the water has completely cooled, add the lemon juice and mix everything together well.
The neem leaves in this rinse cures itchy scalp and the lemon juice gives a nice sheen to the hair. Use this rinse after you have shampooed your hair. To use, bend down from your hips, pour half of the rinse on your hair. When you are pouring the rinse over the scalp, make sure to apply it to every inch of your scalp.
Repeat the process again with the rest of the rinse. You can even take some of the rinse in your hands and massage it in and then pour the rest of the hair rinse over your scalp. If you do this regularly, you will get good relief from itchy scalp. Make sure not to shampoo after using the rinse however you can rinse with plain water.
4. Neem Hair Oil:
INGREDIENTS:
1 cup sesame oil
1/2 cup fresh neem leaves
1/4 cup fresh holy basil leaves
1 small piece calamus root
METHOD:
Take calalmus root in a mortar and pestle and pound it hard to break into small pieces. If you add the whole calamus root to the oil, it won't infuse it's essence into the oil. Take fresh neem leaves, wash and drain excess water and take in a mixer. Add in the fresh holy basil leaves after washing and draining excess water too.
Grind as finely as you can without adding any water. Heat sesame oil in an iron pan, I prefer iron pan but if you don't have iron pan then you can use any other pan but please don't use non stick pan for making this neem oil. Add in the pounded calamus root, ground neem and holy basil leaf mixture and mix well.
Once mixed well, start heating the mixture in a medium high flame. Since the leaves have moisture content in them, the oil will start bubbling and spluttering. Continue heating and the spluttering will reach it's peak. As you continue boiling, the water content will fully evaporate and at one point the spluttering will reduce and stop.
At that point, switch off, cool and strain. Store it in a glass bottle. To use, warm the oil, massage it well into the scalp. Wait for an hour before washing it off with a mild shampoo.