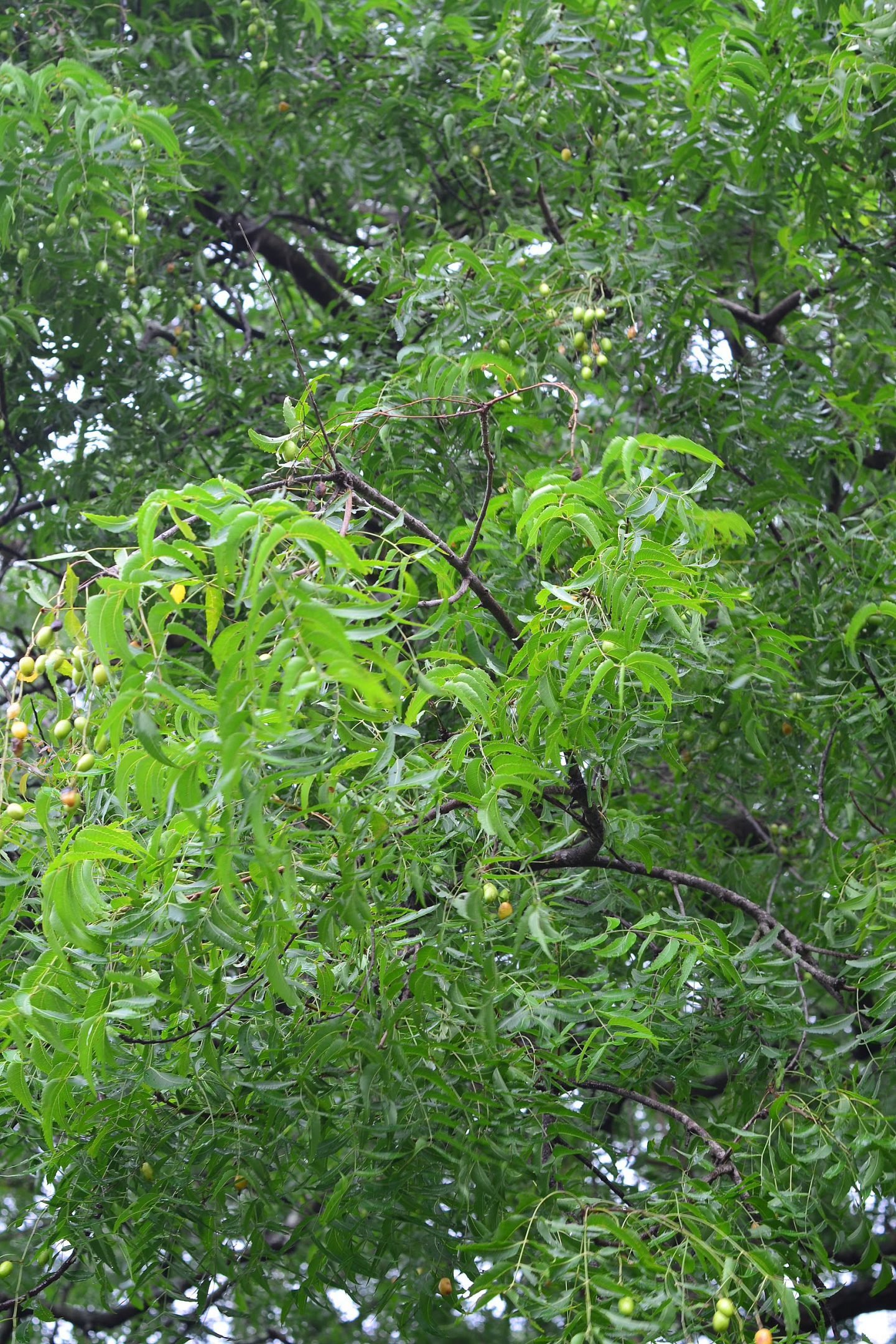 I can only call neem leaves a natures miracle because of it's wide medicinal uses and health benefits. We use almost all parts of the neem tree including the leaves, fruits, bark in home remedies extensively from treating intestinal worms & reducing high blood sugar levels to improving immunity.
We also use it extensively for both hair and skin care, we use it for treating dandruff, head lice, promoting hair growth, reducing scalp inflammation and all kinds of skin diseases including acne, eczema and scars!
We use neem in the form of neem powder, neem oil, neem tea and neem juice, all forms of neem are very very effective. We have a very very huge neem tree in front of our house that is more than 100 years old. I am so fond of that tree and always keep using the leaves for most of my remedies.
What Is Neem?
Neem also commonly called margossa is a large tree that is native to India. Neem is widely used in all forms of Indian medicine like Ayurveda, Homeopathy and Unani and many important Indian herbal formulations contains neem as a base ingredient. Neem tree belongs to the family Meliaceae and apart from India, it is also found in countries like Bangladesh, Pakistan and Nepal. The tree has compound leaves and the fruits are oval shaped and turns golden yellow when ripe. The leaves are very very bitter but the ripe fruits actually tastes nice.
Whenever me or anyone in my family suffer from any kind of skin disease, almost 90 % of the time the first 2 ingredients that I reach out for are fresh neem leaves and turmeric. Neem leaves have anti bacterial, anti microbial, anti viral, anti fungal and anti inflammatory properties making it a very important ingredient that can be used for treating wide variety of problems. Now fortunately, world over everybody are becoming aware of the wonderful benefits of neem.
Since I have neem tree in our farm, I prefer to use the fresh leaves in all my preparations but if you don't get fresh leaves in your place you can easily substitute it with good quality neem powder from the markets. You can also dry the fresh neem leaves when you get it and store in an airtight box for future use. Latest research has proven the effectiveness of many of the traditional uses of neem leaves that was practiced by our elders.
Neem Botanical & Common Names:
The botanical name of neem is Azadirachta Indica and neem leaves are called Neem Ke Patte in Hindi, Vepa Aaku in Telugu, Bevinamara in Kannada and Vepillai in Tamil.
Neem Active Compounds
The important active constituents of neem are nimbolinin, nimbin, nimbidin, nimbidol, sodium nimbinate, gedunin, salannin and quercetin.
Neem Traditional Uses:
Traditionally neem sticks were used as tooth brush and neem leaf extract was used as a mouth wash. Neem leaf balls were given as deworming medicine and this is still in practice in many village homes including ours. Neem leaf tea is given to patients with high blood sugar levels and it is also common practice to chew on neem leaves in empty stomach, there are many benefits of eating neem leaves in empty stomach. Neem powder is used in bath powder and hair pack recipes extensively.

Neem Leaves Health Benefits & Medicinal Uses
1. Antioxidant Properties
All parts of neem tree including the leaves have antioxidant properties. Antioxidants are very important in reducing the free radicals which are the major cause of premature aging and neem extract is one of the best. Try to use neem both in hair and skin care regularly to prevent premature ageing of the skin and hair.
2. Anticancer Properties
Neem contains high amounts of flavonoids and compounds like nimbolide, azadirachtin and limonoids that play an important role in preventing cancer. High flavonoid intake has been proven to decrease the risk of cancer. Neem inhibits angiogenesis (prevents blood supply to the cancer cells which is essential for their growth), suppresses oncogene expression (mutated genes which develops into tumors) and induces apoptosis (cancer cell death) making it one of the best ingredients for cancer prevention.
3. Anti-inflammatory properties
Here in a our village, we use neem for reducing all kinds of inflammation and the anti-inflammatory property has been proven through research now. We use neem hair pack for reducing scalp inflammation and neem poultice for reducing pain and inflammation of wounds. We also use neem poultice to reduce inflammation in dogs and cows too.
4. Hepatoprotective Properties
Nimbolide present in neem has liver protective properties and greatly prevents liver toxicity. A study has proven that neem leaf extract is very effective against paracetamol induced liver damage in rats and it is also effective in protecting the liver against antitubercular drugs induced hepatotoxicity.
5. Wound Healing Properties
Neem is wonderful in healing wounds and we use it all the time. Even for small scrapes and wounds, we apply neem poultice and it is so effective. We usually apply neem extract separately or use it along with turmeric.
6. Antidiabetic Properties
Traditionally diabetic patients who are suffering from high blood sugar levels used to consume few tender neem leaves in empty stomach to reduce sugar levels and this has been proven through research. Neem extract helps improve oral glucose tolerance and significantly reduces the intestinal glucosidase activity.
7. Antimicrobial Properties
All parts of neem tree have wonderful antimicrobial properties and inhibits various kind of bacteria viruses and fungi. In a study done on the bacteria isolated from the mouth, the bark and leaf extract showed powerful antibacterial properties against all the test bacteria! Both fresh neem leaf extract and neem oil can be used. Neem also possesses anti malarial properties.
8. For Dental Problems
Neem has been used for treating all kinds of dental problems for centuries. We use neem sticks to brush the teeth and neem leaf extract as a mouth rinse. In fact it is been proven that neem leaf extract is equal to store bought expensive mouth rinses in treating all dental problems.
9. Has a Protective Effect
Neem has a protective effect on our kidneys, brain and liver. Consuming neem leaf tea will protect us from all kinds of toxicity, here in our place neem leaf extract is given to reduce toxicity. It is also a very very powerful insecticide and protects us from pathogens. It will be a great loss if we don't use this wonderful herb in our day to day life.
10. For Skin & Hair Care:
Neem leaf extract also has been proven to be very effective against all the skin diseases and this use was well known to our elders as they used the leaf extract for treating many common skin diseases like acne and even other serious diseases including ring worm, eczema and scabies. We also use neem extract for promoting hair growth too.
Neem Leaves Side Effects:
Neem extract has been proven to have reversible anti fertility properties, if you are planning on pregnancy I would suggest not consuming neem leaf extract. You can read about the study proving it's anti fertility properties
here
. I have given some of the ways I use neem leaves often below, hope you will find it useful.
Where To Buy Neem?
Since neem tree is very common in India, you can easily get neem leaves if you are living in India. But if you are living abroad, try neem powder and dried neem leaves. Some people hike up the price of neem products saying that it is organic, neem tree does not need any pesticides so all neem products are organic. When buying neem oil make sure to buy cold pressed neem oil as it retains all the benefits.
5 Amazing Skin, Hair & Health Benefits & Medicinal Uses of Neem Leaves:
1. Neem Leaves Antiseptic Wash
This homemade antiseptic wash made with tamarind leaves has amazing medicinal uses. It can be used for cuts, wounds, allergies, skin infections and scrapes, it is very effective in treating and healing wounds naturally. This antiseptic wash is made with tamarind leaves and neem leaves.
Both neem and tamarind leaves have powerful antiseptic properties and together they help in faster healing of the wounds. To make this antiseptic wash, first collect fresh tamarind and neem leaves. Boil water in a wide pan and once the water comes to boil, add both the leaves all at once.
Boil till the leaves change color, once the color of the water changes to light green color, switch off. Cool and use it as an antiseptic wash to wash the wounds. Try using it both morning and evening for best results.
2. Neem & Apple Cider Vinegar For Hair Growth: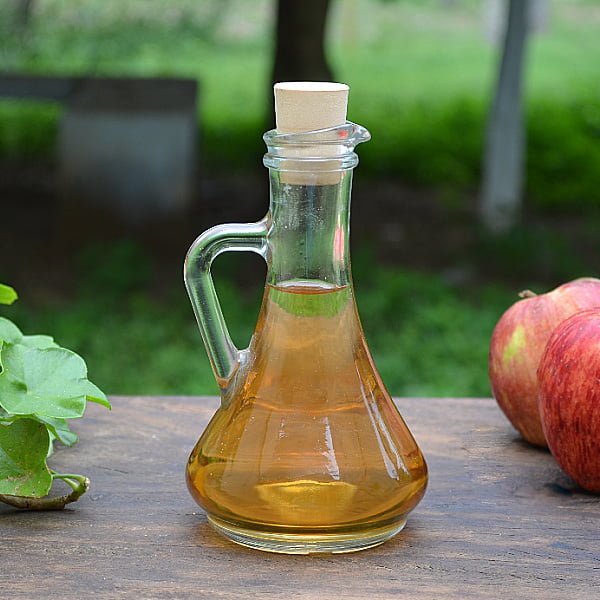 This hair rinse made with neem leaves and apple cider vinegar not only treats itchy scalp but promotes hair growth too. Apple cider vinegar in the recipe is also the best to remove product build up. This apple cider vinegar & neem hair rinse also improves circulation in the scalp, treats dandruff, prevents hair loss and gives a nice sheen to the hair.
This rinse is very simple and is made by making an infusion of neem leaves, water and apple cider vinegar. To make the rinse, boil 1 cup water and a handful of neem leaves in a pan. Once the neem leaves have slightly wilted, remove from the fire, strain and add 1 tbsp apple cider vinegar. Cool and use it as a hair rinse. This hair rinse treats itchy scalp along with removing product build up from the scalp.
3. Neem Leaves For Deworming: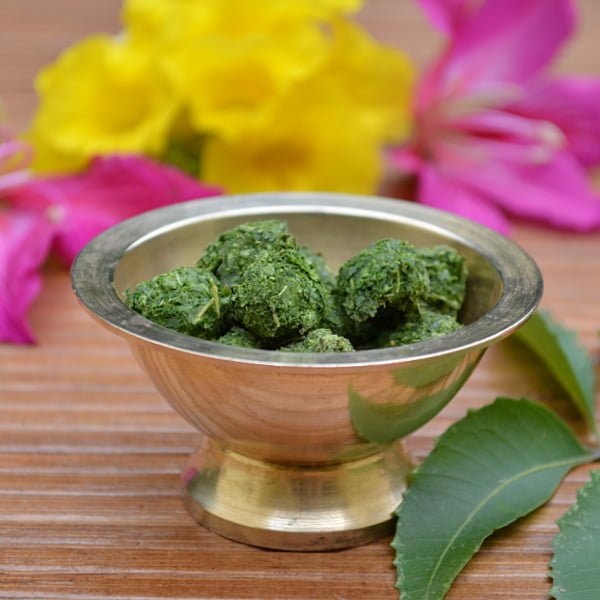 I am sure many South Indians must have heard or used this remedy for deworming naturally. It is a pill made of tender neem leaves, dry ginger, carom seeds and crystal salt (kal uppu in Tamil). In some homes, they only use the neem leaves and the salt.
We call homemade pills "kulikaikal" in Tamil and usually different herbs are dried, powdered and made into pills. These pills are very effective and usually they are made during summer months as we need plenty of sunlight to dry these pills. Since they are made of neem leaves, these deworming pills are very bitter, but they are very very effective in deworming.
This medicine (usually 3 pills) has to be taken in empty stomach. Dry ginger and carom seeds are also best ingredients for rectifying all the problems of the stomach. You can find the step by step instructions for making the pills here.
4. Neem For Acne & Acne Scars: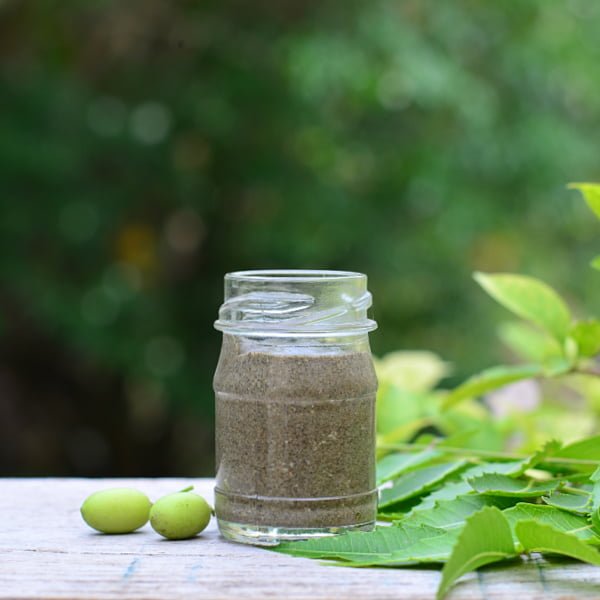 There are many good home remedies for acne and this remedy with neem is one of the best. This treatment for acne starts with a face pack which has got turmeric and neem leaves. After the face pack, neem oil is made into a cream and applied on the face. Though it is a bit messy and time consuming to make the paste, this treatment is very very effective for acne.
This treatment fades acne scars and prevents new ones from forming. Since this is a natural treatment please don't expect instant results, but if you use regularly it will give the best results. To make the face pack, rub a piece of organic turmeric on a coarse stone and collect the paste. Collect fresh tender neem leaves, add the turmeric paste and grind to a smooth paste.
Now apply the face pack and wait for it to dry. Once dry, wash it off without scrubbing the face especially if you have a lot of acne on the face. Pat dry and apply neem cream and massage it gently well into the skin. At first you might find the smell of neem cream too strong, but with regular use, trust me you will get used to it. And if you see the results, you might even start loving it 🙂
5. Homemade Neem Mouth Wash: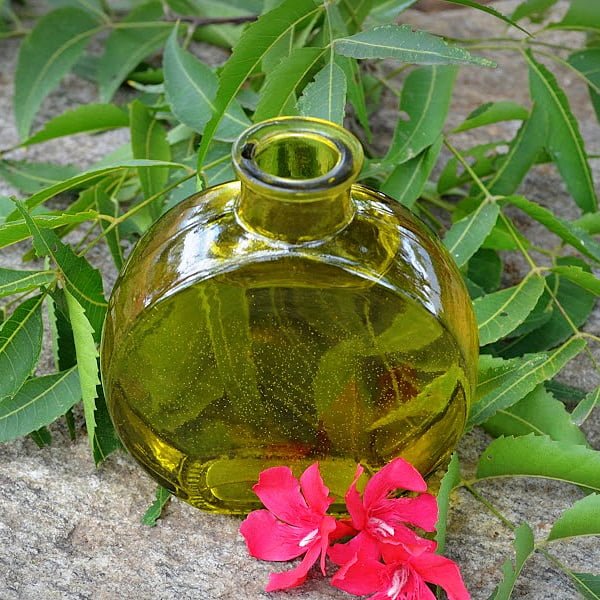 To make the homemade mouthwash, collect fresh neem leaves, separate the leaves and the stalk. Don't throw away the stalk, cut them into small pieces. Boil water in a pan with crystal salt and the cut stalks of the neem. Once it comes to a rolling boil, add the fresh leaves and switch off. Let it cool, strain and bottle. I felt this method of boiling only the stalks and adding the leaves at the end reduced the bitterness of the mouthwash.
This mouthwash can be stored in the refrigerator and used regularly. People with swollen gums, mouth ulcers, mouth odor and bleeding gums will greatly benefit using this homemade mouthwash. Try to use this homemade mouthwash regularly for few days both morning and night to get the best results. When we use this mouthwash, there will be a slight bitter taste but that will go away if you rinse your mouth again with water. To use, rinse mouth with 1 tbsp of mouthwash after brushing twice daily