When I was younger, though I made a great fuss for eating most of the greens, I used to readily eat ponnanganni keerai. That is because my grandma always kept repeating that if we eat ponnanganni keerai, it will make our body glow like gold. I used to literally take her advice and if anyone offers me any dish made with ponnaganni, I used to eat it readily. True to her words ponnanganni is full of iron, calcium and other vital nutrients that makes our hair and skin glow.
It is called sessile joy weed in English, gudrisag in Hindi and it's botanical name is Alternanthera Sessilis. The name ponnanganni itself means glow like gold. Ancient books also advice that if we eat ponnanganni daily for a period of 48 days, our body will start glowing. That is because it so rich in vital minerals and nutrients that in that time frame of 48 days, it heals the body of all deficiencies. It is advisable to include ponnanganni keerai at least weekly twice in our diet.
Ponnanganni keerai tastes very delicious when it is cooked with lentlis or made into a soup. You can also make a simple stir fry with ponnanganni and it can be had for lunch along with rice and few drops of homemade ghee. Ponnanganni oil or thailam is very famous in Tamil Nadu and it treats excessive body heat and headaches one experiences during hot summer months.
Here in Tamil Nadu, we get ponnanganni keerai very easily in the markets, if you can't get ponnaganni keerai, try growing it. It is easier to grow, if you don't have much garden space, you can grow it in huge pots too, that way you will get fresh greens weekly twice. Most of us neglect these greens because we don't know how to use it. I have given all the different ways to cook and use this keerai, I hope you will find it useful….
4 Top Ponnanganni Keerai Recipes For Hair, Skin & Health:
1. Ponnaganni Keerai Kootu For Glowing Skin :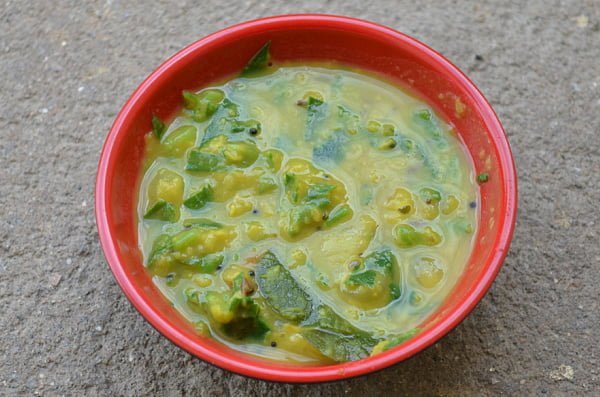 Though we make ponnanganni keerai poriyal often in my home, this Ponnangani kootu is a very very nutritious recipe that we should often make at home. To make it, first boil 1/4 cup of toor dhal along with 1/8 tsp of turmeric powder and few drops of castor oil along with required amount of water in a cooker till it is fully cooked.
In a pan, heat a tsp of sesame oil and season with mustard seeds and cumin seeds and wait for it to splutter. Once it splutters, add finely cut shallots, curry leaves and fry well till the shallots turn golden. Add 1/3 tsp of sambar powder along with cut ponnanganni keerai leaves and fry till the keerai wilts, add water, salt and let it boil.
Once the keerai is cooked, add the boiled toor dhal along with a tbsp of freshly grated coconut. Switch off when it reaches the desired consistency, this kootu is best had with hot rice.
2. Ponnagani Keerai Thailam or Oil:
Ponnanganni keerai thailam is quite popular and is the best home remedy for treating redness of the eyes. If we use it for taking oil bath, our body will remain cool and it will help us get clear eyes. If we watch any child's eyes, it will be always crystal clear. As we grow older, along with us tensions and stress also grow.
For most of us, our eyes are always slightly red and even on good, stress free days, it is never crystal clear. Oil bath with traditional oils like ponnanganni relaxes our body and eyes so well that with regular use gives crystal clear, bright eyes. To make it, bruise the leaves and heat it along with unrefined sesame oil, strain and use it for oil bath.
3. Ponnaganni Keerai Dosai For Anemia:
This ponnanganni keerai dosai or pancakes is quite tasty, very healthy and regular intake prevents anemia. It also can be made in a matter of minutes and is the ideal way to give ponnanganni keerai to children. To make the dosai, heat a tsp of unrefined sesame oil in a pan.
Add the finely cut ponnanganni keerai and onions along with salt and pepper and fry till the keerai wilts and is almost cooked. Take a dosa pan and make small thick dosas using regular dosa batter and spread this mixture on top and cook on both sides. Serve it with chutney of your choice….
4. Ponnaganni Keerai Soup For Body Pain:
This comforting ponnanganni keerai soup is the best home remedy for body pain and is ideal for convalescents. It is also very easy to make and if you have boiled toor dhal water, it can be made in 10 to 15 minutes. I usually don't like soups that are thickened with cornflour, instead I like boiled lentil water as a soup thickener.
It is very nutritious and at the same time, it is very light and nice. Boil toor dhal like I mentioned above and strain the water alone separately and use the dhal for making kootu. To make the soup, heat few drops of ghee in a pan and fry the finely cut ponnanganni keerai till it wilts. Add the strained toor dhal water along with required amount of salt. Now take cumin seeds, garlic and pepper in a mortar and pestle and pound it coarsely.
Take the pounded ingredients in a small spice bag (you can also tie the mixture in a clean muslin cloth) and drop it in the soup. Let the soup boil till the leaves are cooked and thickens a bit. Remove the spice bag and serve. You have made one of the healthiest, easiest and tastiest soup on earth 🙂