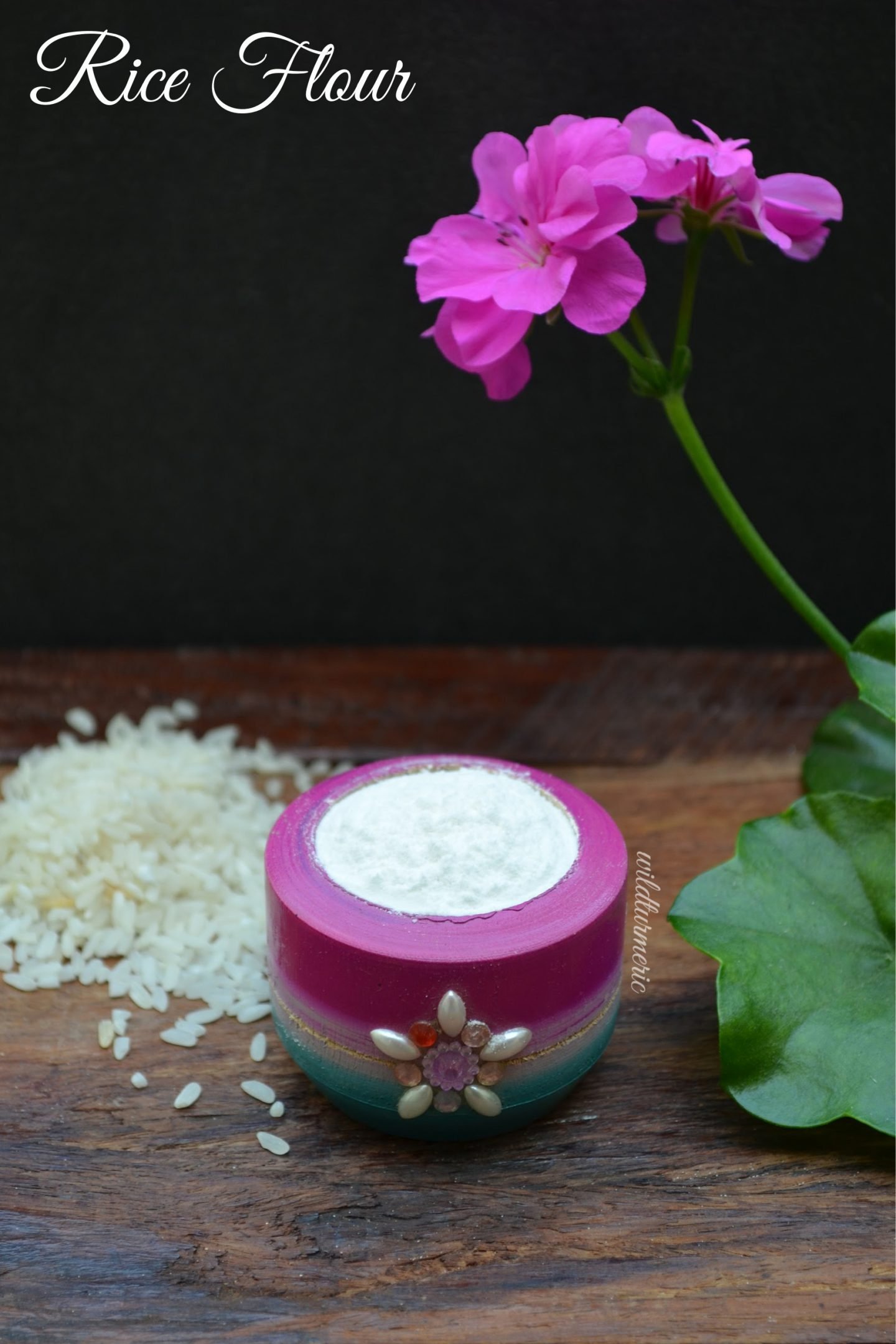 I wanted to share five rice flour face packs that will help lighten scars, blemishes and dark spots from your skin. Rice flour also called as rice powder is just finely ground up rice. Almost every day our skin is exposed to pollution, harsh chemicals and scorching sun light and it does take a toll on our skin resulting in dark spots, pigmentation and dullness. Instead of resorting to harsh chemical peels and creams to get back the skin to former glory, it is best to use natural remedies like rice flour face packs that are gentle on the skin.
Rice Flour Skin Benefits:
1. For Skin Lightening:
One of my favorite ingredients for lightening all the scars and blemishes is rice flour. Rice flour has wonderful skin lightening properties. When I mention skin lightening, what I really mean is lighten scars, dark spots and pigmentation. Every skin color is beautiful but it will be more beautiful if it is even toned and rice flour helps achieve it easily by lightening all skin blemishes.
2. For Anti Ageing:
The bio active compounds found in rice bran are called ferulic acid, gamma-oryzanol and phytic acid. They are wonderful antioxidants and have been used in many skin creams to prevent skin ageing and to repair damaged skin.
3. Natural Skin Healer:
Even a simple act of adding a tbsp of rice flour to bath water and soaking in it has wonderful healing properties and can greatly heal damaged skin, you can read the study that supports this claim
here.
4. Improves Skin Elasticity:
Regular use of rice flour on our face and skin can improve skin elasticity, reduce roughness of the skin and can lighten our skin. Try to use rice flour for skin care at least weekly once to see good results.
5. Evens Out Skin Tone:
If you are suffering from hyper pigmentation, I would highly suggest using rice flour, turmeric and besan face pack given below. It even out the skin tone really really well.

Rice Flour For Skin Lightening Tips:
I have given five skin lightening face packs using rice flour that I have tried over the years. All these remedies works really well in lightening scars, pigmentation and dark spots.
Choose the recipe that you like and use regularly at least weekly twice to see good results. You can buy rice flour easily in all the departmental stores in India but you can also make your own rice powder easily at home.
To make rice flour, soak rice for an hour and drain water completely. Now spread it on a thin cotton cloth to get rid of moisture. Once completely dry, dry grind in a mixer and sieve to get rid of any lumps and store…..
How To Use Rice Powder For Face & Skin Whitening | 5 Top Ways !
1. Rice Flour & Aloe Vera Face Pack For Dry Skin:
Mix equal quantities of rice flour and fine caster sugar in a bowl. Add in fresh Aloe Vera juice and mix to form a paste and use it as a face pack. This face pack will not only remove blackheads and whiteheads, it will lighten scars well too. You can also substitute egg white for Aloe Vera juice in this recipe too.

2. Rice Flour & Lemon Face Pack For Glowing Skin :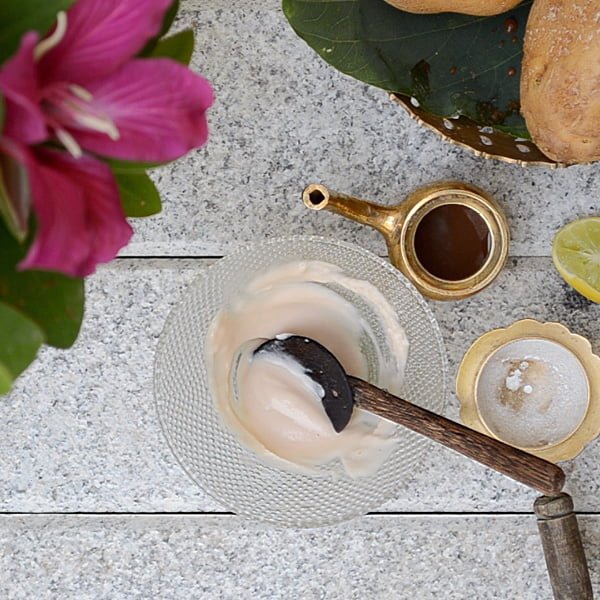 For treating acne scars, take a tsp of rice flour in a bowl. Squeeze in half a lemon. Add in enough potato juice to form a paste and apply all over the face. This natural face pack fades scars and blemishes well.

3. Rice Flour & Besan Face Pack For Oily Skin: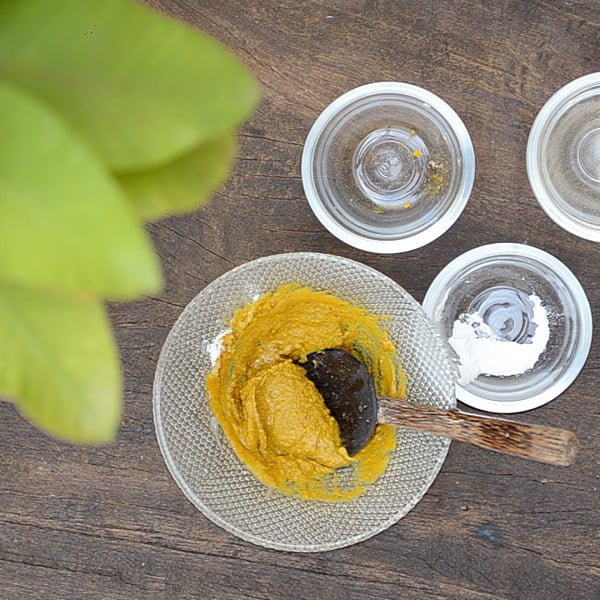 For the face pack, take 1 tbsp each of rice flour, kasthuri turmeric and besan in a bowl. Add in rice water and mix well to form a paste. Apply this pack all over the face, wait for it to dry completely before washing it off. This face pack treats hyperpigmentation very well.
4. Rice Flour Face Mask For Acne:
For the pack, take rice flour in a bowl, squeeze in fresh orange juice to it. Mix well and use it as a face pack, this face pack will treat acne well. I love this combination and use it very often. Both rice flour and orange juice in the pack brightens the skin tone and is very very refreshing. You can also tomato juice for this recipe too.

5. Rice Flour & Curd Face Pack: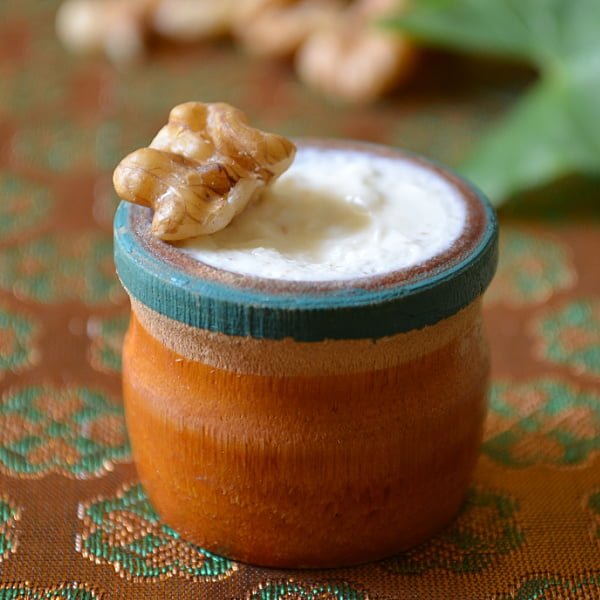 For the pack, grind 3 walnuts in a mortar and pestle. Now add in 1 tsp rice flour and enough curd to form a smooth paste and apply as a face pack. This pack is one of the best skin brightening face packs that is perfect for dry and dull skin. Use it regularly to see good results. If you don't have curd at home, you can use milk too.