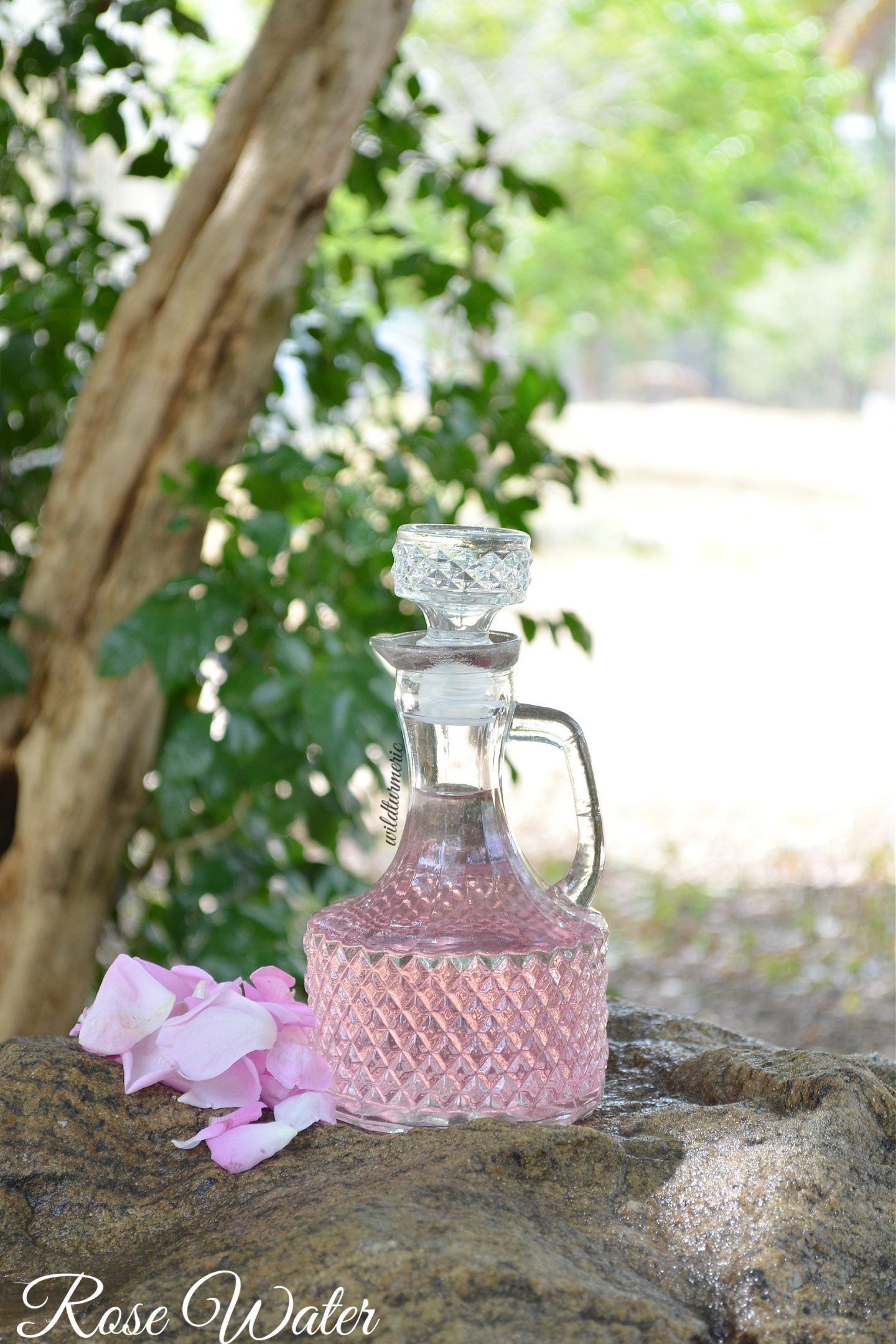 Rose water popularly called gulab jal in Hindi has been used in many hair care recipes due to it's many hair care benefits. Rose water can be used as it is on it's own or it can be used along with other ingredients to treat scalp problems and promote hair growth. I like to use rose water in hair packs, hair serums and conditioners.
Rose Water Benefits For Hair
Rose water has anti-inflammatory properties so if you are suffering from scalp inflammation which is also one of the major cause for hair fall, it can help reduce inflammation very fast. It also helps with scalp psoriasis and scalp boils.
Rose water has mild astringent properties so if you are suffering from excessive oiliness and dandruff, try using rose water in your scalp regularly it will greatly help.
Rose water also helps condition the scalp and because of its antibacterial properties it also helps treat scalp infections very effectively.
Rose water helps tame frizzy hair and I like to include rose water in my homemade hair conditioner recipes and it works excellently.
Rosewater acts as a mild hair perfume if you use it in leave in hair conditioners. Like everybody else I love products that smell good and the smell of roses is my favourite.
Rose Water Side Effects For Hair
Rose water usually agrees with everyone if it is made with pure pesticide free roses else it might cause cause scalp irritation and hair fall. When you are making rose water at home, make sure to use only pesticide free roses. If you are buying rose water, make sure to buy only organic steam distilled rose water. Most of the rose waters we get in the markets are just water mixed with synthetic rose essence so please take your time and research well before buying rose water to avoid any side effects.
Where To Buy Rose Water?
If you don't want to make rose water at home and want to buy it, I would suggest looking out for a brand that is organic and one free of color and artificial fragrance. There are many Indian brands and you can buy them in all departmental stores in India. You can also order pure steam distilled organic rose water online too.
3 Top Ways to Use Rose Water for Hair Care
1. Rose Water Hair Pack With Coconut Oil
For the hair pack, take one tablespoon each of fenugreek powder and amla powder in a bowl. Add in 1 tablespoon of coconut oil. Finally add in rose water to mix into a paste. Apply as a hair pack, wait for 10 minutes and then wash it off. This hair pack is excellent for treating many scalp problems and promoting hair growth.
2. Rose Water Hair Spray
I make a wonderful rose water hair serum at home. I grind fresh beetroot pieces along with rose water and hibiscus and extract the juice. To the extracted liquid, I add in apple cider vinegar and peppermint or rosemary essential oil. This serum is excellent for promoting hair growth and you can find the recipe for it here.
3. Rose Water Hair Conditioner (With Aloe Vera Gel & Glycerin)
Rosewater is an excellent hair conditioner but I like to add other conditioning ingredients along with it like aloe vera gel and vegetable glycerine to get the perfect consistency. Everyone who has tried this recipe loved it you can find the other video recipe here.