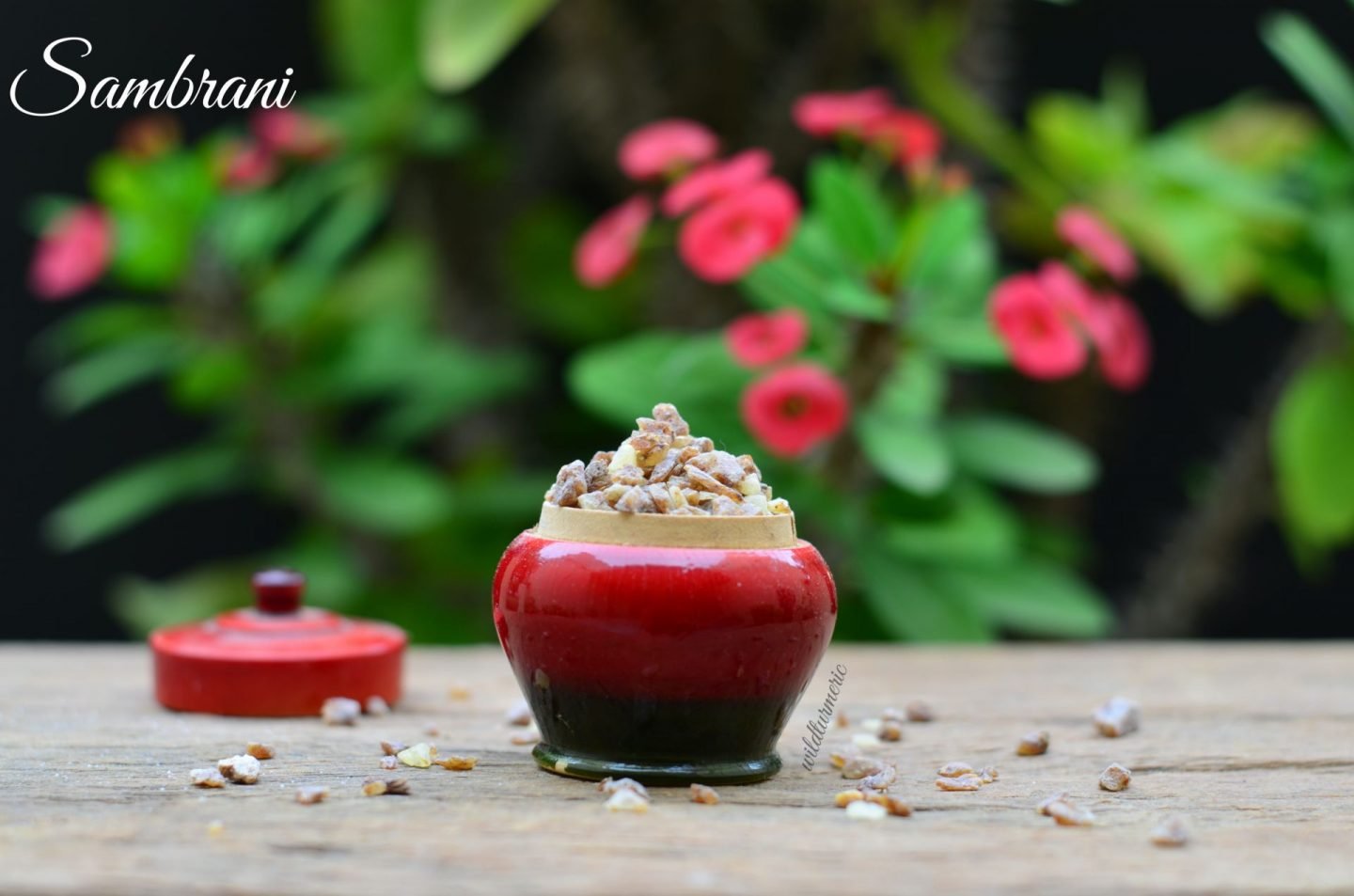 If there is one tradition that I completely love and follow religiously, it is using sambrani smoke. Lighting Sambrani is an ancient tradition that has been followed for many years in Indian due to it's amazing benefits. We use it for drying our hair, for babies and also for warding off mosquitoes!
What Is Sambrani?
It is a balsamic resin obtained from several trees of the family Styracaceae. It is produced mainly in Asia in several countries like Thailand Java, Sumatra, Indonesia and Vietnam. The trees by themselves does not produce any resin, they are produced after deep incisions are made in the bark. Farmers who grow benzoin trees usually pick a spot in the forest usually near already existing benzoin trees. They pick seedlings from the best resin producing tree and when the tree reaches eight years they start tapping for the resin. The resin can be extracted for almost 60 years!
Sambrani Common Names
It is called dhuna in Bengali, kundar in Hindi, lobanaa in Kannada, sambrani in tamil, kunduruvu in Telugu and kundur in urdu
Types of Sambrani
There are two types of benzoin gum commonly available, one is called benzoin gum siam got from Styrax Tonkinensis and the other is benzoin gum Sumatra got from Styrax Benzoin.
Benzoin Gum Siam
It is externally reddish yellow in colour and internally milky white it has got a pleasant odor with a distinct note of vanilla so it is used to flavor artificial vanilla and chocolate products. It is also used in pharmaceutical preparations and in perfumes. It comes in four different grades which range from large shaped resin to almost fine powder.
Benzoin Gum Sumatra
Sumatra has reddish to greyish brown colour and has strong styrax like order which is different from Siam variety. It also comes in different grades and is mainly used in soap and detergent fragrances.
Sambrani Chemical Components
Benzoin Gum Siam
The major constituent of benzoin siam are benzyl benzoate, benzoic acid, methyl benzoate and allyl benzoate.
Benzoin Gum Sumatra
Gum sumatra contains benzyl benzoate, styrene, cinnamic acid and benzyl cinnamate.
How is Sambrani Collected?
The bottom of the tree is tapped and the resin is collected first and then they climb 2 meters above the tapped part and they collect resin again which is repeated. To collect, the bark of the tree is cleaned with a scraper to prevent the resin mixing with impurities when it flows out. Then 5 small wounds in four sides of the tree about 2cm deep is made. the resin flows under the bark and outside. It is usually collected during rainy season or in the early mornings when it is cold so the resin does not melt while collecting which results in resin getting dirty.
What Is Sambrani?
Sambrani is called benzoin resin in English and it is the resin of a tree that is dried, powdered and sold in the markets, either as a powder or in blocks. Sambrani usage has been in the culture for many years and in fact every South Indian home will have sambrani holders that will be more than 100 years old.
Many countries use sambrani, in Arab countries they use it directly and in some countries they use it in incense. You can also use it instead of sandalwood shavings as a base for making incense cones. To light up sambrani smoke, coal is collected in sambrani holder and the sambrani powder is sprinkled over it.
Sambrani Benefits:
Every once in a while when you have plenty of time, take an oil bath, play some divine music, light up sambrani and dry your hair with it. Then you will understand why I am going on and on about sambrani so much 🙂
1. Sambrani Calms Us:
I just love the smell of sambrani, it has a unique beautiful fragrance that is different from the normal incense sticks. The smell of sambrani transports me back in time and somehow fills me with peace and happiness. Even Ayurveda, advises us to use sambrani, as it calms the nerves, and produces tranquility, thus making the person ready for prayers.
2. Sambrani For Hair:
Years back women after having their hair wash, used to light up sambrani and keep a straw basket above it. The steam will seep out of the pores of the straw basket. If we keep our wet hair near the basket, it will dry it very soon and also leave a beautiful fragrant smell in our hair. Even if we have hair wash during winter months, if we use sambrani, we will not get a headache, especially if we have long, thick hair. I try to follow this tradition, once in a while.
3. Sambrani For Babies:
Sambrani is also used for babies, after children have their bath, sambrani is lit and brought in that room. This prevents them from catching a cold but make sure not to bring the smoke too near the babies, as it will make them cough. No auspicious day is complete without sambrani, sambrani is always lit during our prayers and rituals.
4. Sambrani For Mosquitoes:
I regularly light up sambrani every Friday morning, take it to every room in the house, this tradition also wards of mosquitoes and cleanses the whole place. A person who is very good with siddha medicines suggested that I powder neem leaves and kungilium along with sambrani for using it around the home. After powdering it like that, I feel it is even more effective for warding of the mosquitoes.
Where To Buy Sambrani?
Sambrani can be got in all the departmental stores in India. Nowadays a new variety of sambrani called computer sambrani or sambrani dhoop is available. This type does not need any coal, these are like cones made with sambrani, just light them like dhoops. Somehow, I hate them because they produce black smoke and smell so weird. I feel even if we light up sambrani once in a while, we should do it the proper and traditional way with coals.
How To Use Sambrani?

METHOD:
1. This is sambrani powder, it comes as a block or like this in powder form. Use this as such for drying your hair, when using it keep a straw basket above the sambrani holder after sprinkling the sambrani powder. The fumes will seep through the pores, now you can dry your hair with the fumes. Keeping the straw basket prevents accidents and it also lets out fumes evenly.
2. For using it around the home, take fresh neem leaves, dry and powder them in a mixer. Now take sambrani, kungilium and add to the powdered neem leaves and powder together well. It need not be very fine, even if it is a bit coarse it is ok. To use, sprinkle the powder over hot coal and take it around the home.
3. To use sambrani holder, collect hot coal in sambrani holder, sprinkle little bit sambrani powder, it will start emitting smoke. Once the smoke stops, add some more sambrani powder. Also try to fan the coal periodically to prevent it from loosing it's heat.
NOTES:
Once you open up a sambrani packet, store it in airtight box.
Sambrani holders are available every where, buy ones with a long handle else it will be difficult to hold it.
Usually sambrani holders are made of brass.
Light up sambrani at least weekly once and fill the whole house with the smoke. It will ward of mosquitoes, make the whole house smell divine.
Even for headaches, sambrani smoke is very good.
I will give full details about kungilium in future posts.