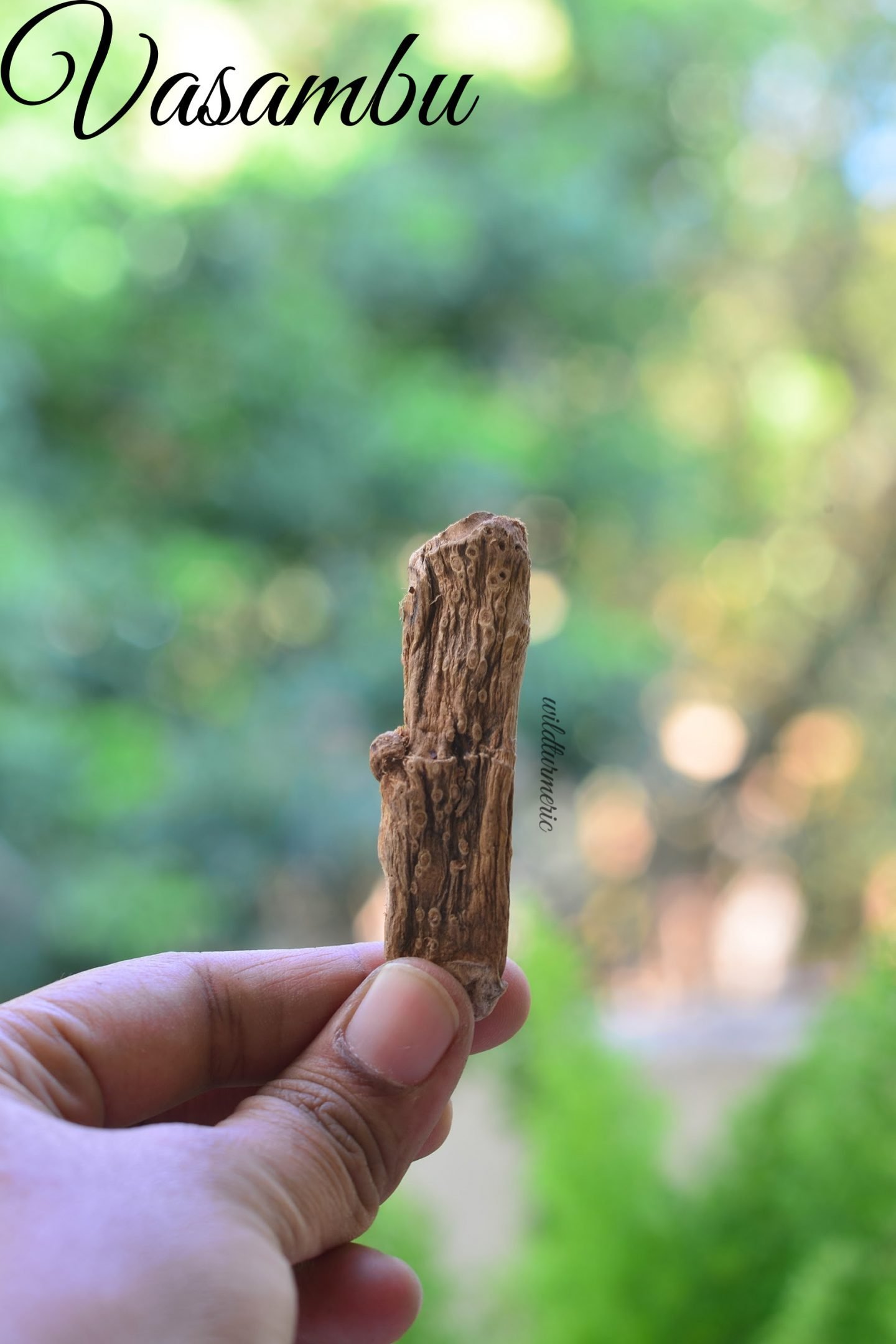 Vasambu also called sweet flag is a very very important herb that is considered so very highly in Ayurveda due to it's amazing health benefits and medicinal uses. This is also one herb that is very commonly used in home remedies and especially in village sides you will never find a single person who is not aware of this amazing herb.
We regularly use vasambu for babies in the form of bracelets and we also use it to make bindis and to treat all stomach ailments. This is one herb that I have never been without and even though now my son is grown up, I always have the dried root at home.
What is Vasambu?
It is an ancient herb and it's usage dates back centuries. Vasambu is a perennial fragrant herb which is widely used in traditional Indian Ayurvedic and Chinese medicine. The rhizomes are cylindrical, twisted and brown in colour with many medicinal uses, the roots are dried and sold in the markets.
The leaves are long, thicker in the middle and curved in the margins. The plant grows both in low and high attitudes and is found in many parts of the world including India, China, Sri Lanka, Nepal, United Kingdom, France, Belgium and Germany
Vasambu Common Names:
It is popularly and commonly called sweet flag in English and it's botanical name is Acorus Calamus. Vasambu is the Tamil name and it is called vacha in Sanskrit and bach in Hindi. It also has other wide variety of names like sweet myrtle, sweet root, calamus, etc which shows it's popularity all over the world. Here in Tamil Nadu, it is called child's herb as it is helps treat almost all the stomach ailments of babies.
Vasambu Traditional Uses:
Traditionally it is used for treating cold, cough, fever, nervous problems, purify blood, treat skin problems like acne and inflammation and also for digestive problems like diarrhoea and indigestion. Vasambu is extensively used in Tamil Nadu and we call it "Pilai Valarpan" meaning a herb that helps raise babies healthily. Vasambu is a very popular insecticide and is also used to treat hair problems including lice infestation.
Formulations Including Vasambu In the Markets
There are loads of ayurvedic and herbal formulations which include vasambu. In some of the formulations, vasambu is one of the key ingredients and in some formulations, it is used along with other herbs. These are used for treating various problems including allergies, to stimulate digestion, treat nervous problems including anxiety, depression and insomnia, reduce pain and inflammation, treat cold, cough and fever, for improving memory power and also for reducing high blood pressure and cholesterol levels. Some of the commonly found formulations are janma ghunti honey, vacha capsules, calamus root tincture, mahasudarshan churna, etc.
Important Chemical Components
Number of compounds have been isolated from both the rhizomes and the leaves. Among them, phenylpropanoids (asarone and eugenol) and sesquiterpenoids are some of the important chemical compounds that are responsible for many of its medicinal uses.
6 Top Medicinal Uses & Health Benefits Of Vasambu
1. Reduces High Blood Sugar Levels & Hypertension
Vasambu helps with all the metabolic diseases which includes obesity, blood pressure, diabetes and heart problems. Vasambu has been used as a remedy for reducing high blood sugar levels in various countries. In a study, rats were given 100 mg of vasambu and it significantly lowered their fasting blood glucose levels. At 200 mg per kg, vasambu combined with Gymnema sylvestre greatly helped reduce high blood pressure too.
2. Cardio Protective and Anti Obesity Properties
The compound β-asarone isolated from the rhizome has powerful anti obesity properties. In a study, high fat diet was given to rats for a period of 12 weeks and in the last four weeks β-asarone was given. The high fat diet increased body weight and the rats also developed glucose intolerance and dyslipidemia. When β-asarone was given in the last 4 weeks, it helped not only reduce body weight but also helped with glucose intolerance and dyslipidemia too.
3. Antioxidant, Anti-Inflammatory & Anti Cancer Properties
Like most herbs, vasambu has powerful antioxidant and anti-inflammatory properties. Both the water extract of the root and also the essential oil distilled from the root exhibited free radical scavenging activity and anti inflammatory properties. The important compounds of vasambu, α and β-asarone also have powerful anticancer properties and has been proven to be effective against gastric cancer.
4. Treats Many Neurological Problems
One of the important uses of vasambu is its neuroprotective properties which helps enhance our memory and learning. Along with that it also helps treat many neurological problems like depression. In a study, 40 participants were given vasambu capsules twice daily after meals.
No other antidepressants where allowed in the time period. The participants were followed up at day 30 and finally at day 60 after starting vasambu medication. The participants reported 23% reduction in stress and 22% reduction in depression and a 10% reduction in anxiety!
5. Antispasmodic and Antidiarrheal Properties
Vasambu is the first herb that we reach out for treating various gastrointestinal problems including colic pain and diarrhoea in babies, you can read the study that supports this claim here. Vasambu powder mixed with honey is given at the correct dosage. We also tie vasambu bracelets in babies hands to prevent any gastric problems, this is a traditional use that has been backed by research.
6. Antibacterial Properties
Both the root and the essential oil distilled from it has powerful antibacterial properties against many bacterial strains including 5 gram positive and 8 gram negative bacterial strains. It is effective against Aspergillus fumigatus, Aspergillus niger, Aspergillus niger, Micrococcus luteus, etc. It is due to its antibacterial properties that it is widely used for skin care along with healing wounds very very fast.
Vasambu Side Effects
Like with any herb vasambu has some side effects and should be used under expert guidance especially for babies. For babies we usually burn vasambu directly in the flame till it turns black and then we rub it in sandalwood stone to get a paste along with little water.
We give just very very tiny bit pinch of the paste with honey to treat colic pain and indigestion in babies. The dosage has to be very carefully monitored else it can cause side effects in babies which includes abdominal distension.
If you are not sure about the dosage, I would highly suggest not giving vasambu internally instead tie it around their hands, the smell will keep them disease free. Pregnant women should be extremely cautious while consuming vasambu.
Where To Buy Vasambu?
The root is easily available in the ayurvedic shops, after buying the roots make sure to sun dry well before storing. Vasambu has an amazing sweet smell that I completely love. The calamus essential oil derived from the root also has wide variety of medicinal uses. Though you get the powder in the markets, I would suggest getting the dried roots from the markets and making the powder yourself each time. It is easy and can be made in matter of minutes.
How To Make Vasambu Powder?
To make the powder, take a long piece of the vasambu and burn it directly in the flame till it turns black. When you are burning vasambu, the smell that emanates is incredible. Once it cools, powder it in a mortar and pestle. The powder is not bitter and can be easily consumed. Vasambu should never be over consumed as it might cause vomiting and stomach problems.
10 Top Ways To Use Vasambu For Health, Hair & Skin:
1. Vasambu Benefits For Babies:
If small babies don't take their feed and their stomach is bloated and they pass gas often, they might be suffering from indigestion. To treat it, take a long pieces of vasambu and burn it in direct flame, cool and powder it. Mix a very small tiny pinch of vasambu powder in breast milk and give it to the babies.
2. Vasambu Bracelets:
Tying vasambu teething bracelets for children is a tradition that has been followed for many years in India. Vasambu has got anti bacterial, anti flatulent properties that keeps the babies free from diseases. Each time the baby sucks on the vasambu pieces, a very very teeny amount of the vasambu extract enters their stomach (vasambu pieces are hard) and this keeps them from getting stomach disorders and prevents colic. You can find the method of making the bracelet here.
3. For Hair Lice:
We also use it for external applications and one such preparation is homemade hair oil that is very effective in treating head lice. It is one of the best natural ingredients available that is very effective in killing lice. To make the oil, heat a cup of coconut oil in low flame. Pound a small piece of vasambu and neem leaves together and add to the oil. Boil till there is no moisture left and strain. Use this as a hair massage oil to treat head lice.
4. For Speech Delay, Sore Throat & Cough:
To treat cough and sore throat, take a piece of vasambu and break it into a small piece by pounding it in a mortar and pestle. Now take a small broken piece of vacha and suck on it for some time. As the extract enters our throat, we will get good relief from cough and sore throat. Sucking on the root also helps children who suffer from speech delay. We can also give a small pinch of the root powder mixed with honey too.
5. Vasambu Benefits For Indigestion in Adults:
For treating indigestion in adults, take 1/8 'th tsp of dry ginger powder and vasambu powder in a bowl. Add 1/2 cup of boiling water to it and let it steep for a few minutes, strain and sweeten with honey. This is a good home remedy for treating all kinds of stomach ailments like indigestion, stomach pain, flatulence, etc
6. As An Insecticide:
Vasambu is a very very effective insecticide. We can mix vasambu powder in water and sprinkle to get rid of insects. This is a very safe way to get rid of insects especially in houses where there are small children. We can also take pounded dried vasambu roots in small sachets to use in wardrobes and cupboards for getting rid of roaches and insects.
7. For Making Bindi
Instead of applying artificial bindis for children, try bindis made with vasambu. To make the bindi paste, burn a piece of vasambu in flame till it is fully burnt. Take the burnt piece and rub it in circular motion using boiled water in sandalwood stone till you get a paste. Use this paste to apply bindi for babies.
8. For Depression, Epilepsy & Boosting Memory
Vacha decoction is very calming on the nerves and is also said to improve memory. It also acts like a nerve tonic helping one relax during stress and depression. It also helps people who suffer from epilepsy. To make the decoction, soak lightly pounded vasambu root in a cup boiling hot water till it comes to room temperature and drink.
9. For Diarrhea:
Vasambu is very effective for treating diarrhea. For treating diarrhea in children, burn a piece of vasambu and powder it in mortar and pestle. Mix a small pinch of the burnt powder with honey and give it to children twice in a day till they get good relief. But please make sure not to overdose vasambu.
10. For Inflammation & Infections :
We can also use the calamus essential oil for treating various problems. Mixed with a base oil and massaged onto the skin, it prevents all skin infections. It is also very calming and when inhaled helps to get rid of headaches and can be used as a massage oil for arthritis and rheumatic pains too.