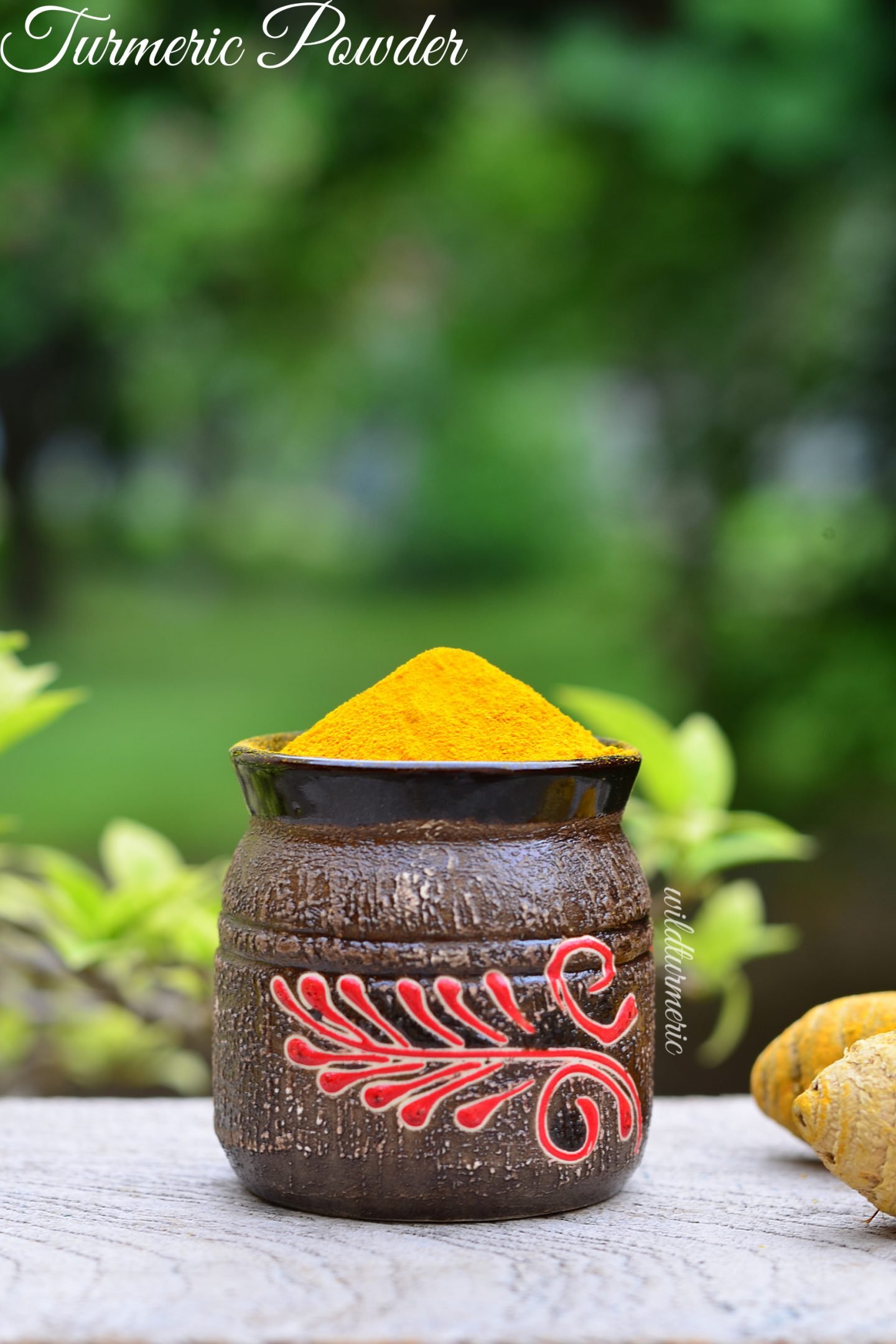 Turmeric has amazing face and skin benefits and is especially used for treating acne and lightening acne scars. In India, turmeric is used in the form of turmeric face packs, turmeric creams, turmeric oil and turmeric soaps for treating various skin problems. Turmeric is popularly called Haldi in Hindi and Manjal in Tamil. If there is one ingredient that I first resort to for all my skin problems, it is turmeric.
Turmeric is the most used for skin lightening (to lighten scars and blemishes), to treat boils, acne, acne scars, inflamed skin, small cuts and bruises, insect bites and wounds. Turmeric has anti inflammatory, antimicrobial, anti bacterial properties making it very effective in treating almost all the skin related diseases.
Turmeric For Face Daily:
Using turmeric on the skin has been done all over the world for centuries and especially, we Indian women use turmeric for skin care on a daily basis. Usually after bath, it is a tradition to apply turmeric on the face and you will rarely see any skin problems or breakouts in women who use turmeric on a regular basis.
Yes, turmeric does stain but it is nothing when compared to the side effects of steroid creams which causes skin peeling, skin darkening, skin irritation, etc. I have grown up seeing everyone around me use turmeric and especially my aunt was a regular user of turmeric. Personally I have never bothered to apply turmeric when I was in my teens or even after I got married.
But after I got cured of my abscess using turmeric, I have been using turmeric on my skin regularly almost on a daily basis and it has kept my skin blemish free. The abscess incident is also one of the main reasons for me to start the blog as I feared that we would lose all the treasure troves of home remedies that our elders were using.

Which Turmeric To Use For Your Face?
There are many varieties of turmeric but three varieties are the most commonly used in India. We have the regular round turmeric that we use regularly in cooking. Then we have long thin ones which are also used in cooking, the botanical name of both is Curcuma longa.
Finally there is kasturi turmeric which has an amazing fragrance, it also does not stain the skin much, the botanical name for it is Curcuma aromatica. I would suggest using kasturi turmeric for skin care but if you don't have kasturi turmeric at home, you can use any turmeric that you have at home.
Where To Buy Turmeric For Face & Skin Care?
We can buy turmeric powder in all the departmental stores in India. When buying turmeric try to buy organic turmeric. Kasturi turmeric is not widely available like normal turmeric but you can buy it easily if you visit any herb shop. You can also order it through online shops. Turmeric creams, turmeric oil and turmeric face packs are sold everywhere now but we can easily make them at home for a fraction of the cost of store bought ones.
Turmeric Side Effects For Skin:
Turmeric increases skin sensitivity for some people which may result in skin darkening. If it does, use it at night before going to bed. Also turmeric when used alone on the skin without a moisturizing agent can result in drying of the skin especially for people with very dry skin. If it dries out the skin, add few drops of unrefined oil or milk or yogurt while making it into a paste.
10 Top Ways To Use Turmeric For Skin Care:
1. Turmeric For Acne | Inflammation:

Turmeric is one of the best ingredients to use for acne. For acne, take a piece of organic turmeric and soak it in hot water for a few minutes. Rub the soaked turmeric on a coarse stone to get turmeric paste.
Apply the turmeric paste on the spots and let it dry. You can also leave it overnight. Once dry, wash it off gently using warm water. You will see a good difference with regular use, the pain and inflammation also will subside very quickly.
2. Turmeric Oil for Scabies: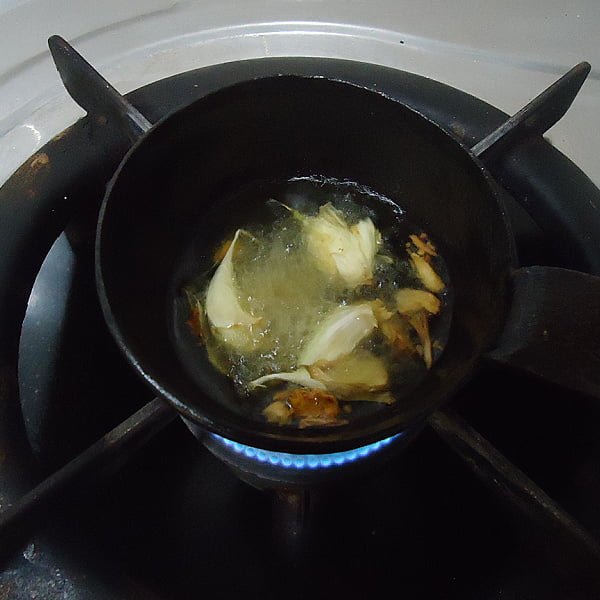 Scabies occur commonly all over the world and it affects both adults and children. The worst thing a person experiences when he gets scabies is the constant itching which prevents them even from getting a good night's sleep. Scabies produce small reddish bumps usually in the creases in the body.
This home remedy for scabies consists of two parts, first is the antiseptic wash, which is made by boiling water with turmeric powder and neem leaves. Before even starting this treatment, wash the sheets and clothes of the infected person separately and sun dry them. Then use the antiseptic wash to wash the affected area well.
Then sponge the affected area with a tissue and apply the following lotion. To make the lotion, take a fat variety of turmeric and garlic pods in a mortar and pestle. Pound them well. Heat coconut oil in a pan. Once hot, add the pounded spices. Fry till the spices turn golden brown and a nice smell wafts from it.
Remove from the fire and let it cool down. Strain the oil. Apply this lotion on the affected area. Turmeric and garlic infused oil is an antiseptic and kills the mites effectively. This lotion will work well for any skin related diseases and it stores well too.
3. Turmeric Face Mask For Skin Lightening:
In India, fairness creams are marketed promising drastic color change in a matter of a few days. No cream or lotion can change the color of the skin we are born with drastically. But certain natural ingredients does lighten scars and blemishes giving our skin a even brighter look.
Turmeric is the foremost in that list of ingredients used for skin lightening. To use, mix pure turmeric powder with besan, honey and rice water and apply. If you find it very drying or irritating on the skin, add a teaspoon of curd to the mixture. Weekly thrice or twice application will lighten the scars and blemishes.
4. Turmeric Face Mask For Acne Scars: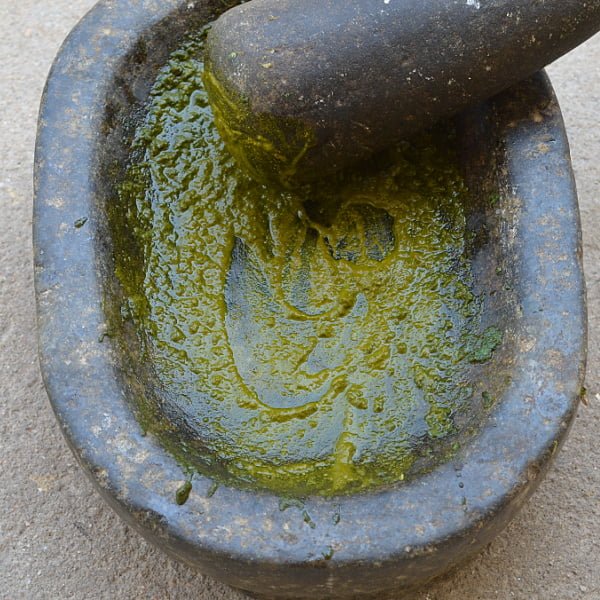 Turmeric is very good for treating acne scars too. For treating acne scars, take a piece of turmeric and rub it in a coarse stone to get a smooth paste. Take a tbsp of tulsi powder in a bowl. Don't use fresh tulsi leaves, it will burn your skin. Now add in the turmeric paste. Finally add in enough steamed distilled rose water to form a smooth paste. Apply on the acne scars daily, with regular use the scars will diminish resulting in clear and glowing skin.
5. Turmeric Cloth For Pink Eye: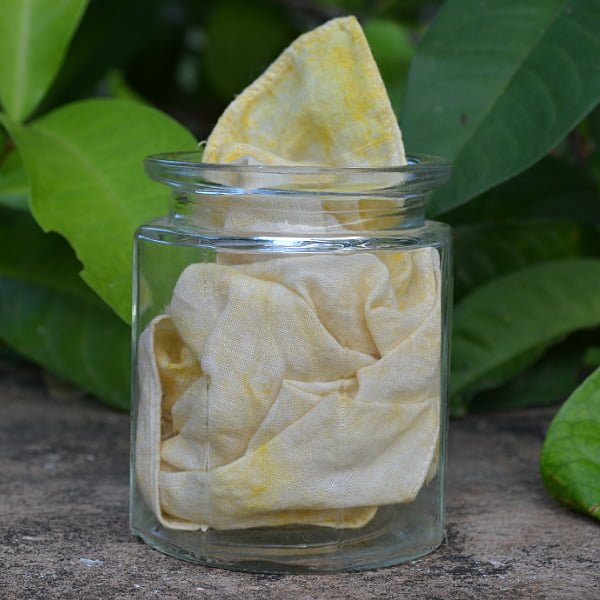 When we get madras eye (pink eye), there is terrible pain, redness and watering of the eyes. Using turmeric wipes to clean the eyes gets rid of the infection very quickly. You can also use these wipes to clean cuts and wounds for children. To make these wipes, take a 100% pure white cotton cloth.
Boil water in a wide pan, once it comes to a rolling boil, add the cloth and let it boil for a few minutes. Remove the cloth and once it cools down, squeeze out the water. Take a piece of turmeric and rub it into a paste in a coarse stone. Mix the turmeric paste in water. Soak the sterilized cloth in this turmeric water.
After an hour, squeeze out the water and sun dry it completely. Your homemade antiseptic turmeric wipes are now ready! You can make plenty of these wipes during summer months and use it year round to treat any infections.
6. Turmeric Pack For Skin Discoloration | Pigmentation: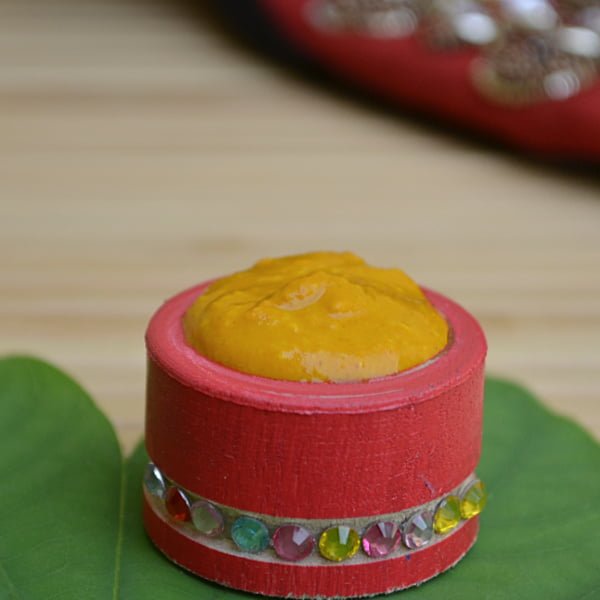 Skin discoloration, though a very minor problem might upset some especially if it is very prominent. Turmeric is great for treating skin discoloration and the best way to use it for discoloration is by making a face pack with it.
For the face pack, take fresh turmeric got by rubbing turmeric on a coarse stone and then mix it with equal quantity of besan | gram flour. Thin it down to spreadable consistency using buttermilk and apply on the face. Try using it weekly twice or thrice to see results.
7. Turmeric Paste For Eczema: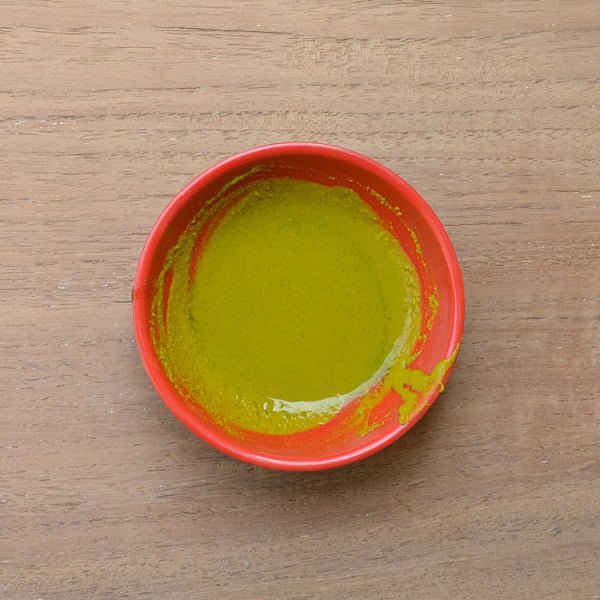 Eczema which is characterized by thickened and inflamed skin accompanied by itching can also be treated with turmeric. For the remedy, collect fresh turmeric paste by rubbing turmeric over a coarse stone and then grind it along with fresh neem leaves to get a thick paste.
Apply this paste daily over the affected area. Since turmeric has anti-inflammatory properties, it will greatly ease the pain and itching. This is a very safe remedy that can be used even everyday for months together without any side effects.
8. Turmeric Paste For Boils: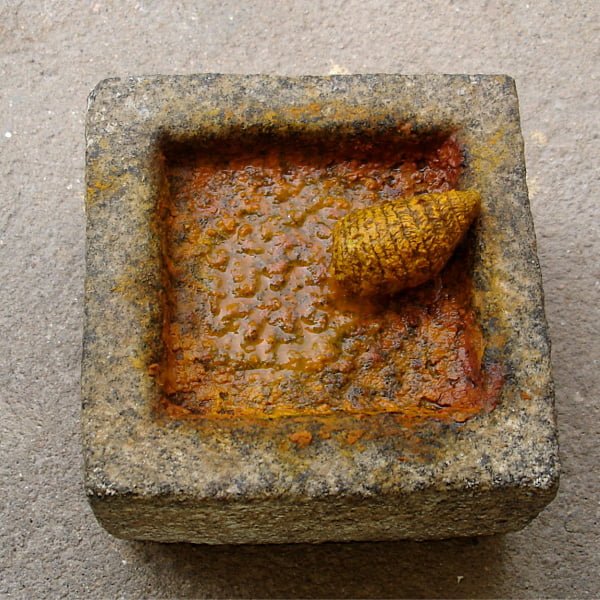 If I get a boil, I just apply fresh turmeric paste on it and by next day the boil will be visibly reduced especially if the boil is smaller. If it is already quite big and filled with pus, it will mature fast and rupture thus releasing the pus giving us good relief from pain.
Turmeric paste can be applied on scalp boils too. When I was suffering from abscess, I used to apply the paste even after the boil had ruptured and this healed the wound faster.
9. Turmeric Bath Powder For Body Odor:
Turmeric is very very effective in treating body odor and the best way to control body odor is by using a turmeric based bath powder. Using bath powder is a tradition that has been followed for many many years and almost all of the bath powder preparations will have turmeric in it.
Along with controlling body odor, turmeric based bath powders also will prevent all kinds of skin infections. They also store well if properly dried. Usually bath powders are made during peak summers as it is easy to sun dry the ingredients well. I would suggest you do the same especially if making it in large batches. You can find detailed information about making bath powder here.
10. Turmeric Oil For Babies Skin:
The best way to use turmeric for babies is by making a massage oil with it. This massage oil made with turmeric and homemade virgin coconut oil keeps the babies skin soft and free from infections. Try to use this oil regularly to keep their skin free off any infections
To make this massage oil, first take an organic turmeric and rub it in a coarse stone along with little water to get turmeric paste. Heat sweet almond oil in a pan. Make sure not fill the pan full with the oil as the oil will splutter all over. Add the turmeric paste, the oil will start sizzling.
Remove the oil once the sizzling sound stops and let it cool. Make sure not to burn the turmeric paste. Once it is completely cool, strain and store in a glass bottle. To use, massage this oil gently all over the baby's body before bath and then give a bath with warm water. Use this oil weekly twice for best results.