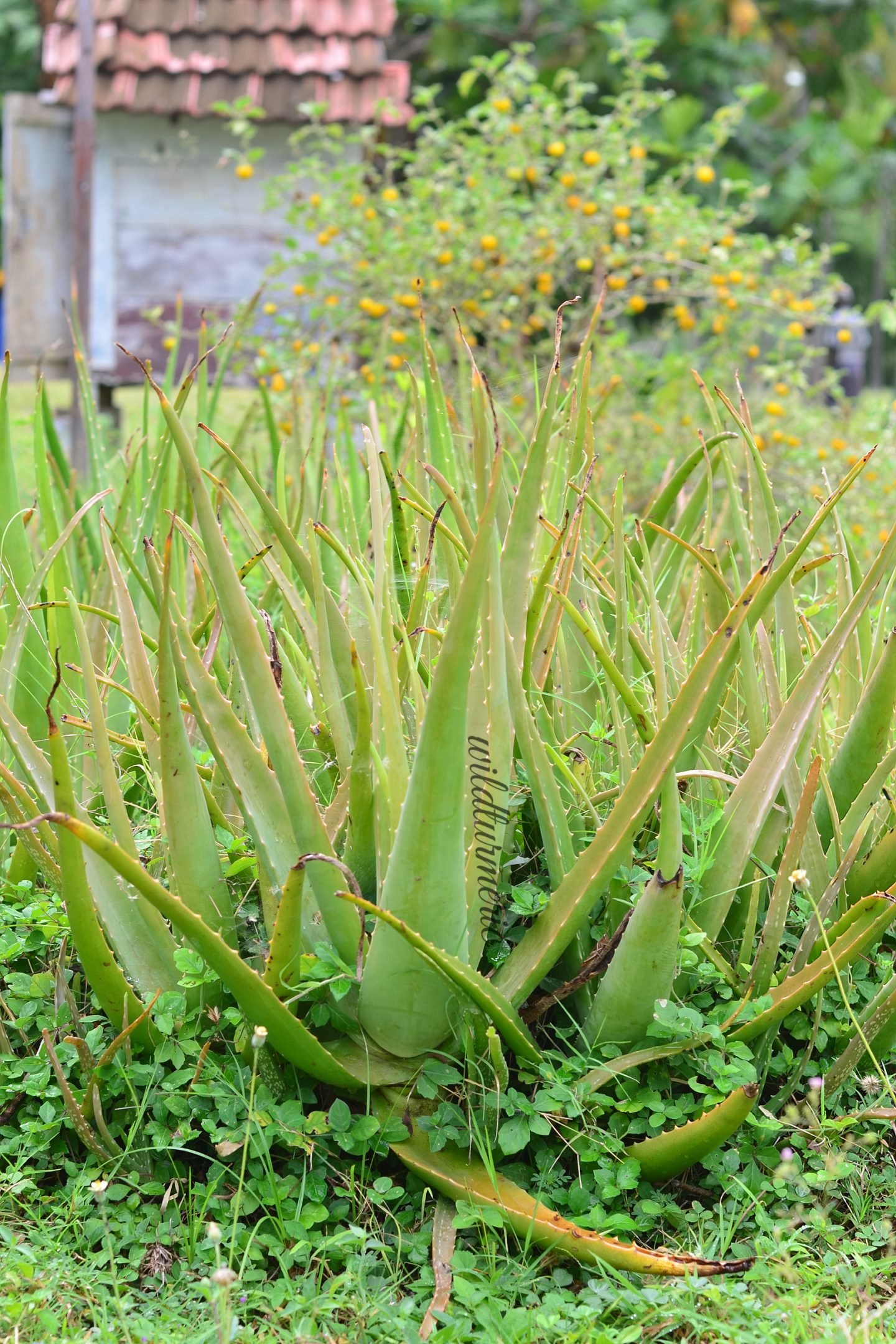 Aloe vera is an amazing plant with wonderful health benefits and medicinal uses but like with any ingredient it is important to get to know the side effects especially if we are planning to use it for long durations of time. We use aloe vera extensively here in our village and I have never seen any one experience side effects but few wildturmeric channel subscribers have mentioned that they are allergic to aloe vera, some of them experienced rashes after topical application.
Aloe vera gel is generally safe for external application and also for oral consumption if we don't overdose on it. The latex, which is the green slimy part found between inner gel and the outer rind is usually the part that causes side effects. I have shared all the clinically recorded side effects of aloe vera in it's various forms.
Please remember the side effects given below are exceptions and not every one reacts the same. But it is important that we get to know the side effects as anybody can develop an allergy to it. If you are allergic to aloe vera, I would suggest to stop using it completely.
What Is Aloe Vera?
Aloe vera is stemless perennial succulent with large amounts of water stored in its tissue. The leaf contains three layers, the inner gel which is made up of 99% water and the rest is made up of amino acids, glucomannan, sterols, vitamins and lipids. The middle layer is made up of latex, it is the yellow sap which contains glycosides and anthraquinones. Finally the outer layer is the green rind with thorns.
Aloe Vera Dosage:
Usually a tbsp (15 ml) to 50 ml is recommended for various problems, I would suggest starting with the lowest dosage and see how your body reacts to it and then increase it over time. If you are taking any medications, please consult your physician before consuming it daily.
4 Top Side Effects Of Aloe Vera:
1. Drug Interactions
A 35 year old woman experienced massive bleeding after an operation after oral consumption of aloe vera tablets for about two weeks for leg pain before she underwent the surgery. During surgery she was given an anesthetic called sevuflurane which has antiplatelet properties and since aloe vera also has antiplatelet properties, it lead to severe bleeding. If you are taking medications that has antiplatelet properties, please remember that aloe vera will have drug interactions with it.
2. General Aloe Vera Allergy
Some people can be allergic to aloevera. In general, people who are allergic to Lily family like onion and tulips will usually be allergic to aloe vera too. If you are allergic to aloe vera, it can cause skin irritation, hives, cramping and diarrhoea. Oral consumption of aloe vera can cause acute hepatitis in people are allergic to it.
A 73 year old female was admitted to the hospital with acute hepatitis. The doctors were puzzled as to the cause of the the hepatitis and asked repeatedly whether she was taking any medications but since aloe vera was a natural remedy she forgot to mention about it but finally the patient admitted that she was taking aloe vera tablets for treating constipation and once she stopped the aloe vera tablets, her condition improved drastically. Eight cases have been reported so far with hepatotoxicity after consuming aloe vera preparations.
3. Aloe Vera Latex Allergy
Generally for oral use, only aloe vera gel is used but certain products, like for example constipation tablets contains the whole aloe vera leaf extract along with the latex. Anthraquinone present in aloe vera latex can cause side effects which includes diarrhoea, abdominal pain, vomiting and dilated colon. Long term use can even cause colon cancer.
A 52 year old male patient from Pakistan started taking juice from 4 to 5 leaves of aloe vera. He experienced rashes on his legs and ankle pain after 24 hours. Over the next few days, he started getting abdominal pain leading to kidney dysfunction.
A 74 year old female developed deep black pigmentation of the whole colon after using laxatives that contains anthraquinone for a very long time. She also developed precancerous leisons.
An 18 year old girl who was given laxatives from fourteen months to 5 years developed small bowel cancer. It is always best to avoid laxatives that contain aloe vera latex and pregnant women should avoid products containing aloe vera latex completely because it can stimulate uterine contractions leading to premature labour or miscarriage. Breastfeeding mothers also should not consume aloe vera latex containing products as it can cause diarrhoea in the infants.
4. Aloe Vera Gel Allergy
Aloe vera gel has been used for the treatment of various diseases. It is consumed both orally and applied topically for various skin problems and digestive problems including stomach ulcer. Usually aloe vera gel does not cause any problems compared to the latex but like with any ingredient there are exceptions. A 47 year male developed skin rashes after using oral and tropical aloe vera gel.
A 72 year old woman developed rashes all over the legs after she applied homemade aloe vera leaf juice. Another important thing to note is applying aloe vera juice resulted in slow recovery from inflammation caused due to dermabrasion and chemical peel in four patients who are allergic to aloe vera gel. However the amount of side effects and carcinogenicity of using aloe vera gel when compared to aloe vera latex is very very less.